Eating is a necessity, but it doesn?t have to be boring. There?s a variety of really innovative cutlery available from leading designers around the world, which can help us dress up our table and impress our guests. In this post, we rounded up 11 Elegant and Unusual Cutlery, hope you enjoy those pretty cutting edge designs
1. Yamazaki Cache Gold Accent 5-piece Place Setting [amazon]
The fluid lines and gold gleam of Yamazaki Cache flatware create a glamorous, graceful look at the table. Finished with a mirror-like polish, each piece features a feathery swirl of 24-karat gold on the raised handle design. The pattern also extends to the tines on each fork, which are elaborately sculpted. Crafted from 18/8 stainless steel, the Cache line is corrosion-resistant and dishwasher-safe. The gold is electroplated for extra durability, and the knife blades are fashioned from high-carbon cutlery steel.
2. Gourmet Settings Treble Clef 20-Piece Flatware Set [amazon]
With its natural shaping and distinctive finishes, Treble Clef flatware has an artisanal quality that makes for an intimate, earthy feel at the table. Heat-forged for durability, the pattern features contoured handles that end in a curl reminiscent of the scroll of a violin. The mirror-finish working ends are bright and smooth, while the handles are blackened for a rustic effect. Ideal for casual entertaining, the pattern is also a great daily choice for playful spirits.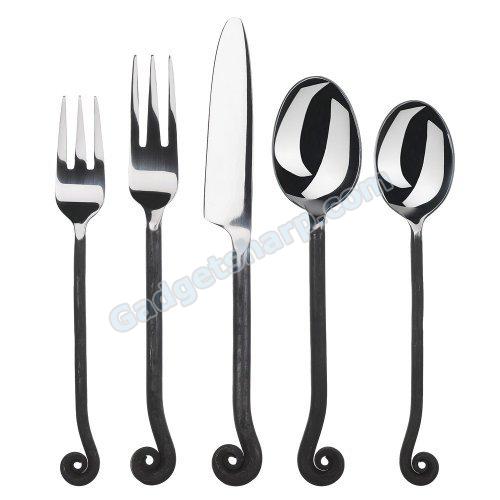 3. Hampton Forge Bamboo Mirror Forged Flatware Set [amazon]
For something out of the ordinary and definitely contemporary, Bamboo flatware rises to the occasion. Each long, slender piece features a round handle sculpted to resemble a segmented stalk of bamboo. A simple design reminiscent of a falling raindrop is inscribed in the top and bottom segment on each. The spoon bowls are quite round and oversized, and the fork heads are on the broad side. Weighted and balanced with care, Bamboo is polished to a mirror shine and feels delightful to use on a daily basis.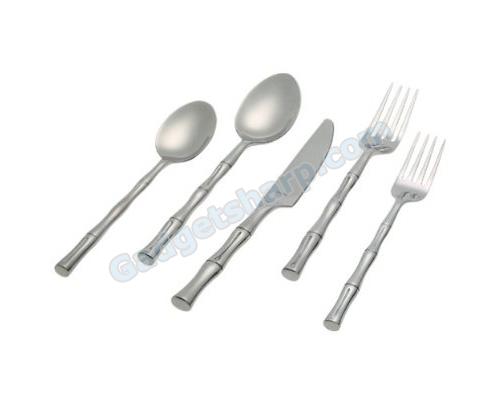 4. Georg Jensen Arne Jacobsen 5-piece Steel Cutlery Set [amazon]
In 1957 Arne Jacobsen created the classic minimalist cutlery set which is simple in form and more contemporary-looking today than ever. The simple lines harmonize beautifully with the finish of the craftsmanship. Each piece fits naturally in the hand inviting its user to enjoy freedom and ease in movement. The set is crafted in matte finish 18/8 stainless steel.
5. Yamazaki Gone Fishin' 5-Piece Placesetting [amazon]
The Yamazaki Gone Fishin? flatware has a distinctive design that combines whimsical humor with fluid grace. Each fish-inspired utensil has smart little fins, a fanned tail, and a simple round eye. The playful combinations create distinct personalities for each piece and a fun mood across the table. Crafted from 18/8 stainless steel with a gleaming mirror finish, Gone Fishin? is corrosion-resistant and safe in the dishwasher.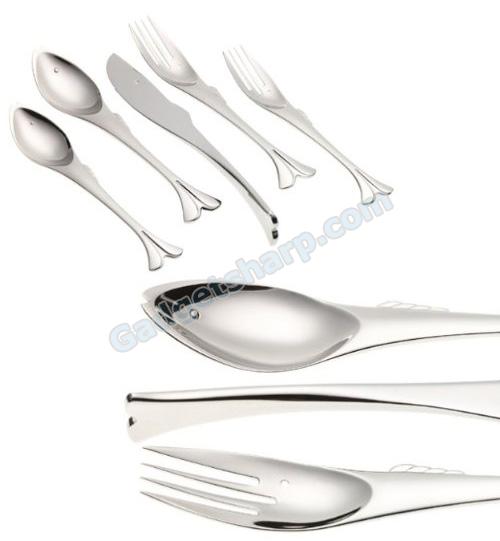 6. beyond silver [link]
The silver cutlery is a symbol of elegance and it has been used in banquets and important tables for several years. The sense of fashion and aesthetics has changed and most of these cutleries have been saved. Natural gives a new air to silver cutlery making it current and modern without giving up elegance. It has been sought a mixture of two noble materials; its merger with wood brings a warm air to the set. Natural also takes into account the new global mergers in the kitchen and includes utensils from different cultures.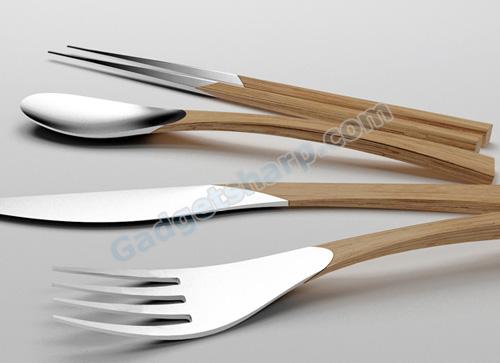 7. Bite Silverware [link]
Mark A. Reigelman II has designed this Bite silverware in an effort to help raise awareness of worldwide epidemics such as starvation and obesity.
He explains ?each day millions of individuals lay in hunger while millions more are wastefully overeating. This set of ?bitten? silverware highlights the daunting reality of both worldly plagues.?
8. Yamazaki Swivel 5-Piece Place Setting [amazon]
Includes one each: dinner knife, dinner fork, salad fork, soup spoon and teaspoon
Crafted in the highest-quality 18/8 stainless steel
Yamazaki flatware piece is designed with perfect weight and balance
Dishwasher safe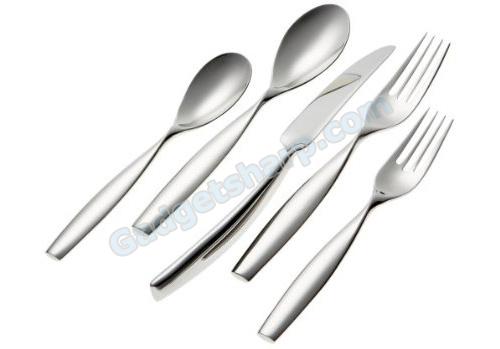 9. Twirl 20 Piece Flatware Set [amazon]
The forks in the Twirl flatware sets represent the union of two souls – intertwined and enraptured to form one body. 20 Piece Dinnerware Set Includes: -4 Salad fork. -4 Dinner fork. -4 Dinner knife. -4 Tablespoon. -4 Teaspoon.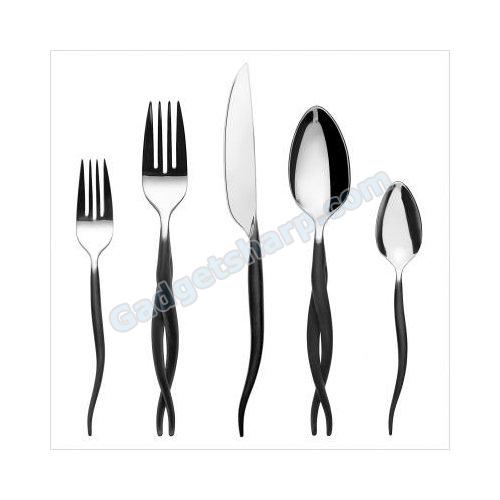 10. Stainless Steel Wrenchware [amazon]
The perfect flatware set for the mechanic! 3-pc. set includes a fork, spoon and knife with unique handles - one has a box wrench, one a pliers jaws and one an open-ended wrench. It's dinnerware with real flair!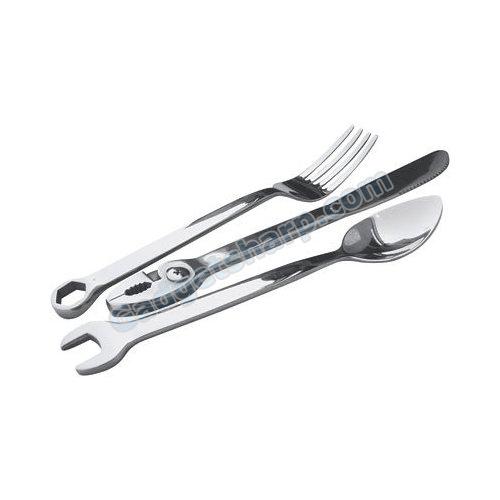 11. Gourmet Settings Avalon 5 pc Stainless Steel Hostess set [amazon]
Avalon flatware sets are the perfect mix of classical flatware elegance and earthy rustic charm. Bearing the most graceful of flatware patterns, its delectable detail makes this flatware a delicious accompaniment to any meal. Mysterious and brooding, your Avalon stainless steel flatware has a dark side. A beautifully polished top blends seamlessly with a textured black body.