A Cheese Grater is a very useful tool in the kitchen as it can be used to finely grate cheese, vegetables and fruits. Many of your favorite recipes call for finely grated ingredients and a cheese grater will help you to have them ready in a few minutes. In this post, we rounded up 10 Modern and Powerful Cheese Graters which can help to turn a cumbersome job into an effortless task. Take a look at these ergonomic and powerful graters; and hope you like the modern twist on the traditional cheese graters.
1. Koziol Kasimir Cheese Grater [amazon]
Sustainable clean plastic that is made in Germany
Great gift
Make working in the kitchen fun
Made from BPA-free material
Design product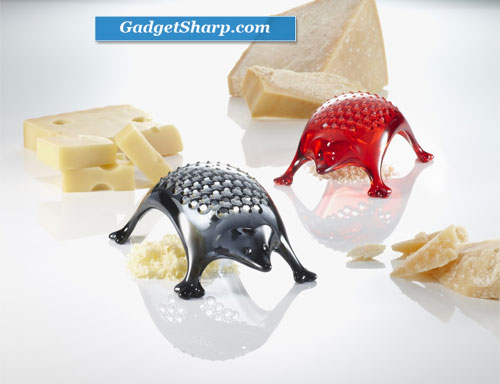 2. Deluxe Hard Cheese Grater [amazon]
Single handed grating functionality, simple squeeze
Comes with two blades for grating needs
Dishwasher safe and Award winning design
Large Chamber for hard cheese, spring loaded pressure
Hand held squeeze grip functionality , only one hand needed

3. Classic Rotary-Style Cheese Grater [amazon]
Rotary cheese grater works quickly to grate more cheese in less time
Stainless-steel drum accommodates hard cheese, chocolate, and nuts
Sturdy plastic housing; ergonomic grip; stores compactly in a cupboard or drawer
Removable parts for fast cleanup; dishwasher-safe
Measures approximately 6-1/2 by 3 by 5 inches; 5-year limited warranty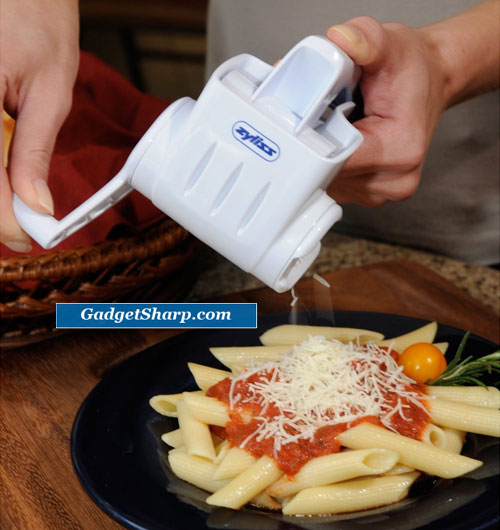 4. Microplane Rotary Grater [amazon]
Microplane rotary grater shreds cheese fine or coarse by simply reversing the cylinder. Simply add Parmesan, Romano, Asiago or any hard cheese into the top of the chamber. Brilliantly-styled dual handles automatically press cheese onto the grating cylinder, and a simple turn of the side handle dispenses grated cheese onto salads, soups, pasta and casseroles. Razor-like edges produce mounds of freshly-grated cheese in seconds. Ergonomic side handle can be positioned for right- or left-handed use. Stainless steel and durable plastic construction. Blades made in the USA/Assembled in Mexico.
5. BlissHome Nigella Lawson's Living Kitchen Parmesan Grater [amazon]
This egg shaped Parmesan Grater grates hard cheese the way it should do giving you fine crumbly shavings. A small wooden hand held grater that fits neatly in the palm for perfect ergonomics. Made from beech wood.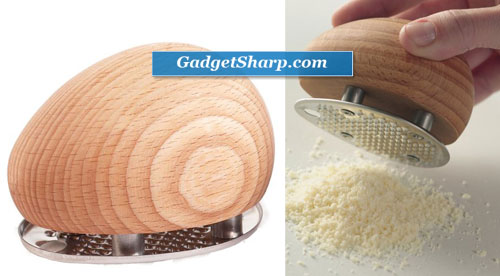 6. Microplane Premium Zester/Grater [amazon]
Great for zesting citrus, grating hard cheese, and ginger
Constructed out of 18/8 stainless steel with Microplane's razor sharp edges
Premium handles are ergonomic and soft to the touch; includes reusable cover
Non-slip rubber feet add stability and protect your plates
Dishwasher-safe; hand wash cover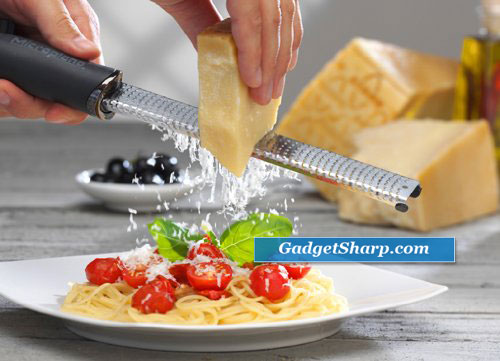 7. Cheese Mill [amazon]
Microplane's Cheese Mill features two etched Microplane blades which tackle the task of grating hard cheese. Fine and coarse blades grate a variety of hard cheeses. A simple twist of the wrist is all it takes to activate the super sharp cutting edges. Large body holds generous supply of cheeses. Includes lid for convenient storage of blades. Microplane's superior technology yields consistently professional results with the ultimate in ease and convenience.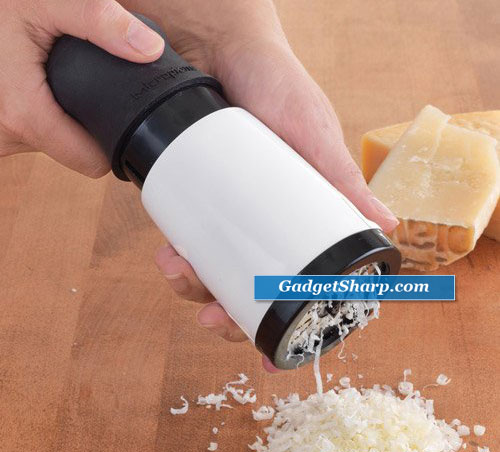 8. A di Alessi Parmenide Cheese Grater [amazon]
Grate cheese comfortably without losing a single shred with the Parmenide grater
Designed for Alessi by Alejandro Ruiz in 1994; 18/10 stainless-steel grater and cellar in durable PMMA resin
Fits perfectly in the hand for a good grip; collects cheese in cellar, which can be poured out from opening on end
Available in a choice of colors; measures 3 inches wide by 6 inches long by 3 inches high
Makes a great housewarming gift; peruse all Alessi household items to find fun, like-minded pieces for the home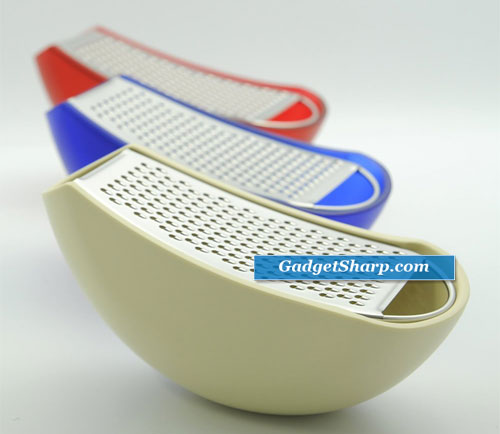 9. Zyliss All Cheese Grater [amazon]
Rotary grater with two drums for fine and coarse cheese grating Drums easily snap in and out of white plastic housing Comfortable non-slip thumb rest; funnel to direct grated foods Drum-like handle folds into itself for compact storage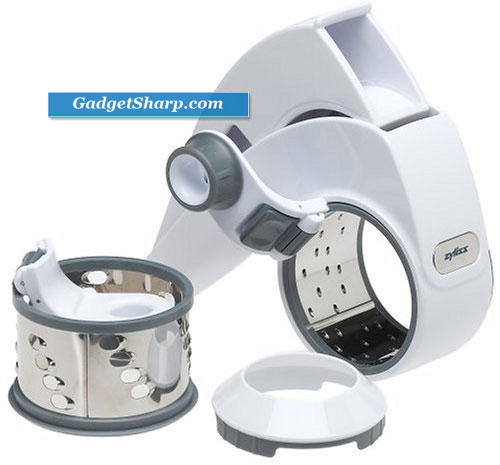 10. Cheese Grater and Shredder, Acacia Wood [amazon]
Comes with 2 arched stainless steel blades, one for soft cheese, one for hard cheese
Foot stop feature for stabilizing grater against edge of counter or table
Removable drawer for dispensing grated cheese and ease of cleaning
Hand crafted finger joint construction