Knife is some essential tool we use everyday, which has different function and usage. They are one of the most practical tools but that doesn't mean they can't have some cool and slick design. In this post, we will present you with 12 Modern and Stylish Knife Set Designs. Some of them are pretty funny or unusual, like the five Finger Fillet Steak Set and Throwzini 6-Piece Knife Set, which will definitely spice your kicthen if you have one.
1. Mercer Cutlery Genesis 6-Piece Knife Set with Tempered-Glass Block [amazon]
For those who take cooking seriously you can finally purchase the cutlery used in 90% of all culinary academies and is favored by professional chefs. The 6 piece Tempered glass with stainless steel block set consisting of 3.5 inch Paring Knife, 5 inch utility knife, 8 inch bread knife, 8 inch chef knife and 6 inch boning knife Santuko knife l is made of one piece fully forged German Steel with black nonslip girp Santoprene handle offers superior balance, strength and durability.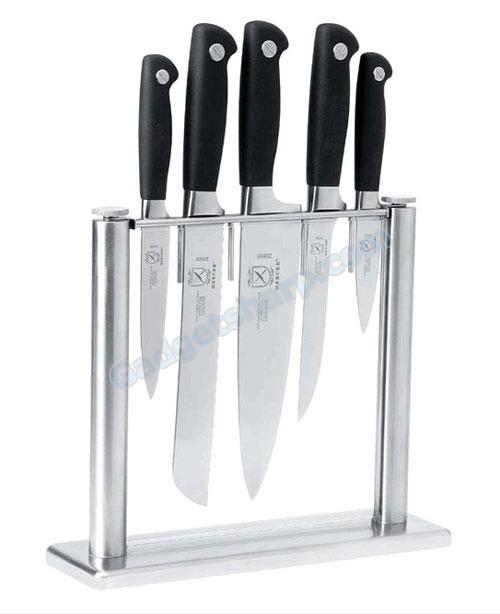 2. Anolon Advanced 15 Piece Cutlery Set [amazon]
A block set is not only an economical way of purchasing all your cutlery needs, it also allows you to keep your cutlery in a safe, attractive location that is easy to retrieve any time.
What's in the Box 8-inch chef, 8-inch bread, 8-inch slicer, 7-inch Santoku, 5-inch serrated utility, 3.5-inch parer, 10-inch sharpening steel, six 5-inch steak knives, and kitchen shears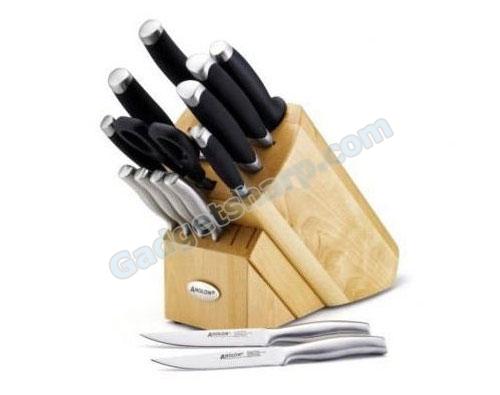 3. J.A. Henckels International Forged Synergy 7-Piece Knife Set [amazon]
International Forged Synergy collection
Blade finish: Satin
High quality stainless steel blades are stain and rust resistant
Molded POM handles with brushed stainless steel cap and rivets for comfortable grip and contemporary style
Full bolster provides weight and ensures safety
Comfortable grip and durability
Full rat tail tang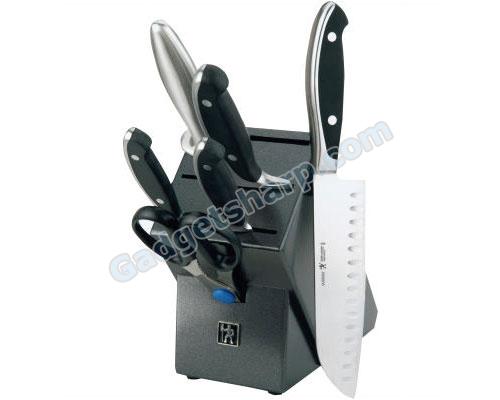 4. The Ex 5-Piece Knife Set with Limited Edition Chrome Holder [amazon]
THE EX, A radical alternative to the typical block o' wood, will revolutionize the way you store your knives! No knife holder has taken a greater stab at the theatrical than this specially designed Ex knife holder. Et tu, Brute? This 5pc knife holder is unlike any cutlery set you have ever seen! This whimsical, artistic kitchen accessory holds 5 high quality stainless steel kitchen knives (included) in a rather unorthodox fashion - STORE YOUR KNIVES IN AN ANONYMOUS EFFIGY DEDICATED TO WHOMEVER YOU PLEASE! Take out your frustrations as you store your knives! Makes a perfect gift and a guaranteed conversation piece! Plastic casings house every knife to prevent blade exposure.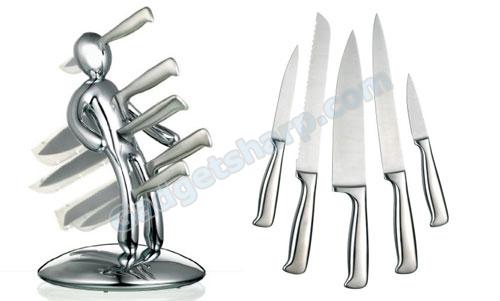 5. Five Finger Fillet Steak Set [amazon]
A radical alternative to the standard steak knife set
Unlike anything you've seen
Maximize your counter space with this groundbreaking designer knife set
Unique Cutlery set features a cutting-edge design by Raffaele Iannello.
A wonderful conversation piece. Designed by Raffaele Iannello and Manufactured by CSB Commodities, Inc.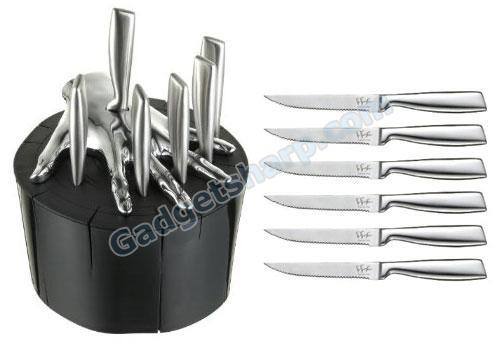 6. Throwzini 6-Piece Knife Set with Block [amazon]
This unique 6-piece knife set with holder adds a touch of whimsy to any kitchen. The set includes 5 stainless-steel razor-sharp professional chef knives. Each knife is held securely by magnets in individual protective sheathes. Made of hand crafted wood, the Throwzini's knife block spins for comical effect. Makes a great gag gift that's also full of practicality.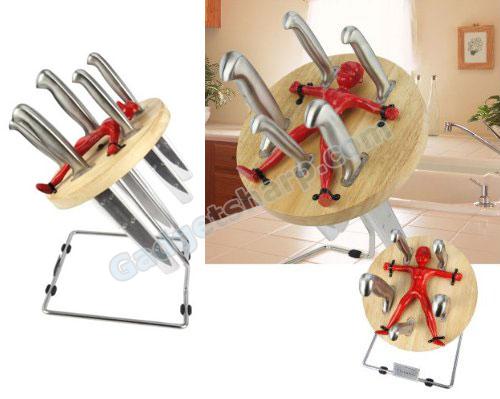 7. Gunter Wilhelm Cutlery 204 7-Piece Steak-Knife Set with Wooden Caddy [amazon]
The Gunter Wilhelm 7-piece steak knife set includes 6 steak knives and a wood block. This set can attach to either the 11-piece GW block set or the 12-piece block set. In the beginning, knives were made from High Carbon steel. This was because High Carbon Steel was easy to sharpen and held an edge really well. The problem was that High Carbon would turn black quickly and was not attractive. The problem with Stainless Steel knives is that while they look great, they don t hold an edge and are almost impossible to sharpen.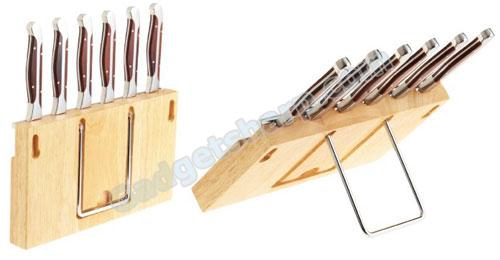 8. Pinzon Santoku Knives and Bamboo Cutting Board Set [amazon]
Pinzon?s santoku and cutting board set offers quality performance and sleek construction. The set includes 5-inch and 7-inch santoku knives, a bamboo storage drawer, and a 12-3/4-by-15-3/4-inch bamboo cutting board. The santoku knives, Japanese-style cook's knives designed for chopping, feature a low-tip style with broad blades. The cutting edge of a santoku is minimally curved, providing less rocking action than typical European-style cook's knives. Alternating hollows on each side of the santoku blades create air pockets, allowing slices to fall away.
9. Amazon Cheese Knives and Board Set [amazon]
Includes 6-inch angled, 3-inch Parmesan, and 6-inch slotted cheese knives; bamboo storage drawer and cutting board
Blades stamped from 1.88 mm-gauge stainless steel; tangs extend to handles
Double welding produces sharp edges to cut hardest cheese
Hollow, stainless-steel handles are ergonomically designed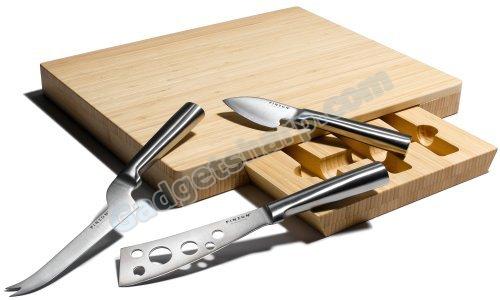 10. Ginsu Shoku Japanese Stainless Steel Cutlery Set with Colored Handles and Bonus Shears [amazon]
The new Ginsu Shoku Series with colored handles will compliment your kitchen d?cor and add a splash of color to your counter top. The blades are fully forged from Japanese steel that is well known for it's stain & rust resistance, strength and ability to hold an incredible edge. You will enjoy the contemporary ergonomic handles which are precision balanced for optimum cutting. Unique anodizing process on handle brings color and elegance into any kitchen environment. Stainless steel magnetic strip is a powerful tool to store your knifes securely while allowing you quick access and blade visibility during food preparation and frees up valuable counter space.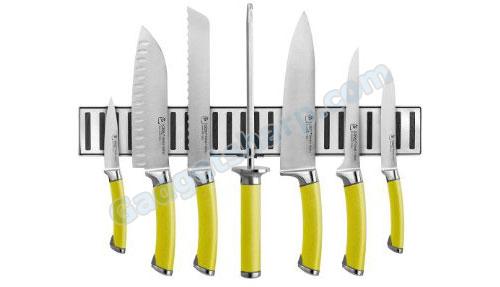 11. Picnic Time Circo Cheese Set [amazon]
Great for entertaining, this Picnic Time Circo Cheese Set features a swivel-style circular chopping board made of naturally durable hardwood. The top of this uniquely designed cheese set slides away on a hinge, revealing the gadgets nested inside. The four assorted tools feature stainless steel, full-tang construction, and include one each; cheese plane, knife/spreader, curved knife with a dual pronged tip for lifting, and a sharp cheese knife/cutter for extra hard cheeses. Additional features of the Circo cheese set include a recessed moat along the board's edge to catch cheese brine or other liquids, and a generous surface area for serving.
12. Ceramic Cutlery Set with Knife Block [amazon]
Ultra sharp, Easy to clean
Easy to use, Stain and rust proof
Superior edge retention
Ergonomically-designed
Knife set includes: 3" paring, 4" utility, 5" santoku, 6" chef's, 6" bread