Kitchen seem to be one of the most wonderful place where full of all kinds of cool gadgets. We have talked about lots of cool gadgets like: baking pans, serving tongs, dish racks, oil and vinegar sets, and etc. Today we will talk about "spoon rest", which could prevent cooking fluids from getting onto countertops. Although it's not a essential gadgets in your kitchen, a modern and stylish spoon rest could make your kitchen stand out.
1. Alessi Blip Spoon Rest [amazon]
* The name "Blip" refers to the wave from a drop in the water.
* The form is made from a thin sheet of steel and is cleverly resolved to cradle spoons and ladles of different lengths and sizes.
* Lightweight, formally discreet but also elegant and precious.
* Spoon rest in stainless steel
* Approximate size: d.6"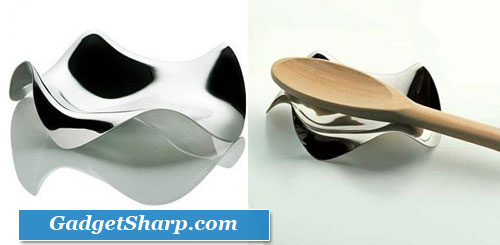 2. Umbra Splat Spoonrest [amazon]
* Umbra brings affordable design to an everyday item with the Splat Spoonrest
* Molded-rubber with a whimsical curvy edge; protects stove- and counter-tops from mess
* Heat-resistant up to 500F-Degree
* Design: Alan Wisniewski
* Size: 5-inch diameter by 0-1/4-inch thick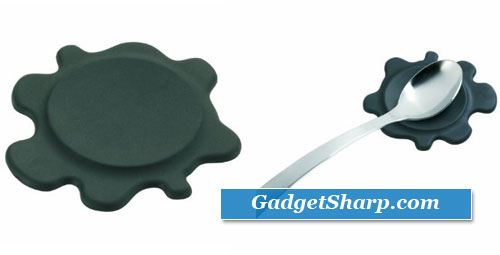 3. Stainless Steel Durable Spoon Rest [amazon]
* Spoon rest
* Classic design, stylish appeal
* Features a deep bowl for keeping drips and spoons contained
* Made of stainless steel; polished finish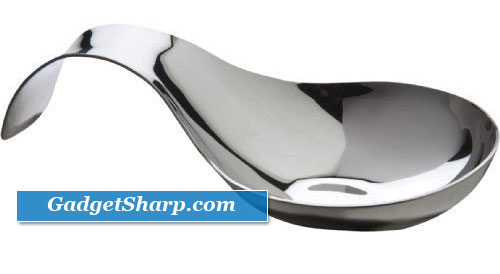 4. Oxo Good Grips Brushed Stainless Steel Spoon Rest [amazon]
* Can be turned sideways to accommodate multiple utensils
* Heat resistant silicone feet prevent spoon rest from heating up while placed on the stove top
* Silicone feet will not scratch surface of countertop or stove top
* Sized to hold larger cooking utensils

5. CounterArt Provence Garden Nested Spoon Rests [amazon]
* Convenient nesting allows for easy storage
* Essential tools for the cook- may also be used as prep and serve dishes
* Gorgeous decorative themed set of 3 in assorted sizes
* Large: 8-inch by 5-1/2-inch, medium: 7-1/4-inch by 5-inch, small 6-1/4-inch by 4-1/2-inch
* Dishwasher safe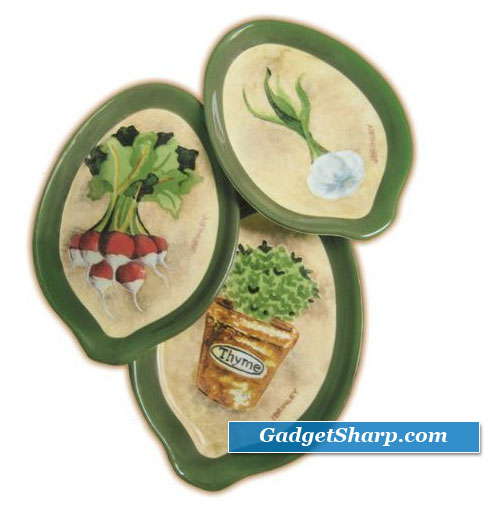 6. Amco Spatula Spoon Rest [amazon]
* Ideal for spatulas and utensils of any shape
* 18/8 Stainless Steel
* Dishwasher safe
* Attractive styling
* Fits perfectly on stove and counter tops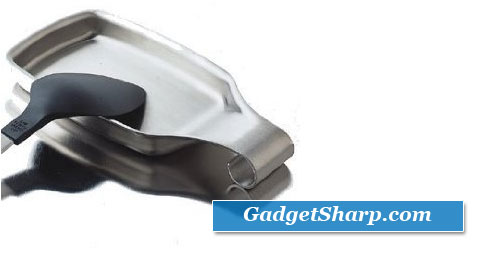 7. Upright Spoon Rest [amazon]
* Color: Chrome
* Size: 7"H x 4.5"D
* Clever and practical design!
* Chrome spoon rest frame has a removable ceramic dish for easy cleaning.
* Holds cooking spoons upright for less mess. Spoon not included.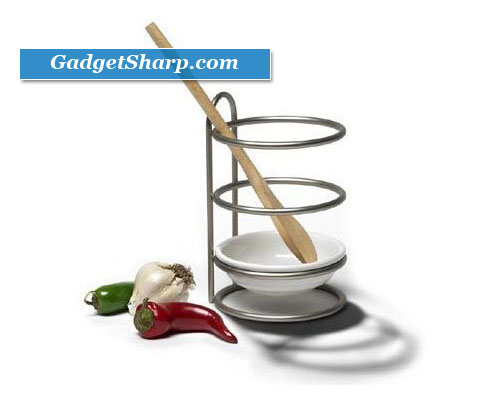 8. Orka Silicone Scraper/Spoon Rest [<a href="http://www.amazon.com/dp/B000U69BF4?tag=desswa-20&camp=14573&creative=327641&linkCode=as1&creativeASIN=B000U69BF4&adid=0WWGNJV97CMFBX8H34ME& target="_blank" rel="nofollow">amazon]
* Ideal for scraping a mixing bowl
* Makes a great spoon rest
* Hygienic silicone
* Non-porous, stain resistant
* Dishwasher safe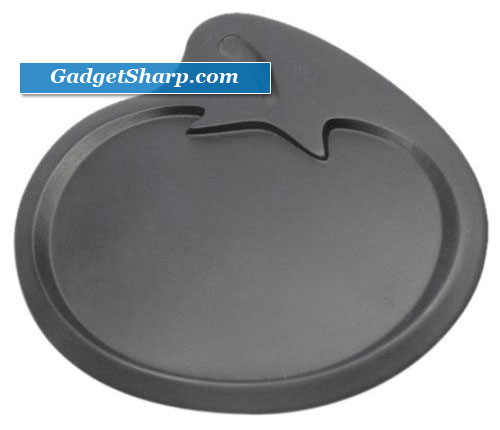 9. Tiger Cat Spoon Rest [amazon]
* This spoon rest is crafted from high-fired stoneware.
* Handpainted with lead-glazes.
* Dishwasher and microwave-safe.
* Rest measures 5" in diameter.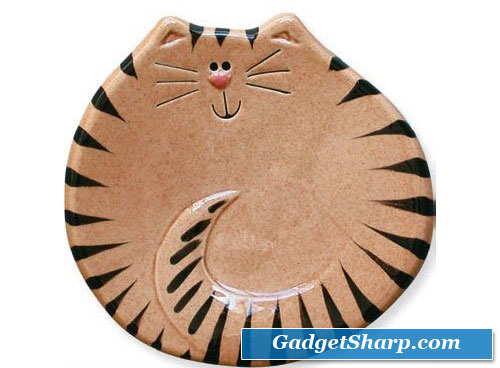 10. RSVP Stainless Steel Double Spoon Rest [amazon]
When you've got two recipes bubbling away on the stovetop and don't want to mix one with the other you'll appreciate this double spoon rest when it comes time to stir. Even when not "on duty" this kitchen helper is appealing as its gleaming stainless finish and artistic design give it the look of modern art.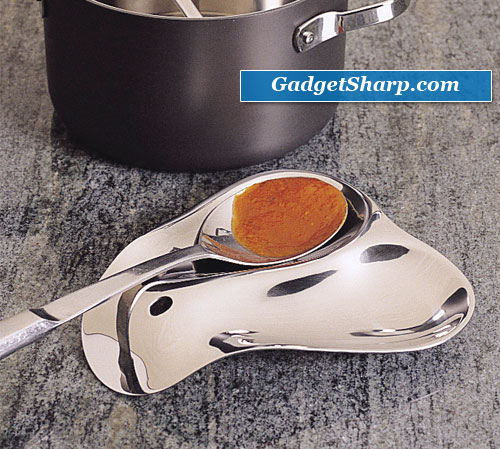 11. Amco Upright Spoon Rest [amazon]
* Dishwasher safe
* Atractively accomodates several utensils at once
* Highest quality 18/8 stainless steel
* Clean, contemporary styling will look great in your kitchen
* The perfect place to set your utensils, while keeping your cookspace clean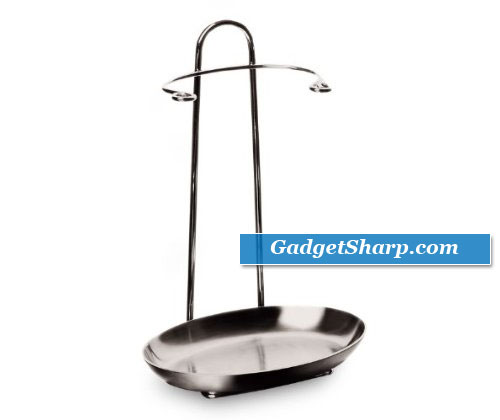 12. Koziol Luigi Spoon Rest and Dish [amazon]
* Contains a Spoon
* Comes with the gondola
* Can be used in the dishwasher
* product is 100-percent biodegradable as it is produced in Germany
* 5,71 inches long, 3,15 inches wide,5,51 inches high, 2-year limited warranty