All kitchen knives, whether professional quality or inexpensive, need a blade tune-up now and then. Since knife is dangerous, as a utensils to sharpen it, knife sharpener must be safe, user-friendly and Versatile. In this post, we rounded up 11 Innovative and Functional Knife Sharpeners, which not only professional chefs but also householders can easily work with it and get work done quickly and safely.
1. AccuSharp Knife Sharpener [amazon]
This knife sharpener sharpens any double edge blade whether serrated or plain, thick or thin and it will do it faster than you'd believe possible. AccuSharp sharpeners are the best, easiest and fastest sharpeners around. The difference is in the specially formulated, precision ground and mounted tungsten carbide blades.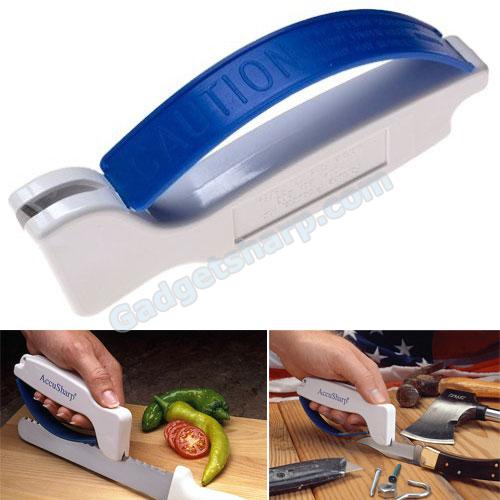 2. W?sthof 2-Stage Knife and Scissor Sharpener [amazon]
This Wusthof Knife Life Sharpener is a two stage knife sharpener with a built-in scissors sharpener. The carbide side sets your knife?s edge, while the ceramic side finishes the edge. The scissors sharpener will sharpen both blades for left- or right-handed scissors at the same time. The E-Z grip handle and non-slip rubber feet helps to keep the sharpener in place and safe to use. The Knife Life Sharpener is for both right and left handed use.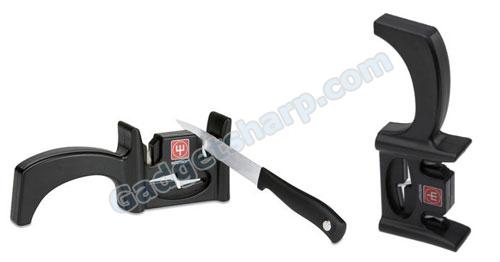 3. Presto Pro EverSharp Electric Knife Sharpener [amazon]
A two-stage system allows knives to be ground and sharpened on the Stage 1 half of the machine, and then honed on the Stage 2 half. Blade guides hold the knife at the ideal sharpening angle for each side of the blade, as it is drawn slowly towards the user and kept parallel to the countertop. The sharpener is suitable for knives made of alloy, carbon, or stainless steel; it is perfectly normal for sparks to fly when knives of high carbon steel come in contact with the Sapphirite wheels. Non-electric serrated knives that are only serrated on one side can also be sharpened with this machine. Three suction cups on the bottom hold the sharpener securely on a table or countertop, and two receptacles underneath catch metal filings for disposal.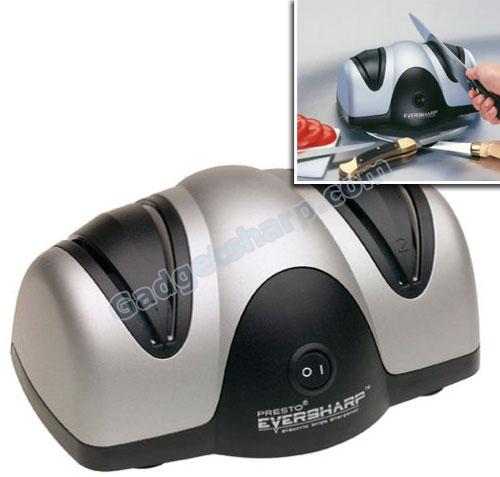 4. Smith's Pocket Pal Multifunction Sharpener [amazon]
Tapered round diamond coated rod for sharpening serrated and standard edges. Pre-set carbide blades quickly set your edge. Specially shaped ceramic stones give you a razor sharp edge. Reversible and replaceable carbide and ceramic stones for extended sharpening. Lanyard hole for carrying.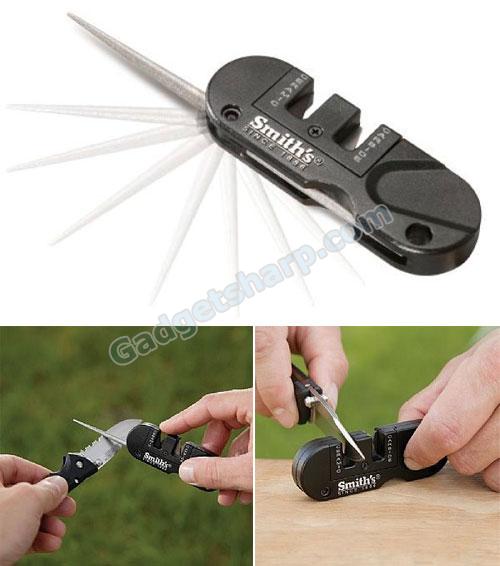 5. J.A. Henckels 32601-003 Twin Sharp Duo Knife Sharpener [amazon]
Henckels Twin Sharp Duo knife sharpener is suitable for all knives with a fine edge, with the exception of coated knives. The stainless-steel sharpener comprises two modules, which are marked on the sharpener. The first module features steel wheels for coarse sharpening and presharpening, and the second module uses ceramic wheels for fine sharpening and smoothing. This sharpener works well for both right- and left-handed people, features rubber feet so it won't skid on the countertop, and measures approximately 8 inches across and 3 inches tall, so you can store it in a drawer or display it in a small space.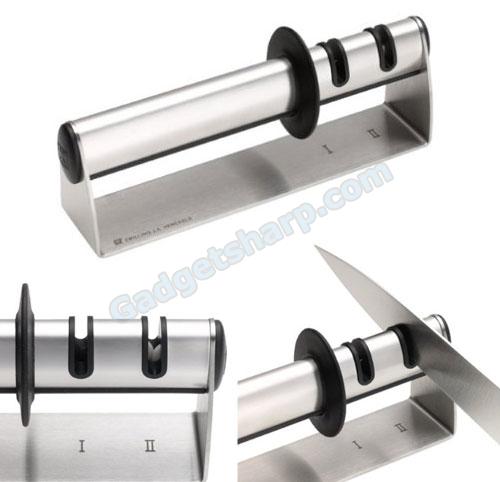 6. Ozitech Diamond Fingers Pro Knife Sharpener [amazon]
Featuring a design with eight diamond-coated Ozitech fingers, this knife sharpener provides fast, easy, and professional results. Knife blades get sharper with just a few swipes. This design eliminates the error and guesswork associated with traditional sharpeners by setting the edge bevels and professionally honing at the same time. Compact and perfect for on-the-go chefs, home cooks, and outdoor enthusiasts, the sharpener measures approximately 1 by 3-1/2 by 4-1/2 inches when folded. The outer shell unfolds in seconds to provide a strong handle and safety guards.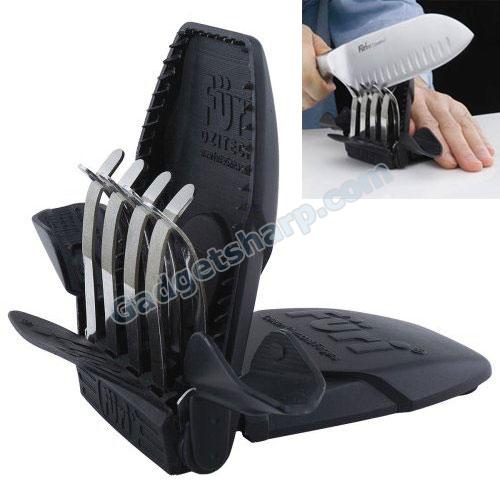 7. Spyderco Sharpmaker Knife Sharpener [amazon]
The Tri-Angle Sharpmaker includes two sets of high alumina ceramic stones: A pair of medium-grit (brown) stones for aggressive sharpening and a set of fine (white) stones for professional grade finishing. The stones are triangular for sharpening Plainedges on the flat sides and SpyderEdges (serrations) on the corners. Included is a set of brass safety rods protecting the users hands while sharpening. All components snap into the self-contained ABS plastic base and lid – ready to travel with you. Die-cut into the base are keyed slots and holes fitted for the stones. They accurately set the stone's sharpening angle at a 30? (15? each side) or 40? (20? each side) for knives and a 12.5? scissor setting.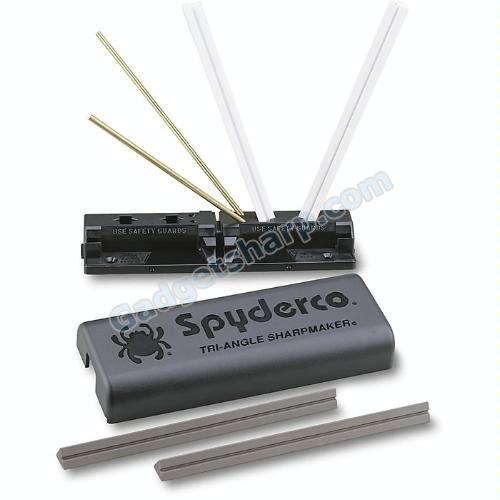 8. Anysharp Knife Sharpener [amazon]
This innovative and easy-to-use sharpener puts a perfect edge on any blade, from kitchen cutlery to gardening shears and lawn mower blades. The unique round design of the sharpener makes it easy for anyone to use. Simply place the blade between the guides and pull through. AnySharp will hone it to a perfect angle, removing only microscopic amounts of metal. It is safe to use with high-end hardened knives as well as serrated bread or hunting knives. The unit's PowerGrip suction cups give the user the freedom to use it wherever needed ? in the kitchen, workroom or garage. Simply attach the sharpener to any surface, horizontal or vertical, and start sharpening. Measuring 2 1/2 inches high by 2 1/2 inches wide, its compact design allows it to be stored in a drawer, cupboard or toolbox when not in use.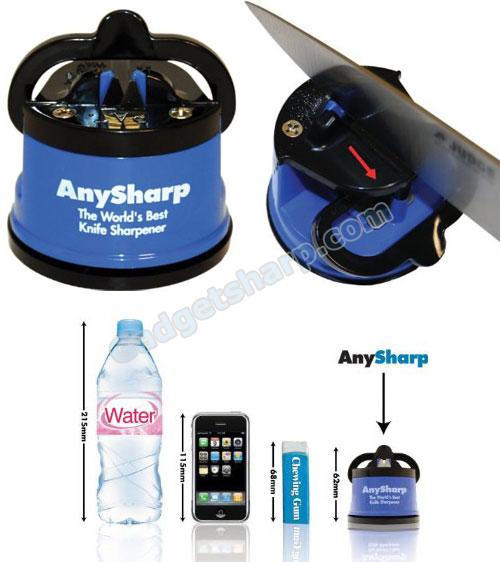 9. J.A. Henckels 32576-2309-Inch Poly Sharpening Steel [amazon]
A classic tool that helps get the best from knives, this sharpening steel is a solidly crafted addition to any knife block. Between professional sharpenings, tiny metal fibers bend down on a blade, dulling the surface. The purpose of the sharpening steel is to straighten up those fibers, maintaining the sharpest edge possible for daily use. This model is lightweight, with a flared handle and a tapered edge. It's extremely comfortable and well balanced for experienced users, but beginners may have an easier time with a more substantial weight.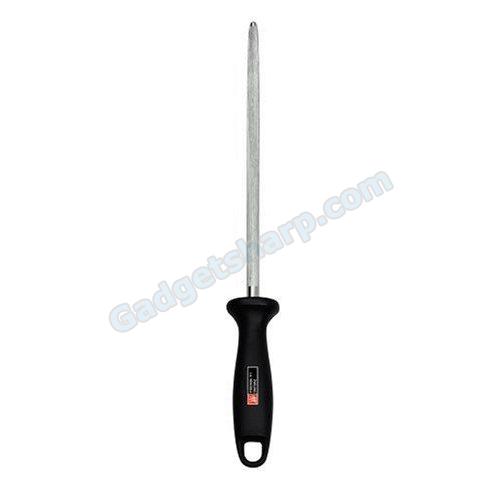 10. Chef's Choice 120 Diamond Hone 3-Stage Professional Knife Sharpener [amazon]
This professional Sharpener puts a razor-sharp edge on both straight and serrated blades, without destroying the temper. This well-engineered system uses a three-stage process in which blades are sharpened and honed on 100 percent diamond abrasive belts, then stropped to give the blade a fine, smooth edge. The three-stage heavy duty patented sharpening process allows you to select the type of ultra-sharp edge preferred for the knife's intended use. The sharpener automatically aligns blades to the correct angle. Great for sharpening kitchen knives, sporting knives, pocket knives, as well as serrated bread knives. Specially designed guides align blades to the precise angle.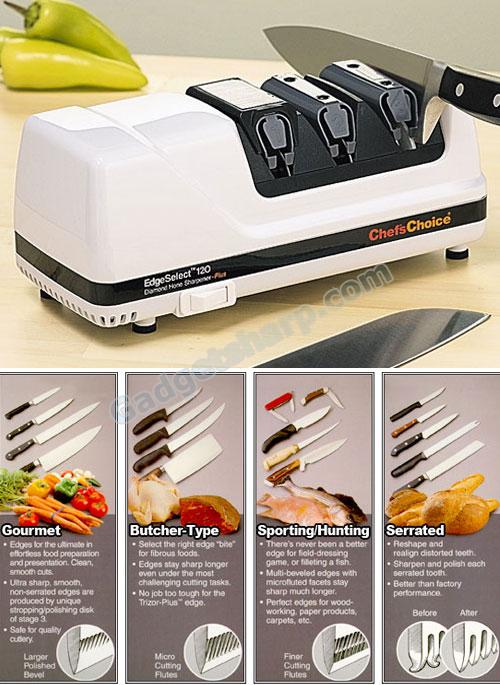 11. Shun Combination Whetstone Knife Sharpener [amazon]
The dual-sided 300 grit over 1000 grit of the Shun Combination Whetstone allows for sharpening knives and then honing the edges to a smooth finish. A rough to medium grit, this stone works best when wet down for both lubrication and cleaning. It comes gift boxed, so it makes a great gift for any kitchen enthusiast or butcher. The stone easily stores in a kitchen drawer when not in use.