One of the most romantic sites in the world, the Eiffel Tower is a central part of romance stories - both fictional and true. There are so many products inspired by Eiffel Tower on the market, and we will present you with 11 Beautiful designs in this post. Hope these elegant but functional life objects in Eiffel Tower shape will bring some romantic Paris flavor at your home.
1. La Tour Eiffel Chrome Bottle Opener [amazon]
Inspired by a Parisian icon. Designed for sophisticated practicality. One of the most recognized landmarks on the planet is celebrated in Kate Aspen's magnifique favor, La Tour Eiffel. From its gleaming, chrome surface to the finely etched details to its universal usefulness, this favor brings a distinctly French flair to your event.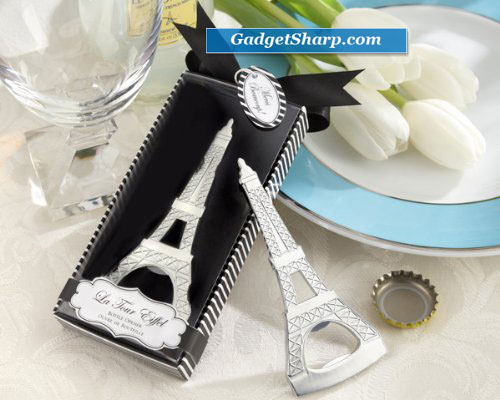 2. Napkin Rings, Eiffel Tower Design [amazon]
These napkin rings would be perfect for a Paris or French themed dinner. They are shaped like the beloved symbol of Paris and each is about 3 inches. Offered in a set of 4.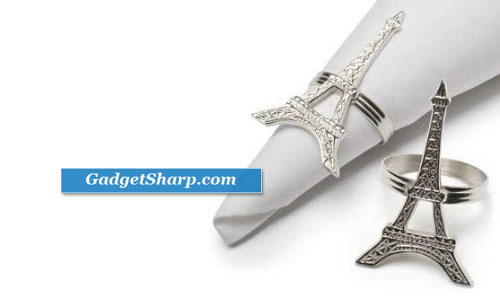 3. Midwest CBK Eiffel Tower Bookend Pair [amazon]
Polystone
Mini replicas of the Eiffel Tower look fantastic on your bookshelf
Come as a pair
Amazing detail add fun and whimsy to your decor
The pair stands 8-1/2-Inch tall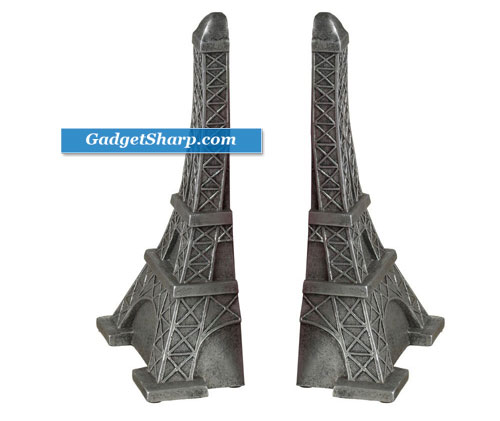 4. Eiffel Tower "Tea For One" Tea set [amazon]
Ceramic.
Measures 10 inches in height when assembled. Base measures 4.5 inches in length and width.
Hand wash recommended.
5-piece set includes: teapot and lid, teacup, mesh brewcup and tower top.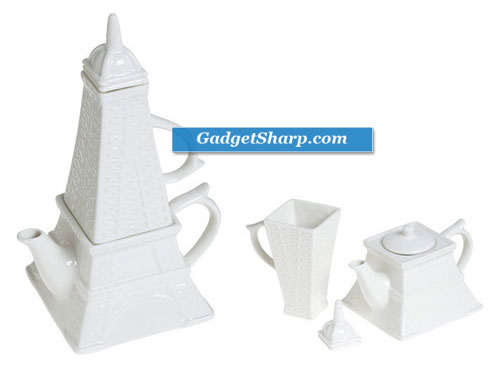 5. Large 28" Paris Eiffel Tower Wall Decor & Clock [amazon]
This designer clock will be the focal point of any room or any bare wall. The frame of the clock is an Eiffel Towel made of durable metal. The clock face simple and elegant. A very chic design! Operates on a single AA battery (not included). Clock has the hour, minute and seconds hand. Easy to hang (a single nail through the hook at the top). Approximate Dimensions: 28 1/4" H, 14 1/2" L, 1 1/55" Depth.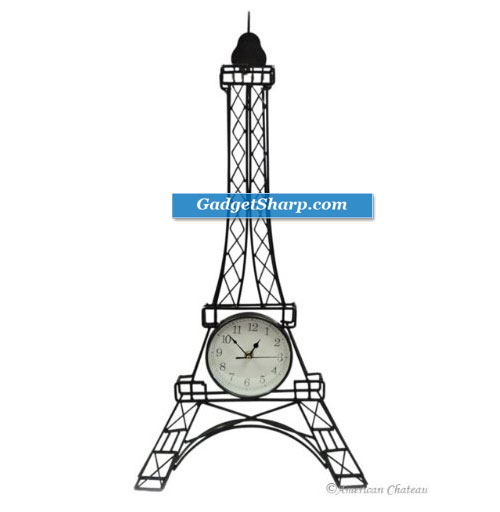 6. France Eiffel Tower Sink Strainer Drain Kitchen Decor [amazon]
Fun decorative sink strainers add a fun whimsical touch to your kitchen. Many of us spend plenty of time in the kitchen preparing meals and washing up afterwards. These little strainers are simply a delight to look at. Functional , they prevent food from going down your drain as well as plugging the drain if you need to fill the sink with water. A universal fit will fit all sinks. Stainless steel with strainer holes and handle is lead free pewter and enamel coated.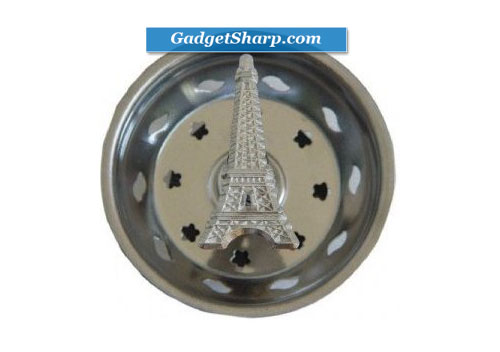 7. Love in Paris Collection Eiffel tower candles [amazon]
Measuring 3 ?" tall x 1 ?" wide, this Eiffel Tower replica candle is made of white wax with silver details that mimic the famous structure's intricate design. Guaranteed to be an enduring reminder of a love-filled day, each Fashioncraft exclusive candle favor comes in a clear topped box with a pink and black striped base and a Paris landscape backdrop, with a silhouette of a kissing couple in front as if they are sharing a romantic moment at the Tower itself. The package is finished with a metallic silver ribbon and a matching design oval "For You" tag.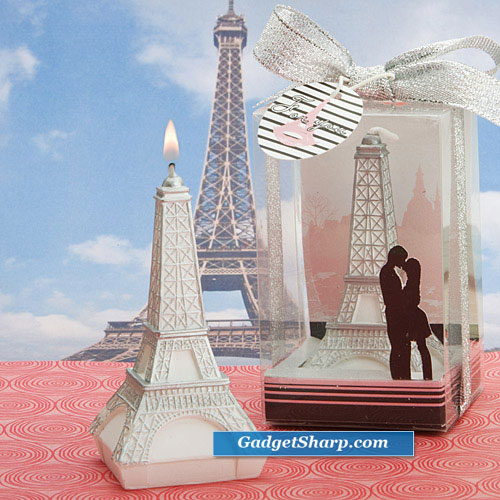 8. Two's Company Le Parisien Eiffel Tower Bottle Opener and Corkscrew Set [amazon]
Silver plated brass/steel
Beautiful design
Bottle opener: 3 inches by 7 inches
Corkscrew: 2.75 inches by 5.25 inches
Makes a great gift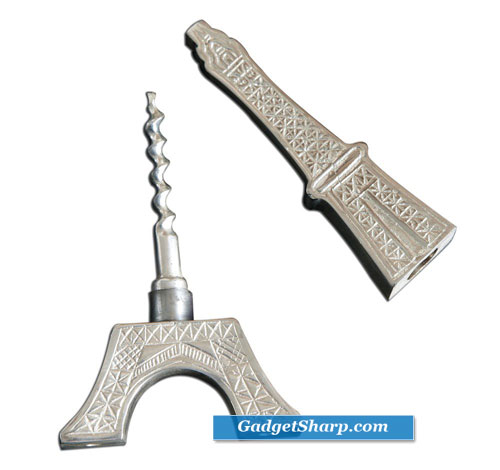 9. From Paris with Love Collection Eiffel Tower wine bottle stopper favors [amazon]
Each wine bottle stopper favor measures 4 ?" x 1" and features a detailed pewter colored poly resin Eiffel Tower replica, enhanced with glistening rhinestones, atop a chrome finish silver metal conical base, wrapped with a black rubber gasket for a snug seal. Each comes resting against a starry night design insert background in a clear topped box with a black fleur de lis design charcoal grey base.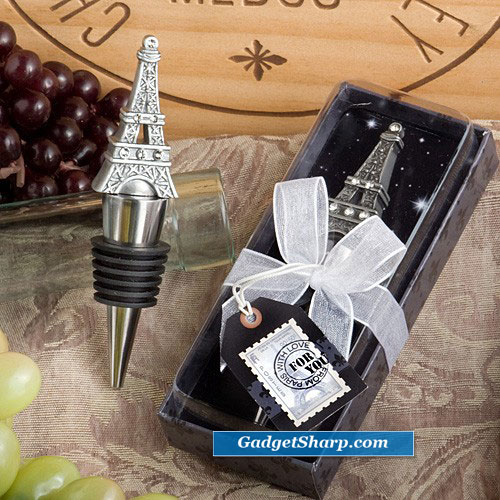 10. Eiffel Tower Paris Tea Light Candle Holder Wrought Iron 15" High [amazon]
Quite a high piece, 15", very decorative
Heavy wrought iron, dark 'rust' brown
Perfect for a French themed decor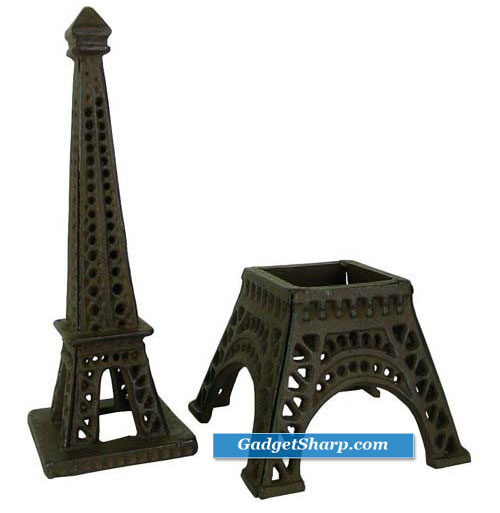 11. Eiffel Tower Vase [amazon]
Ceramic Vase Hand Painted Alicia Tormey Glass Bud Vase