Has it ever occurred to you that a swimming pool may be turned into an awesome masterpiece or that it can raise awareness and spread a message or provide you some different enjoyment besides swimming can give you? In this post, we collect 10 few creative swimming pool designs and installations from the globe. Hope you enjoy it.
1. Infinity Pool [link]
An infinity pool (also named negative edge or vanishing edge pool) is a swimming pool which produces a visual effect of water extending to the horizon, vanishing, or extending to "infinity". Often, the water appears to fall into an ocean, lake, bay, or other similar body of water. The illusion is most effective whenever there is a significant change in elevation. Having a natural body of water on the horizon is not a limiting factor, as many strikingly beautiful vanishing edge pools have been built with forests or vegetation in the background.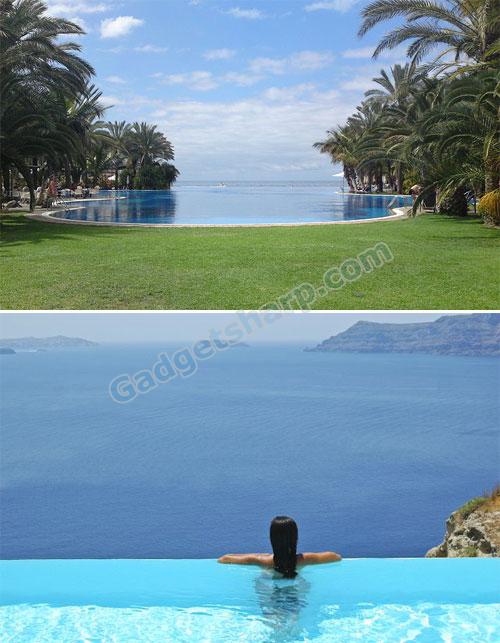 2. Universe Beach House Pool [link]
This is Universe Beach House, designed by Tatiana Bilbao, and located somewhere on the shoreline of Mexico. The pool is on the roof of the house/ camp. The structure was built more on the concept of a camp with separate rooms interconnected only by outside passages.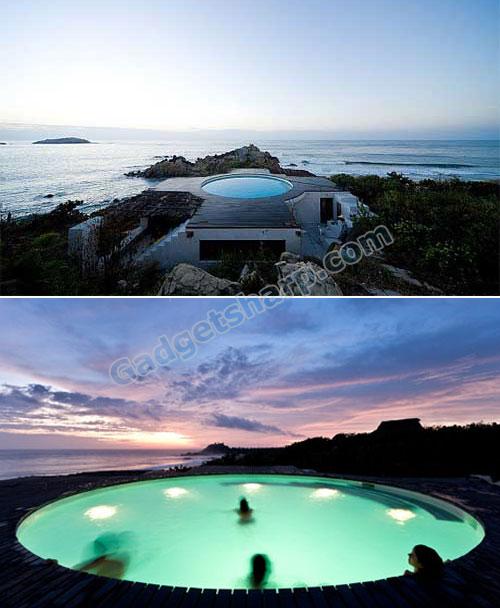 3. Mobideep floating swimming pool [link]
Mobideep floating pool docks are generally equipped with unique pool furniture, umbrellas, custom-fitted pool games and more. Mobideep pools have an easy-to-construct modular design, complete with integrated filtration system. Filled by taking in the surrounding water through the filtration system, the pool encloses crystal-clear water that?s free from contaminants.
Honestly… I am not really got that point… why we need to build a pool on lake?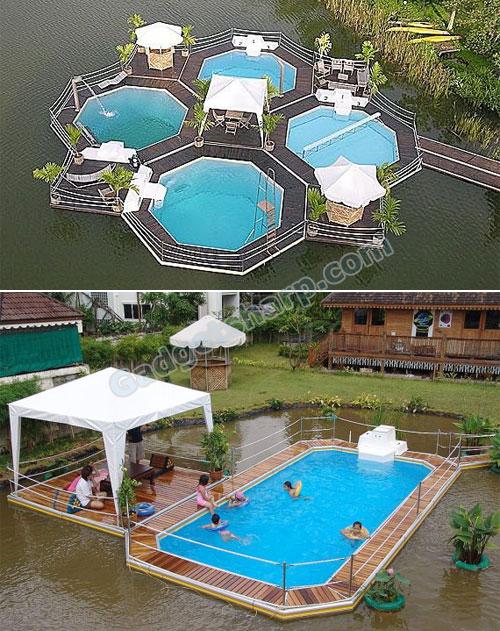 4. Hanging Pool [link]
For the urban exhibitionist (or voyeur, as it were): this Starwood Luxury Collection property (new to the Lone Star State, too!) has a sky-high design-y spot for some memorable dips: guests can go for a swim in this outdoor rooftop pool which partially hangs off the side of the building ? eight stories up. And, yeah, it has plexiglass sides, too.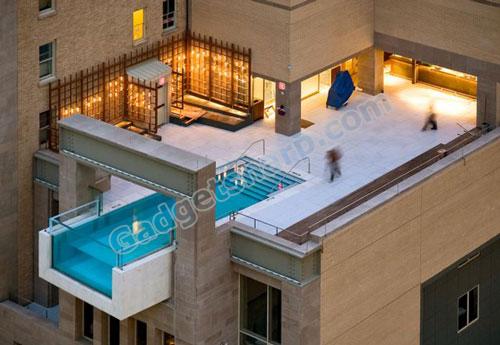 5. Transparent Bottom Pool [link]
Cool modern home swimming pool with transparent glass bottom. It is kind scary to find a body floating above your head… The first thought I had is to call 911.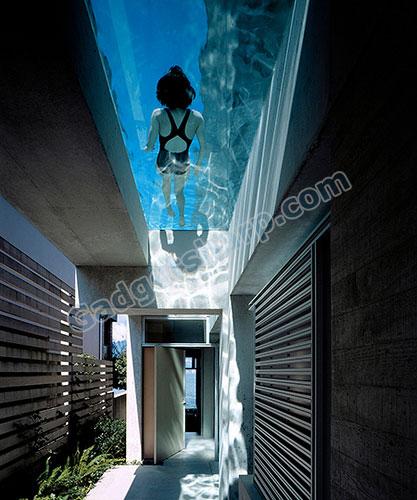 6. Swiwimming in the snow world
Not sure where is this place exactly. If someone know about it, please let me know.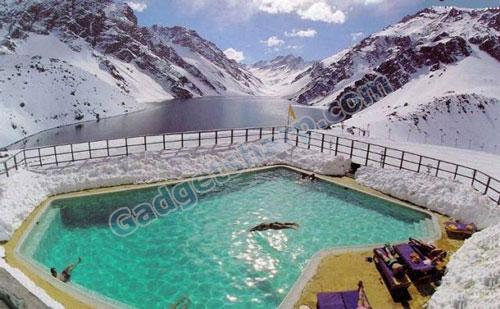 7. Guitar Shaped Pool [link]
These seem pretty popular. At first I was thinking they would be unusual, but it turns out they are everywhere. In fact, the main claim to fame of Tamworth, New South Wales, Australia, seems to be the fact that it boasts a guitar-shaped pool and a country music festival.In fact, every third pool in Nashville, TN is legally required to be guitar shaped. Who knew?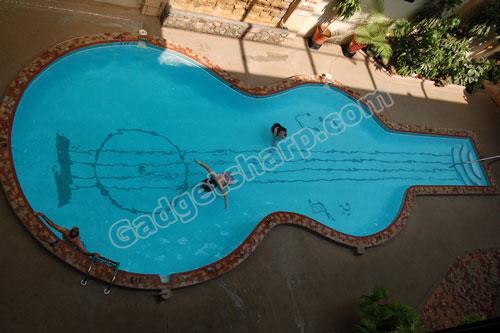 8. Badeschiff Swimming Pool [link]
Some pools just defy description, or make you wonder who thought that one up. This particular pool, for instance, is actually a converted barge and floats on the Spree river in Berlin, Germany, where temperatures have been unseasonably warm this year. It?s called Badeschiff (?bathing ship?) which seems like an appropriate name.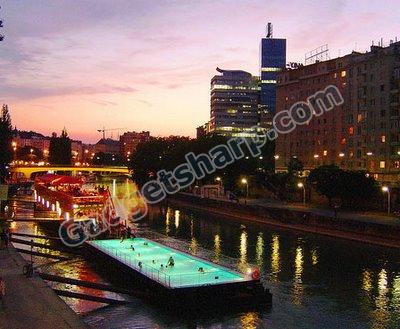 9. People in the Swimming Pool Illusion [link]
Argentine artist Leandro Erlich has created a full-size pool including a deck and a ladder. When approached from the first floor, people, fully clothed, can be seen standing, walking, and breathing beneath the surface of the water. The people underneath the swimming pool can actually look above with realistic water effect on top of it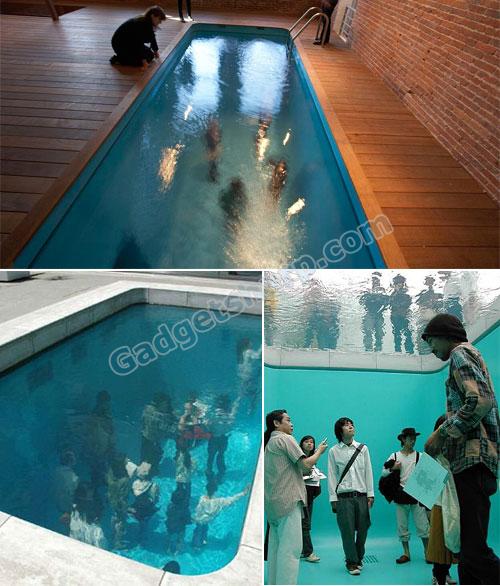 10.Global Warming Swimming Pool [link]
British banking giant HSBC did a clever thing with a swimming pool: they took a picture of New York City from above and applied it to the bottom to make a point about climate change and rising sea levels. The effect is nothing short of amazing. My eyeballs are still having trouble not believing these people aren?t swimming a thousand feet above the NY skyline. Granted, sea levels would never rise that much ? and the water probably wouldn?t be crystal clear (or toxin-free) ? but, it still makes you think.