Did you grow up with passion of motorcycles? Imagine yourself like a super hero riding those futuristic machines? In this post, we have prepared 12 super fashionable, functional and futuristic motorcycles. Most of them are still concepts such as Yamaha Deus Ex Machina Concept Motorcycle(my favourite one so I put it in the first place) and nUCLEUS; some of them have been produced but with limited edition Titanium Fighter Motorcycle and B120 Wraith. Let?s check the list and fulfill your childhood dream.
1. Yamaha Deus Ex Machina Concept Motorcycle [link]
Yamaha Deus Ex Machina Concept Motorcycle designed by Art Center Pasadena student Jake Loniak. It looks really cool! This concept bike likes a stand robot. The vehicle is powered by ultra-capacitors and doped nano-phoshpate batteries (similar to the ones currently used in hybrid cars) and it is controlled using 36 pneumatic muscles with two linear actuators set along a spine consisting of 7 artificial vertebrae.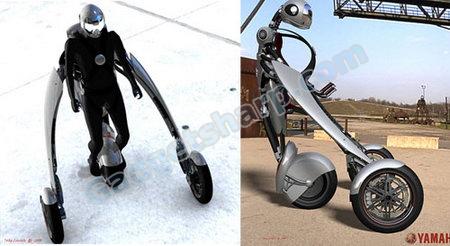 2. 2015 Honda CB750 Motorcycle Concept [link]
The 2015 honda CB750 Motorcycle Concept by Igor Chak. This cool 2015 honda CB750 has unique 'diamonds' shape, unlike the regular bike, the frame, body is a unibody construction combining carbon fiber, aluminum, and titanium. Powered by a four-cylinder liquid hydrogen engine and features an on-board computer which can be controlled through a 5" OLED multi-touch display positioned right on the fuel tank. This touch dispaly computer includes 3 model: GPS, Drive and diagnostics mode. It also featured radar technology to "sense an upcoming head-on collision and will automatically slow the bike." Other features include a six-speed dual-clutch transmission with electronic lurch and traction control; front and rear electro-magnetic suspension adjusted; sensors show readouts updating every 1/10 a second and can adjust everything on-the-fly.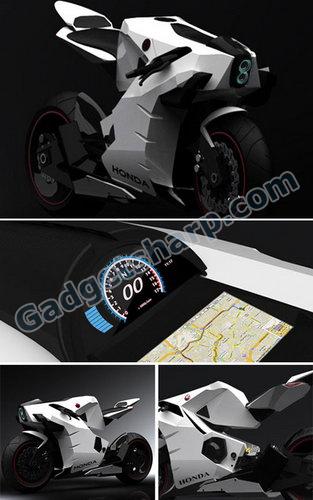 3. nUCLEUS by NON-OBJECT [link]
In the competitive world of sleek and wind splitting motorcycle design, aero-dynamic drag efficiency takes a back seat only to face stretching speed and performance. This latest concept by NON-OBJECT called ?nUCLEUS? throws out the current rule book and presents this ?Square Against Air? electric motorcycle design. nUCLEUS boasts a thin comfortable saddle and horse-like behavior that lowers itself when idle and raises when in motion. The air defying side-view hides the fact that these pieces of metal are simply blades from the front. I would be curious to see how this machine proves itself in a wind tunnel and stability at high speeds. You NEED to check out the movie page [here]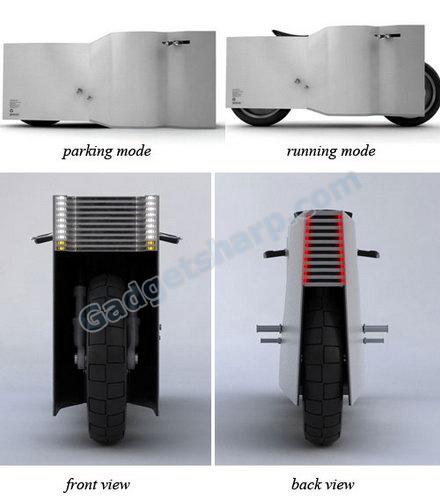 4. Titanium Fighter Motorcycle [link]
This limited-edition Fighter Motorcycle was featured in the 2008 Christmas Book from Neiman Marcus. It caught my eyes, so cool(except for the price)! The Fighter Motorcycle from Confederate Motor Company, packs 190 mph of performance into its cutting edge carbon fiber, titanium, and aluminum chassis. It features included 64" wheelbase, 27"H seat, integrated braking system, high-tech bells and whistles. Only 45 of these raging, right-on machines are available.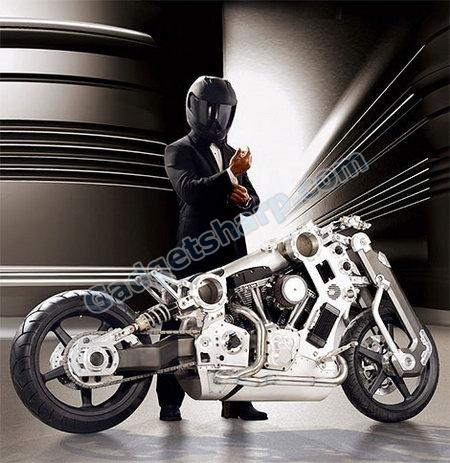 5. B120 Wraith [link]
Revealed at the New York Auto Show, the B120 Wraith, by Confederate Motors appears to be sort-of stripped down motorcycle, but at the same time looks savage and powerful. Confederate Motors has constructed the bike out of carbon fiber and unpolished aluminum which gives it the raw feel. A pipe-like three and a half gallon fuel tank frames the backbone of the bike, and headlights appear as a row of LEDs.
The carbon fiber wheels are equipped with Brembo brakes. Its power comes from a ?V-style? engine that pushes out 125 hp of power and 130 lb-ft of torque. Confederate Motors are keeping the bike as a ?limited edition? and plan to build only 250 units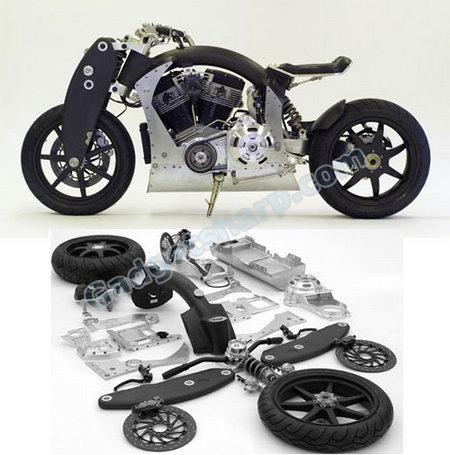 6. Suzuki?s Green Machine [link]
The good folks at Suzuki are serious about going green and have been spotted testing their latest concept, the Suzuki Crosscage Hydrogen Fuel Cell Motorcycle. With no gears, no noise, no clutch and no emissions, this hydrogen fuel cell / electric hybrid two-wheeler just might be the future of motorcycles and is closer to reality than you might think. Seriously, there is a guy riding one in these pictures, you won?t hear it coming, but it is.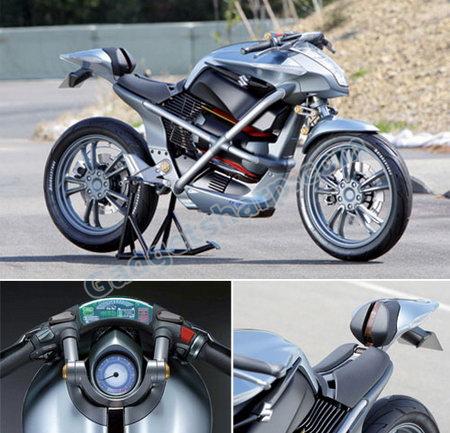 7. Confederate Renovatio Concept Motorcycle [link]
Even crazier than Confederate's Wraith motorcycle, the Renovatio (Latin for "Rebirth") concept sports a minimalist-industrial look that lacks a traditional frame and puts everything out on display like a drunk stripper. But it doesn't just look like a Satan-approved machine, it's got all the evil power you could ever need ? 150 hp standard or 190 hp supercharged, thanks to its water-cooled V-twin engine that's derived from the Corvette's LS7 V8.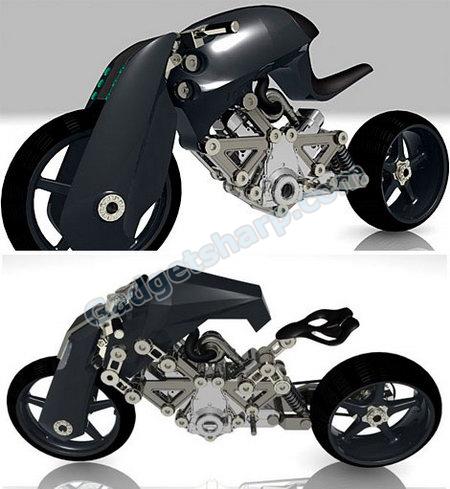 8. Jaguar Motorcycle [link]
Happen to be a Jaguar lover with a hankering for unique motorcycles? If not, we can't imagine that you'd want to ride around on a massive Leaping Cat sculpture capable of hitting speeds of 50 miles per hour, but that hasn't stopped Massow Concept Motorcycles from creating just such a beast. Called the NightShadow, the foundation of the motorcycle is an air-cooled Buell S3's 1200cc V-twin powerplant.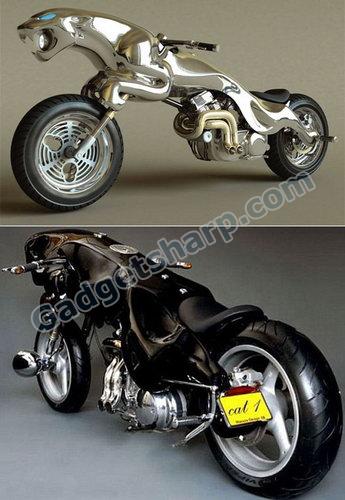 the designer also designed another funny one…"massow custom motorcycles"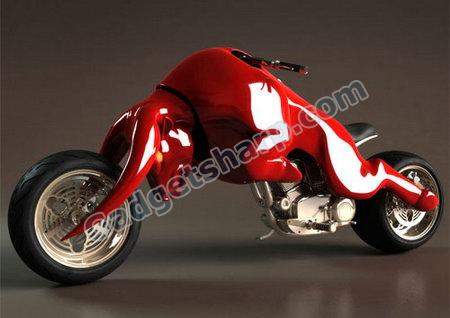 9. Honda Cub Motorcycle by Sam Jibert [link]
The Honda Cub motorcycle by Sam Jilbert utilises the potential for a radically revised layout, dispensing with convention due to its use of a hydrogen fuel cell. For so long has mankind had an addiction to the internal combustion engine with its limitations of form and package layout, but now totally revised and interesting concepts can be created by placing or moulding the hydrogen power-plant components in unusual and previously unfeasible forms. Sam explains: ?I?ve based this concept around the Honda Cub, which has been around for decades and is still very popular on the continent with locals and tourists alike. The Cub is very practical but this concept takes it to a new level, with a provocative image and being environmentally responsible, the new Cub should appeal to young city professionals and the young trendy market in general.?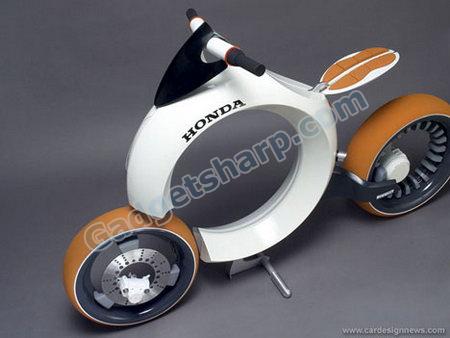 10. the uno: motorcycle meets segway [link]
The Uno is a self-balancing motorcycle that uses a pair of gyroscopes to constantly keep its rider upright.
Designed by 18-year old inventor Ben J. Poss Gulak (and built with the help of a team of bike builders and engineers), the 120-pound motorcycle is so easy to ride, its only control is a single on-off switch. To ride forward, lean forward, to reverse, simply lean back. The degree to which you lean increases or decreases your velocity. By using a pair of wheels, the bike can also make turns based on your side-to-side movements.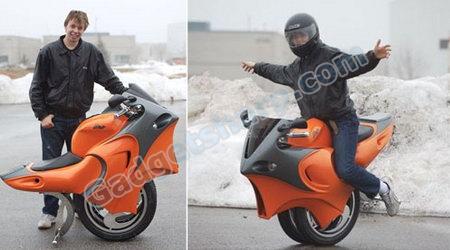 11. Satan?s Motorcycle by Intel and Orange [link]
Intel and Orange County Choppers has partnered up and released this motorcycle called the Satan?s ride. This motorcycle is powered by a four dual V-twin motors combined with Intel quad-core processors. It has two rearview camera displays (no rear mirror), the speedometer, various virtual gauges, a web browser and StreetDeck Infotainment. There?s no key for this motorcycle just place your thumb on the finger print reader to start you ride.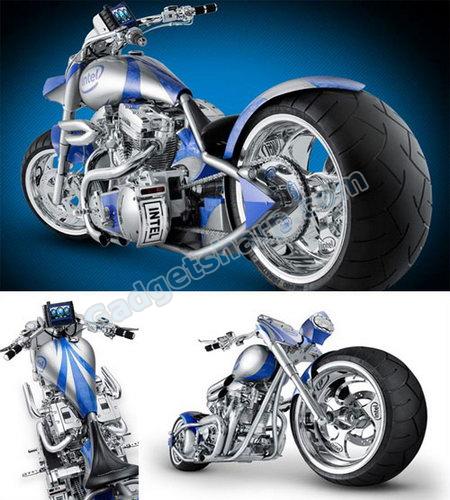 12. Hubless Monster Motorcycle Rolls Without Spokes [link]
The Hubless Monster chopper by Amen Design is the world?s first fully functional motorcycle with two hubless wheels.
Hubless (centerless) wheel is a type of wheel with no center hub. To be precise, however, the hub is actually almost as big as the wheel itself.
Advantages include: decreased weight, lower center of gravity, increased braking leverage, and more accurate steering.