We have seen 12 Futuristic and Functional Motorcycle before. Today, we will present you 11 creative car concept design. According to Wikipedia, a concept car is a car prototype made to showcase a concept, new styling, technology and more. Want to know how the car from future will look like? One wheel? Two wheels? Three wheels? Fly in the air or swim in the water? Powered by solar or hydrogen? Can it work like transformer? Curious? Just check this post.
1. VW Breathe - Future Of Delivery, Both Human And Cargo [link]
For the benefit of space efficiency on the road in a big city, the Breathe will be used both as a private commuter and delivery device, so that the number of the transportation devices will be decreased. The Breathe reduces the unnecessary usage of private vehicles, public transportation, and even delivery vehicles by transforming into three different modes. Designed with advanced materials, the Breathe can transform its body shape and proportion.
Its functions are clearly defined: Quick light delivery service, Public transportation & Personal commuter. Area of commute is of course a metropolis city, and what?s intriguing is that this fully GPS driven vehicle has two modes: human transporting and goods delivering.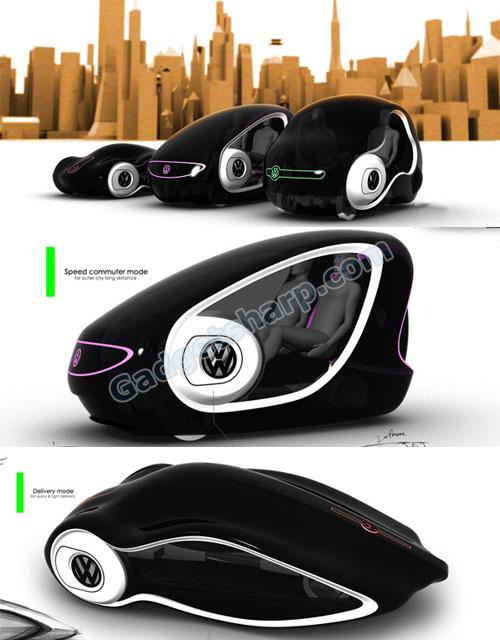 2. MoVille - Tear Drop Shaped Futuristic Car Concept [link]
Designed by Woo-Ram Lee, Moville is a compact single passenger vehicle that comes in a tear drop shaped. The concept car features artificial intelligence and zero-emission drive train. It uses electromagnets to rotate the ball wheels. Its artificial intelligence allows the car to connect with other vehicles and road network, so the vehicle can judge where it is located on the road and where other vehicles are. Other feature include some sensors, cameras, and GPS. Find out more pictures after the jump.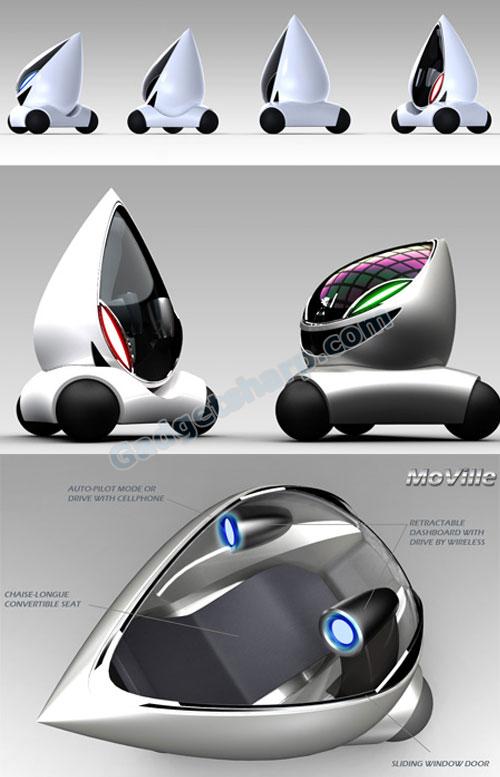 3. Ozone - Hydrogen Car for Peugeot [link]
The new concept vehicle called ?Ozone? seems to revolutionize the way we commute. The vehicle works on hydrogen powered fuel cells and looks futuristic in every way possible. Also the thought and the concept seems to be fine, however the structure might make you feel uncomfortable in your seats. The body is encased between two giant wheels controlled by separate motors which are powered by fuel cells, though this two seater looks more like a design picked straight out of fantasy due to its semi transparent glass casing and controlled by joystick. The huge glass doors slide 360 degree into the symmetric metal body. It sure is one cool futuristic concept.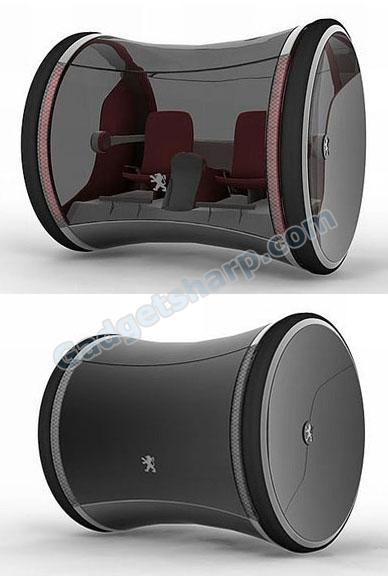 4. The Leonin Concept Car [link]
The Leonin, by Tudoran Liviu, is a futuristic car that came to life in the fifth Peugeot design competition. The Leonin is a hybrid car that gained its name from the behavior of a lion. It comes with a battery below its hood and an electric engine in the back. This car is able to reach a speed of about 160 km/h with a range of around 500km, which is perfect for shorter distances travelling in the city.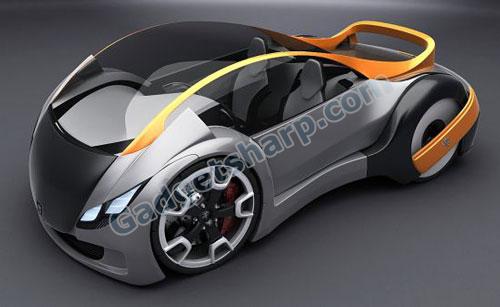 5. Audi cell car [link]
This right here is a futuristic vision of the Audi cell car set up on independent axles and center turning drive shafts. All of the insides hidden in a fabulously eye-meltingly nice carbon body. Transport you and you loved ones around in style and safety.
Electric motors inside the wheels, L:4220mm, W:1980mm, H:1350mm. Airflow around the wheel body work and axle engineered to create high downforce, aerodynamic shapes for a more fluent drive. Made of a combination of recyclable polymer materials and ?progressive strong carbon fiver surfaces according to F1 construction.? Kamera system monitors situation around the vehicle and notifies the passengers accordingly.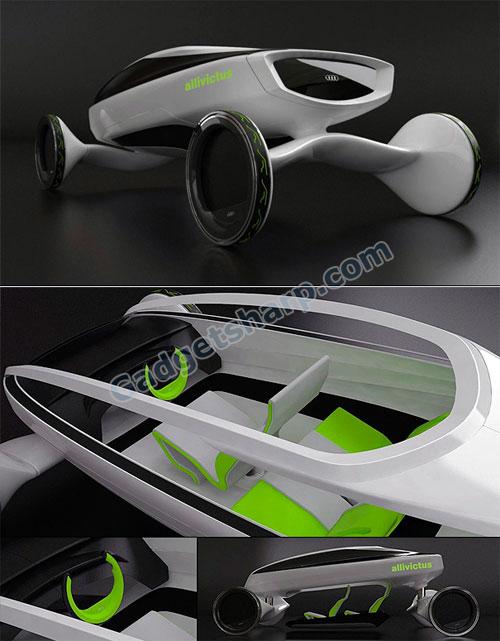 6. Mutation Futuristic Car Concept [link]
The new single seater electric concept car by South Korean designer Jongpil Shin is expected to take the car designing to the next level. The USP of this compact car design is that it has certain emotional elements which constitute a part of it like the wrinkle that has been incorporated into the overall styling and functionality. Even though it?s a single seater vehicle, it still can accommodate two people easily thus transforming it into a two seater but in the process the wrinkle gets straightened. The wrinkle also helps in protecting the passengers in case of an accident as the same gets swelled up. So, all in all it is an emotionally safe vehicle.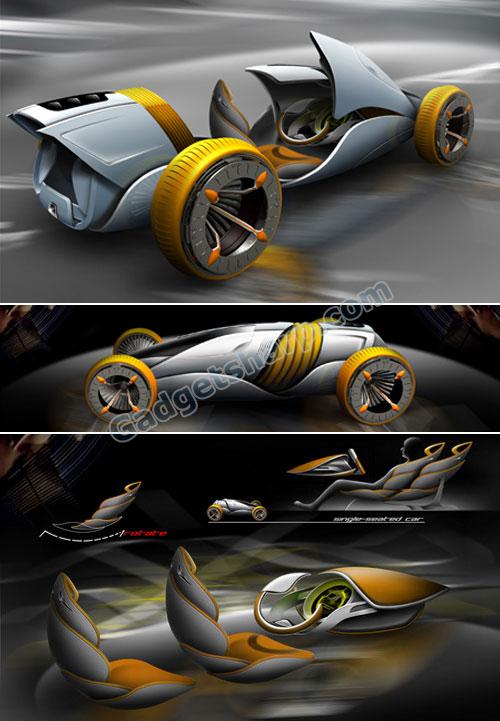 7. BMW ZX-6 Futuristic Car Concept [link]
The final projects of the Transportation Design students at Turin-based IED (istituto Europeo di Design), developed in partnership with BMW with the goal of creating a car for 2015 interpreting the language evolution and the brand?s philosophy.The concept is focused keeping in mind the modern needs, tastes and life style of an individual. All the cars designed in this project looks like toy cars. You cannot even imagine them running on roads in the real life. There are different concepts of cars designed by the students and all of them are unbelievable in their design and concept. The one that steals our attention is BMW ZX-6 concept, check out the image below.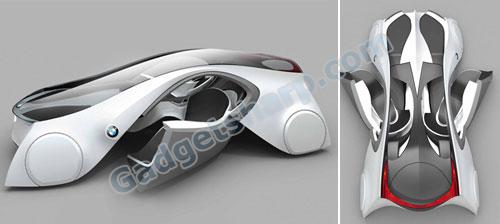 8. RD 3 Wheels Vehicle Concept [link]
RD concept car is designed for single passenger and best suited for large routes. The main feature of this car is that it works mainly through articulation that not only gives direction but also makes it capable of compacted during high traffic and low speeds. Therefore, this vehicle remains low at the high speed and also displays information required during a trip by voice command by the driver. RD would be very convenient in the busy roads and is perfect for traveling in suburbs or long distance areas. While driving, you are definitely going to feel speed, comfort and space.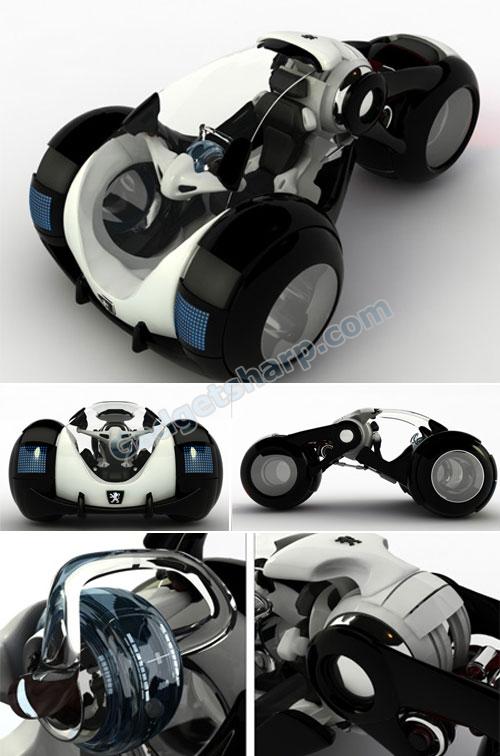 9. eRinGo - one wheel car? [link]
eRinGo is predictably this rotund vehicle that can go from a one-wheel car to a three-wheeler, depending upon the deep curves you wish to take. The main central wheel balances the car while in motion, and its panels house the electric motors and other machinery of the car. The two-seater has two steering wheels, allowing either of the drivers to take control. Naturally when one steering is being used, the other gets locked. Two smaller-side wheels get deployed intuitively to stabilize the car when parking or hitting the curves.
As a concept ?Green? vehicle it looks neat in this round avatar, but will the design functionality actually work, we really can?t predict.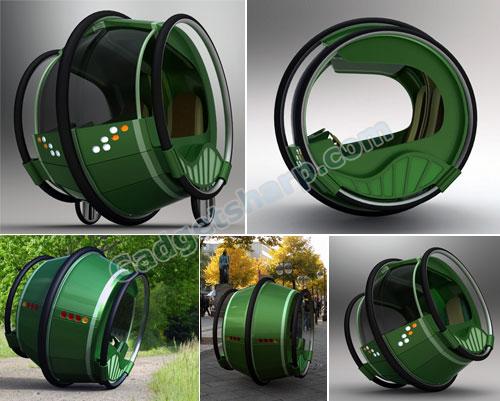 10. Envisag - Your Car In 2030 [link]
Envisage a futuristic vehicle that draws inspiration from the beautiful and organic shapes of nature and blends it with advanced eco-technologies, making the cities healthier. Intended for ultra-crowded cities of 2030 and beyond, the Bionic concept car runs on solar energy generated by a see-through polycarbonate roof with attached solar photovoltaic cells.
Featuring advanced and optimized materials (EAP-electro-active polymer layers) to change its shape in order to fit the varied needs of different users, the futuristic car also integrates advanced in-wheel motor technology, Nano PV cells and lithium ION battery for zero carbon emissions. Since the electric motor is placed within the wheels, the car can rotate on a sharp 360? angle with minimum fuss. The sustainable vehicle also includes an interactive display that allows the user to watch and control the vehicle?s reshaping options, GPS navigation and music player, while the modification zones are placed into the seat surfaces to control the expression of the seats for better comfort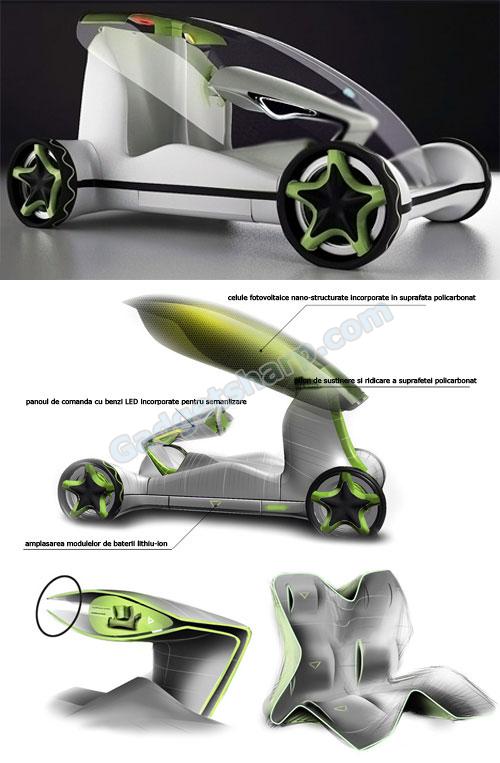 11. Peugeot Globule [link]
Peugeot Globule is concept vehicle that is made up of four separate spheres that move together in a globule shape. Each sphere accommodates a single passenger and is individually powered by an electric motor. The four spherical parts are connected to a central battery and are contained within a very flexible polymer covering. The car has been designed on a self-assemble basis and can move in different arrangements. Like it can file the four spheres into a single line, to cross a narrow lane.
The car takes up only 130 cm x 130 cm space for parking by stacking up the spheres. The driver?s part is the only sphere in constant contact with the ground at all times.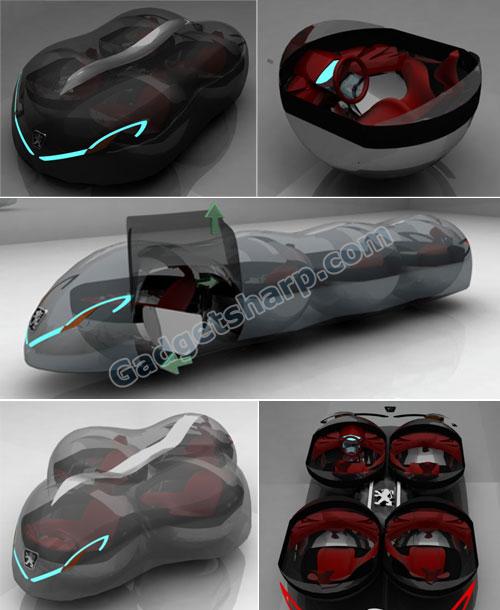 New technologies have helped the automotive industry evolve. Aside from creative designs, many new cars have vehicle tracking systems for additional safety precautions.