Yes?. Again? Here is our third issue about cool/creative/usual bike design. After so many functional and cool designs in first two posts, we will present you with something different in today?s post. We have Magical Bike which grows with kids or music player inspired Polygon Bike or Variable Frame Bike which allows you to easily switch position from one to another?. Find your coolest bike? Check out this post.
1. eco // 07 The Reinvention of the Wheel [link]
Compactable Urban Bycicle designed to save space when it is being transported or it is not in use.
Wheel Folding System
The Wheel is composed by six modules, each one has a double pivot in the joints, this allows the wheel to fold and become smaller, the spokes are contained in the inner structure of the wheel, when you unfold the system, the spokes rotate to the center of the mechanism where it attach to the center of the wheel.
Bike Structure System
The double triangule structure is composed by expandable modules, each one collapses to a smaller dimension and then this modules align by the rotation of the axis in the joint of the structure, to keep in position all the structure is used an special part in a form of an X that aligns all the modules to their position.
2. Magical Bike ? growing with kids [link]
It?s called the ?Kilobike? and it?s totally magical. It?s a concept by German firm Kilo Design, comes with swappable joints in the frame?s top tube, which expand it out diagonally. When teamed with standard seat- and handlebar-height adjustments, these joints allow the bike to grow right along with a child?s ever-lengthening limbs while ensuring they ride with proper ergonomics. Not to mention saving mom and dad a few dollars over the years.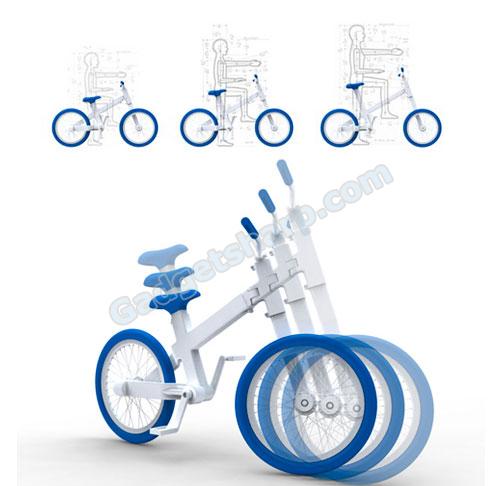 3. ?One? - Folding Bicycle by Thomas Owen [link]
?One? provides a real solution to the problems involved with urban transport. With congestion rapidly clogging up the roads the need for products that can free individuals from their car are in real demand. When open, ?One? is a comfortable stylish bicycle that not only offers all the benefits of cycling (like cheap travel and exercise) but with its revolutionary power assist system the user can cruise around with ease. When folded, ?One? turns into a smooth, light and compact case free of all dirty and protruding parts. ?One? can be easily carried, stowed and stored. ?One? is truly a bike for eco and money minded individuals alike. Its stylish design strips it from the folding bike stigma and makes it a bike for the 21st century.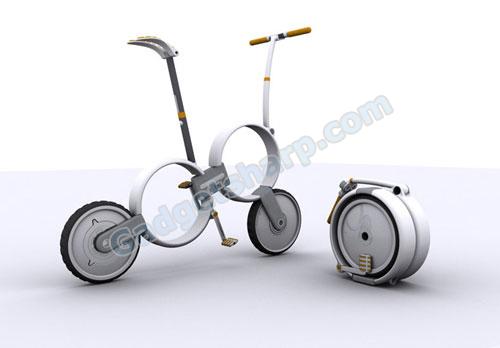 4. Variable Frame Bike [link]
Each frame is adjusted to the weight of the rider. The rider may ride in either mode forever, but if the rider wants to switch from one position to another, they?ve just to push the locking lever and lean forward or backward. The rider may change positions while continuing to ride the bike.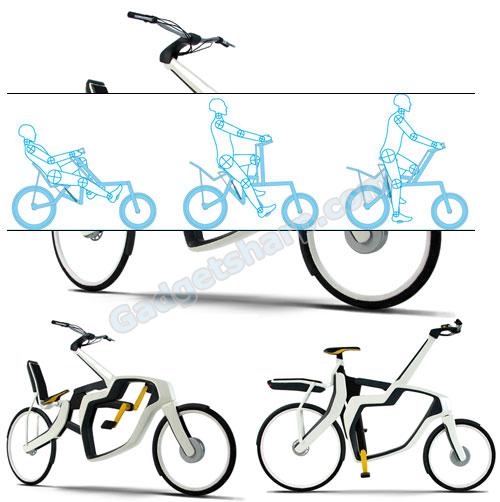 5. Polygon Bike Concept [link]
Polygon Concept Bike is all about being ultra-cool with your lifestyle on the two wheels and pedaling your way to a gadget filled delight. The bike is fitted with features such as a music player that has buttons conveniently placed on the handle and the battery of the player can be charged by the movement of the wheels. Polygon integrates cool new technology in to its structure and while it seems that the handle and the seat are a bit too far away for comfort and it will take a mighty stretch to get there, everything else about the concept is perfect for city life.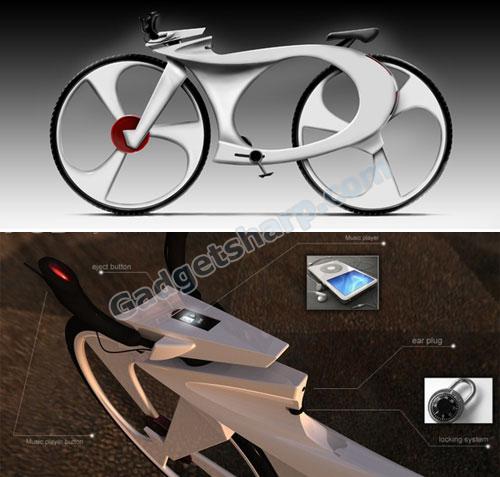 6. KTRAK converts a mountain bike into a snow toy [link]
Ktrak bikes have kits to change your regular sports bike to a bike that can ski. Ktrak kit comes with a standard six bolt pattern that is compatible with 6? or 8? disc brake. It is also designed to work with standard caliper or ?V? brakes.