You like cycling and want enjoy the fun and health lifestyle. Then you probably also want to check this post, where we featured 13 Cool and Useful Products for your Bike. With iphone, ipod or mp3 player mount, you can have your music with you all the time; with bottle or coffee mount, you can enjoy your drink during cycling; with compact tool set and mount bike, you can fix or adjust your bike whenever and wherever, with cool wheel display system, you will be the star on the street. Can't wait? Just keep reading…
1. Arkon Bicycle Mount for iPhone [amazon]
Arkon's IPM127 Bicycle mount for iPhone conveniently positions your device on bicycle handle bars. This is the perfect accessory to secure your iPhone while you ride. There are no tools required to install the bicycle mount. With the swivel adjustment feature on this mount you can position your device for optimal viewing. This holder can also be used to connect to the roof supports found on golf carts or bars on a baby stroller.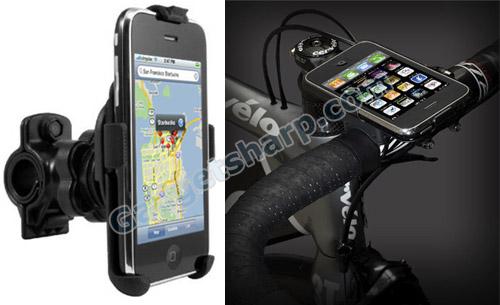 2. Topeak Modula Cage EX Modified Shape Bicycle Waterbottle Cage [amazon]
Adjustable bottle cage fits different sizes of bottle diameters. Engineering grade plastic with bottom mounted adjuster dial.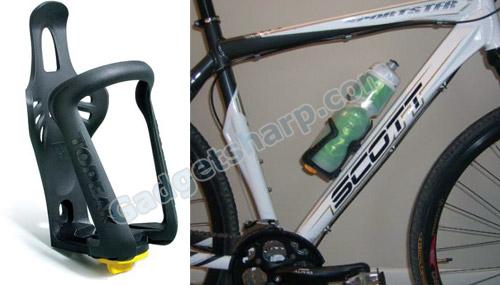 3. Avenir Bigmouth Velcro Seat Bag [amazon]
* Full-zip, wide-mouth design for easy access
* Velcro seatpost attachment and over-the-rail straps
* Rubberized bottom for unparalleled durability
* Reflective light mounting tab
* Zippered compartment expands for extra storage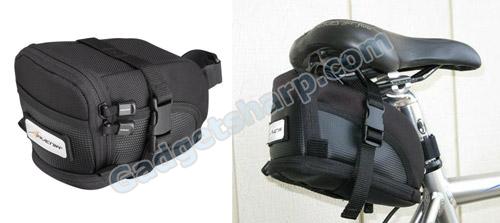 4. TNI Bento Box [amazon]
Or if you feel unsafe to put your stuff under your seat… you can choose this one to put them in front of you.
Bento Box is a nylon box that sits on the top tube behind the stem. It attaches with 4 velcro straps, 2 around the stem and 2 around the top tube. The box is open at the top and has a mesh cover which attaches with a velcro strip. The mesh cover is adjustable and can conform to different shapes. The box is reinforced on four sides with thin plastic inserts.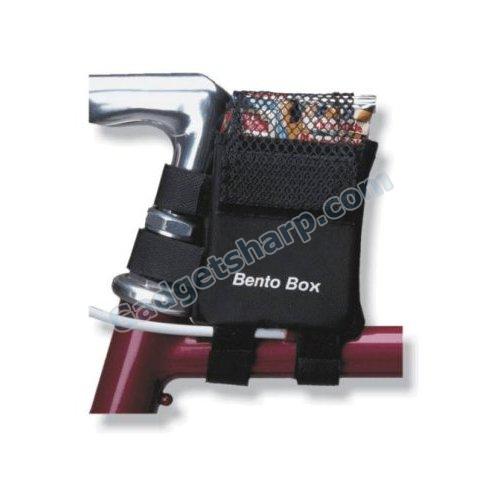 5. Schwinn 17-Function Bike Computer [amazon]
Improve your workout efficiency when cycling with this Schwinn 17-function bike computer. Designed to attach securely to your handlebar, the computer tracks such info as speed, distance, time, and calories burned, helping you develop an effective workout routine with each ride. The computer is easy to install and includes a backlit screen for crisp viewing.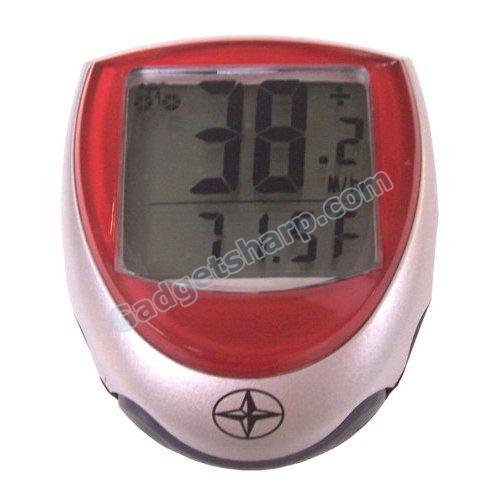 6. bicycle coffee cup holder [amazon]
Handlebar-mounted cup holder. Fits to-go tapered wall drink cups. Brushed stainless steel ring holds your beverage securely, yet allows easy access to your drink. Cup holder mounts and un-mounts easily. No tools required.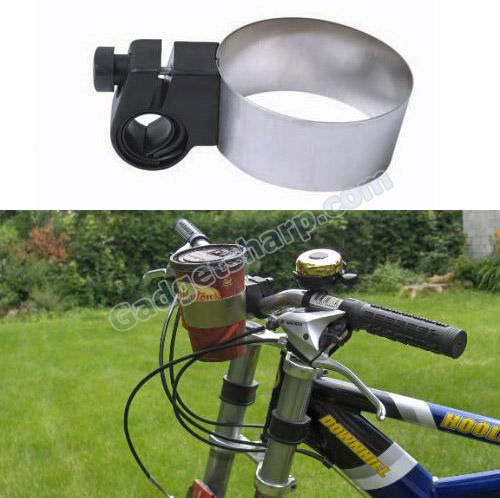 7. Blackburn Mountain Air Mountain Bike Pump [amazon]
The Blackburn Mountain Air Bicycle Mountain Pump has a high-volume barrel that allows it to fill mountain tires quickly. The Mountain Air is constructed with an aluminum barrel that is both lightweight and durable. This bicycle pump features an ergonomic head and handle that increases leverage when in use. The Mountain Air also features a sticky-but-durable rubber grip zone for an excellent feel and sure grip, as well as a large thumb-lock lever that is easy to grab. Blackburn's Mountain Air pump achieves a maximum pressure of 90psi, weighs 148 grams, and comes with a limited lifetime warranty.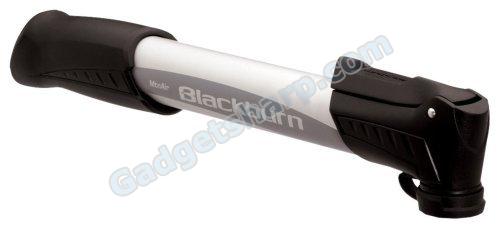 8. Agios Podio 2GB MP3 Player for Bicylcing (Handlebar Mount) [amazon]
Agios Podio 2GB MP3 Player for Bicylcing (Handlebar Mount) Black. The 2 GB capacityof this player can store 380 songs (baced on 5.5 mins per song) using MP3 bit rate. Podio employs a high qualityFOSTER speaker, it provides superior performance & execllent sound volume. The tough Aluminum case has an elegant appearance &has excellant resonance & impact ressistance. Built-in USB Rechargable Li-ion Battery, run time on speaker = 9 hours, with headphones = 60 hours.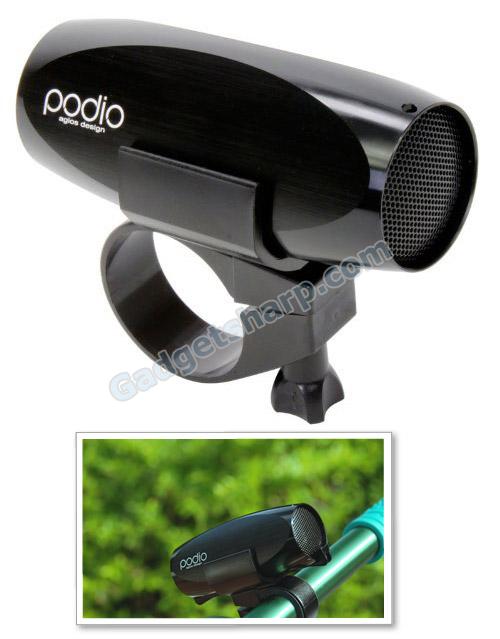 9. Topeak Alien II 26-Function Bicycle Tool [amazon]
Topeak Alien II Multi-Tool 270g 26 Functions.Award winning,do-it-all tool. 26 tools fold into a lightweight 2 piece body. 2/2.5/3/4/5/6/8/10mm Allens, T25 Torx, 8/9/10mm box wrenches(2X), 14/15g spoke wrenches, tire levers,mini pedal wrench, phillips and flat screw drivers, knife, bottle opener, cha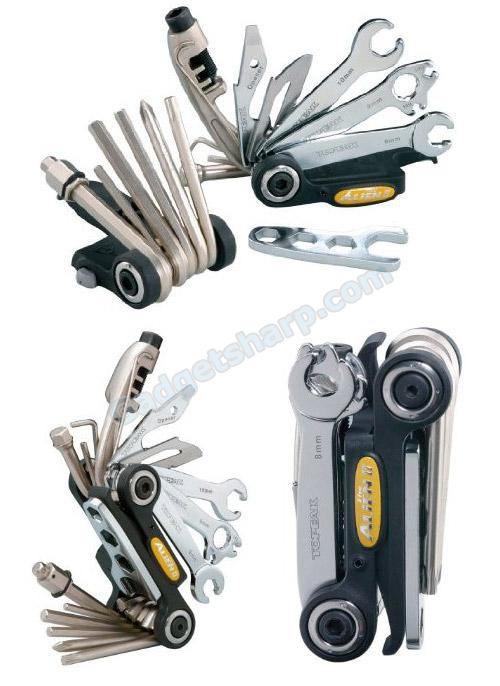 10. iHome iH85 Bike-to-Beach Speaker System for iPod [amazon]
Pedal to the metal with this water-resistant iPod speaker case that clamps to your bike frame. Handlebar mounted remote control allows for safe cycling while listening to your tunes. This speaker case is perfect for the beach, poolside, and picnics, too.
Listen to your iPod at home or while biking anywhere
Charges your iPod when connected to AC adaptor(included)
Works with docking iPod models
Reson8 technology with passive speaker for full, rich sound
Mounted wireless RF remote control for safer control while biking
Comes with mounting bracket and all hardware
Bike mounted remote control for safe riding
Tough water and impact-resistant polycarbonate case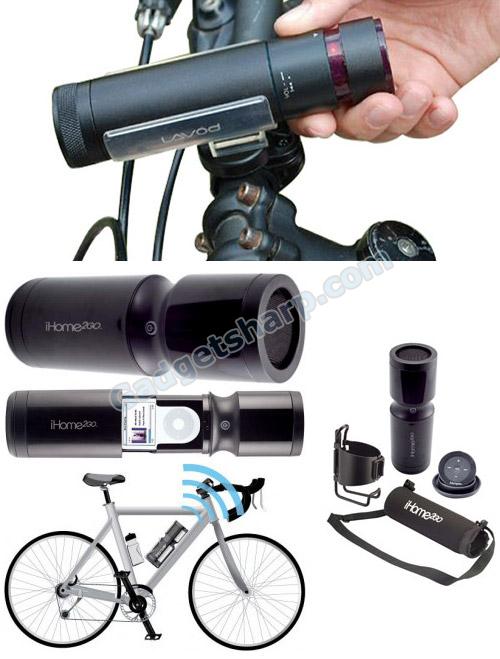 11. Aosom Bicycle Bike Cargo Trailer [amazon]
The AOSOM Cargo trailer attaches to any bicycle and has plenty of space for groceries and running routine errands. It also can be attached to motocycles. Removable weather cover included to protect your things. Sturdy steel frames make this cart exceptionally durable and can hold up to180lb!
Size: about. 29.5x24x14inch (LxWxH); Length with drawbar is about: 54inch;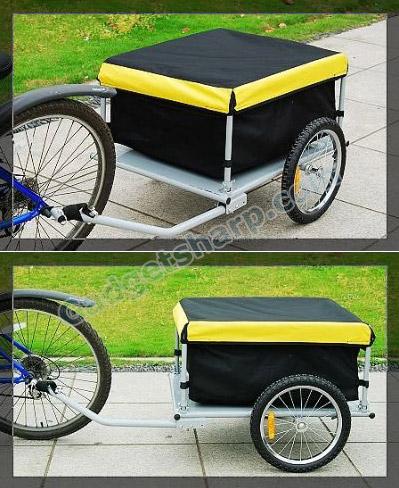 12. Planet Bike Beamer 3 LED Bicycle Light [amazon]
The Planet Bike Beamer 3 Headlight features a QuickCam bracket mount that adjusts or removes in seconds. Features: 3 Super bright white LEDs visible up to 2,000 ft. Soft touch Power Switch accesses flashing + Steady modes. QuickCam bracket mounts, adjusts or removes in seconds. Up to 100 hours run time on 2 AA Batteries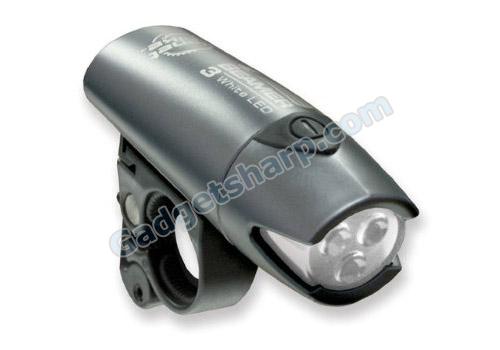 13. Monkey Light Bike Wheel Light [amazon]
A revolutionary bike light that keeps you visible! It features 32 of the brightest full color LEDs available, and cutting edge visual effects custom designed by our electronic artists.
The Monkey Light sets a new standard for bike lighting with outstanding visibility and a rugged, practical design made for daily use in all weather conditions. It's easy to mount on the spokes of nearly any bike - Road, City, Cruiser, Mountain and BMX bikes.