It is too hot and we want soak in water all the time… It is too much fun and we want to enjoy swimming time. In special summer edition, we rounded up 13 Useful Swimming Gadgets, for you, for your lover, for your friends and even for your dogs. Now, let's begin.
1. World?s First Swimming Mask with Integrated 5MP Digital Camera [amazon]
Keep your hands free as you swim! This is the world's only swim mask that has an integrated waterproof digital video camera plus photographs at 5 MP. Operates to a depth of 15ft/5m making this ideal for snorkeling and or pool play.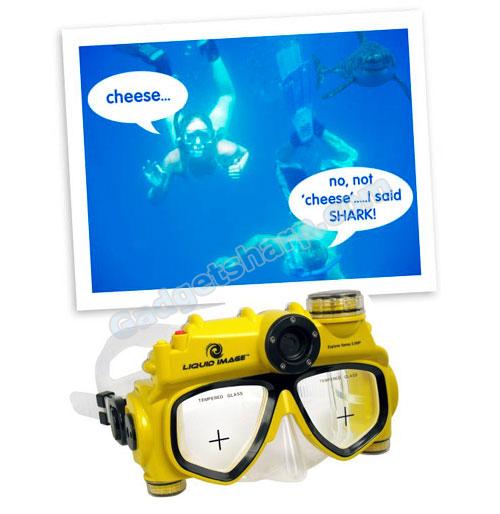 2. Water Chair Lounger [amazon]
Water Chair LoungerFor great water- borne relaxation, this inflatable doubles asfloating chair or chaise, depending on body position.-Wheter sitting up or lying back, the armrests, back supports,and headrest all adjust to body size and position.- Folds to handy carry size.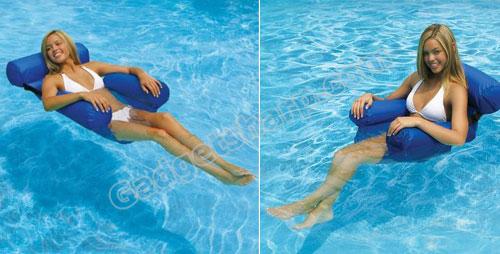 3. Kelsyus Floating Cooler [amazon]
Float around the pool sipping your favorite beverage with the Kelsyus Floating Cooler. This inflatable cooler comes with a zippered top lid so that you can pre-fill the cooler with ice for convenient travel or to stop spillage in pool. Its 12-quart capacity can hold 18 cans without ice, or 12 cans with ice. You can even store a beverage in one of the 6 can holders on the cooler's outer serving ring. It also features a zippered pouch on the side to store items like sunglasses, suntan lotion, and keys. When you're done, simply deflate and store in its own built-in carrying bag.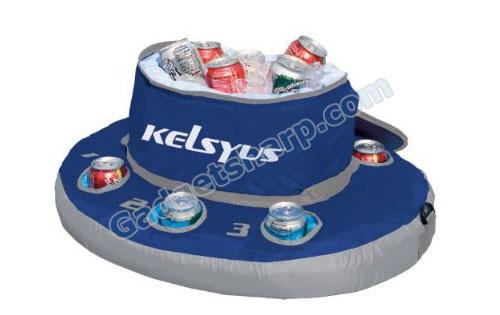 4. Polar Bar Refreshment Float [amazon]
Bring the bar to your pool with this appealing refreshment float from Poolmaster. Impress your friends at parties, the pool, backyard and beach. ? 6 drink pockets, snack tray, and center pocket for detachable cooler bag ? Insulated bag holds 12-12 oz. cans with ice ? Adjustable should straps ? Easy zip top cover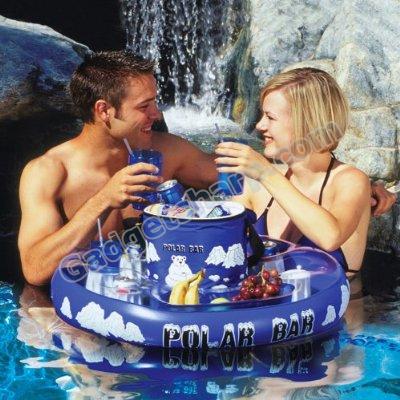 5. Speedo AquaBeat Special Edition LZR Racer 2GB MP3 Player [amazon]
Enjoy music while you are in or around the water with our latest waterproof MP3 player. Now comes with 2GB of memory designed to store up to 1,000 songs. Plus, there's no need to worry about losing the player at the bottom of the pool or lake because it's designed to float when dropped in water. It's extremely comfortable to wear and comes with earbuds and a mesh drawstring bag for storing. So swim and rock out at the same time with your Speedo LZR Aquabeat!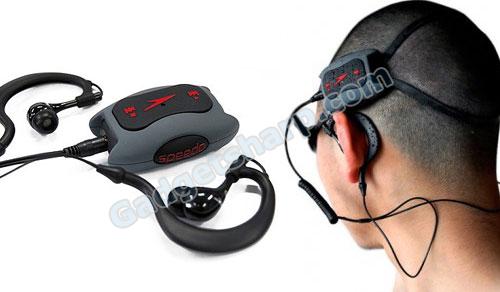 6. Inflatable Beer Pong [amazon]
Beer pong isn't just a sport for land lovers. Our Pong360 Inflatable Sexy Beer Pong Table is made for playing just about anywhere with or without water: pools, lakes, rivers, beaches to name a few. This is also made for those who don't have enough room to store an official foldable table. The sleek silver design is made to impress all party goers.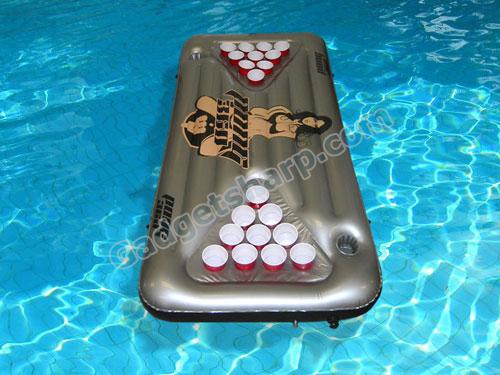 7. Badu Stream Over-the-Wall PoolsTreadmill [amazon]
Badu Stream Over-the-Wall PoolsTreadmill provides great exercise and terrific recreational fun for existing pools.An easy addition to any existing swimming pool. No need to excavate for plumbing and jets. Simply install the unit over the edge of your existing pool wall.The entire system comes complete in a self-contained box, with unit-to-control box cable and mounting hardware. ( Electrical hook-up requires a licensed electrician.) Pulsating massage hose is included with system. To winterize, simply remove the unit from the pool, drain and store.This unit can be mounted over the wall of most pools with little installation, effort or cost. The BADUSTREAM Over-the-Wall hasno protruding parts ensuring pool users safety. This self-contained unit comes complete with pump, control box, unit-to-control box cable and mounting hardware. It requires no additional equipment for installation.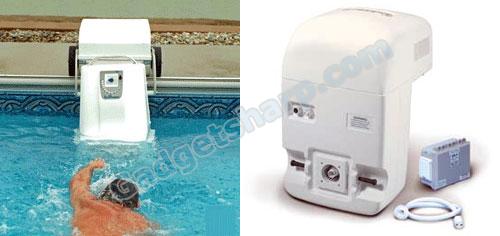 8. Intex Recreation River Run II, with Ice Cooler [amazon]
River Run Float Tube River Run II (Double Person), This big comfy Two Person River Tube measures 94" x 55" with tough 18 gauge vinyl and mesh bottoms in the holes that keeps you cool. A built-in backrest enables easy cruising. The river tube features 3 air chambers, 4 heavy duty handles, 2 cup holders an all-around grab rope and a repair patch. With built in cooler. Feattures: - 94" x 55" (239cm x 140cm) - 18 ga. (o.46mm) vinyl - Mesh bottom keeps you cool - Built-in backrest for easy cruising - Seats two people - 3 air chambers - 4 heavy duty handles - 2 cup holders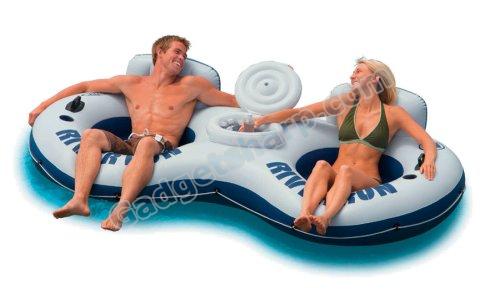 9. Skamper Ramp [amazon]
Ensure that pets (and other backyard critters) have a safe way out of a pool. An easy-to-install life-saving ramp for animals, high-tech corrugated plastic attaches to the side of a pool (including vinyl-lined), walled pond, dock or boat. Deck hardware included.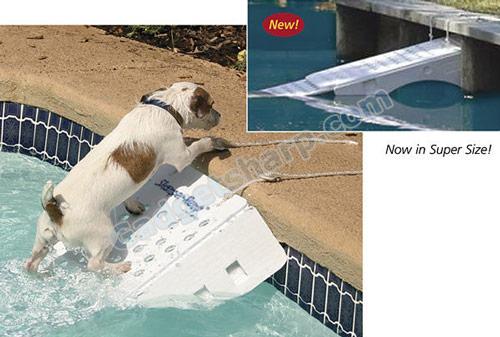 10. Canine Swim Safe [amazon]
Keep your dog safe and calm in the water with this unique new flotation device. The innovative patented design features lateral stabilization, preventing dangerous rollover in smaller breeds and allaying fears in water-timid dogs. Perfect for boating, swimming and hydrotherapy. Durable ripstop nylon with Ethafoam? insert, hook-and-loop closures and lift handles. Adjustable neck opening.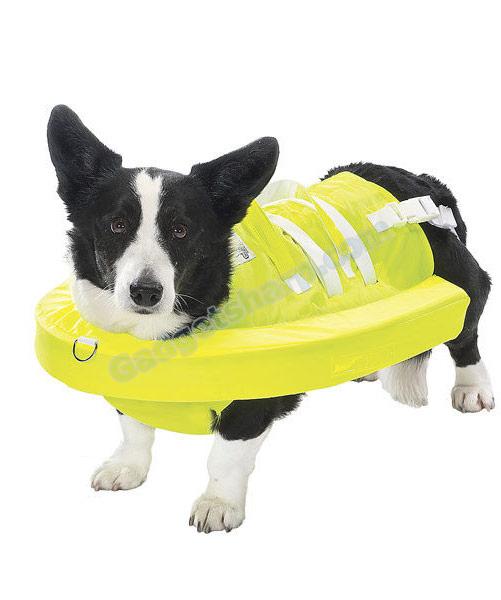 11. FINIS Trainer 1 Monofin [amazon]
onofins for Training: One of the greatest recent changes in swimming history resulted from improved underwater dolphin kick technique and accurate streamlining. A benefit for all swimming strokes: ? Improved streamlining and body alignment ? Teaches dolphin kick technique and efficiency ? Greater flexibility and strength of all core leg muscle groups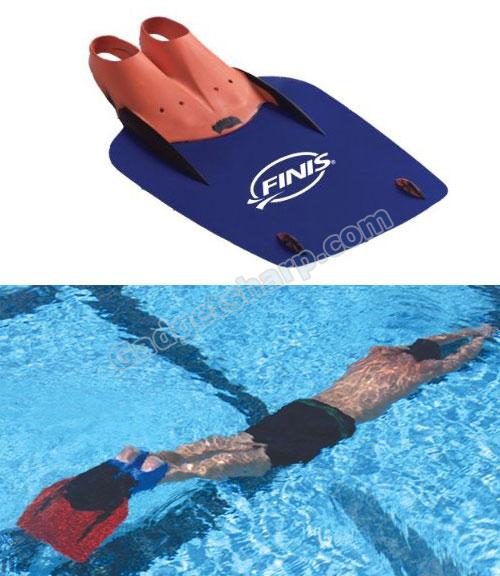 12. Swimmer's Snorkel [amazon]
Swim at normal and much slower speeds with perfect stability and a full range of motion.
Concentrate on body balance, head position and stroke technique by eliminating rotation in the breathing cycle.
Includes a purge valve for easy clearing of water.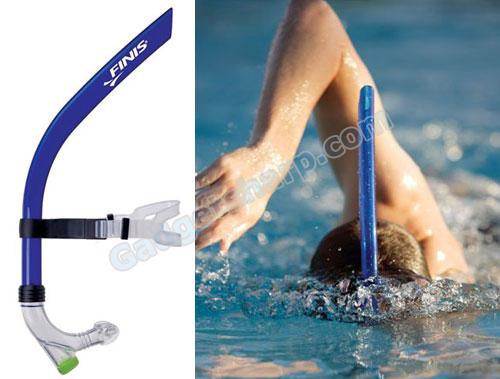 13. Speedo Competition Nose Clip [amazon]
Speedo's competiton-style nose clip is used by most synchronized swimmers. It is constructed of a rubber-coated stainless steel and has a low-profile fit for added comfort.