There are many outdoor activities using board, such as, skateboard, snowboard, mountainboard, and kneeboard. They are full of fun and excitement. To play those board games, a proper "board" is necessary. In this post, we will present you with 11 Cool and Stylish Sport Board Designs, they either have cool looking, new functions or advanced materials. Hope you can enjoy your outdoor activities more with those cool products.
1. Santa Cruz Screaming Foot Right Cruzer Complete Skateboard [amazon]
* Playing footsies with this Screaming Foot Right Complete from Santa Cruz? is absolutely necessary to catch a few stares while cruising down the streets!
*  Mellow concave design, with the board being so flat it almost feels broken in. Great for flip tricks and maximum board control when flipping in and out of tricks.
* Features a full topdeck graphic design with sand spray grit.
* White Bullet? B147 trucks.
* 60mm OJ Hot Juice 78A wheels.
* Board Dimensions: 32.1" long from nose to tail x 9.3" wide from edge to edge.
* 5.90 oz.
* Product measurements were taken using size 9.3x32.1. Please note that measurements may vary by size.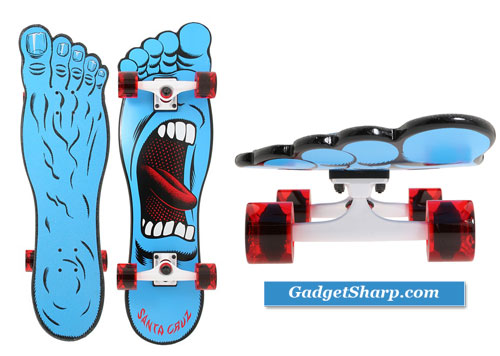 2. Ripstik Caster Board [amazon]
* roundbreaking caster board that acts like a skateboard/snowboard hybrid
* Pivoting deck and 360-degree caster trucks enable snowboard-like carving
* Spiked traction pads, kick tail and nose, and concave deck design
* 76mm polyurethane wheels and precision ABEC-5 bearing casters; Value Pack includes two extra wheels
* Designed for riders age 8 years and up; supports up to 220 pounds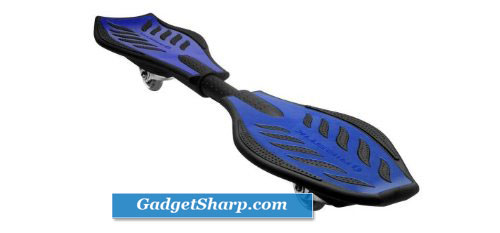 3. Razor Sole Skate [amazon]
* 3-wheeled foot skate designed for kicking around town
* Pivoting front wheel and traction deck platform for control
* Smooth-rolling 51mm urethane wheels and ABEC-5 bearings
* Fits shoe almost perfectly; small enough to fit in most backpacks
* For riders 8 and older; supports up to 220 pounds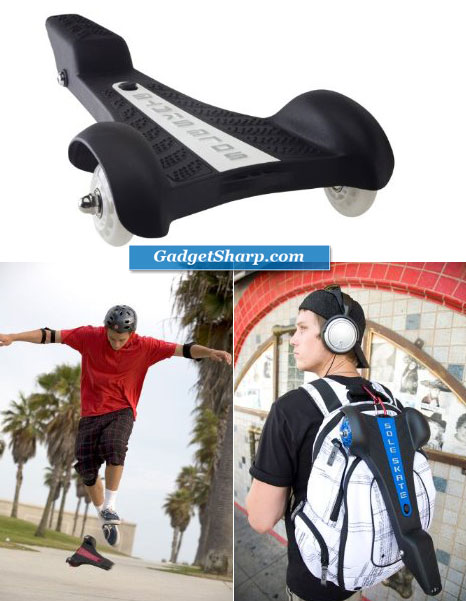 4. MBS Atom 95X MountainBoard [amazon]
* Teen / Adult recreational mountain board
* Components:All Terrain Skate (ATS) trucks; F1 bindings (perfect for smaller feet); 8? Diamond Tread tire ; Tri-Spoke hub
* Specs:Overall Weight: 15.5lbs / 7kg; Overall Length: 43.2? / 109.7cm; Axle to Axle Length: 34.3 / 89.5cm
* Deck Length: 38.3? / 97.2cm ; Deck Construction: Maple Laminate; Deck Tip Angle: 20.0 degrees; Truck Width: 15.5 / 39.4cm
* Maple laminate deck; V4 Brake kit, Axle O.D.: 9.5mm O.D.; Bearing: 9.5X22mm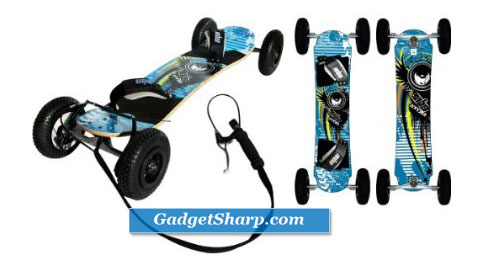 5. Original Apex 37 Carbon Complete Longboard Skateboard [amazon]
The Apex 37 was totally redesigned for its 2011 release. We wanted a board that you could build your quiver around and still come back to as a staple 3 years later. Emphasis was placed on developing technologies that would create a board that had more strength, more durability and better performance than its predecessors. Sporting such radical design upgrades as Quad-axial custom angled fiberglass, Forged Carbon inlays, and hard freeriding rails, the new Apex 37 Carbon is truly the pinnacle of longboard technology.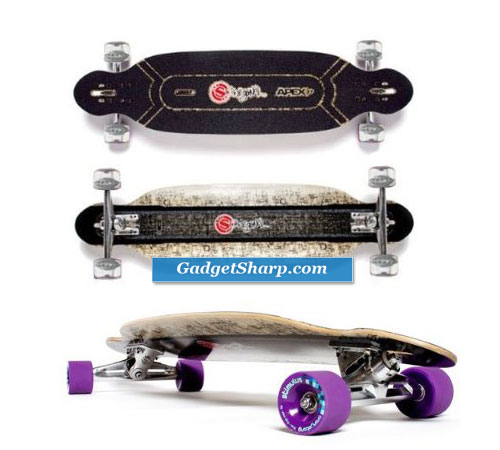 6. Xglider Fusion Street Boards [amazon]
* Using caster technology the rider has 360 degrees of freedom and control
* Xglider is an effective way to build a great sense of balance through it's free movement, smooth riding, and 360 degree turns
* Xglider is a sports product that can turn 360 degrees in it's own location
* The Xglider is lightweight, compact, and portable. Bringing you Xlider with you is easy and convenient
* Xglider is not only fun but a great way to exercise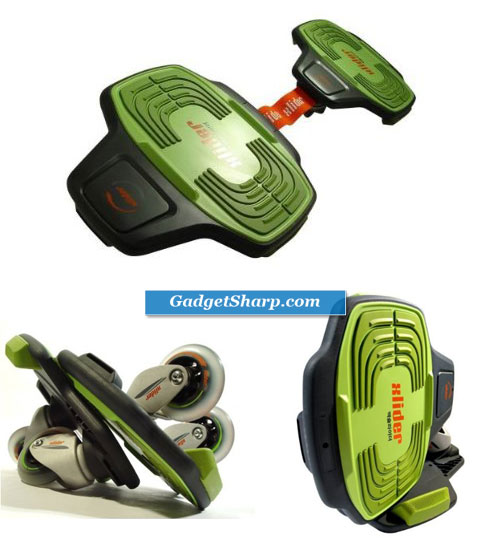 7. Surf One Robert August II Complete Longboard [amazon]
* The Robert August has Randal 180mm trucks,
* Length: 43.75""
* Width: 8.875"
* 7 ply Maple Construction
* Longboard skateboard with classic Endless Summer design
* 7-ply maple construction with good flex for easy riding and carving
* Complete, fully assembled skateboard
* Measures 43.75 inches long and 8.875 inches wide
* Smooth, all-terrain wheels in red

8. Streetglow LED Skateboard [amazon]
* 7.5 x 31 Deep Concave 7 ply maple board
* 5" Heavy Duty Trucks w/normal shaft and solid king Pin
* 54 x 36, 90 PU casted wheels with grooved running surface for added grip
* ABEC-5 carbon speed bearing
* StreetGlow Ultra bright BLUE LED's built into board with rechargeable Li-ion battery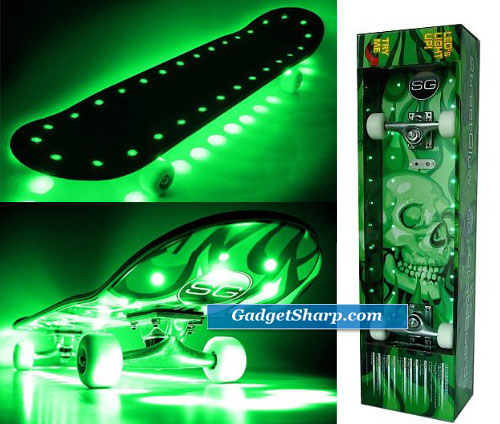 9. Moose Drop Through Longboard Skateboard [amazon]
This is custom built and designed for downhill speed and a wide turning radius. The Core 7.0 Longboard Trucks are made of a strong, aluminum alloy. The Hanger measures 9.63-Inch from tip to tip, 95A USA Made Premium Bushings. These trucks are designed to last, wear smooth, and turn like no other. The wheels are 80 millimeter Premium Urethane. These wheels have a slightly offset bearing seat for maximum stability and at 53 millimeter wide. This shape is designed specifically for the rider looking for more support on hard turns. Abec 7 Bearings are fast and efficient. Manufactured with Chrome steel balls, a self lubricating derlin crown, and feature rubber, servicable bearing sheilds.The Black Diamond Grip Tape, made from thick-mil, super sticky paper and fine grit. The Risers are 1/4-Inch. Just enough to to prevent wheel bites, and to take some of the stress off the deck.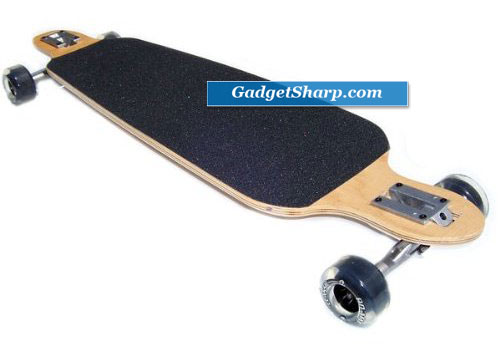 10. Fuzion LandShark 4-Wheel Kneeboard [amazon]
Shredding the sidewalk or catching a concrete wave has never been easier than with the Fuzion LandShark. The wide super stable 7-Ply wood deck gets you close to the ground so you can tear up the turns. The custom PU wheels let you stick to the road no matter how tight the carve. The super responsive steering and the hand brake let you maintain control at top speeds.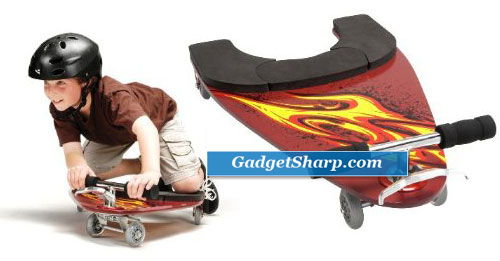 11. E-glide A/t Dewey Weber Electric Skateboard [amazon]
It's massive power is generated by "industrial" grade European electronics, and a powerful 800 watt/ 1200 watt peak power 36 volt motor.
* 0-25 MPH in five seconds (with high pressure street slicks)
* 48 inch Dewey Weber Canadian Maple deck
* State of the art "Industrial" grade European electronics provides and insures the most advanced, trouble free, and reliable electronics of any electric skateboard produced by anyone in the world todayl
* Extra powerful braking and controlled RPM downhill riding
* UNCONDITIONAL one year warrantee on electronics
* 12 mile-15 mile range on flats
* Unreal power, torque and speed, this powerboard is SCARY!
* Board comes equipeed with all terrain pneumatic tires.
* Kenda high pressure (85psi) street slicks are available for higher performance.