In this blog, we will introduce you some creative and bizarre door designs that will spice up your home and surprise your guests…Some of them are still concept design such as the magnetic door and some of them are already used and add so much fun to the life already, like the ping pong table door….
Thief-Proof Home Door Lock-and-Chain Maze [link]
The question is no longer "can they get in" but rather "can you get out?" This funky chain lock design is anything but fire-safe and far more a novelty than a functional piece of door hardware, but it is still rather ingenious nonetheless.
Constructed from titanium alloy, fixed in place with 10 different screws and load-tested to a whopping 700 pounds of force, if you can not figure this out you are essentially as good as dead.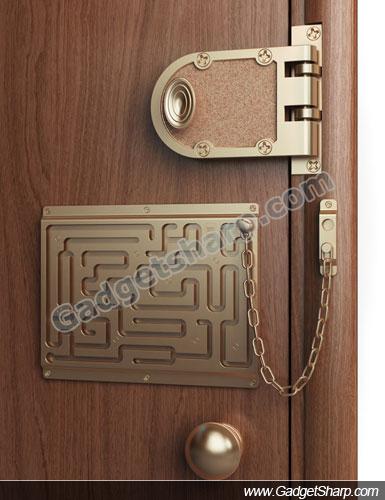 ping pong table door [link]
The Ping Pong Door is one of these new inventions that I hope will be seen by future generations as important historical details of the early 21st century.
Tobias Franzel's design, which he hopes to have on the market by next year, really taps into an underused opportunity: house parts as rec room equipment.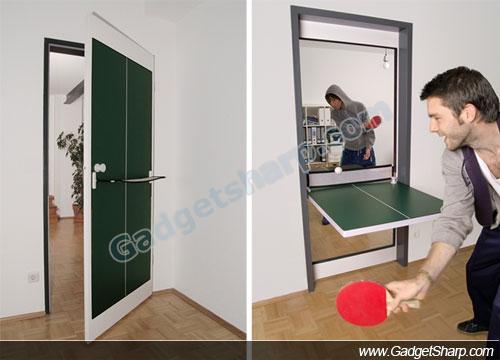 Creative Hidden Door [link]
When it comes to hooking up a hidden door in your crib, you essentially have three options: you can build one yourself, you can purchase a premade revolving bookcase from an ordinary wood-working company, or you can opt for a precision hiding system from Creative Home Engineering.
As Creative Home Engineering states, "a thief can?t burglarize a room he can?t find." So, to make sure your hidden door stay hidden, Creative Home Engineering offers a number of non-traditional hiding machines. Sure, they've got the standard revolving bookcase and sliding wall panels. But, the company also constructs hidden doors from grandfather clocks, fireplaces, paintings, stairwells, and other household fixtures. They also offer an option that allows your hidden door to double as a vault door, so your valuables stay double protected.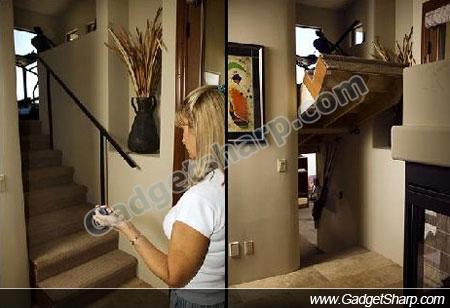 Futuristic Door [link]
The new front door design by Brazil based design group N'design is a beautiful design for a front door. The door is sleek and modern and comes with a remote control. Yup the door can be locked or unlocked at the click of a button similar to what a central locking does to a car. The door also comes with a digital door bell, number lighting i.e. the door displaying the house number. The door also comes with a battery back up of running one week without power supply. So a practical solution for today's resource crunch times which is high tech yet simple to use.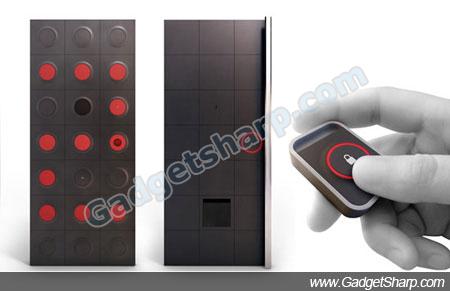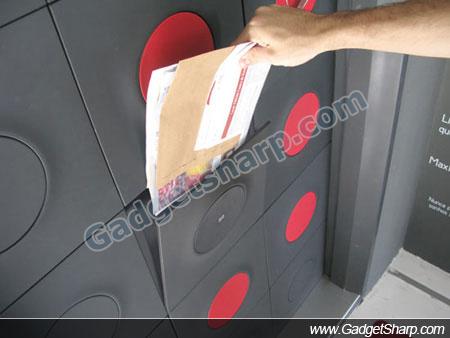 melody door [link]
The melody door brings the fun and customization of ring tones to your home. Now anyone announcing themselves with a knock can be as playful as the want to be. Ever wanted to tap out "Taps" to wake someone up in the morning? Or how about chopsticks? One full octave of notes gives you a range of choices, while the design of the door fits nicely with a modernist aesthetic. With melody your knock is as unique as you are.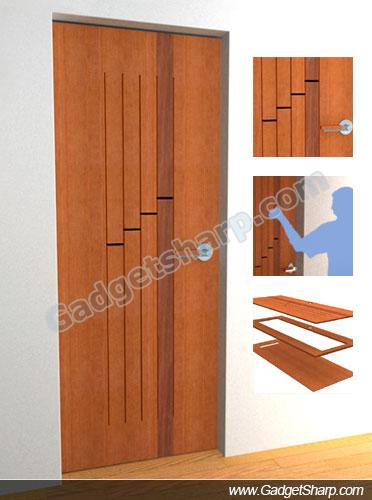 magnetic door [link]
A door with magnetic balls. The concept is to rethink the way of opening a door. Normally, a door is open by turning a handle. What if a human body can experience the interaction with a door just by walking through it. A door is created base on the theory of magnetic forces. You can simply open the door by walking in. After you pass through it, the balls automatically seal into its shape. It's very magical!