Whether you?re a coffee drinker or tea drinker, there?s one thing everyone can agree on: The mug you use to drink your beverage of choice is just as important as the brand you like, the amount of milk and sugar you take, and your favorite biscuits to go with your drink. In this ultimate collection we?ve gathered 13 Interesting and Unusual Mugs from all over the web. They differs from standart by their shapes, materials they?re made from, and even their color. Hope you enjoy!
1. Fred & Friends Fisticup Mug [amazon]
* 1 High-fire ceramic coffee mug with sleek metallic handle
* Ceramic
* Metallic handle
* Hand wash do not microwave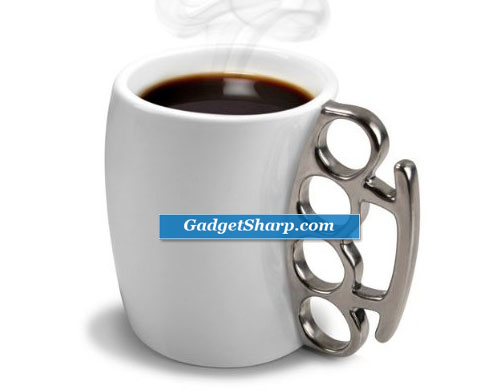 2. Konitz Classic Chalk Talk 12-Ounce Mug [amazon]
* 1 Coffee Mug and Chalk, Comes in a Gift Box
* Capacity: 12 Ounces
* Made of Highly Durable Porcelain.
* Microwave and Dishwasher Safe
* Comes with a piece of chalk to write on the mug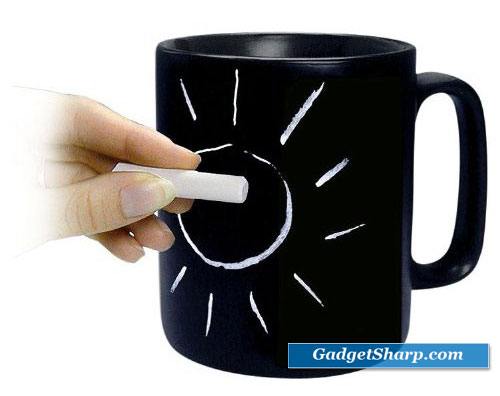 3. Bodum Bistro Double-Wall Insulated Glass Caf? Latte Mug, Set of 2 [amazon]
* Set of 2 double-wall glass mugs with 15-ounce capacities--great for lattes
* Mouth-blown, lab-quality borosilicate-glass construction; durable and heat resistant
* 2-layer design creates dramatic optical illusion and prevents condensation
* Safe for dishwasher and microwave use; not for use with metal utensils
* Winner of prestigious European IF Design Award; 1-year limited warranty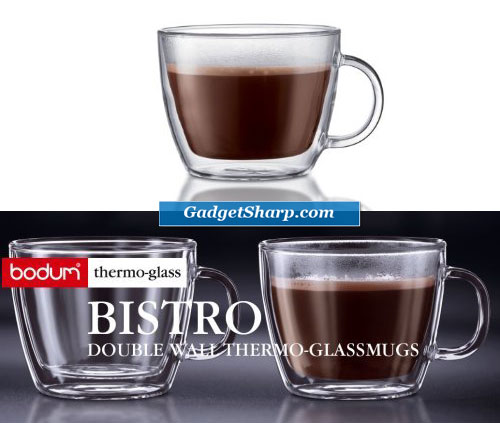 4. Konitz Coffee Collage Snuggle 14-Ounce Mugs [amazon]
* Konitz Coffee Collage Snuggle 14 Ounce Mugs, Set of 2, White
* Made of Highly Durable Porcelain
* The word coffee and coffee beans decorate these snuggle mugs
* Microwave and Dishwasher Safe
* Capacity: 14 Ounces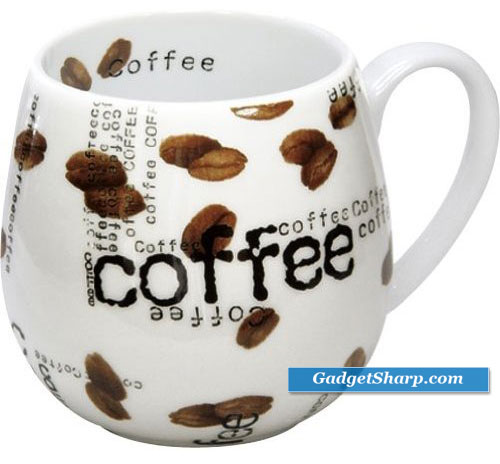 5. CSB The Toilet Mug [amazon]
This silly toilet-shaped mug holds up to 12-ounce of your favorite hot beverage and will make your co-workers do a double take. The hand painted Toilet Mug makes a great gag gift for any coffee or tea lover.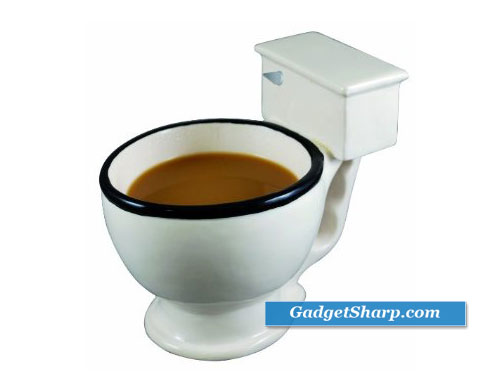 6. Dirty Mug [amazon]
This Dirty Mug will make make sure noone steals your mug ever again! Adorned with disgusting lipstick stains and coffee drippings, this dirty mug looks downright nasty. Makes an awesome prank gift and a clean freak's worst nightmare.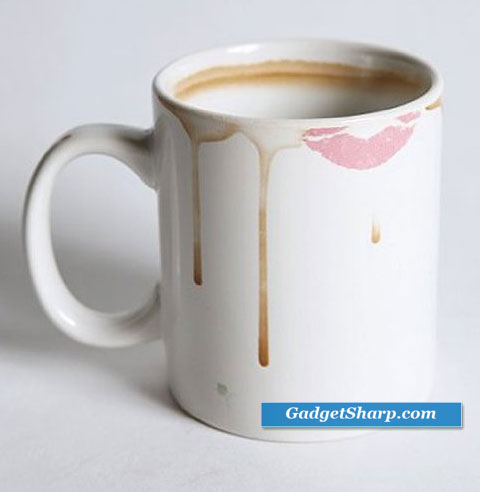 7. Stacked Ceramic 12-Ounce Mug [amazon]
* Mug with a unique design that gives the appearance of 3 teacups stacked together
* Glossy, high-fired ceramic construction with milk-white finish and 3 individual handles
* 12-ounce capacity generously holds coffee, tea, cocoa, cider, and other hot drinks
* Includes sturdy box for safekeeping or gifting; hand-washing recommended
* Measures approximately 4-1/2 by 4-2/3 by 4-2/3 inches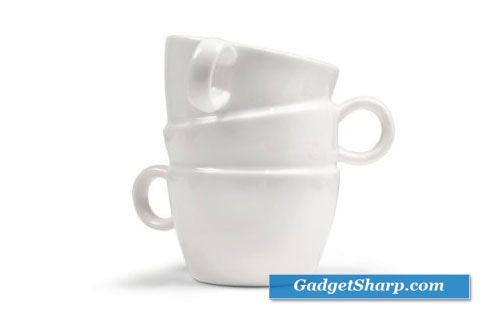 8. Pirate with Gun Handle 24 oz Tankard Mug [amazon]
Each elaborately made Pirate with Gun Handle has great detail and stunning glaze color. This will surely be a hit as a gift or for yourself. Each Tankard holds about 26 ounces to the top (xlarge mug), about 6 inches tall by 4 inches in diameter. Each piece is a handmade slip cast from our artist's original hand thrown piece, then glazed (inside) and fired to Cone 9 (Durable Stoneware).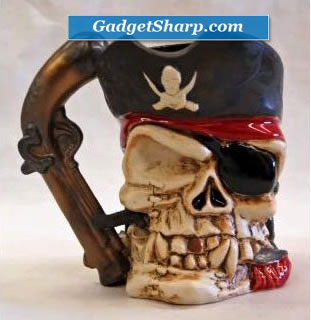 9. MollaSpace Gun Mug [amazon]
* Platinum plated trigger
* Not microwave and dishwasher safe
* Individual gift box packaging
* Available in 2 colors, white or black
* 7.6 oz (225ml)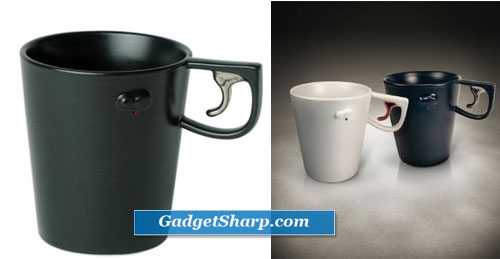 10. Fred & Friends Tank Up [amazon]
Fred & Friends Tank Up is a Coffee Mug Packaged individually in an attractive gift box. The unique feature is a printed heat sensitive guage which is designed to resemble an automobile gas guage. As hot liquid is pored into the mug the guage turns red and gradually rises from the bottom to indicate how hot the liquid is.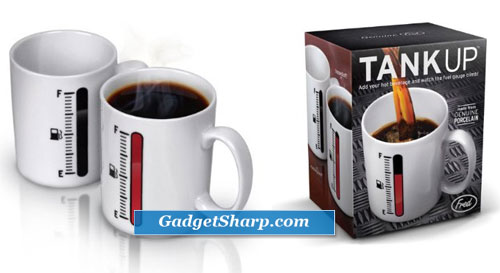 11. Spoon and Coffee Mug Set [amazon]
* Measures: Mugs: D:3.5", H:5" each; Spoon: L:5"
* Made of white porcelain
* dishwasher safe
* Basic accent for year round entertaining


12. The Coffee Mug in the Shape of Nikon 24-70 Lens [amazon]
Replica of Nikon 24-70 lens- stainless steel interior. This coffee mug is one of the most unique items that can be found for a photographer!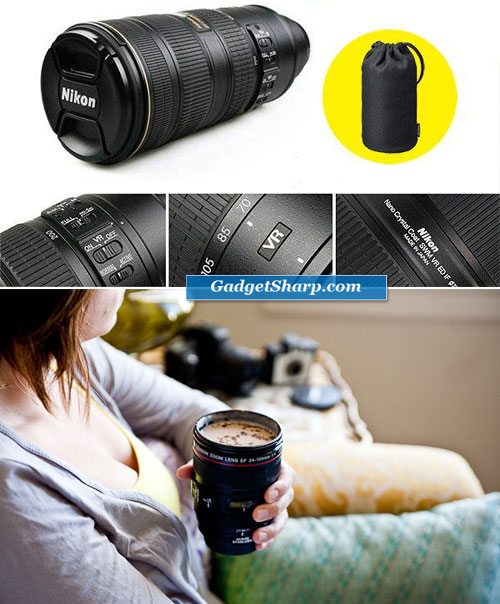 13. Villeroy & Boch New Wave Caffe Mug [amazon]
* 11-3/4-ounce New Wave Caffe coffee mug
* Swooping handle and cup are made from 1 piece of vitrified china
* Artistic look makes a strong contemporary statement
* Safe for dishwasher and microwave