Toilet Paper Roll, a humble but useful life essence, nothing special. But really? I guess the answer will be no after you finish this post. It looks like you can do so many things with the toilet paper, such as playing Sudoku, read Japanese manga or novel, folding Origami ,prepare you wc/cv and scare your butt…lol
1. WC/CV Toilet Paper Roll [link]
Fill in the blanks, and put that roll in the company's toilet that you want to work for! or find better places! Designed by Burak Kaynak. WC/CV's special roll looks just like regular toilet paper and the paper is good for writing. Each Cv has 3 sheets with titles; Contact Information, Education, Employment History.
2. Money Toilet Paper [link]
You can always use dollar bills when you run out of regular toilet paper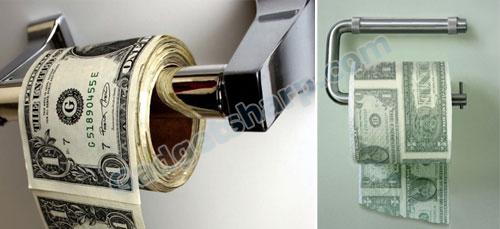 3. Glow in the Dark Loo Roll [link]
Definitely fun product. I would like to try?em, one day.
In a world where scientific discovery and exploration is slowly but surely unraveling the myriad mysteries of the universe, it?s gratifying to know that some idiot can still find time to come up with such a ludicrous invention as Glow In The Dark Loo Roll. It won?t enlighten us as to what happened at the beginning of time, it will shed some light on the subject at hand, and it?s a lot funnier. Like all things luminous it needs light to charge itself up, so to speak, and the amount of light it gets will determine how long it glows for.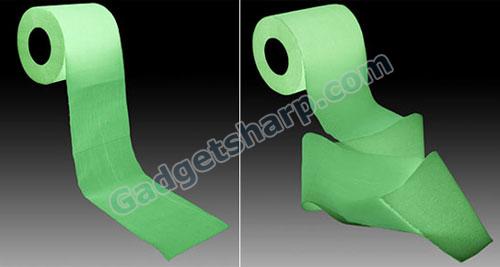 4. Origami Toilet Paper [link]
While you sit and ponder keep yourself busy with this silly roll of toilet paper with complete instructions on folding your own toilet paper crane. Soft absorbent 2-ply tissue will convert even the most stalwart crumpler.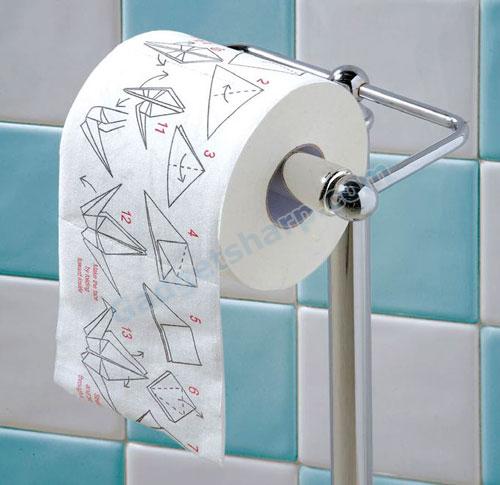 5. Sudoku Toilet Paper [link]
Never be without your Sudoku! We all know that having a sit down can be a time consuming and boring process. Some people read, others sing. Why not play Sudoku with your loo paper?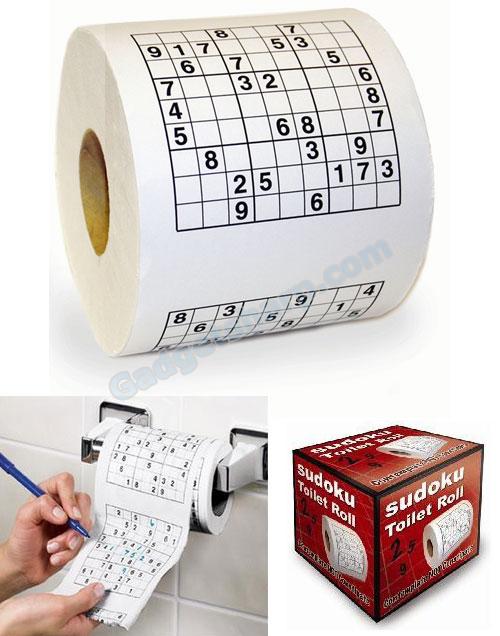 6. Renova Color Toilet Paper [link]
Change boring white toilet paper, treat your ass with color toilet paper, orange, red, greeen. It is stylish and unique. Renova Cololr Toilet Paper($10) comes in 4 colors: black, red, orange, green. It featuresis a biodegradable, non-toxic, soothing tissue and does not bleed any color when wet. The Renova Colors is biodegradable, virgin pulp and entirely recyclable.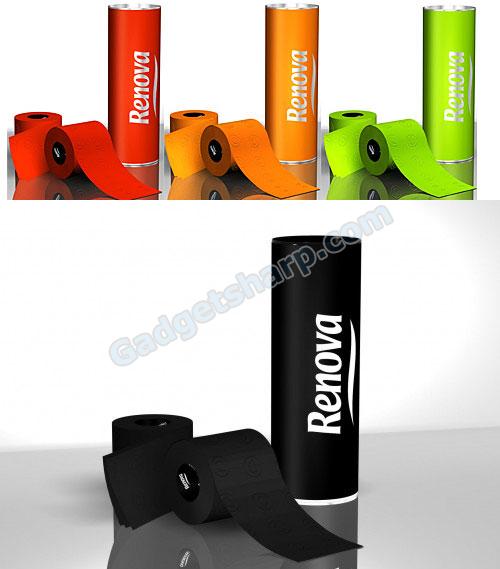 7. Japanese manga toilet roll [link]
Japanese paper goods company Banbix has teamed up with newspaper manga artist and TV celebrity Yakumi Tsuru to sell toilet paper with his manga drawings and 4 panel comics printed on it.
Japanese manga fans can enjoy their reading while doing serious business now…
8. Political toilet roll [link]
Some people prefer to trash their least favorite people while on the toilet, hence we got those funny special political toilet roll…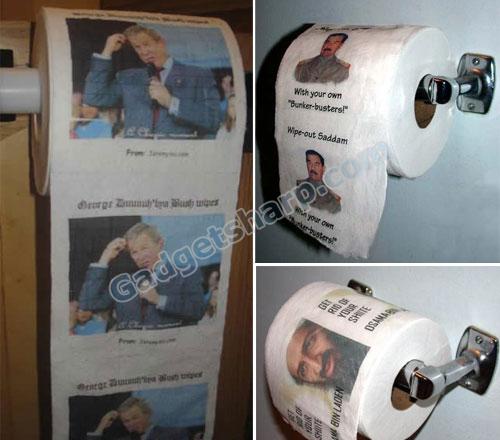 9. Monogrammed Toilet Paper [link]
It's the ultimate gift for the host or hostess that has everything – after all, who wouldn't want his or her initial emblazoned in gold cursive on the most intimate of personal hygiene products?
Printed with soy-based inks, each and every sheet displays the initial of your choice. Makes a fun housewarming gift, and a great accent for any guest bathroom!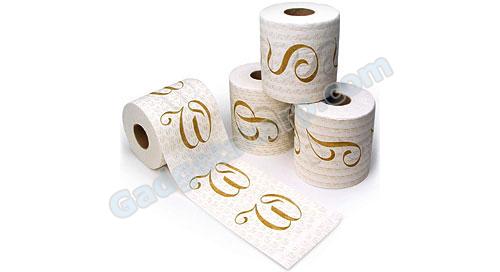 10. Horror Story Toilet Paper [link]
In case you have seen the Japanese horror movie ?The Ring? or its acceptable American remake, you already have a taste of what kind of person Koji Suzuki is. The guy didn?t have to do anything with the movies but authored the book of the same name.
Now, Suzuki is about to release a new horror story. The name: Drop. It?s released as a toilet paper roll. The toilet paper is designed by a toilet paper design company (no joke) called Banbix [JP]. One roll (double layer, 100% recycled paper, 30m) costs $2,20.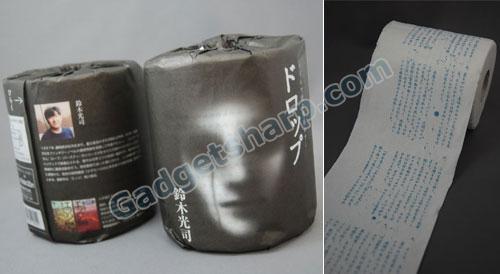 11. Cheese Grater toilet paper [link]
This is the most scary toilet paper I've ever seen. Won't even think about to use it. The idea of wiping my butt with toilet paper that looks like a cheese grater still feels like it will probably improve the quality of my life. Somehow.