A Towel Bar or towel Ring is needed in every home. A bath towel ring is great next to the sink with a pretty guest towel hanging from it while towel bars in all sizes with modern, chic mounts offer a contemporary, clean feel to your bathroom as well as hold more towels. In this post, we will present you with 15 Modern and Cool Towel Bars and Rings; and we hope it can bring something stylish and practical to your home.
1. America Retold Nest Design Metal Guest Towel Stand [amazon]
* Keeps hand towels at your fingertips
* Bird and leaf design details
* 18" tall, 17.5" wide and 6" deep
* Beautiful and practical
* Look for other America Retold 'Nest' style products to bring interesting style to your home and porch

2. S-Shaped Counter Towel Holder Finish: Chrome [amazon]
Finish: Chrome You will be proud to hang your towels on the S-Shaped Counter Towel Holder. Now you washcloths with have a home on your countertop and at your finger tips. With three different finish choices you will be able to find the one that matches your current bathroom fixtures perfectly. Features : - Countertop Essentials Collection - Traditional style - Perfect for hand towels and washcloths - Available in the following finishes : - Chrome - Satin Nickel - Oil Rubbed Bronze - Dimensions : 13.5'' H x 4'' W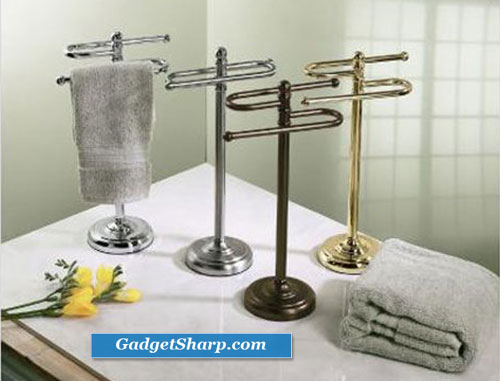 3. Polished Chrome Train Rack or Hotel Style 18" Towel Shelf with Drying Bar [amazon]
* Premium heavy grade Hotel Style Towel rack with towel rod.
* All metal with Polished Chrome finish
* Measures 19 1/2" across, 6 1/2" high, and Extends out from the wall 8 1/2"
* It also has towel drying bar on the bottom.
* Easy to mount, 4 screws included.


4. Ravenna Integral Towel Bar [amazon]
This one of a kind towel bar from the Ravenna collection is sure to be a welcome addition to any bathroom in your home. Designed specifically for Ravenna bathroom sinks. Available in chrome or satin this towel bar will blend seamlessly with any bathroom decor. Features: -Available in polished chrome or satin nickel -Integral towel bar -For ravenna bathroom sinks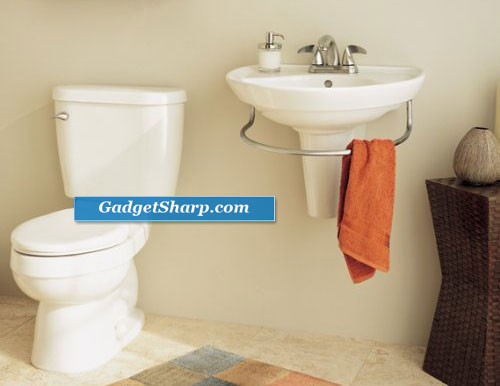 5. Freestanding Towel stand in Red Coffee finish [amazon]
The rails/rods are wonderfullly smooth and the muted copper/coffee tone is unbeatable. All metal construction 33"X15-1/4"X36-3/4"Aquatico Metal Wire Scroll Base Fingertip Towel Stand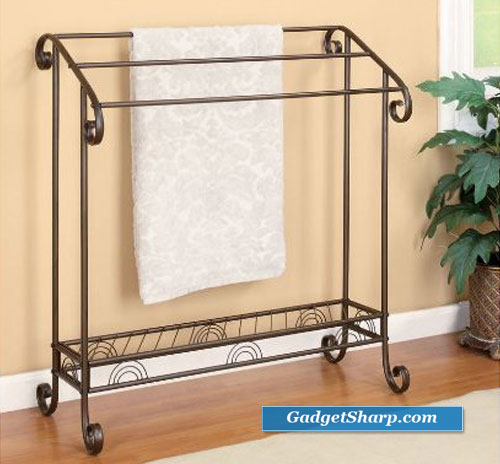 6. Aquatico Metal Wire Scroll Base Fingertip Towel Stand [amazon]
* Easy Installation
* Free Standing
* Multi-purpose
* Sophisticated Style & Design
* Scroll Feet

7. Towel Bar - Attaches With Suction Cups [amazon]
* Color: Silver
* Size: 2.7"H x 21.6"W x 6.3"D
* Quick and easy installation saves your time and energy.
* Spare yourself from the hassle of using tools or applying glue.
* Elegant designs allow you to creatively decorate your bathroom.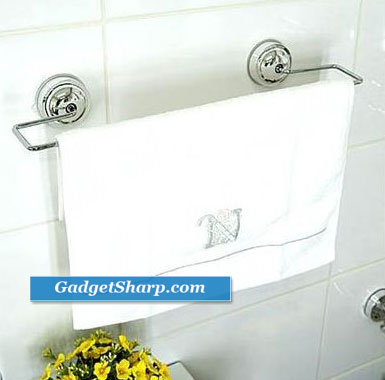 8. Floor Towel Stand [amazon]
* Simple, traditional design
* Some assembly required, all parts included
* Hand polished Satin Nickel finish
* Simple Style
* Manufacturer's Limited Warranty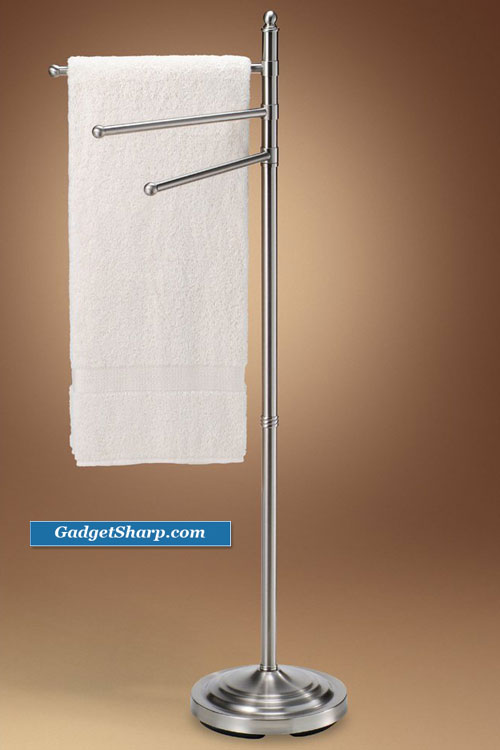 9. Double Bathroom Shelf and Towel Rack [amazon]
* Roomy hotel-style bathroom storage rack features clean, minimalist design
* Mirror-finish chrome-plated steel construction
* 2 perforated shelves for enhanced airflow; 2 towel bars each hold full-sized towel
* Assembly required; mounting hardware included
* Measures 17-3/4 inches long by 10-2/5 inches deep by 21-2/5 inches high; shelves measure 16-1/4 inches by 9 inches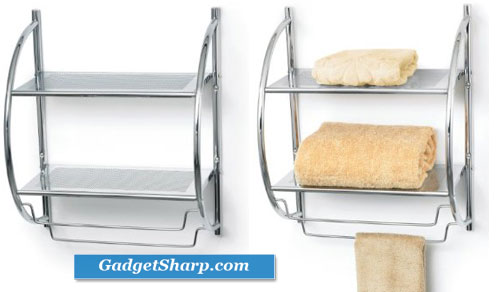 10. Arrondi Collection Towel Ring [amazon]
Designed to coordinate with many popular cabinet knob pulls styles to provide a cohesive look throughout the kitchen. They can also be used on oversized cabinets and drawers for an unexpected, dramatic touch.Amerock BH26541-SS Arrondi Towel Ring, Stainless Features:; Material: 100% Stainless Steel; Hole Centers/Spacing: N/A; Width: 6.38" (162.0mm); Height: 5.08" (129.0mm); Projection: 2.13" (54.2mm); Mounting Hardware: Mounting Hardware, Installation Instructions and Mounting Templates included;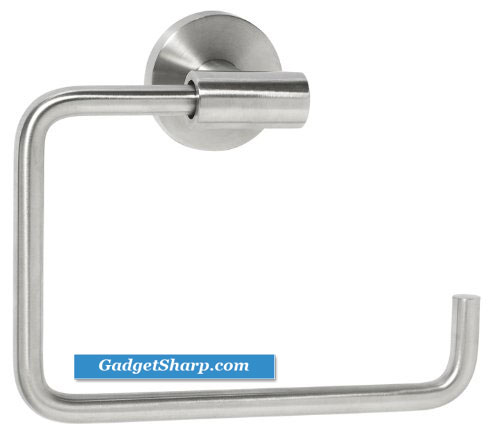 11. Over Cabinet Towel Bar [amazon]
* "INTERDESIGN" MARCEL DESIGN OVER THE CABINET TOWEL BAR
* 9" long
* Bronze metal finish
* Non-absorbent foam backing protects cabinets
* Hang on the outside or inside of cabinet doors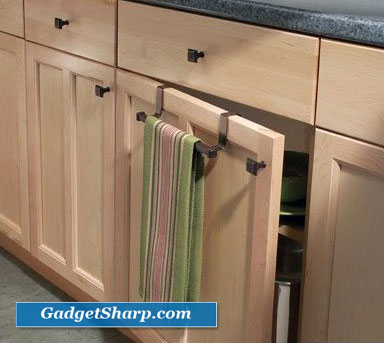 12. Aquatico Over The Door Towel Rack [amazon]
* Easy Installation, measures 24-inch by 12-inch by 4-inch
* Flexible;Multiple Storage
* Space Saving; Imported
* Simple and elegant can be used in most rooms
* Space Saving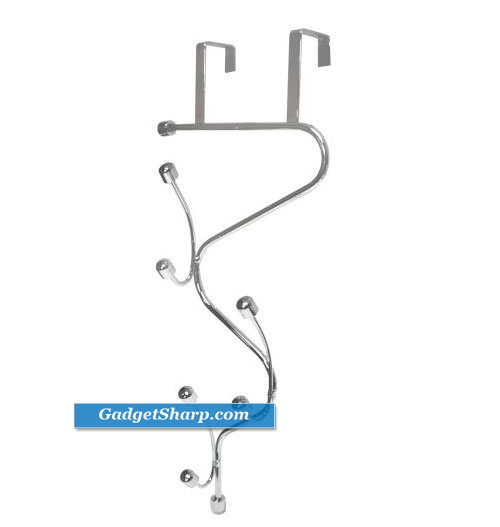 13. Three Prong Pull-Out Towel Bar [amazon]
Physical Specifications; Width: (inches) 5; Depth: (inches) 17.750; Height: (inches) 1.250; Weight: (lbs) 2.00; Materials: Wire; Color/Finish: Chrome; Minimum Cabinet Opening; Typical Cabinet: VSB-30,B-18,SB-15

14. Brushed Satin Nickel Paris Hotel or Train Rack style Towel Shelf with Hooks [amazon]
* Large Brushed Satin Nickel Finish Paris Towel Rack
* Robe hooks on the bottom are removable
* Measures Overall: 26" across and 8" high
* It comes 9 3/4" out from the wall.
* Mounting instructions and hardware included.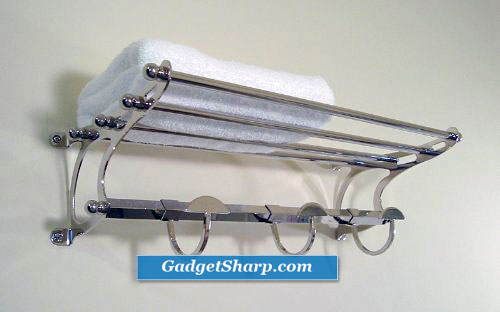 15. Aquatico Small 2-Ring Fingertip Towel Stand [amazon]
* Easy Installation
* Free Standing
* Weighted Base
* Sophisticated Style and Design
* Padded Bottom To Protect Your Countertop