Bottles can quickly start cluttering up the corners of the shower and bars of soap sometimes end up teetering precariously on narrow ledges. Shower caddy creates more storage space and helps keep everything organized and within reach. In this post, we will feature 12 Modern Shower Caddy Designs which helps to provide more space and comfort for your shower experience.
1. Umbra Bamboo Shower Caddy [amazon]
The Shamboo Bamboo Shower Caddy by Umbra hangs on a shower head or curtain rod and is the perfect accessory for all showers. It keeps soap, shampoo, razors and other bathing accessories accessible, organized and looking ever so good. It is made from Bamboo, which is a highly renewable and natural resource. Caddy measures 28" x 5" x 11". Umbra is the worldwide leader in casual, contemporary and affordable design for the home.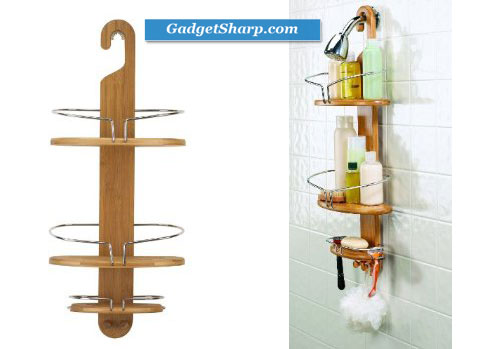 2. Aquala Bamboo and Chrome Bathtub Caddy [amazon]
The Umbra Aquala Bathtub Caddy made of Natural Bamboo is a perfect way to take a bath! Relax for hours in the tub with a book, glass of wine and bubble bath as this bathtub caddy has a book support that folds away when not in use and a spot to slip in and hold your wine glass securely. There is even a spot for your soap! The caddy is made of bamboo and will not split or mold. The arms of the caddy slide in after use for easy, compact storage. Bath in complete relaxation, with the Aquala bath caddy from Umbra. Umbra is the worldwide leader in casual, contemporary and affordable design for the home.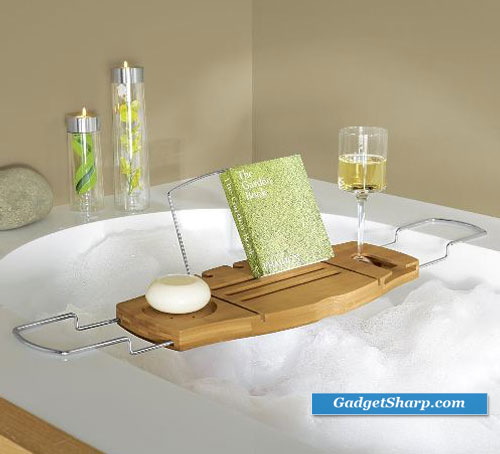 3. White Hanging Shower Caddy 3 Tiered Baskets Bath Decor [amazon]
Get organized with this great 3-tiered shower caddy
Made of durable white plastic and nickel chain
Each basket measures approximately 11.25" wide x 6" high x 4" deep
Drains from the bottom to prevent mildew
Hang via adjustable chain, non-slip hooks, and suction cups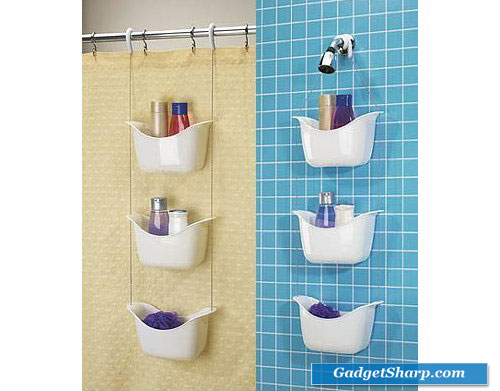 4. simplehuman Shower Caddy [amazon]
Plastic shower caddy fits securely around a shower head; fits shower heads with necks of 3/4- to 1-inch in diameter
Two adjustable shelves for accommodating taller shampoo bottles
Removable storage compartment with space for razor, toothbrush and hair clips
Slotted stainless steel plates in the bottom of the shelves prevent mold/mildew
Measures 5-1/5 by 18-5/16 by 28-1/8 inches; 5-year warranty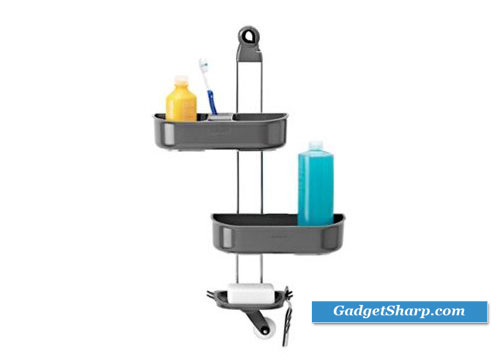 5. InterDesign Twigz Shower Caddy, Bronze [amazon]
Non-slip grip works with two suction cups to keep your caddy in place
Made from hand crafted bronzed wire
Twig pattern is both beautiful and functional
Two generously sized baskets hold all of your shower essentials
The top basket was designed to hold bottles upside down - easy pour!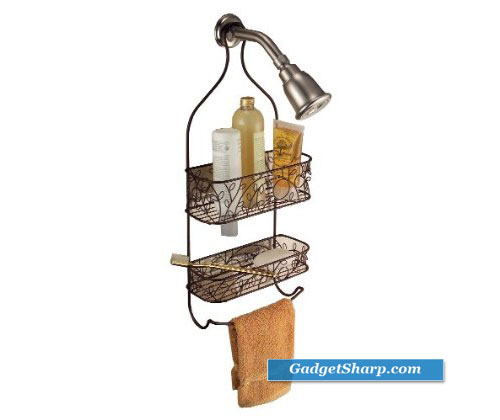 6. 3M Large Shower Caddy with Water-Resistant Strips [amazon]
3M Command, the mounting solution that holds on strongly, comes off cleanly! 3M's patented stretch release technology offers strong holding power and damage-free removal. The innovation - forget about nails, screws, tacks or messy adhesives that damage your walls. Revolutionary Command Adhesive works great on painted surfaces, wood, tile and more. Comes off cleanly leaving no holes, marks, sticky residue or stains.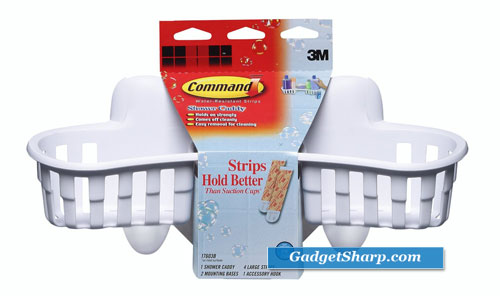 7. InterDesign Grand Arc Shower Caddy [amazon]
Contemporary design in shatter resistant plastic
Clear appearance coordinates with other bath decor
Won't rust or corrode
Keeps tub and shower neat and organized
4 Suction cups included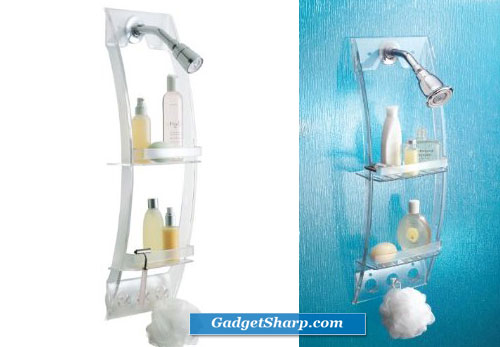 8. Sure-Loc Corner Shower Caddy (Chrome) [amazon]
This chrome shower caddy has two spacious baskets for holding bath products, and hooks for hanging your loofa, razor and more. Industrial strength rubber suction cups enable quick, secure installation without any tools on surfaces like tile and glass. The bathroom shower caddy is chrome plated with a rustproof clear coat finish. Just turn and lock! Supports up to 15 lbs.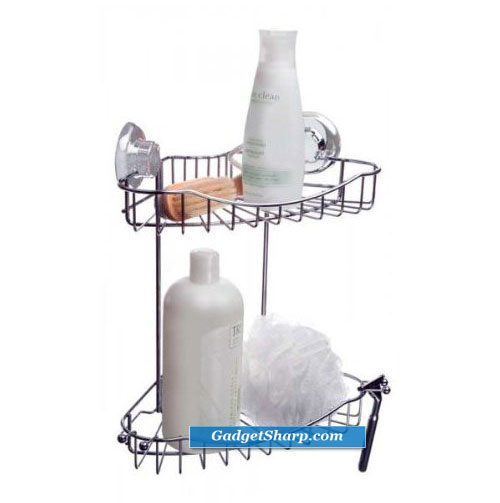 9. Formbu Power Lock Suction Combo Basket [amazon]
Super strong locking system
Bamboo wood and satin wire.
Lift, push and lock feature for secure adhesion to smooth surfaces.
A great place to organize shampoos, conditioners, body wash, and shaving cream.
Easy to install - no hardware needed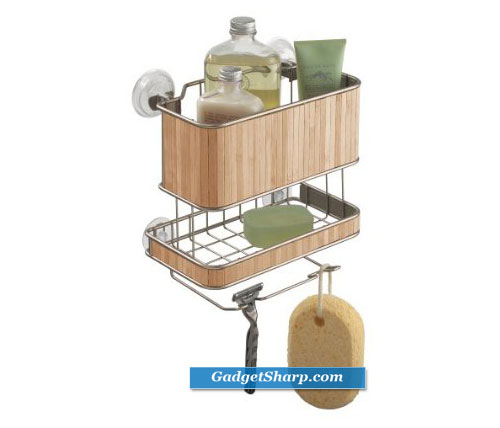 10. Oxo Good Grips 3-Tier Shower Caddy [amazon]
Large-capacity 3-tier caddy creates more storage space in the shower
Removable trays with ridges; special holes securely hold bottles upside down
Flexible silicone holder for razors and toothbrushes; built-in hooks
Nonslip hook fits securely on most pipes; suction-cup panel grips the wall
Measures 10-1/2 by 4-1/4 by 27 inches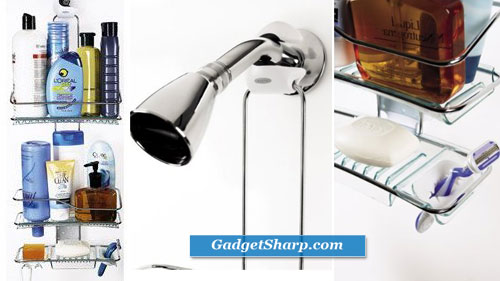 11. simplehuman Adjustable Corner Stainless Steel Shower Caddy [amazon]
Shower caddy fits in the corner of a tub or shower
Two adjustable shelves for accomodating taller shampoo bottles
Soap dish, toothbrush/razor holder and 2 hooks for hanging washcloth or sponge
Made of lightweight anodized aluminum with rust-proof stainless steel shelves
Measures 8-1/2 by 13-1/5 by 30-1/2 inches; 5-year warranty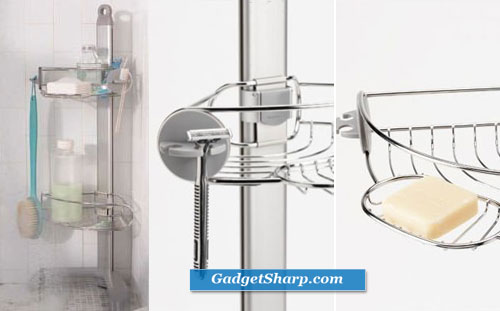 12. All Expandable Bathtub Caddy [amazon]
This expandable bath tub caddy fits bath tubs of almost every size. It easily holds your bath scrub, soap, washcloth and other toiletries. This well designed bathtub valet has a chrome finish that makes it sturdy and durable for extensive use. The bath tub caddy comes in an expandable size of 26 1/2" to 39" x 6" x 2 1/4".