Forget all of those plastic, flowery shower curtains of yesteryear. A bathroom is a place that can be easily decorated in a short amount of time, and you can keep it looking like a new room whenever the urge for a change hits you. And to change your bathroom, having a stylish / unusual shower will be a quick and effective way. So let's check some really cool and unusual shower curtain designs in this post, natural, scary, modern, functional…what will be your choice?
1. Tree Shower Curtain Set [amazon]
Embrace the nature during your bathing.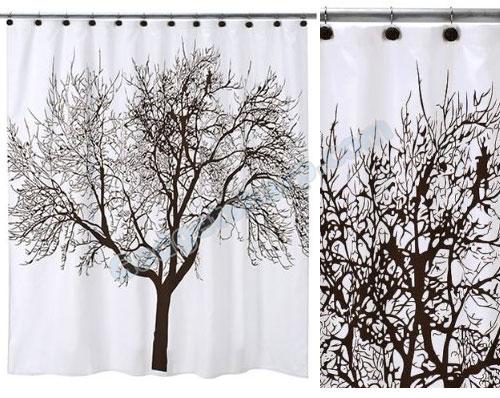 2. Marimekko Iso Satakieli Shower Curtain [amazon]
This beautiful line drawing by Maija Louekari, shows several profiles of a woman's face surrounding colorful nightingale birds and flowers. One might interpret that the images are the thoughts and memories inside her head. This polyester shower curtain is white with an accent cast of pastel greens and blues, as well as a rustic red color. Add some artistic design flare to your bathroom with the Marimekko Iso Satakieli shower curtain.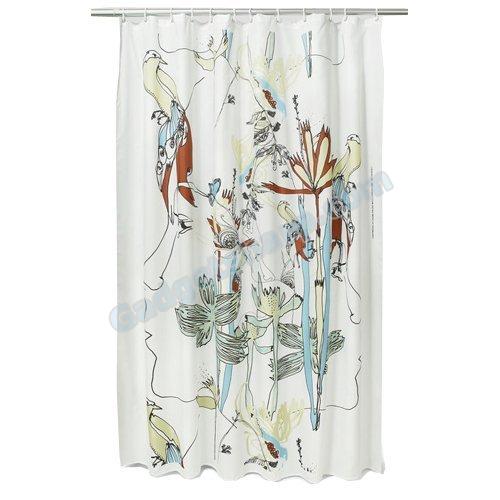 3. Bloody Curtain [amazon]
A shower curtain with a blood spattered design that will make your guests scream in terror each time they visit the bathroom.
If this Blood Bath Shower Curtain matches your current bathroom suite then you might want to consider getting yourself sectioned before you do something else you probably should regret.. If not and you want to test your guests nerve, get a blood stained shower curtain the legal way by buying this and avoid a lengthy prison sentence.
And if there?s one way to ensure you?re wide awake before you leave the house in the morning, this is it. Also spices up trips to the toilet in the middle of the night?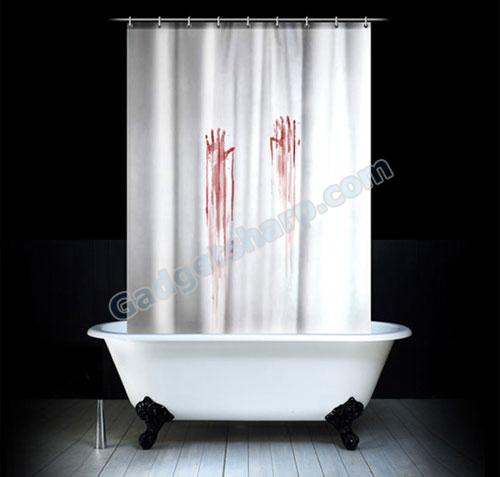 4. Scary Shadow Shower Curtain [amazon]
This opaque white curtain will make your guests think that someone (or something) is going to leap out and grab them! Great for Halloween or any time of year!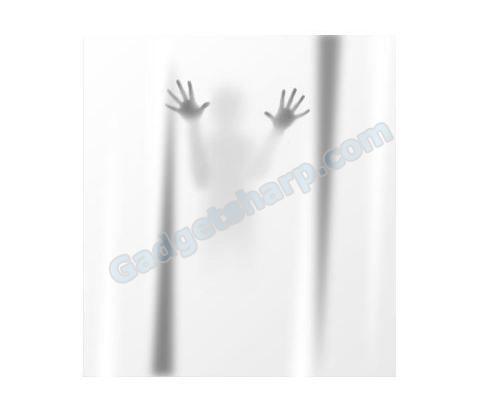 5. Bloody Serial Killer Shower Curtain [link]
The classic Psycho shower curtain was interesting, but it is nothing compared to this Bloody Serial Killer version. The added gore is a nice touch, but it is the sound and motion activated ?Psycho? music clip complete with screaming woman that really hits it out of the park.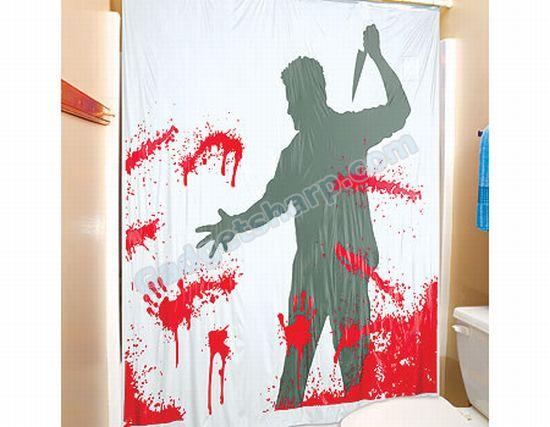 6. Contemporary Urban Beat Fabric Shower Curtain [amazon]
Snappy, uptown colors and a bold pattern mean you'll look forward to stepping behind this shower curtain.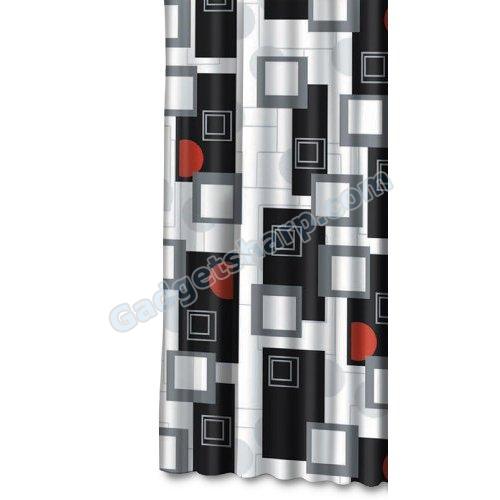 7. Home World Map Shower Curtain [amazon]
Learn your countries and their flags while getting clean! Updated regularly to display the most current geopolitical landscape for your showering pleasure!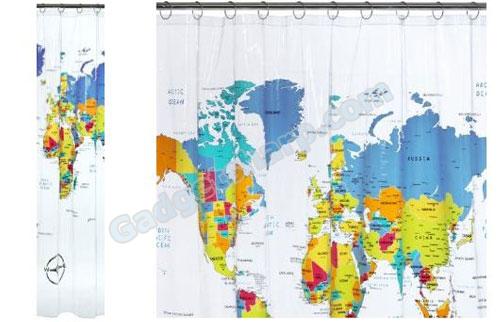 8. Periodic Table Shower Curtain [amazon]
Standing in the shower shouldn't diminish your ability to learn science! Keep up to date on your periodic table while you bathe. Ah, multitasking with bubbles - what fun!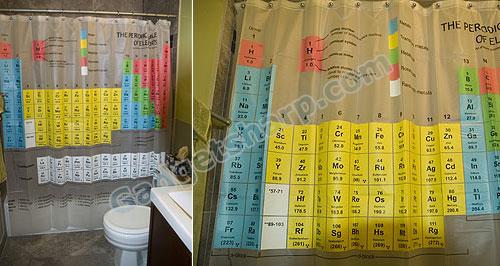 9. Metamorphosis Shower Curtain [amazon]
Do you remember how a tadpole becomes a frog? Or how a caterpillar becomes a butterfly? Enjoy finding out from our Metamorphosis shower curtain! Not only does it have a colorful and easy to remember design, but it also has the most adorable frog and butterfly!
This one is adorable, must be loved by child.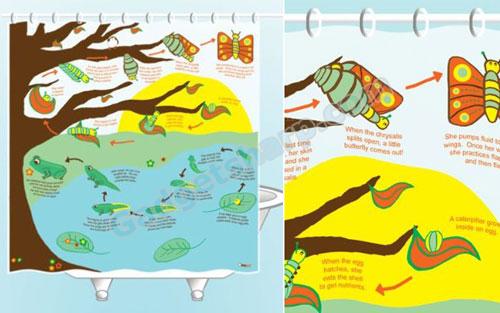 10. Juleez Music Shower Curtain [amazon]
Make a Splash "Jazz" up your bathroom with this great looking shower curtain. Fun and functional, the curtain features bold colors and flowing music notes for a striking look any music lover will appreciate. Makes a great gift for your favorite musician.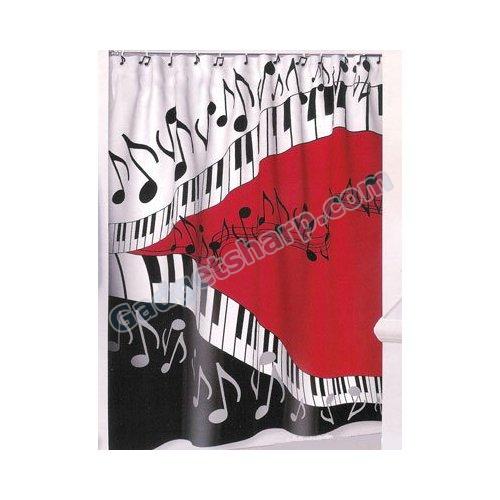 11. Shower Curtain - Police Line Do Not Cross [amazon]
Sometimes you need to take extreme measures for a little privacy. Standard frosted shower curtain topped with a police tape graphic, designed by artist Aleksander Mukomelov. Finished with reinforced grommets at the top.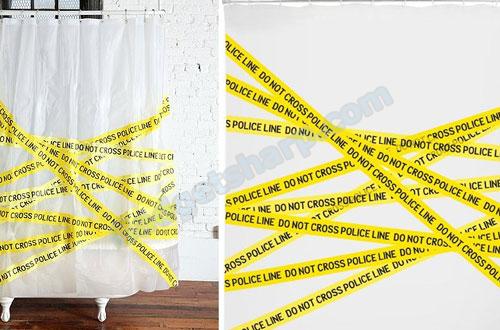 12. Top 500 SAT Words Shower Curtain [amazon]
Wash and learn. Give your vocabulary a boost while freshening up with this educational shower curtain. Features 500 common SAT words with definitions from abdicate to zealot. A unique gift for any word lover.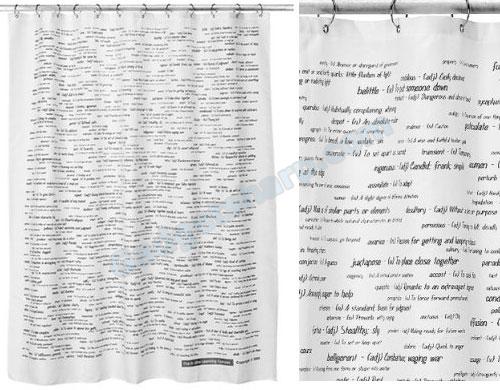 13. Waterfall Ruffle Shower Curtain [link]
Romantic cotton shower curtain topped with delicate rows of frilly ruffles. Finished with reinforced grommets at the top for hanging. Recommended for use with our Shower Curtain Liner.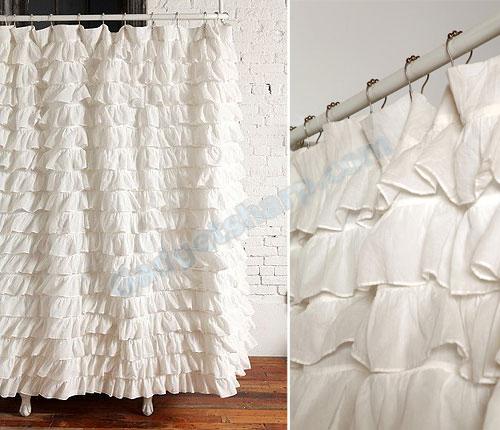 14. Pockets Shower Curtain [amazon]
Personalize your shower! This clear plastic shower curtain has pockets at the front, perfect for holding pictures, postcards or just about any little trinket or keepsake you can imagine.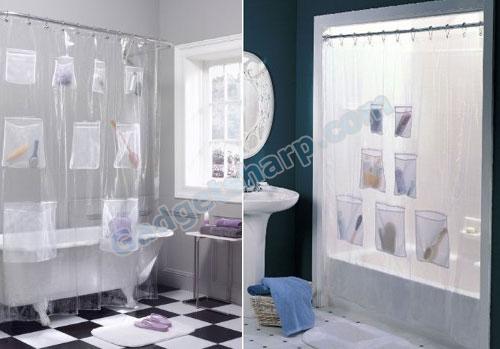 15. Green Warrior: Eco chic shower curtain! [link]
Ever thought your shower curtain could help you contribute in lowering water consumption? Bizarre it might sound but is true! Green Warrior by Elisabeth Buecher is a smart curtain that helps you curtail over consumption of water.
Using innovative materials and inflatable technology, this new shower curtain slowly inflates around you while you shower. Awaking people to the consciousness of their behavior and giving them limits, the innovatively cool shower curtain helps people contribute in saving the planet without asking for any compromise on style!