Nothing screams RELAXING LUXURY better than lazing away endlessly in a tub. Here is our topic today. 15 modern and stylish bathtub designs that will spice up your bathroom and help you relax after a long day of work. Now, let's begin our relaxing journey…
1. Le Cob Bathtub [link]
The Elegant Le Cob Bathtub is handcrafted from a combination of Corian and glass. It is supplied complete with overflow tray and pebbles.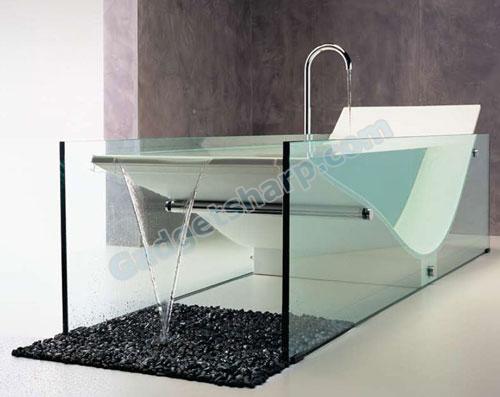 2. Aquarium Bathtub [link]
The contemporary bathtub is made from tempered glass and wood. Though, could not access any information on how to maintain the aquarium but the picture depicts an opening on the wooden top, lining the aquarium.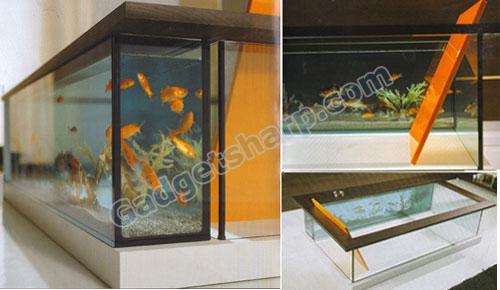 3. Bookcase Bathtub [link]
According to designer, this Corian rectangular bathtub is meant for serious bookworms who don?t feel like parting with the book even if for taking a shower. The bathtub includes back rest, automatic drainage, combined bath spout and overflow. The tub is made of resin, wood and it adorns a special price tag of approx. $17,300!
For me, I never understand why would anyone in their right mind endanger their books by putting them near sources of water?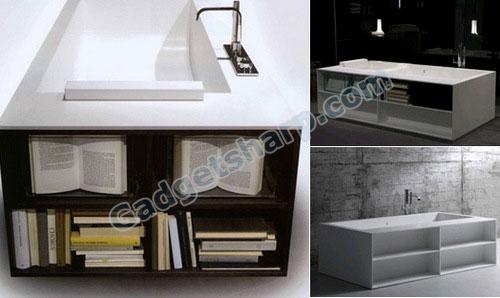 4. Hammock Bathtub Concept [link]
Love to curl-up in your hammock in those lazy days, but, of-late can?t find enough time to do so, then this hammock-styled bathtub is just for you!
The floating concept is made of polyurethane and steel. But, don?t worry it is not hard and rigid, but, soft and bendable. It?s soft polyurethane shell deforms to accommodate the contours of the body. The suspended hammock-tub is held by a tension ring suspended between two stainless steel poles, that also takes care of the water-supply and has even extended space for keeping your towel, soaps and oils!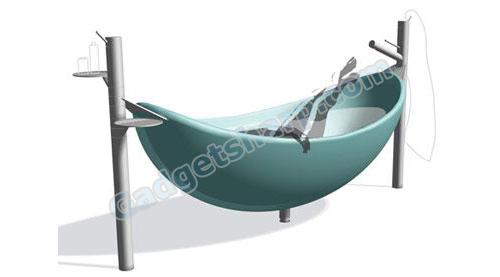 5. Shoe Bathtub [link]
This is the prettiest bathtub I have ever seen.
The shoe bathtub was designed by Massimiliano Della Monaca, a designer from Italy. The piece was adorned with beautiful mosaic tiles to accent its beauty and salute the classic "pump" shoe. Shoe lovers worldwide can take in the beauty of this bathtub and revel in this piece where fashion combines with home furnishing design to create a work of art.
6. Teuco Sorgente Bathtub [link]
A bathtub to blend seamlessly into your bathroom, the sunken profile of the new Sorgente Teuco Bathtub eradicates barriers between the water and surfaces surrounding it.
Fitted with 8 Hydrosilence whirlpool jets, the tub?s function is super quiet to ensure that you will have a tranquil experience. In the Sorgente bathtub you can also enjoy the benefits of a control panel or remote control operation, plus underwater lighting, a magnetic headrest, and a pull-out shower with a flexible hose. It fills automatically and treats the water with its internal filtration system for your convenience.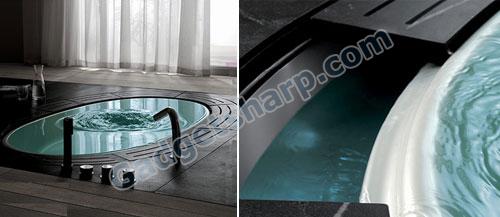 7. Sci-Fi Bathtub [link]
Want your bathroom to be ?out of this world?? This stunning sci-fi bathtub by Spiritual Mode is just the thing to send all your senses awhirl! The Beignet bathtub features fashion and function, and is designed to relax and rejuvenate. Water fills the tub via two ultra-modern taps. The soft, circular shape is soothing to the sight, while water jets along the tub?s base will calm you at the end of a long day.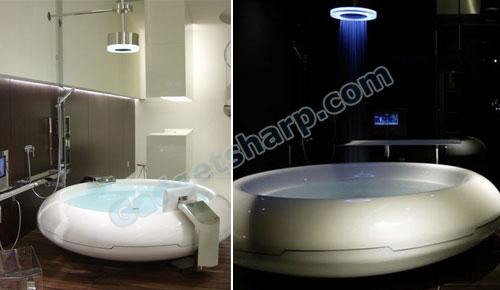 8. Laguna Pearl Wooden Bathtub [link]
Dedicated yacht makers inspired by the beauty of marine woods, Laguna creates glamorous wooden bathtubs which shine like jewels. The warm dark wood is given a soft sculptural form and modern elegance.
Designed to be filled up to the rim, the Laguna Spa lets warm soothing water entirely en-wrap you in soothing relaxation. With an integrated overflow beneath the pebble filled edge, the water may freely gurgle and rush over the pebbles before ebbing away.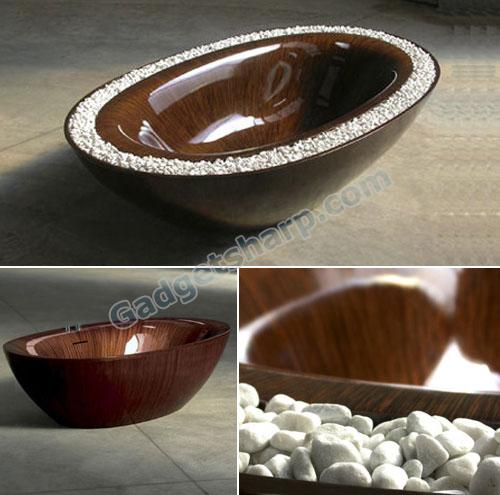 9. Natural Bathtub [link]
The bathtub is carved from single blocks of stone that have formed over hundreds of millions of years. Each block has its own personality expressed in slight differences in its crystalline structure. Totally natural feeling for your bathroom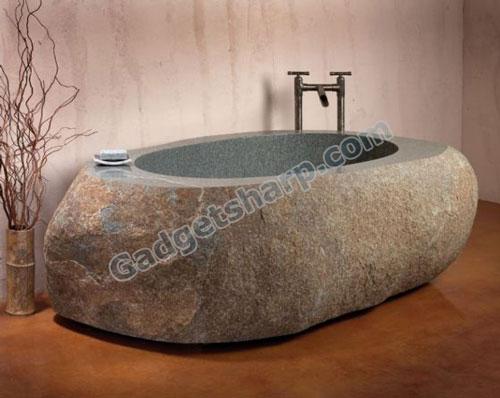 10. Leggera Bathtub by Gilda Borgnini [link]
The new Leggera bathtub from Ceramica Flaminia is a designed by Gilda Borgnini. A stainless steel shower pole pierces through the porcelain effortlessly, as if it were indeed cloth. The outside and inside of the bathtub are less marked, melting into one another with a sensation of airy relaxation.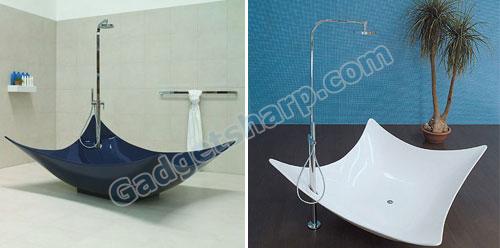 11. Mussel Shell Bathtub [link]
Embracing the simple shapes found in nature, the Concrete Mussel Shell Bathtub from HighTech is for those with refined taste. You can stretch out in any direction, totally uninhibited by angles or corners. The base of pebbles serves a dual purpose: both to catch any overlapping water and to add to the exotic sensation of exploring the elements of nature. An iconic element suitable for large bathrooms, the bathtub will transcend trends.

12. Vitra Bathtub turns into a spa seat within no time [link]
This wooden-layered bathtub from Vitra4Life features a wooden roll-matt which uncovers/covers the bathtub to serve as a massage seat.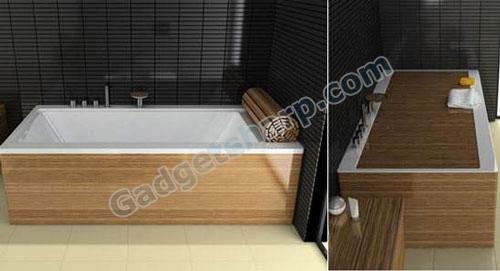 13. Wasauna's See-through Whirlpool Glass bathtub [link]
The Whirlpool Glass bathtub from the house of Wasauna looks to be the perfect thing to go with most of the modern bathroom designs.
Touting sixteen jets and seating capacity for two persons, it offers a distinctive experience, from a meditative, restorative soak to the stimulating rush of waterfalls and whitewater. The tub is made of high quality Pilkington glass and stainless steel.
Looks like Sexy!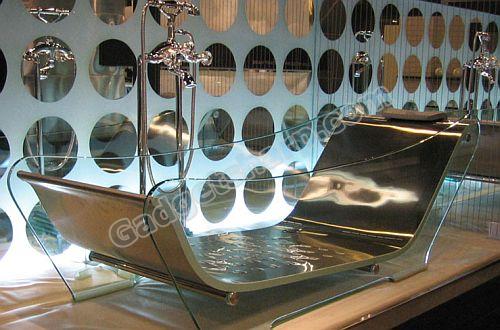 14. Energy Balance Cocoon [link]
This Energy Balance Cocoon, a mini spa with multi functional and compact whirlpool with sauna functions. The Balance features an infrared sauna and steam sauna including the Hydromassager or the Airbubble massager to de-stress your mind and loosen up your stiff muscles. Throw in some aroma therapy or light therapy with all these features and lo!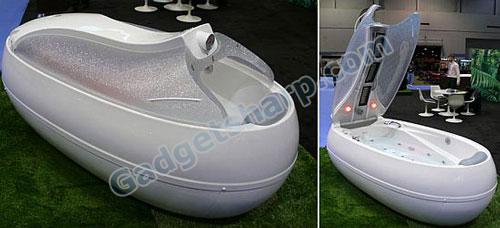 15. Electronic Bathtub by Wild Terrain Designs [link]
Covered in cosmetic charm, the Tub-E electronic bathtub by Wild Terrain Designs gives your bathroom the face-lift of a lifetime.
Outwardly, the bathtub looks like a futuristic bucket with enchanting sheen. Swirling around the tub is an elegant staircase made out of perforated stainless steel. Pinhole LED lights are embedded into the outer rim of the Tub-E, shedding light over the bathtub and providing just enough to see clearly up and down the stairs. The system has an auto fill, auto empty and auto clean option, which removes the strain of having to scrub dirt and grime out of hard-to-reach places. The Tub-E also has a built-in heater underneath the seat, which allows you to adjust the water temperature and experience the perfect bath. With one-touch programming and graceful appeal, the Tub-E offers a new look to your bathroom and new feel to your bath experience.