Why use some boring old door stop when you can use a clever one? In this post, we will showcase 13 Cool and Innovative doorstops. Take a look at these unusual and creative doorstop designs, interesting shape, amusing designs and bonus functions. Try one of those and hold your door open/close in style.
1. Loose Leaf Doorstop [amazon]
Loose Leaf looks like it wafted out of the sky and flitted to your entryway. But looks can deceive - it?s actually a very reliable and practical doorstop, as functional as it is evocative! Each Loose Leaf is packaged on a durable, peggable chipboard backing card.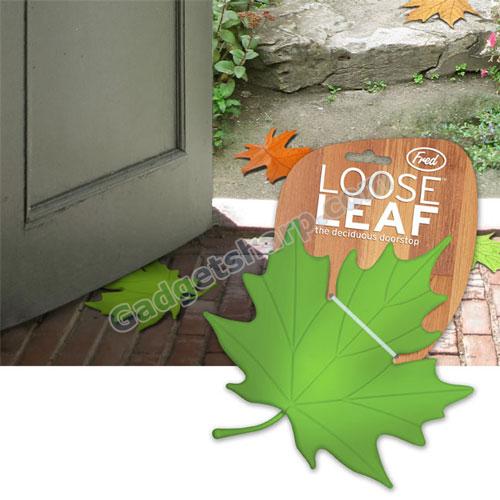 2. James the Doorman [amazon]
James is the perfect gentleman and will hold the door open for you by wedging his foot under it. He will bring a stylish welcome to any interior. Made of rubber. We want to show that ?designed? products can be made affordable without compromising their quality. The aim is to create innovative products that will charm and entertain. Hopefully you will get as much enjoyment from a black+blum product, as we got from designing them.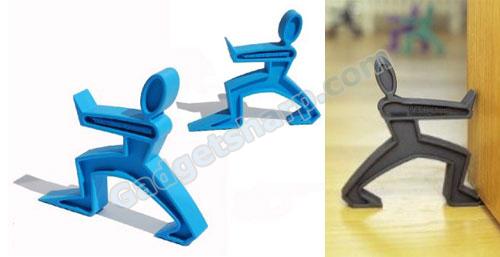 3. Mouse Shaped Doorstop [amazon]
This poor little guy must have been in the wrong place at the wrong time! The mouse-shaped rubber doorstop adds a little dark humor and convenience to your home. Holding the door open doesn't have to be boring; show your sense of humor with this rubber door stop!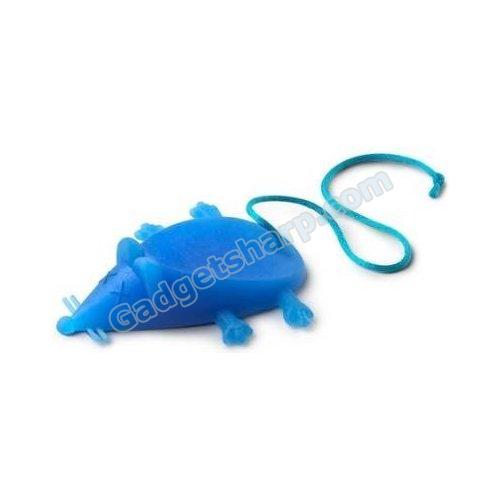 4. GE Smart Home Door Stop Alarm [amazon]
Securing rooms from unauthorized entry couldn't be easier. The GE 50246 Personal Security Door Stop Alarm requires no wires or complicated installation and is powered by a single nine-volt battery (not included). Simply place the pressure-sensitive Door Stop Alarm at the base of any door, and the device will emit a powerful 120-decibel alarm when the door is opened. The 50246 Door Stop Alarm is extremely compact, so it's convenient enough to take anywhere. With this handy gadget, you'll be able to secure your hotel room, dorm room, apartment, or any room in your home.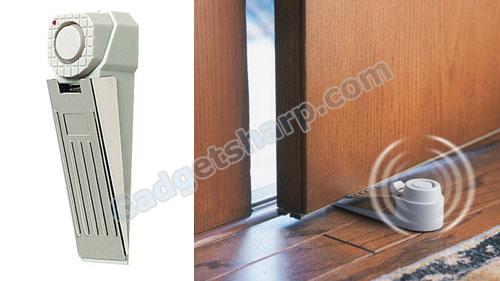 5. Stoppy - the ultimate door and window stop [amazon]
Stoppy is a brilliant solution for keeping doors and windows open… or closed! This fun and decorative door stop is made of high quality, weather resistant, safe and durable materials. It comes in black, white, and pink to fit any d?cor.
Key Performance Features:
Keeps doors and windows open when you want
Will not mark doors, windows or floors
Perfect for indoor and outdoor use at home, office, cottage or garage
Made of safe, non-toxic, washable, weatherproof materials
Fits all door and window types
Flexible material fits gaps from 0.5 - 9 cm (0.25 - 3.5 in)
Grips all types of surfaces (carpet, tile, stone, wood, linoleum, and more)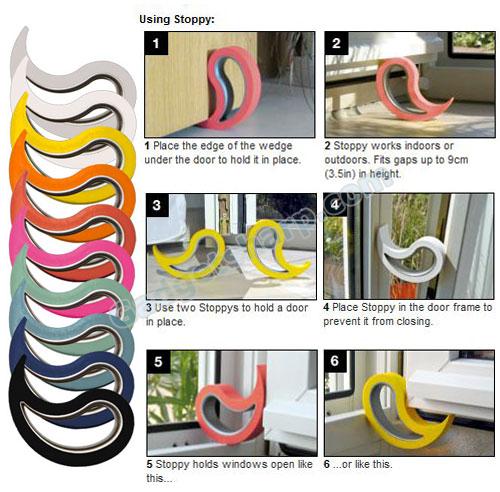 6. America Retold Country Mouse Doorstop [amazon]
This Country mouse doorstop, inspired by a real mouse attracted to our computer key board. Made from solid brass and each one individually hand painted in our soft green.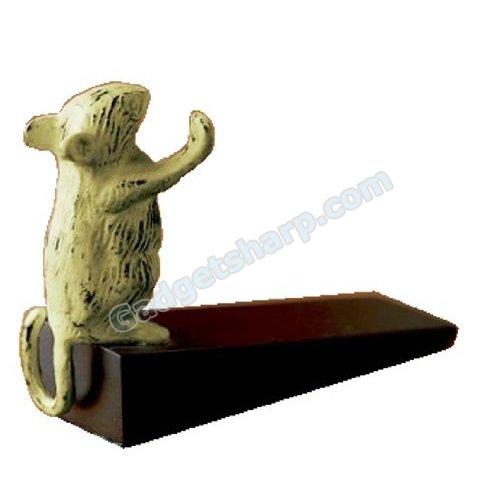 7. Cat & Mice DoorStop [amazon]
his unlikely twosome will help you with that door! This doorstop measures 6.5 inches high, 4 inches wide, and 4 inches deep. Made of solid iron, the doorstop has a flat wedge in the rear, with felt padding on the bottom to help prevent slipping and skidding. The Aardvark is all smiles over this sweet friendship.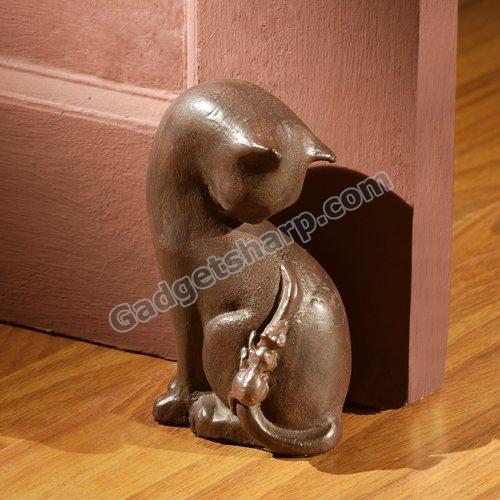 8. Wicked Witch Legs Under House Doorstop [amazon]
Door stop in action. The door is a normal-sized door, so you can see how small they are compared to the width of the door. But they are very attractive and the shoes are glittery.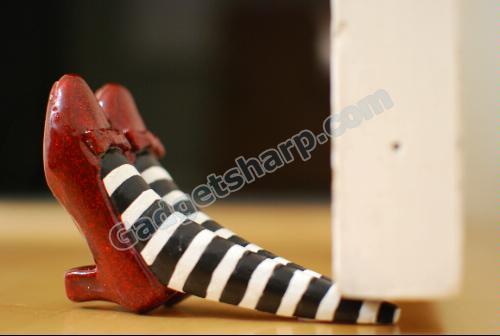 9. Areaware JODSBGG Silicone Door Stops [amazon]
Sleek, horse-shoe shaped silicone doorstops which conveniently loop over door knobs when not in use. Sold in sets of three (one each of black, gray and green).
10. Fred Foot in the Door [amazon]
Wedge the toe of one of these rubberized stilettos under your door ? the fun and practical way to keep your door open.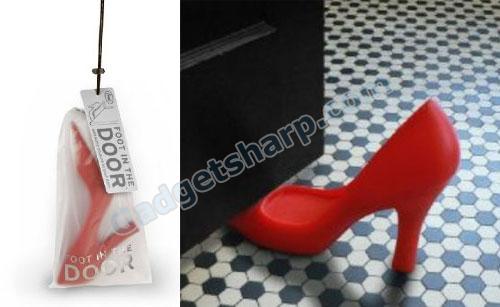 11. Elephant Trunk Doorstop [link]
Unusual elephant trunk doorstops from Japan will hold your door and make anyone?s day brighter.

12. Pop The Weasel Door Stop [link]
This rubber-made roadkill is precious because it not only takes the burden of just about any door on his back, Pop also has this cute (read gross) way of popping an eyeball when the strain gets to be too much. Try slamming a door when Pop the Weasel is at work and you can be sure that his eye would burst right out of his socket. You don?t want to have to clean that bloody gore off your carpet, so take care of Pop instead.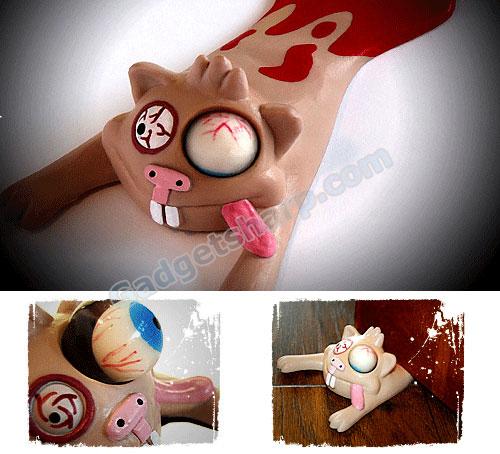 13. Suck UK Door stop made with silicon rubber [amazon]
chunky doorstop in the classic super hero comic book style. Working hard day and night to keep your entrances wide open and your home free from slamming doors! Utilizing the unique big grip footprint to resist any door, no matter how heavy.