Doormats may also be known as welcome mats, as their location at an entrance constitutes a ?welcome? to visitors, and may therefore also bear some word, message or sign of greeting. Bored with a usual style of Doormat or a welcome mat on your home? if so why don?t you try this Unique Doormat we presented in this post. They are funny and weird. If you want something special for you or your guest, you need to check this out!
1. Feet First Finish Line Doormat [amazon]
Fred & Friends Congratulations- you've made it through another day! And our Finish Line doormat is there to welcome you home!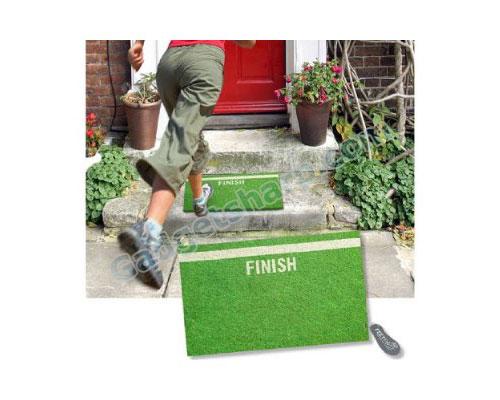 2. Natural Pebble Mat - Mixed Stone [amazon]
These natural stone mats are handmade utilizing stone pebble on water resistant matting. Our stylish and environmentally friendly mats offer a therapeutic feel and are available in a range of colors and sizes. Great for interior and exterior use, these sturdy mats are not limited to your front door alone, as they are perfect for use in kitchen or bath areas and make an ideal gift for housewarmings, birthdays, weddings or any occasion.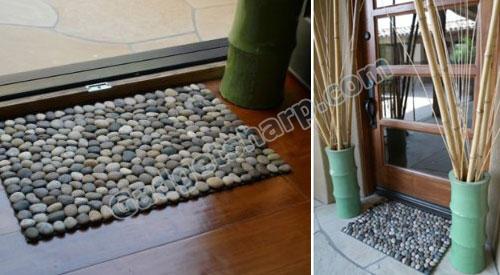 3. Not A Joke - Animal Doormat [amazon]
This indoor/outdoor doormat offers up a hysterical 'interactive greeting' for homes, offices and starter mansions. Made of 100% Olefin with bound stitched edges. Printed with color-fast ink for durability.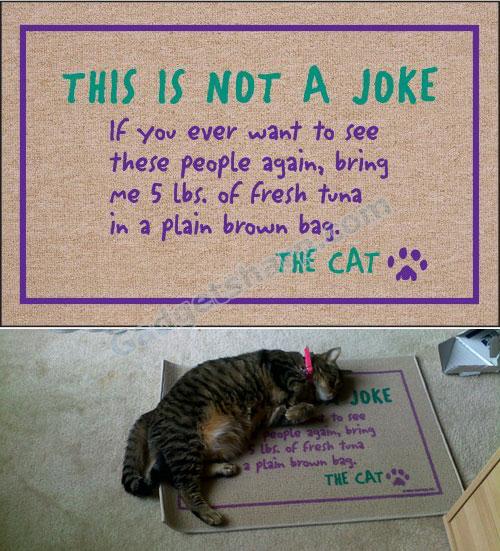 4. Waterhog Entry Mat [amazon]
Their crush-resistant nubs handle heavy foot traffic both indoors and outside your home as they scrape dirt, mud and sand from shoes and trap it. Protect your floors from the ravages of mud, sand, water and grime with a Waterhog(TM) entry mat. Order today! Brookstone is your source for Waterhog(TM) rugs, mats and runners. A unique XUIYDSwater dam" border lip traps water and keeps it off carpets and floors.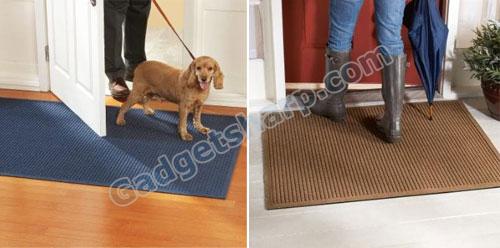 5. FEET FIRST: I AM NOT YOUR DOORMAT [amazon]
It?s flocked in neutral gray nylon, and like all the Feet First styles, it?s made from 100% recycled tires.These mats are washable, durable, good for use indoors or out, and this one speaks volumes.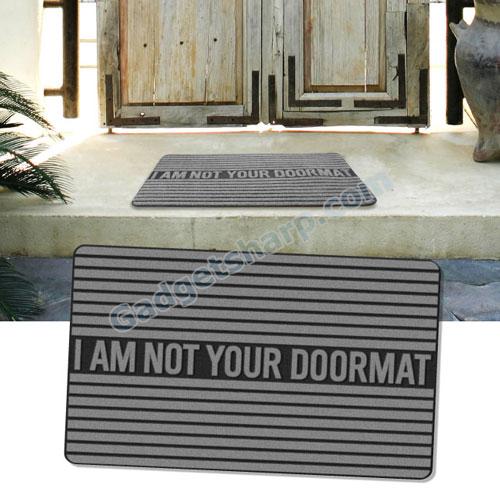 6. Doormat Scale [link]
Your guests will hate it. The Doormat scale measures your guests' weight, haha! A good idea!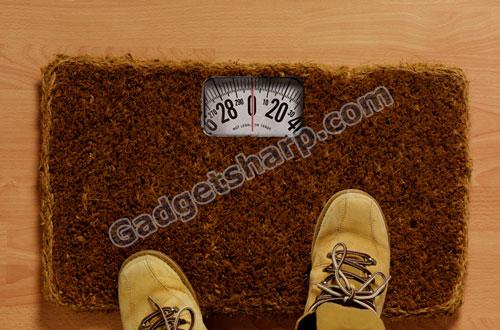 7. Unlock Doormat [link]
This fun and super geek doormat comes with the famous inscription inspired by iPhone "Slide to Unlock", nothing better to place in front of your door.
If you slide your feet across this doormat, it will open your door! OK, it's not true, but even without this interactived still very cool.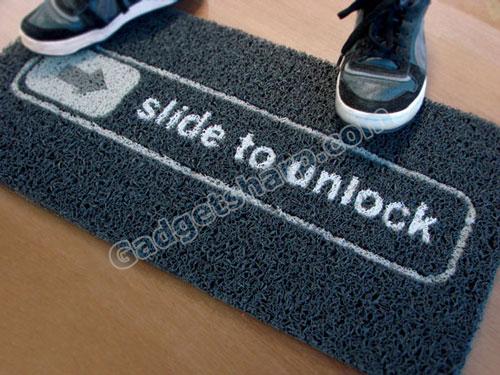 8. Nice Underwear Doormat [amazon]
Put your house guests into a good mood before they enter your home by placing this funny and clever door mats outside. Made from 100% olefin, they can be placed either inside or outside your home.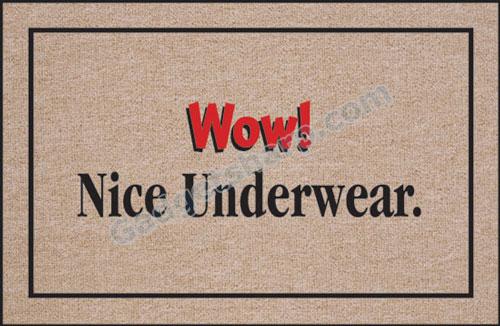 9. Barcode Doormat [link]
You, for one, will welcome your Robot Overlords by doing some of the work well in advance. Place this stylish doormat in front of your domicile to show you are open and happy to be included in the first generation of capitulators. Nothing says you love your digital deities like a welcome mat in barcode!
10. Coir Doormats - Unique Ambigram "Come-in" "Go-away" doormat [amazon]
Give guests a laugh with this good-humored, mind-boggling doormat that reads differently depending on whether you are walking in or out of the house. Carefully designed letters read "Come In" from one angle and "Go Away" when flipped. Once guests are done scratching their heads, they can wipe their feet on this fun mat made of durable coconut husks. Made in India.