For a device that is to be used so frequently, ergonomics is the major concern and designers leave no stone unturned to address the same. Here, I have compiled a list of some weird and wonderful mouse designs that aim to give users a whole new experience of working with a mouse. Some of them are already on the shelves, while a few are just concepts.
Trypticon Transforming Laser Mouse [link]
Transforming Laser Mouse - Trypticon, it is a 800 dpi three button laser mouse and can be turned into a Trypticon transformer.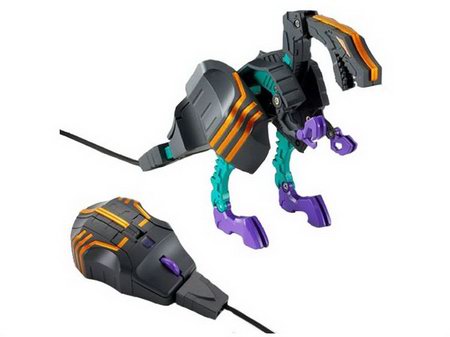 Zero Mouse [link]
Zero Mouse presenting an elegant and a high-tech design is the latest addition to the list. Conceived by German designer Oliver Rosito, the Zero Mouse like most other futuristic mouse concepts doesn?t flaunt a sweeping design, but it chiefly relies on its elegance and functional usage. Finished with brushed aluminum and rubber (for a soft touch), the Zero Mouse comes with a hole that makes it both trendy and lightweight.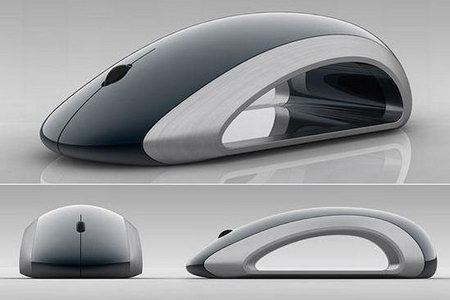 Jelly Click inflatable concept mouse [link]
The Jelly Click inflatable concept mouse. In the use you can blown up manully, and you can let the air escape when it is not use. Jelly Click designed to easily carry aroud a full-size mouse without taking up a whole lot of size. " When deflated the user can fold it up for a convenient portability and when inflated and in use a feeling as if you were touching a soft jelly or even a balloon can be felt. " It is very funny!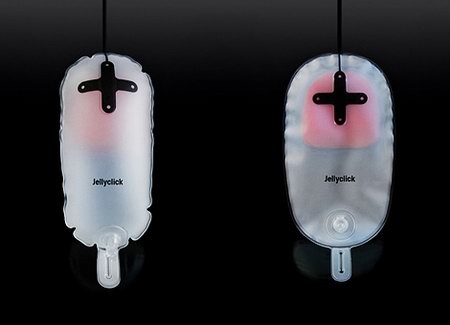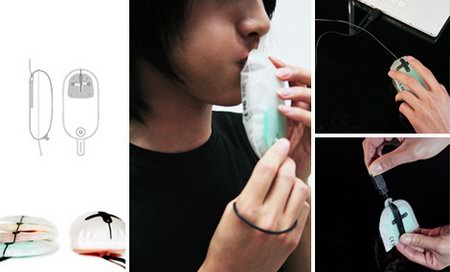 Razer Naga MMO Gaming Mouse [link]
Razer has released a MMO gaming mouse, it has 12 programmable buttons at your thumb area, so you can quickly run the game functions. And its keys and the scroll wheel are both backlit making it easier to see in the dark and cool in the dark. The Razer's Naga MMO Gaming Mouse($80) features include 5600dpi, 1ms response time and 17 MMO-optimized buttons(including 12 button thumb grid), and it can work with the Razer Naga's in-game custom interface AddOns to place every command you need in the palm of your hand (available for World of WarcraftTM and Warhammer Online: Age of Reckoning).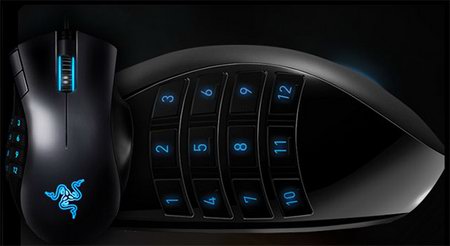 The Combimouse [link]
The Combimouse featuring a standard QWERTY keyboard and integrated standard mouse. It looks weird. The left is a left hand of QWERTY keyboard, and right side of the Combimouse is designed to like a 'big' mouse(the keys I, O, J, K, L as the mouse buttons), when you grips it, it will automatically change to mouse mode.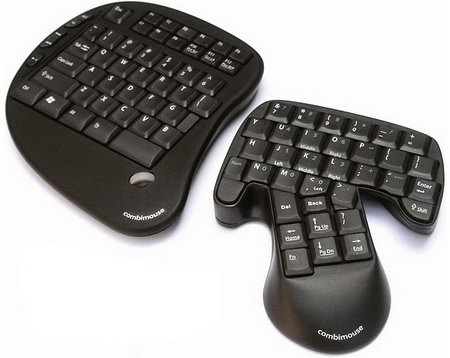 3DConnexion SpacePilot PRO 3D Mouse [link]
The 3DConnexion SpacePilot PRO is a 3D mouse designed to deliver advanced control of 3D models, easier access to the power of professional 3D applications, fewer interruptions in the design workflow, and superior comfort. And it has a big color LCD display that provides listing function-key assignments, at-a-glance access to email, calendar and task lists and totally customizable fun.
"Unlike traditional mice confined to motion on one flat plane, 3Dconnexion 3D mice enable design engineers to move in all three dimensions simultaneously, using six-degrees Cof-freedom sensor technology. By gently lifting, pressing and turning the controller cap, design engineers can easily pan, zoom and rotate without stopping to select commands. Using a 3D mouse together with a traditional mouse engages both hands into a balanced and cooperative work style."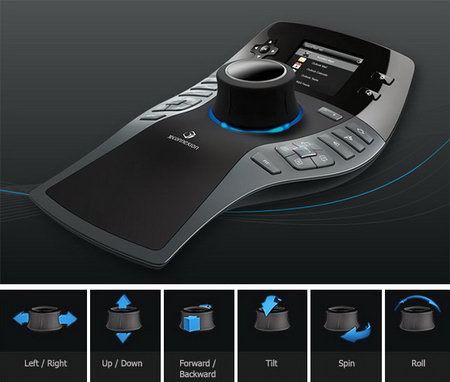 Mouse Mouse [link]
I have no word for it… it is the creepest mouse design ever. "Hacked travel-size (hardware) mouse + taxidermied (wetware) mouse = Mouse Mouse!"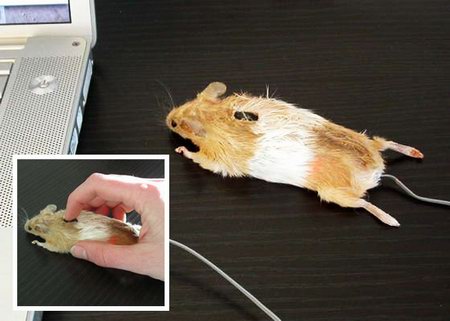 Boobie Mouse and Mouse Pad [link]
Another weired design from Japan - Boobie Mouse and Mouse Pad. The mouse buttons are shaped like tits and the hand rest likes a a pair of breasts.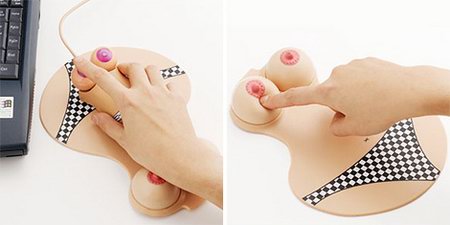 Pat Says Now Fashion Mice [link]
They are so cute. These cute and sexy mice come from Pat Says Now. They included sexy body , fish, chilli, ladybug.. sharped and adorable pattern mice. I love the body series mice.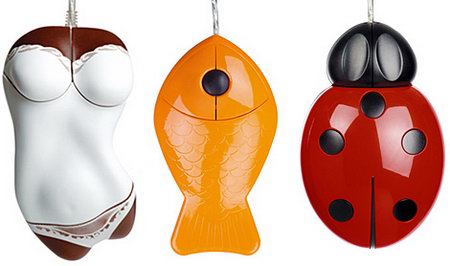 Swiftpoint Mouse [link]
The Swiftpoint mouse from Simtrix is cool that features designed not require a flat surface and was designed to be held between the thumb and index finger. For the multimedia and notebook users. They included the Slider(left) and TriPed(right).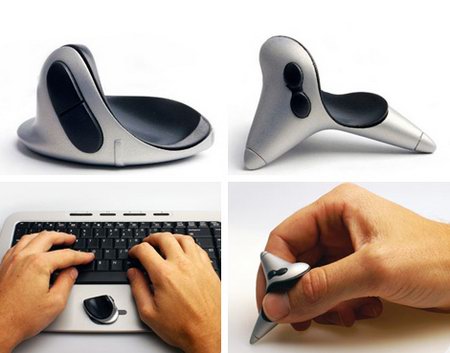 Alien Mouse [link]
Alien Mouse is composed of several inter-related parts; each with a distinct function to perform. The form draws inspiration from human hand and various parts are connected in much the same way as wrists with palm and figures. The central core pulsates and lends soothing vibrations to the entire aluminum frame. The clicking is taken care of by a ?cool control? ? a sphere at the top of the arrangement ? whose either side needs to be pressed for a desired click. The scrolling and pointer movement is handled by a central joystick; this essentially means no movement of the mouse itself. Using optical infrared, the Alien Mouse further tries to reduce stress caused by constant movement of hand. However, there?s nothing alien about the connectivity and the concept lends to USB 2.0 and wireless connection.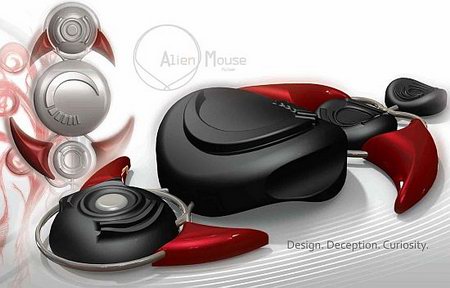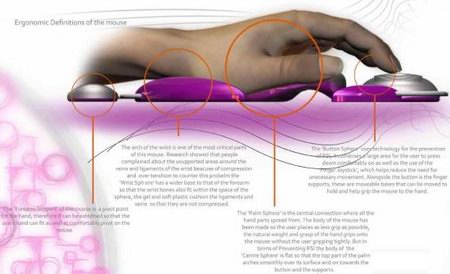 Jake's Steampunk Computer Mouse [link]
The fetish-driven industrial nut inside of us all squirms with joy at this steampunk mouse designed by Jake of Jake of All Trades. He even wrote up an old-timey narrative about this mouse. Role-playing and steampunk? It's like an explosion in my pants! It is actually smaller than it looks?reminds me of the size of one of those laptop mice (and probably uses parts from those mice, also).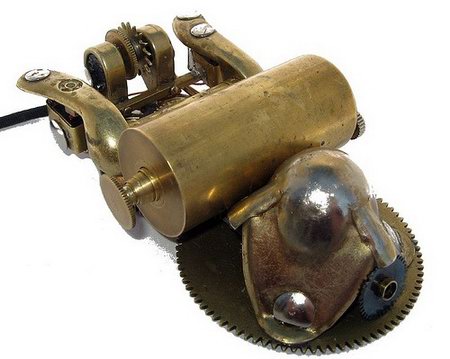 Body Mouse [link]
Currently, it?s just CGI, but Chris Lomaka?s Body Mouse is still very creepy! I am interested who will want to use this kind of mouse.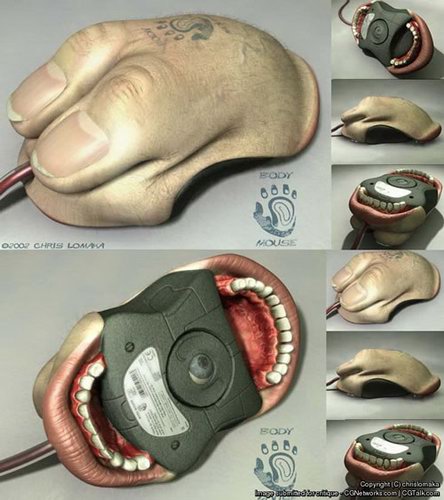 via designswan