Blenders are very popular kitchen appliances. Usually, a blender consists of housing, motor, blades, and food container. Today, we will introduce 9 Stylish and Functional Blenders - from electrical power to gas power to Hand-cranked blend, from 3-1 (mixing, chopping and mincing) to thermal cooler Blenders to super sleek "Let me Guess" blender - functional, stylish and convenient! Just check today's post, hope you can find something you like to speed up your cooking.
1. Ariete Freedom 3-in-1 cordless food processor [link]
The compact Freedom 3-in-1 cordless food processor is battery powered and has 3 attachments for mixing, chopping and mincing. As the result, you have versatile, always ready to use and simple to operate cordless blender with comfortable ergonomic grip. Features are rechargeable battery, base support with charging status indicator, variable speed, dual start button, stainless steel double whip mixer, stainless steel blade mincer with cup and cover, and chopper cup with stainless steel blades and lid.
2. "Let Me Guess blender" Stylishly and sleek blender by De Dietrich [link]
The sleek design, ergonomic appeal and smart functionality all talk about the stylishly chic blender. The super sleek blender named ?Let Me Guess blender? behind is simply pleasing to eye and deserves to be in your oh so cool trendy kitchen.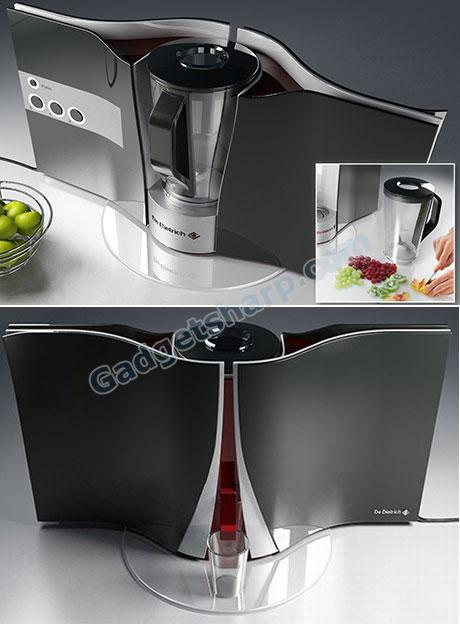 3. UMIX Cordless Blender [link]
Designed by Andrew Bezzina, it?s a UMIX Cordless hand blender that minimizes the clutter in our kitchen.
What?s different? It?s a portable cordless blender that caters to the increasingly thin line, bordering indoor and outdoor cooking. Easy grip, push button start up, ability to power a motor by itself, blending sack large enough to contain all the fruit, vegetables and other food required to create different marinades, smoothies, cocktails or any other recipes, competent of working without the additional mixing bowls, plates or other containers are the cool traits that make UMIX Cordless blender one of its kinds.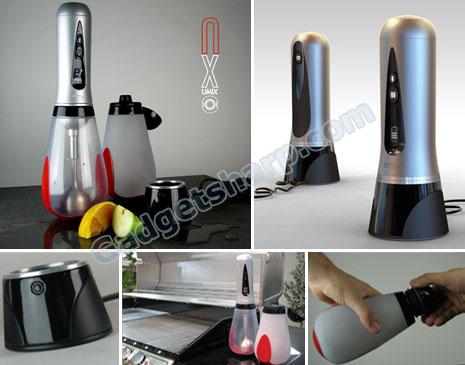 4. Bamix Immersion Blender [link]
Offering a combination of power, versatility and durability, this Swiss-made electric immersion blender quickly chops, purees, beats, mixes, blends, stirs and emulsifies in the deepest pots and bowls.
Two-speed motor is quiet and vibration-free.
Ergonomic design fits comfortably in the hand.
Fully immersible driveshaft.
Use it for hot or cold foods.
Includes mincer, beater and whisk attachments and 20-oz. beaker.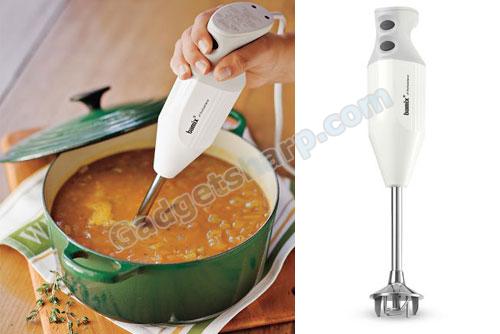 5. Gas-powered blender [link]
And I thought the battery-powered rechargeable blender was handy? While this blender is powered by a 43cc 2-stroke gas engine mounted on a stand with a stainless steel blender cup and a variable speed throttle to get just the right amount of blending for your drinks. It?s even decorated with diamond-plated accents to give it that classy-tool look.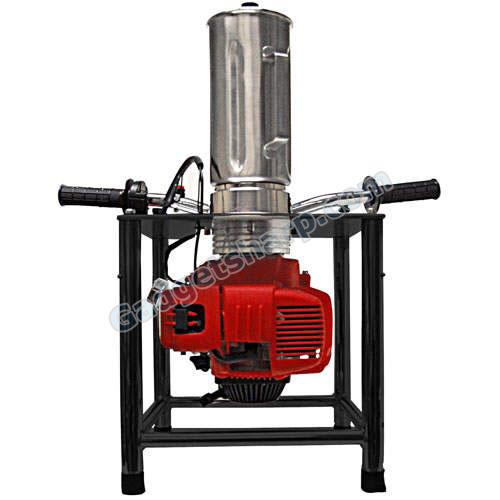 6. KitchenAid 300 Immersion Hand Blender [link]
It is the perfect tool for a small kitchen. It makes quick work of anything that needs to be mashed, blended or whipped, is easy to clean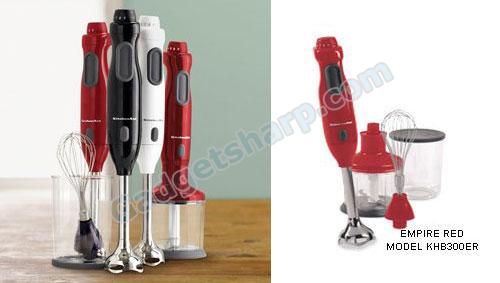 7. GSI Vortex Blender [link]
"Hand-cranked blender with a 1.5 liter pitcher. Pour Through Lid with Shot cap. Crushes ice, processes food, mixes shakes, etc.
The manual action reduces noise pollution?no high pitched whine like electric blenders. The hand crank blender is also handy to take camping or on a picnic to serve up drinks.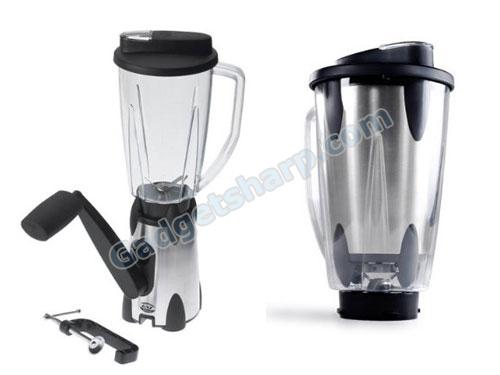 8. Cuisinart CSB-77 Smart Stick Hand Blender with Whisk and Chopper Attachments [link]
200-watt immersion hand blender housed in brushed stainless steel
Powerful chopper and whisk attachments provide added versatility
Lightweight design; easy-to-grip ergonomic handle; simple push-button control
16-ounce mixing/measuring beaker and 2-cup mixing container included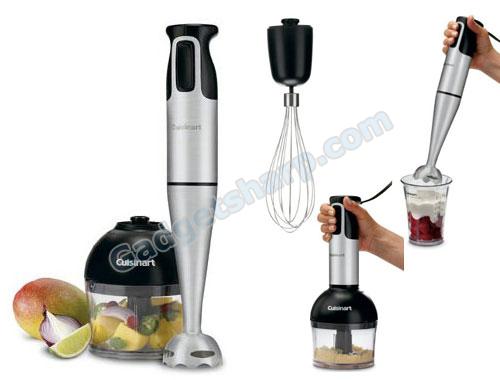 9. Hamilton Beach Thermal Cooler Blenders [link]
On a hot day, staying cool couldn?t be easier with the Thermal Cooler Blender. Just blend cold drinks right in the cooler, lift it off the base, and bring it along to the beach, park, pool, sporting events, or even your own backyard. The contents will stay ice-cold for up to eight hours, and its easy-pour spout makes serving drinks simple.