Are you tired of using the same old conventional style of hooks over and over again? In this post, we will present you with 9 most bizarre hook designs - Scary baby limb hook, cute Ted Bear Hook or a bit naughty ?Excited man hook?. Those creative/bizarre designs will transform your room and spice up your life.
1. Baby limbs wall hook [link]
You know you need one of these! Rescued from the toybox! It's easy to hand make: two doll arms and one doll leg upcycled by filling, gluing and screwing them to a vintage mahogany tray. This little beauty is made from quite a big doll so the arms and leg are nice and chubby.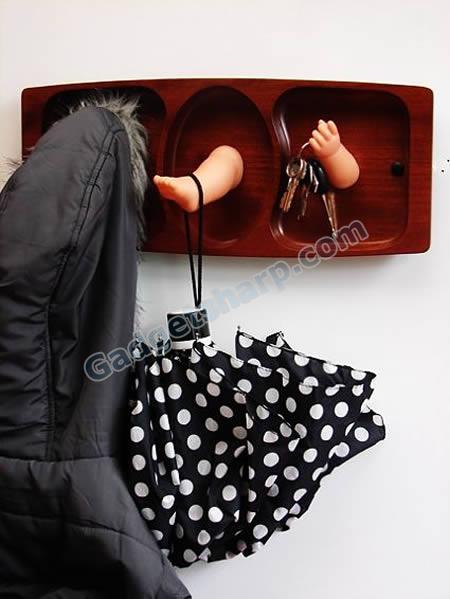 2. Men wall hook [link]
Add some visual interest to your walls with this graceful stretching man hook. His outstretched arms are great for coats, hats or even towels. Made from high quality cast resin.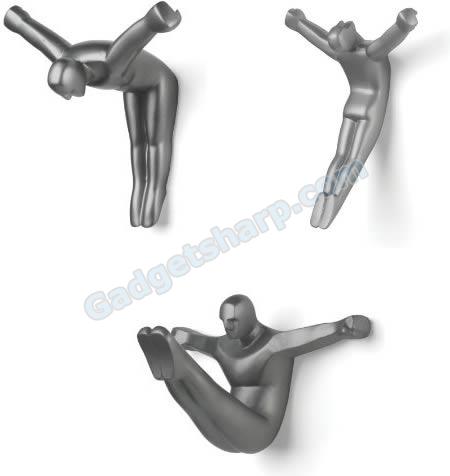 3. Flip Flop Wall Hooks [link]
Transform your room and welcome the summer days when you replace your boring, traditional hooks with these Flip Flop Wall Hooks. Each hook is shaped like a flip-flop to hang your towels or even your jackets if you so desire.
For me, it is not only shaped like flip-flop, it seems are really flip-flop and be nailed on the wall lol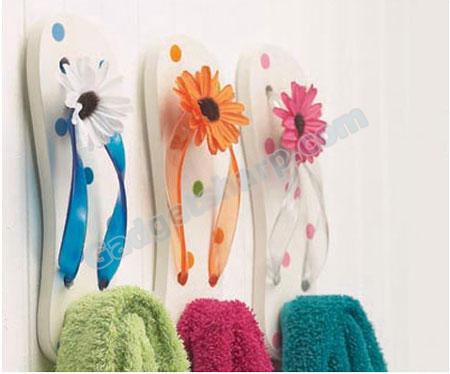 4. Mr and Mrs Hangup Wall Hooks by Black+Blum [link]
His and hers wall mounted towel holders are a novel idea, at least this way the person who left their towel on the floor can easily be identified. Manufacturer Black+Blum is an Anglo-Swiss partnership between English designer Dan Black and Swiss industrial designer Martin Blum which has a rather entertaining line of inexpensive and creative products. Of course the Mr. and Mrs Hangup Wall Hooks can be used for jackets, robes, or coats as well and offer a more visually appealing design that typical wall hooks. Packed as a set with adhesive tape and screws for easy mounting.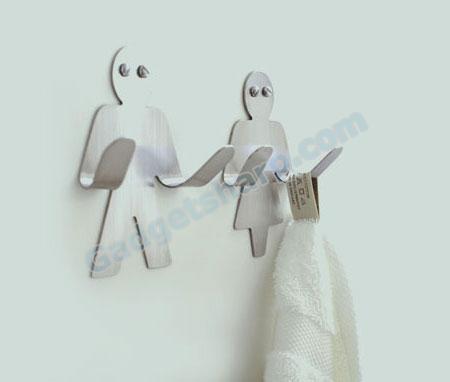 5. Hippo wall hook [link]
Designed by Phil Cuttance, these Hippo Placks might seem like they are all about hunting and such. But that is far from the vibe he is trying to convey. Animals and our responsibilities towards the endangered ones is at play here. These are actually designed for the function of hanging things from them. Coats, small bags, umbrellas… you get the drift. You get a front and a back with each set. So follow Phil's trend here, only use fake animals to hang from your walls.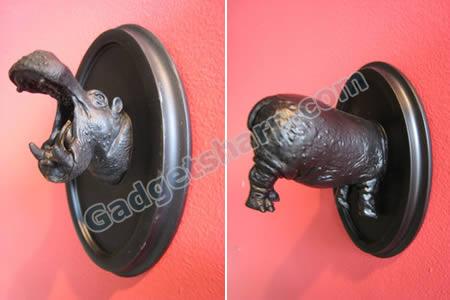 6. Excited man wall hook [link]
The Mr P hanger proves that size really does matter with this Excited Man Hanger. This handy wall hook/hanger can hold your keys, towel, coat, jacket, handbag or cat lead with ease! This silly hilarious coat hanger is simple and a little naughty, so Mr P entertains our office desks and accessorizes our homes in a unique, fun and memorable way!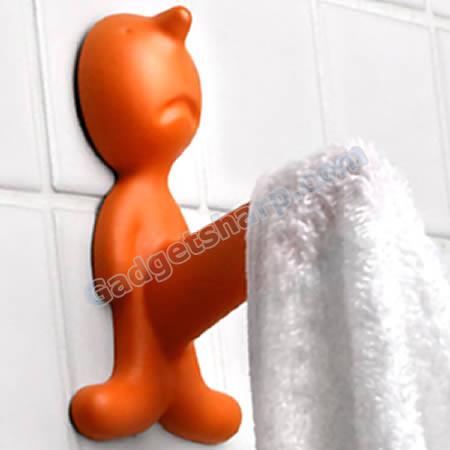 7. Hand Hooks [link]
That is a bit scary.
Hand Hooks Mr. Allen?s Hand Hooks look to the human body for form. This series of wall hooks is based on highly detailed casts of the designer?s own hands. The result is a surrealistic, yet functional, new object for the home. Offer is a small shelf, Dimensions are the actual size of a human hand.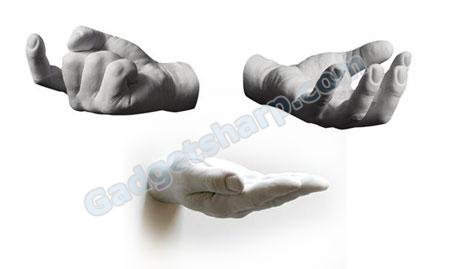 8. Puppy butt wall hook [link]
Cute enough to hang in a hallway, bathroom, pantry, garage, or anywhere you need a hook, these polyresin hooks are mounted on wood and will add a humorous touch to your home. Perfect for all the pet lovers in your life.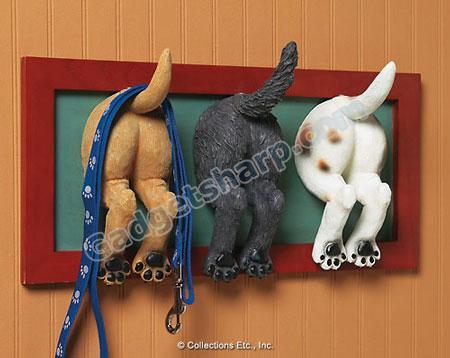 9. Super Ted Hook [link]
This Super Ted will rid your home of mess and clutter. He is quite capable of holding almost anything you give him. Simply screw Super Ted to your wall at the front door (or anywhere you like) and use it to hold your keys and sunnies…you will never have to scrabble around to find them again. Hats, coats, umbrellas, jewelry and purses can also benefit from Super Ted's Super Holding Powers