Banana is great source of nutrition as a fruit, but it can also be a great inspiration to designers. That is the reason why we can see many interesting designs in the shape of banana in our life, banana bowl, banana handler, banana shoes and banana car…! Sounds wild? Let's take a look!
1. Bananagrams [amazon]
Bananagrams is a fast and fun word game that requires no pencil, paper or board. All you need is a table. One hand can be played in as little as five minutes. It is great for family fun as well as being educational. Bananagrams' portability makes it perfect for travel. Just grab the pouch and go.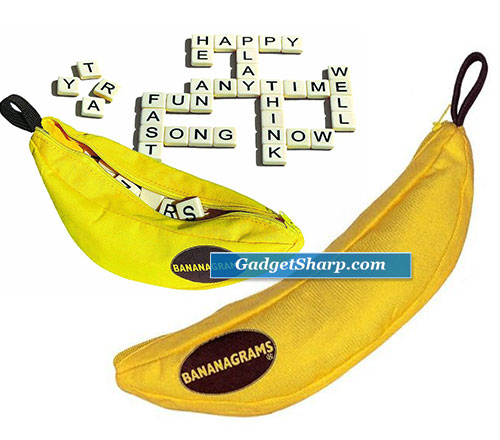 2. Banana Door Stop [amazon]
This hilarious Banana Door Stop is the ideal gift for any home or office. Yes we have no bananas! We have no bananas today! This fantastic door wedge does a great job of letting the air circulate around your home or office and will stop those pesky doors from banging in the breeze. Ideal novelty gifts for Birthdays, house warmings and stocking fillers, this doorstop will add a bit of humour to your boudoir!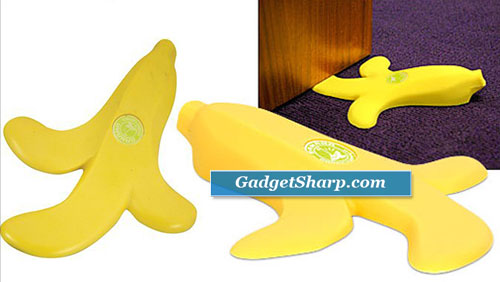 3. Banana Dish Collectible Fruit Ceramic Glass Kitchen Platter Dish [amazon]
This gorgeous Banana Dish Collectible Fruit Ceramic Glass Kitchen Platter Dish has the finest details and highest quality you will find anywhere. The Banana Dish Collectible Fruit Ceramic Glass Kitchen Platter Dish is truly remarkable. Product is crafted with: Ceramic.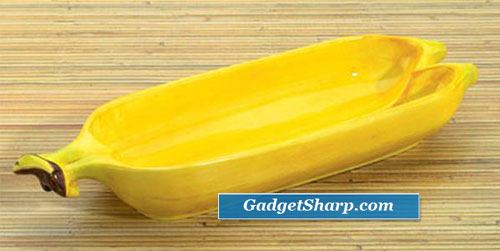 4. banana-shaped car [link]
Steve Braithwaite of Milford Township cruises along West Broad Street in Quakertown in May 2011 with crew member Liz O'Neill of Milford in a large banana-shaped car that Braithwaite built. His plan is to drive the car around the world to raise money for charity.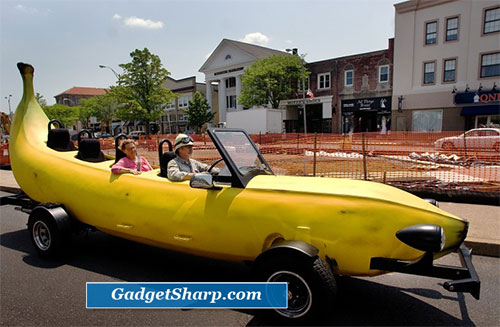 5. Bananahandle Gripper [amazon]
You?ve never seen a chimpanzee burn himself on a hot pan, have you? Of course not. That?s because BananaHandle?s heat-resistant silicone construction protects hands, both human and primate. Slide the ripe yellow peel onto any pan handle and you?re fully protected, hands down.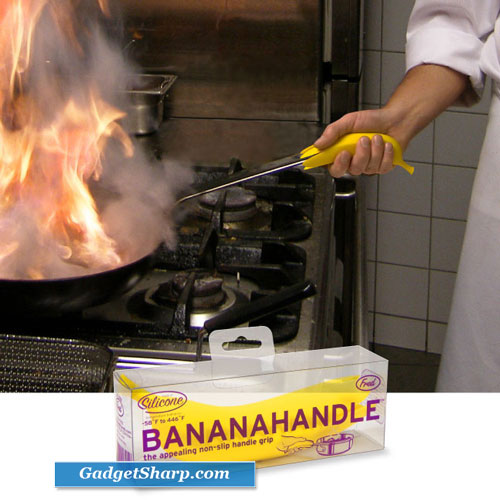 6. Banana slip-on [link]
Unusual shoes designed by Israel footwear designer Kobi Levi. Now you don?t fell on banna, you are wearing them.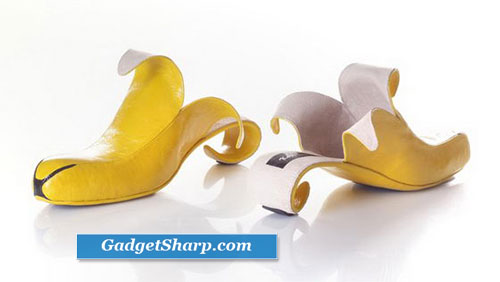 7. Banana Bros Salt and Pepper Shakers [amazon]
Banana Bros salt and pepper shaker in PA designed by Stefano Giovannoni in 2008 Two little monkey riding a banana boat, openings on the bottom of the monkeys allows for easy refill Handwash only A di ALESSI collection 2 inches wide, 6 inches long, 2 inches high

8. Peeled banana shaped cufflinks [amazon]
Monkey around with these great cufflinks! Rhodium plated and enameled peeled banana shaped cufflinks. Sure to be a show stopper of a pair and a great accent for any cuffs. These measure 3/4 inch in length.