In the past, hats were an indicator of social status. While in these days, it is has been more functional and fashionable. In today?s post, we will present you with 7 interesting hat/cap designs with some extra function, like equalizer hat changing with the volume of the music, rescuing cap for no hair person or Disco Ball Hat Making the Top of Your Head a Party Zone.
1. Eyebrow Hat [link]
Tom Judd's Eyebrow Hat(watch the video) allows its wearer to express themselves by altering the pitch and height of each synthetic brow using the lightweight controller. Technical Stuff
1 x Arduino Board - located within the controller
4 x mini servos - tailored into the front of the hat
2 x slide potentiometers (adjust height of each brow)
2 x rotational potentiometers (adjust pitch of each brow)
1 x Bowler hat
2 x synthetic eyebrows
2 x skin coloured plasters (to disguise your original brows)
2. Light & Sound Hat [link]
Featuring two light-up graphic equalizer panels and built in speakers, this headgear will not only keep your ears warm it allows you to listen to music as it glows along to the beat!
Light-up equalizer panels react to the volume of the music being played. Compatible with any music player with standard headphones output (3.5mm). Recharges via USB One size fits most.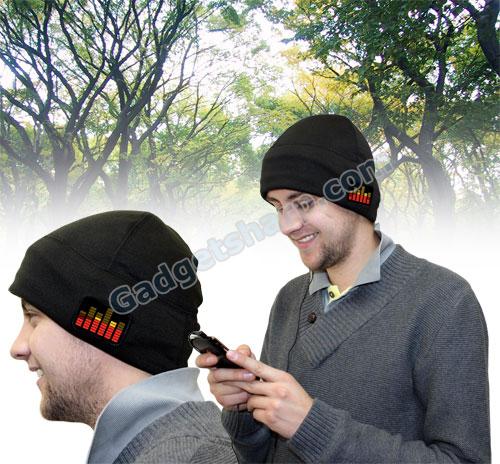 3. Wifi Detecting Baseball Cap [link]
Let your baseball cap find out the hotspot. The WiFi detecting cap features a cool green glowing signal strength indicator that dynamically displays the current WiFi signal strength wherever you are. Powered by a couple of CR2032 batteries.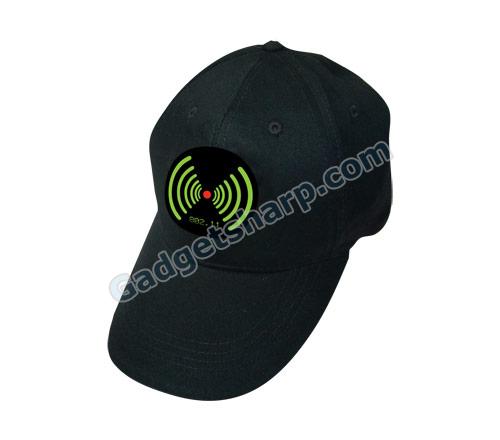 4. Ponytail Cap [link]
Business in the front, party in the back. Guaranteed double-takes all around when you don this redneck style hairdo, spilling out from underneath the attached cap.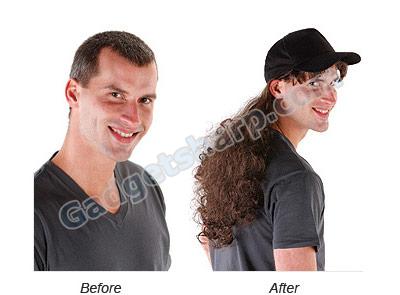 5. Flair Hair - Brown Hair/Black Visor [link]
We all have "bad hair" days; some of us have "no hair" days. When you need to cover your dome, you?ll want something that does the job, something that adds a little fun, a little flair; your very own FlairHair visor. This cool little item will keep you covered and its built-in visor will protect your eyes from the sun, all while giving you a distinctive, 1970s, Bjorn Borg-at-Wimbledon look. Adjustable visor features hook-and-loop enclosure. Meeting with the queen not included.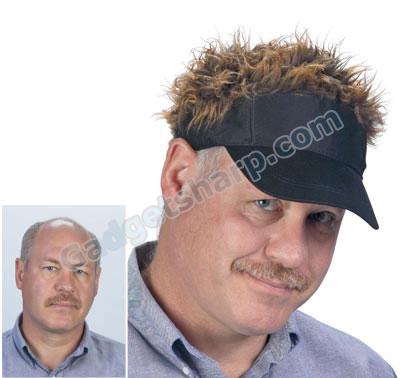 6. Nap Cap and Strap Sleeping Aids Have Endless Possibilities [link]
Nap Cap the Stylish Sleep Cap keeps your head supported in a comfortable position while you sleep in transit. The Nap Cap is easily adjustable to position and support your head to your own liking. Removable fleece eyeshade.
Complete System Includes:
The Nap-Cap (which adjusts for size).
Two Flexible elastic bands for head positioning and support.
Removable fleece eyeshade.
One pair of noise reducing, soft foam earplugs.
Two adjustable length, Velcro bands, for fastening to almost any size headrest or seat.
Two easy-on adhesive Velcro strips for permanent installation or fastening in confined spaces.
Detailed, easy to follow instruction manual with many helpful hints.
All packaged in a compact, velvet carry pouch.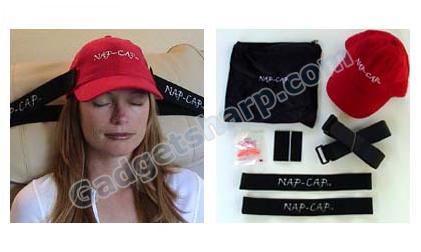 7. Disco Ball Hat Makes the Top of Your Head a Party Zone [link]
his Disco Ball Hat with a light-up spinning disco ball on top. Cool or ridiculous? "The disco ball really turns! Don't go to the part – bring the party with you wherever you go!"