As summer kicks in for our readers in the northern hemisphere, their thoughts may turn to camping. Where to go… what to do… and what gadgets to take! We like gadgets and love camping, so we did some search and found some useful camping gadgets and rounded up this list - 18 Useful Gadgets for your Camping.
1. Emergency Fire Starter [amazon]
New emergency fire starter. This magnesium fire starter is easy to use: (1) Gently shave a small quantity of magnesium with metal striker into a small pile of grass, paper or leaves to start a campfire (2) Strike the magnesium rod with striker (3) The sparks will start the fire with the shaved magnesium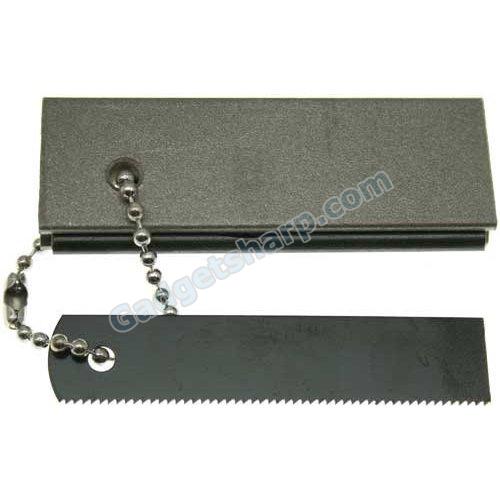 2. Polar Pure Water Disinfectant With Iodine Crystals [amazon]
Whether you're traveling in unfamiliar countries, camping in the great outdoors, or just want to be prepared in case of emergency, the Polar Pure water disinfectant is a space-efficient, reliable choice. Polar Pure uses a unique bottle design to deploy pure crystallized iodine into contaminated water. This iodine destroys waterborne pathogens, including the Giardia cysts and microorganisms (viruses) that normally pass through filters. All you have to do is simply add water to your Polar Pure bottle–which features a particle trap to prevent the loss of iodine crystals–and you will create a saturated solution to disinfect your water. The water cap then acts as the measuring cup, dispersing the required amount of Polar Pure to disinfect each quart/liter bottle of water.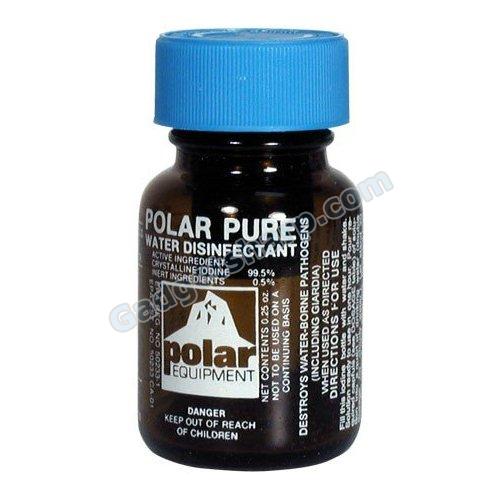 3. Datrex 3600 Emergency Food Bar [amazon]
Lightweight, compact, and portable, these rations will last an individual for 3 days, providing 4 meals each day. They are easy to digest and have a pleasing coconut cookie flavor. Rations contain coconut and wheat.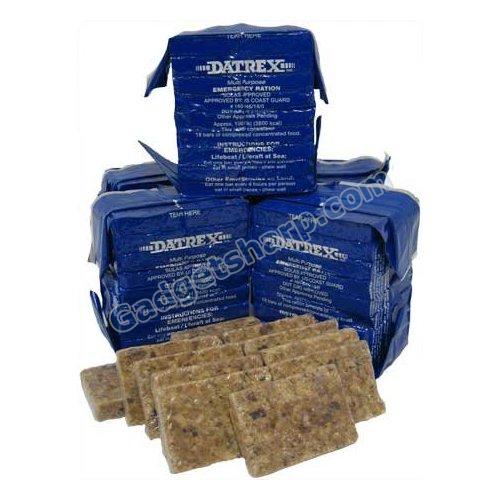 4. Datrex Emergency Water Pouches Case of 64 for Survival Kits [amazon]
Water, of course, is fundamental to survival. But clean, pure water is often difficult to find amid natural disasters. These 4.2 ounce packets of purified water are durable and can withstand a weight of more than 200 pounds without bursting.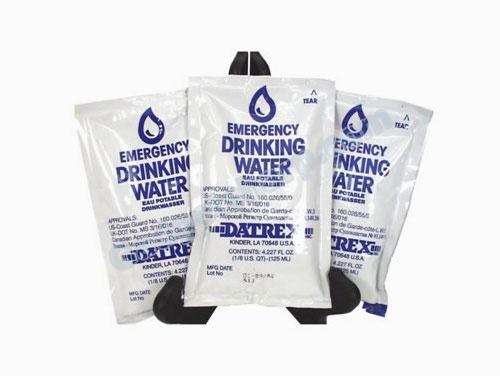 5. Texsport Rotisserie & Spit Grill [amazon]
Adjustable Camp Grill with Rotisserie makes it easy to rustle up fireside grub. SAVE BIG! Yessir, nothing beats cooking over an open-flame campfire. This Camp Grill with Rotisserie makes it easy. Great for everything from burgers and brats to game hens and chicken. Easy to set up and adjust. Start cookin': Height-adjustable 16 x 24" grill surface; Height-adjustable stainless steel rotisserie manually turns and stops in 4 cooking positions; Simple thumb-screw adjusts height of grill and rotisserie; Twin steel side arms swing in position to keep potted foods warm; Tough welded steel construction; Weighs 16 1/2 lbs. Easy assembly / take-down without tools. Order ONLINE today!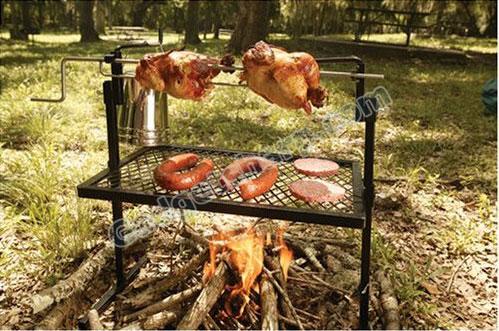 6. Coleman Free-Standing Tent Fan [amazon]
Easily provide powerful air circulation throughout your tent or RV with the Coleman Free-Standing Tent Fan. With adjustable 2-speed airflow control, the Tent Fan will run for up to 21 hours on a set of four D batteries. The fan folds easily for convenient, compact storage and packing.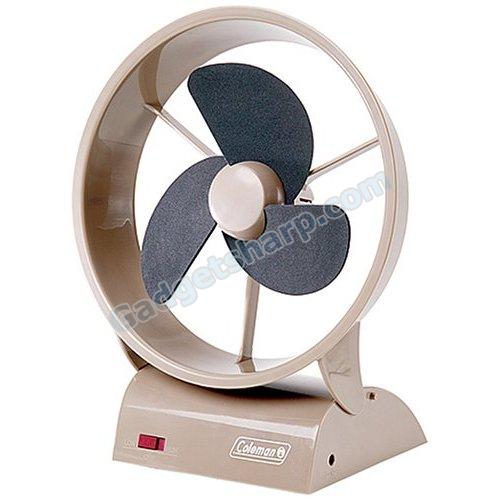 7. Coleman Tent Light [amazon]
The Coleman Tent Light is a great addition to any camping trip. The strong, built-in magnet allows for easy attachment without damaging the tent fabric. The light operates on four AA batteries (sold separately). The powerful xenon bulb is replaceable.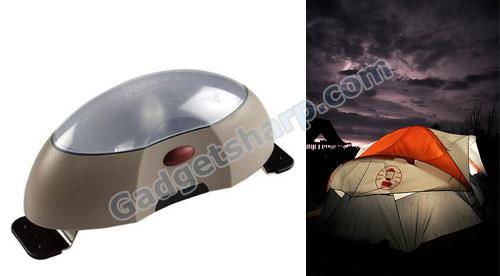 8. Red Canyon 17-Foot by 10-Foot 8-Person Modified Dome Tent [amazon]
Measuring 17- by 10-feet, Coleman's Red Canyon tent is spacious enough to comfortably sleep eight campers. Ideal for weekend camping trips with family and friends, the Red Canyon features removable privacy walls, allowing you to create up to three separate rooms. Designed to keep you dry and comfortable regardless of the conditions, Coleman's exclusive Weathertec System is guaranteed to keep you dry and offers leak-free protected seams, weather-resistant fabric, waterproof floors, zipper protection, and a wind-strong frame. The Red Canyon also features Coleman's Variflow system and Cool-Air port, which also provides outside access to your gear.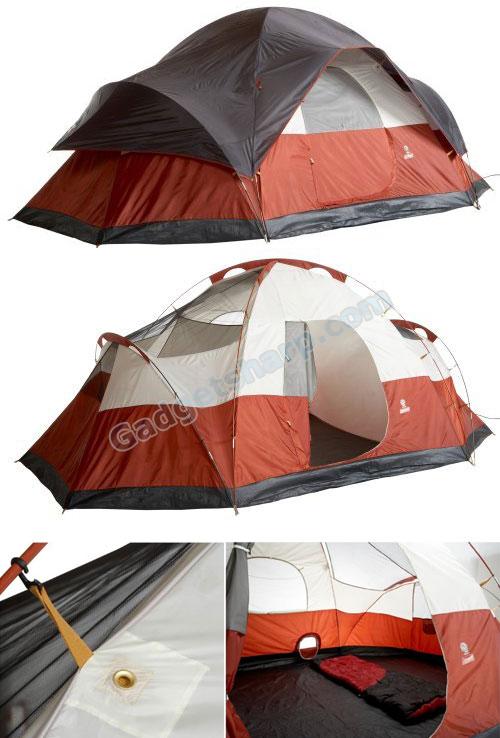 9. Grand Trunk Ultralight Hammock [amazon]
The UL Hammock is made of 100-percent polyester taffeta, which is not only comfortable enough for quick naps and evening snoozes, but also packs down to a mere 12 ounces. As a result, it's a breeze to bring this hammock on long hikes without weighing down your pack. The hammock is also compatible with a sleeping pad, creating the ultimate off-the-ground sleeping solution.
And setup couldn't be easier thanks to the included hammock hanging kit, which includes two 10-foot pieces of pre-knotted 4.5 mm accessory rope and step-by-step instructions. Other details include attached S-hooks for easy hanging, a 250-pound weight capacity, and a mildew-resistant, quick-dry design.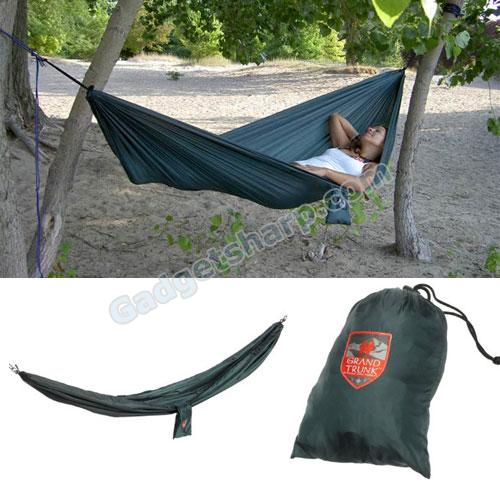 10. Total Resources International 250-Piece Outdoor First Aid Kit [amazon]
Contains the following items: 40 - Adhesive Bandages 3/8" x 1-1/2", 40 Adhesive Bandages 3/4" x 3", 10 - Butterfly Closure Bandages, 10 - Knuckle Bandages, 1 - Adhesive Tape 1/2" x 5 yds, 10 - Cotton Tip Applicators, 4 - Finger Splints, 6 - Sterile Gauze Pads 2" x 2", 6 - Sterile Gauze Pads 4" x 4", 1 - Sterile Trauma Pad 5" x 9", 2 - Gauze Rolls 2" x 4.1 yds, 4 - Examination Gloves, 1 - Instant Cold Compress 5" x 6", 1 - Metal Tweezers, 4 - Splinter Removers, 1 - Scissors, 2 - Burn Cream Packets, 2 - Lip Ointment Packets, 3 - Hydrocortisone Packets, 3 - Antibiotic Ointment Packets, 2 - Insect Repellent Packets, 2 - Sunscreen Lotion Packets, 24 - Alcohol Prep Pads, 9 - Sting Relief Pads, 1 - First Aid Instruction Guide, 24 - Antiseptic Towelettes, 1 - 24 hour Brightstick, 1 - Emergency Water Pouch, 1 - Emergency Whistle, 10 - Aspirin Tablets, 10 - Non Aspirin Tablets, 1 - Emergency Blanket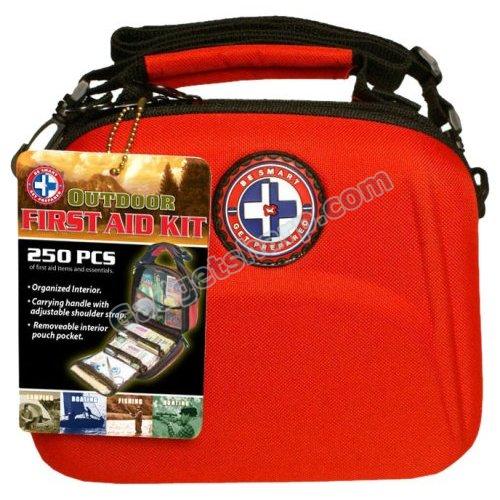 11. Coleman 4D Rugged Personal Size Rugged Lantern [amazon]
The Coleman 5326A700 Rugged 4D Battery-powered U-tube Lantern lets you bring light with you wherever you go without the smell and danger of spilled fuel. The Rugged lantern runs on four D-cell batteries (not included) and provides light for up to 23 hours on low, or 14 hours on high. The seven-watt fluorescent U-tube creates a brighter and whiter light with less power.
The rugged exterior is designed to be both weather-resistant and shatter-resistant and includes a non-slip rubberized grip handle, while the bulb on this Coleman lantern utilizes an unique, quick-release system that makes it easy to replace. Convenient, durable, and affordable, this battery-powered lantern is perfect for any use, inside or out.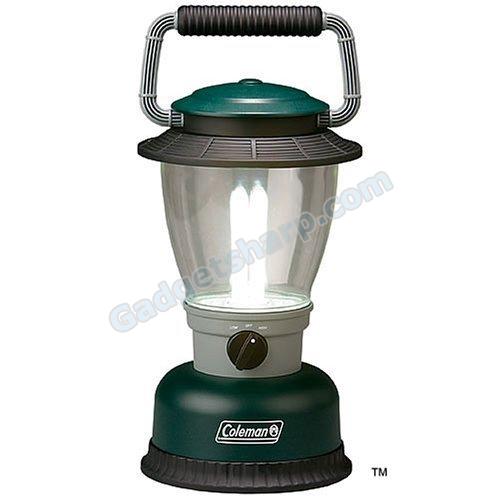 12. Portable Camp Toilet - Camping Commode [amazon]
Handy portable camping toilet / commode features a heavy-duty frame and plastic molded seat. Includes 6 disposable plastic bags.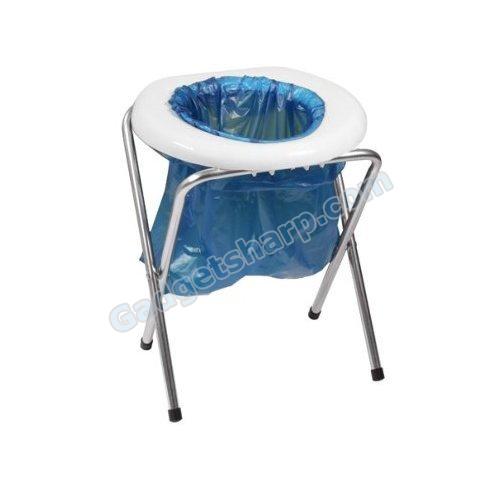 13. Emergency Thermal Blankets [amazon]
This compact blanket provides warmth (retains and reflects up to 90 of body heat), a waterproof and windproof shelter barrier, and a covering to help reduce shock when someone is injured. Emergency thermal blanket to be used as emergency shelter. Also great for camping, hiking, and surviving the cold outdoors. Excellent as liner of sleeping bag.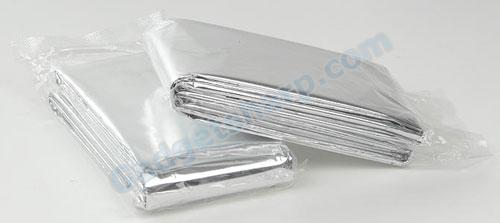 14. Military Style Lensatic Marching Compass With Pouch [amazon]
Classic military style compass with green powder-coated aluminum case with Dimensions: 2" x 2.5"
Liquid-filled compass with 2-degree increments and easy-to-Read Dial
Works well in all weather conditions, precision engineered, durable & dependable
Angle can be adjusted freely and fits all dashboard / windshield angles
Most useful rool for navigating the roads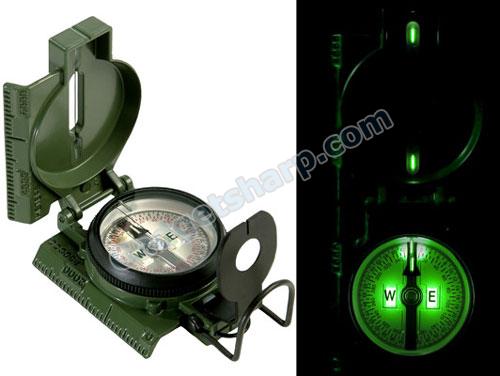 15. Pocket Shower [amazon]
Well the distant dream of being able to have a proper shower in the middle of nowhere is now a reality thanks to the pocket shower. This tiny gizmo unfolds to reveal a high performance waterproof reservoir that holds a mighty ten litres of water. The black fabric will (given a sunny day) warm the water up in no time. You just string it up to a tree and open up the attached shower head ? hey presto, you can now luxuriate in a seven minute shower, get squeaky clean, and gloat at the wet wiped masses, and it packs up into a neat package smaller than your fist. Beat the pong with the Pocket Shower.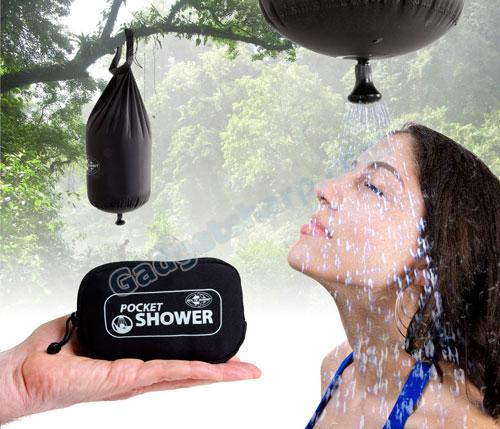 16. Columbia Cloud Haven Packable Fleece Pillow [amazon]
Outer:Polyester 240g/sqm fleece the other side
easy Carry integrated Bag
Carry case is conveniently attached to one end
Compact and lightweight
Measures 16" x 9" x 4" (H)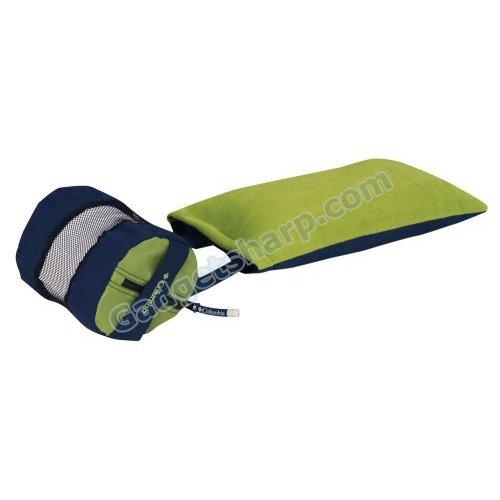 17. Victorinox Swiss Army Champion Plus Pocket Knife [amazon]
Complete set of Swiss Army tools to use while camping, hiking, fishing, and more
Contains 30 stainless-steel tools, with 60-plus individual parts
Includes screwdrivers, can/bottle opener, files, hooks, saws, and much more
Housed in famous Swiss Army body, with nylon handle and aluminum frame
Precision crafted in Switzerland; measures 3-1/2 inches long; lifetime warranty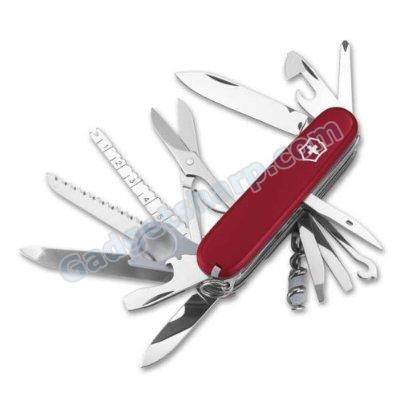 18. Sea to Summit Kitchen Sink [amazon]
At last, a portable camp sink that really works! Our sinks are great for collection and carrying of water for purification, cooking, washing dishes or personal bathing. They?re ideal for backpacking or group camping and they make a great gift for the outdoors person who has everything. Now available in a compact 5 Liter size, which holds 1.3 gallons and makes an excellent dog bowl; a 10 Liter (2.6 gallons), and for large groups a 20 Liter size (5.2 gallons).