What are the features of your dreaming tent? Durable? Comfortable? Lightweight? Convenient ? Easily-Installed? Or some high-tech function/material you never ever seen? In this post, 6 creative and unusual tents are introduced and hope you can find something you are interested and spice up your camping.
1. Solar Concept Tent [link]
Taking their Chill-n-Charge tent to a whole new level, Orange has dreamed up a concept solar tent that would use flexible solar fabric and modern design to create a place to relax and charge up gear while off grid.
A central wireless control hub would show the energy generated and consumed, and provide a wifi signal. Wireless charging pouches would charge cell phones and handheld devices via magnetic induction (which would hopefully be much more efficient then than it is now).And a final trick to make this extra cool - users would be able to find their tent at night by sending it an SMS message or using RFID technology to make it glow .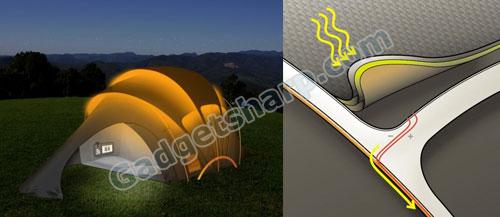 2. The Freedom Tent [link]
This very unique tent. Why? Because they came up with camping tent that people with disabilities (and their families) can use to go camping. Other manufacturers of tents do not usually consider how accessible their tents will be to people with disabilities. The Freedom Tent, however, has a very accessible door ? it is zipperless and can be opened easily. The five-pole rectangular dome tent has plenty of storage, which makes it perfect for long trips. Freedom Tent has two doors, five windows and sleeps two people. Strollers, wheelchairs, and bikes can easily be rolled in. It also has a vestibule to store equipment. Also, this unique tent can be set up from a seated position!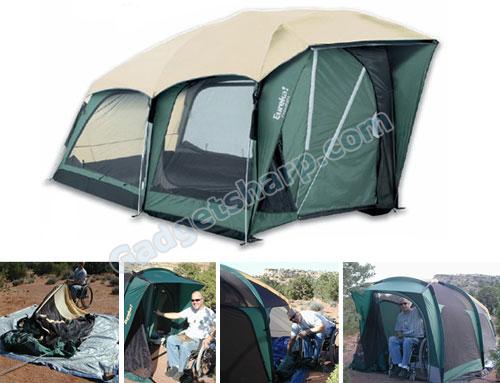 3. Treepee [link]
The Treepee is an exciting new product that combines the timeless appeal of a tree house with the excitement of aerial suspension and a trampoline to create a whole world of possibilities. Four tethers, one on each corner, allow the Treepee to be secured for a less mobile ride. Bug nets on the windows allow air to circulate without letting any little critters in. The fabric is fire retardant, water repellent and PU Coated.
4. Decathlon 2-second Tent [link]
It's a practical cool idea. The Decathlon 2-Second Tent sets up in only 2 seconds! How? Just remove the plastic strap and throw it in the air. The Decathlon 2-second Tent is waterproof, ventilated, durable and the right size for 3 adults, very comfortable for 2 people. Folding it after use only takes about 15 seconds.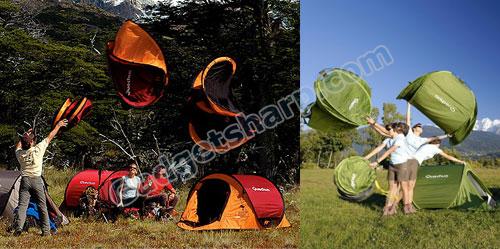 5. Inflatable Surf Tent [link]
The tent has two parts: the inflatable sleep pod and the adjustable canopy?both of which pack snugly into what doubles as an ice chest. The two parts can be used together or separately and in either case provide a comfortable sleeping den and a shaded lounge area.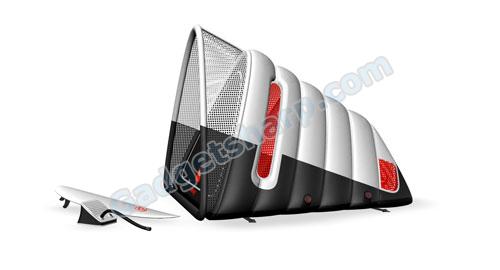 The inflatable sleep pod eliminates the difficulty of traditional tent assembly in low light or tight space conditions. Inflated with a foot pump, the air is stored in sectioned compartments to maintain function in the case of puncture. The waterproof skin is coupled with ample ventilation to prevent condensation and excessive heat.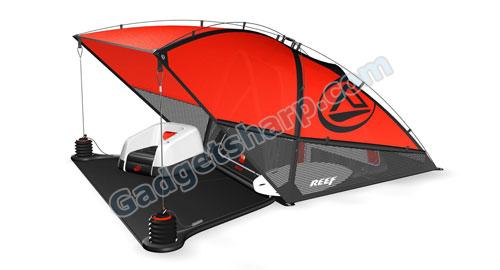 The canopy is anchored by containers filled with either rocks, sand or water and the connection ropes cinch down the shelter from its highest position to its lowest to protect from sun, rain and wind, respectively. Mesh siding on the canopy provides a ventilated storage compartment for boards and wetsuits.
6. Dress Tents [link]
Dress Tents, definitly, is not for camping. The Dress Tent art project is created by Robin Lasser and Adrienne Pao. It consists of wearable architecture and large-scale color photographs that merge the dress tent sculpture with its companion landscape constructing a fashion of place.