As an Eco material, the benefits of using bamboo are numerous. For example: bamboo is 16 percent harder than maple, it?s naturally anti-microbial; it holds the promise of a sustainable, cost effective, and ecologically responsible alternative to the widespread clear cutting of our old growth forests. It can be used in so many areas like construction, furniture, paper, clothing and food. In this post, we will show you 15 products used in our daily life which are made from bamboo. Let's make our effort to protect our mother nature.
1. Pinzon Bamboo Expandable Gadget / Cutlery Tray [amazon]
This sleek Pinzon tray brings order to your cluttered kitchen drawers by organizing utensils and flatware. A sliding extension on each side of the tray allows expansion to fit your space. Constructed of natural bamboo, a renewable resource, the tray is structurally harder than maple and is stain-resistant. Before extending, the tray features six compartments (three measure 7-1/2 by 1-3/4 inches; two measure 1-3/4 by 6 inches; one measures 12 by 1-3/4 inches). Extending adds two additional slots measuring 12-3/4 by 1-3/4 inches each.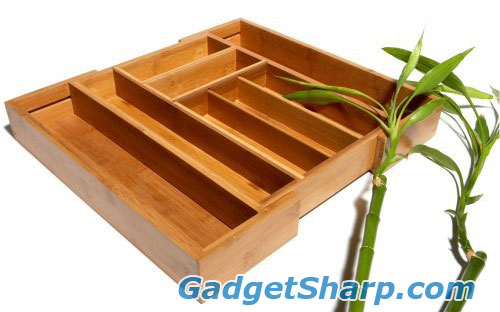 2. Bamboo Appetito Cutting Board [link]
A combination of form and function, the Bamboo Appetito is a cutting board designed to reinvent conventional food preparation. With traditional boards you have to sweep waste off to make room for more food. The Bamboo Appetito solves this problem with a split cutting surface and track running underneath that conceals a stainless steel utensil tray.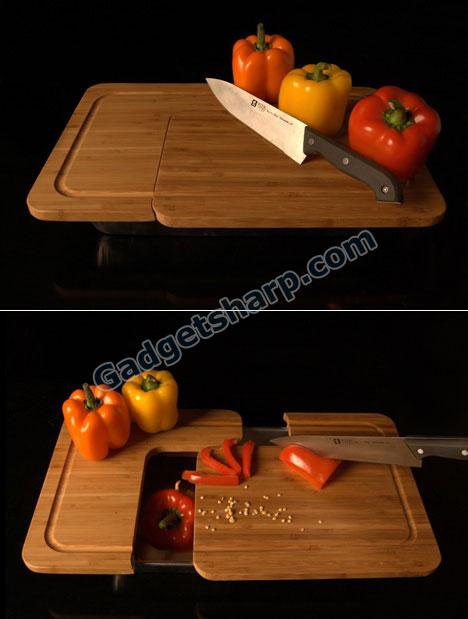 3. Lipper International Bamboo Banana Hanger [amazon]
Made of bamboo wood which is a naturally replenishing grass and one of the world's most renewable resources
Dimensions: 7-inch Diameter by 11-1/8-inch
Extreme changes in temperature, humidity and dryness effect wood; store away from heat and sunlight in a well-ventilated spot
Wipe clean with mild soap and water and dry thoroughly; rub occasionally with mineral oil to maintain appearance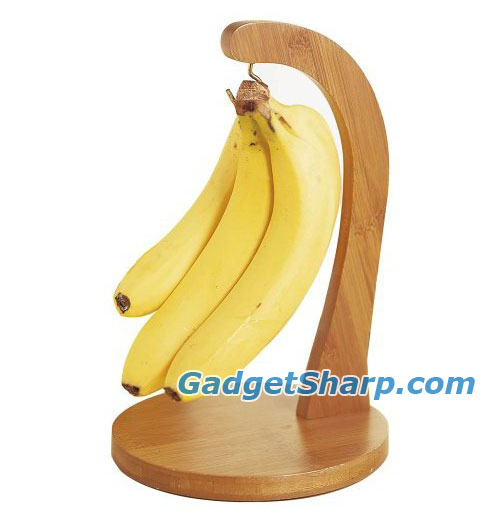 4. Bamboo Adjustable Napkin Holder [amazon]
Holds small to large amount of napkins.
Water Friendly. Wash w/mild soap & water & dry thoroughly.
Natural Bamboo-lovely permanent color
Environmentally friendly, replenishable.
Laminated w/Food-Safe Glue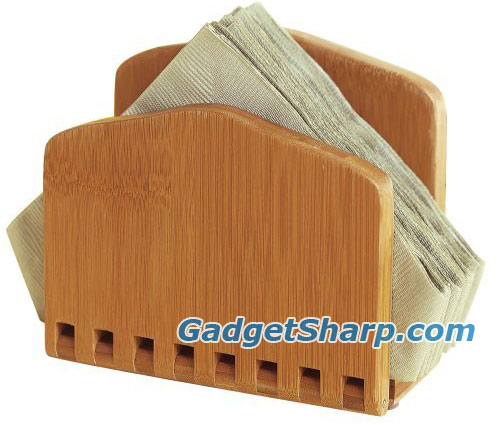 5. Bamboo Lattice Utensil Holder [amazon]
Beautify your kitchen with Totally Bamboo's Lattice Utensil Holder. It measures 5-inch in diameter, 7-inch tall and will keep your kitchen utensils ready-at-hand and looking ever so good. Made of strong, eco friendly bamboo. Holder has a tri-ply, cross laminate construction with a specially formulated high temperature adhesive.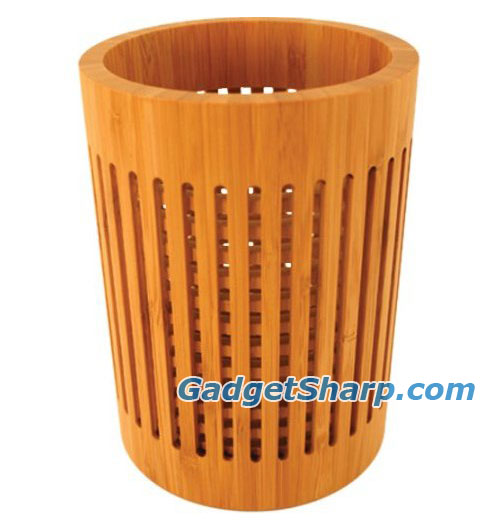 6. Honey-Can-Do Bamboo Shoe Shelf [amazon]
2-tier shelf for shoes, slippers, and boots; 27-1/2 by 10-1/4 by 15-3/4 inches
Made from fast-growing bamboo for reduced environmental impact
Slatted surface is attractive, durable, and naturally moisture resistant
Holds approximately 6 to 8 pairs of adult-size shoes
Wipes clean; easy to assemble; available in 2-tier and 3-tier models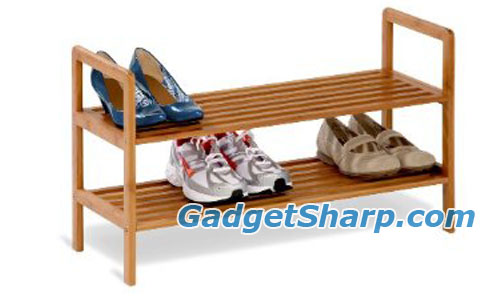 7. Pinzon Santoku Knives and Bamboo Cutting Board Set [amazon]
Pinzon?s santoku and cutting board set offers quality performance and sleek construction. The set includes 5-inch and 7-inch santoku knives, a bamboo storage drawer, and a 12-3/4-by-15-3/4-inch bamboo cutting board. The santoku knives, Japanese-style cook's knives designed for chopping, feature a low-tip style with broad blades. The cutting edge of a santoku is minimally curved, providing less rocking action than typical European-style cook's knives. Alternating hollows on each side of the santoku blades create air pockets, allowing slices to fall away.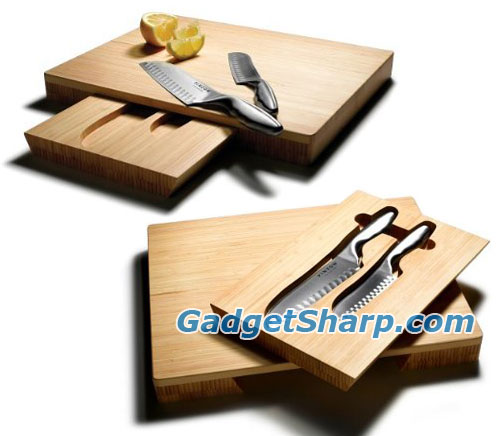 8. IHX Mobile iPhone Bamboo Snap-On Cover [amazon]
Carry your handset in style with IHX Mobile all natural Bamboo Snap-On Cover. Each handcrafted cover blends old world craftsmanship with a technologically advanced finish, providing a rich, protective cover that will maintain lasting beauty. Protects your handset bumps and scratches without limiting your access to buttons, controls and ports.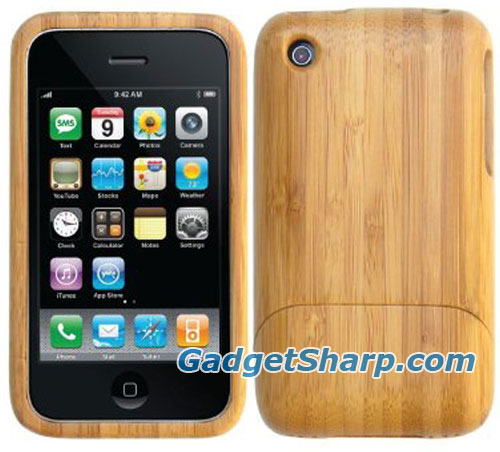 9. Cook N Home 15-Piece Bamboo Tool-In-A-Tub Set [amazon]
15 piece bamboo tool in a TUB includes 13 inch medium spatula,13 inch ladle ,13 inch salad fork and 13 inch solid turner,13 inch solid salad and 13 inch slotted turner,13 inch bamboo whisk and 13 inch salad fork,13 inch slotted spoon and slotted salad,13 and pastry brush spoon,13 and bamboo meat tenderizer and bamboo crock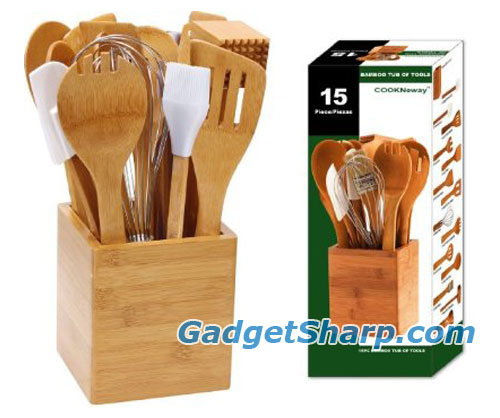 10. Totally Bamboo Lattice Flatware Caddy [amazon]
Quality built bamboo flatware carrier
Constructed of high quality Moso bamboo; 16 percent harder and more durable than maple
Bamboo is an ecologically green alternative to wood; strong, dense and versatile
Caddy is perfect for buffet style serving and picnics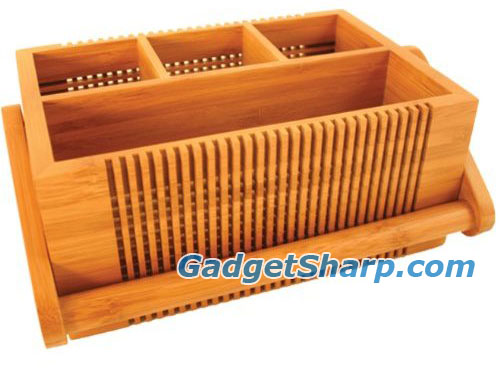 11. Bamboo Double Salt Box [amazon]
Pivoting double-section storage box holds sea salt, spices, more
Made of laminated strips of bamboo, a renewable, earth-friendly resource
Variety of bamboo used is not food or habitat for the giant panda
Only food-safe, formaldehyde-free glue used; no dyes or stains; color is natural and permanent
Harder than maple, won?t absorb water or crack; wash by hand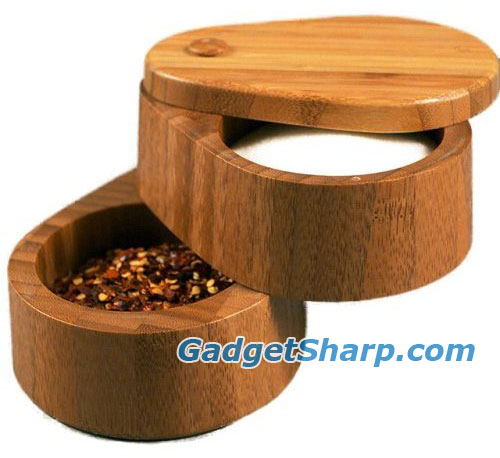 12. Bamboo In Drawer Knife Block [amazon]
Knife block that fits in drawer; keeps knives organized and provides quick access
Constructed of high quality Moso bamboo; 16 percent harder and more durable than maple
Bamboo is an ecologically green alternative to wood; strong, dense and versatile
Knife organizer measures 17-inch long, 5.29-inch wide and 2-inch tall; holds up to 15 knives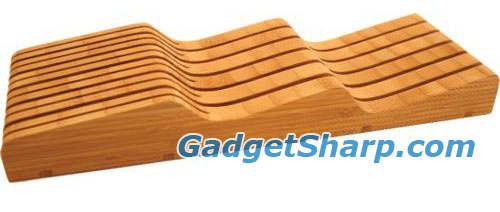 13. 8-Piece Stainless-Steel Knife Set with Bamboo Block [amazon]
Japanese-style cook's knives specialized for their dexterity in chopping, dicing, and slicing
Knives include a 3-1/2-inch paring, 5-inch utility, 5-inch serrated, 7-inch santoku, and an 8-inch chef's
Rounding out the set is a pair of kitchen shears, sharpening rod, and bamboo storage block
Traditional-style rounded Japanese handles made of heat and water-resistant resin; full tang
Rust-resistant stainless-steel blades hold an incredibly sharp edge; hand wash and dry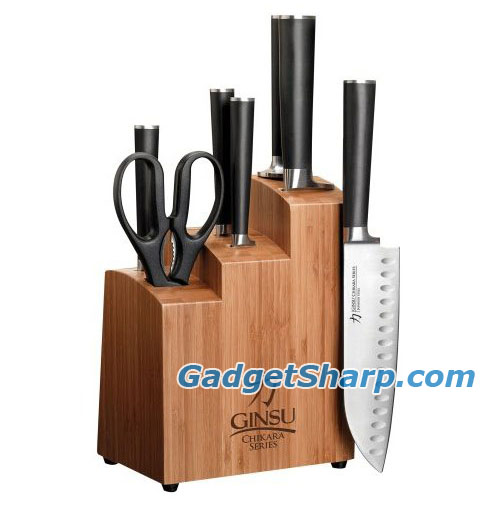 14. Bamboo Butcher Block [amazon]
Heavy, sturdy butcher block sits firmly on rubber-capped legs during chopping
Made of bamboo, a renewable, earth-friendly resource, in exclusive parquet end-grain design
Variety of bamboo used is not food or habitat for the giant panda
Only food-safe, formaldehyde-free glue used; no dyes or stains; color is natural and permanent
Measures 19-1/2 by 11-3/4 by 2 inches; won?t absorb water or crack; wash by hand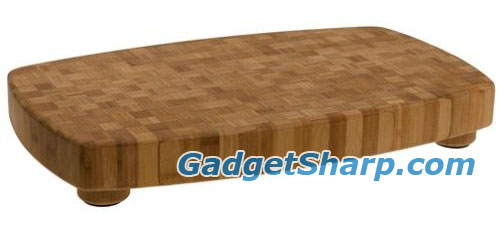 15. Bamboo Sushi Gift Set [amazon]
Sushi set includes: 6-by-9-1/2-inch medium sushi plate; 2 pairs Twist chopsticks; 2 chopstick rests; 2 2-inch dipping bowls
Made of laminated strips of bamboo, a renewable, earth-friendly resource
Variety of bamboo used is not food or habitat for the giant panda
Only food-safe, formaldehyde-free glue used; no dyes or stains; color is natural and permanent
Harder than maple, won?t absorb water; hand-wash; wipe with mineral oil periodically