With the approaching Valentine's Day, it is time to start scrambling to get that unique gift for that special someone. In this post, we will present you with 14 Heart Shaped Products, from jewelery to electronics, from tableware to cooking gadgets. They are not only be a great gift but help you create sweet and romance environment as well. Hope you can share our fascination and enjoy our collection.
1. 4GB Crystal Heart USB Jewelry Drive [amazon]
Gorgeous, fashion-forward way to keep your documents close to your heart! A perfect gift for teens, women, new moms and moms to be!
* Comes in a keepsake Tin & 32" Necklace
* USB 2.0 High Speed Plug and Play
* 4 GB of Memory
* A Fashion-Forward way to store your data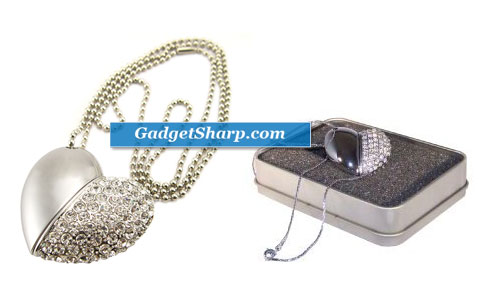 2. Hot Pink Heart Shaped Vase [amazon]
This glamorous Hot Pink Heart Shaped Vase warms your heart with its beauty and charm! This lovely Hot Pink Heart Shaped Vase is styled in a "puffed" heart shape, and hand painted in a beautiful, luminescent hot pink shade. This unique Hot Pink Heart Shaped Vase measures 4 3/4in. H X 5in. W X 3 1/4in. D, and its opening at the top of the vase measures 3 1/2in. H X 2 3/4in. W X 1 3/4in. D. This pretty Hot Pink Heart Shaped Vase would make a wonderful centerpiece for your guest tables or make a fabulous bridesmaid gift. What a great way to convey your heart felt sentiments!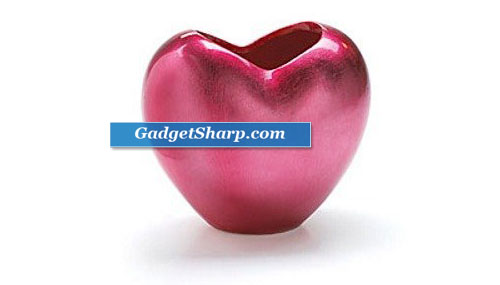 3. Pucca "Kiss Me" Heart-Shaped Pillow [amazon]
* Heart-shaped pillow measures 16 by 18 inches
* Features two halves that stick together with magnets
* 100-Percent Polyester
* Spot clean
* Coordinates with "Kiss Me" and "Love" collections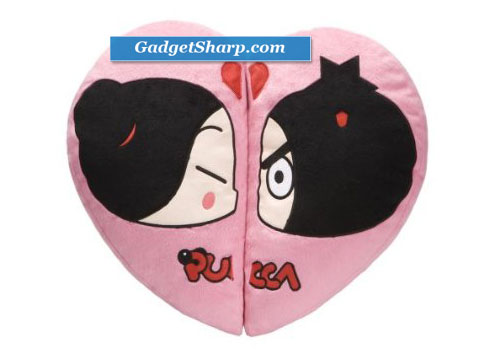 4. 10k Yellow Gold Diamond and Garnet Heart-Shaped Earrings [amazon]
* 2 garnet, 14 diamond
* Minimum diamond color is J; Minimum diamond clarity is I3
* Gemstones may have been treated to improve their appearance or durability and may require special care.
* The natural properties and composition of mined gemstones define the unique beauty of each piece. The image may show slight differences to the actual stone in color and texture.

5. 1.95 cttw 925 Sterling Silver 14K White Gold Plated Created Heart Shaped Ruby Pendant [amazon]
925 Sterling Silver 14K White Gold Plated Created Heart Shaped Ruby Pendant crafted in 14k White Gold Plated Silver Dimensions: Width: 0.25 Inches Length: 0.75 Inches1 Stone 1.90 Carats 8 mm Heart Shaped Color: Red Clarity: Clean, 1 Stone 0.05 Carats White Quartz Color: Colorless Clarity: Clean Free 18 inches chain included Finejewelers Style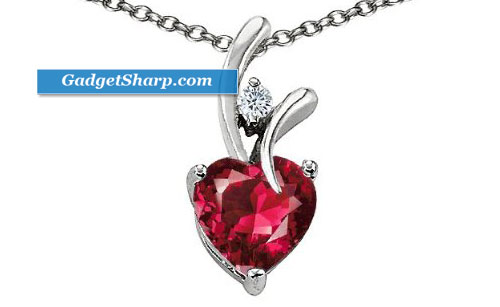 6. Norpro Nonstick Heart Pancake Egg Rings [amazon]
* Makes perfect heart shaped pancakes or eggs
* Nonstick surface for easy care
* Wood handle stays cool while cooking and folds flat to store
* Each ring holds 1/4 cup batter or 1 raw egg
* Hand washing recommended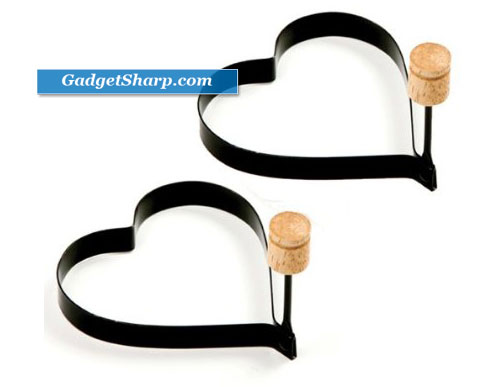 7. Kaiser Bakeware Heart Cookie Cutter [amazon]
* Use to create unique cookies,candies, sandwiches and Jello
* Cookie cutters conveniently nest for easy storage
* Cookie Cutter ascends in size, offering you various looks
* Fun for all ages
* Perfect for year round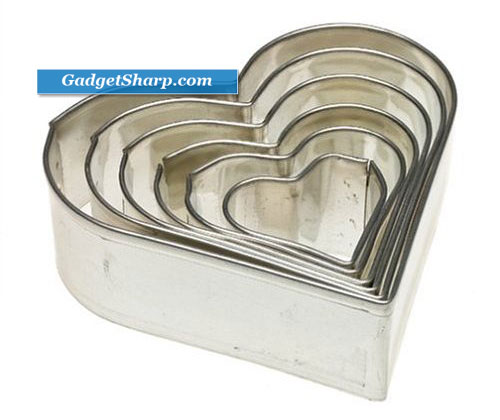 8. Heart Shaped 9 piecec Chocolate Cheese Valentines Fondue Set [amazon]
* Decorative heart deisgn
* Dishwasher safe
* Includes fondue stand, fondue pot (500ml), 2 fondue dishes (180ml), 4 forks and 1 tea light
* Great gift for Valentine's, engagement, wedding, etc.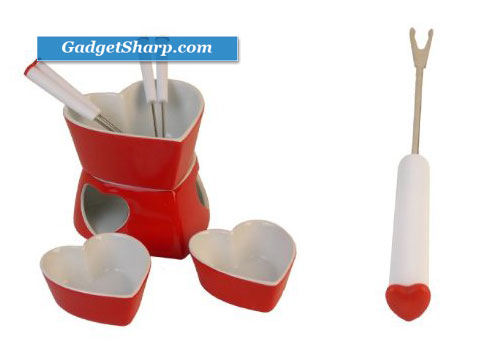 9. Freshware 6 Cavity Silicone Heart Ice Cube Shot Glass Mold [amazon]
* Overall Dimensions: 8" x 5.5" x 2.8"
* Individual Shot Glass Dimensions: 2" x 1.9" 2.8"
* Color: Various
* Capacity: Makes 6 ice cube shot glasses at once
* Great for Valentine's Day!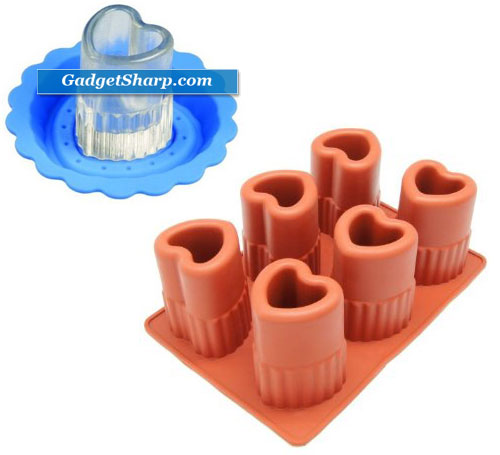 10. Sterling Silver Heart Shaped Locket Key Pendant [amazon]
* Sterling Silver key and chain
* 2 inches key lenght
* 18" rollo chain lenght
* Romantic Design
* Free Elegant Red Ribbon Jewelry Box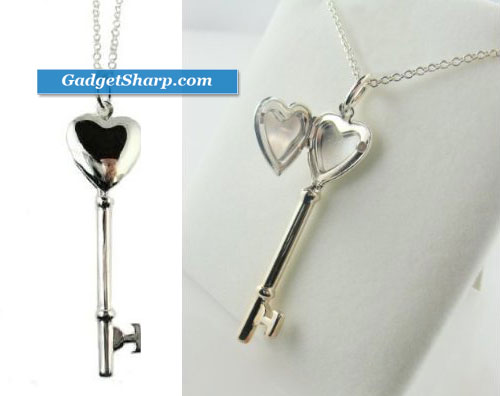 11. Heart-Shaped Tea Infuser [amazon]
* Elegant tea infuser brings sophistication to any affair
* Perforated infuser is heart shaped, and handle has lovely, openwork hearts
* Crafted from polished metal
* Gift box measures 7 1/2-inch by 2-inch
* Sold in a set of 12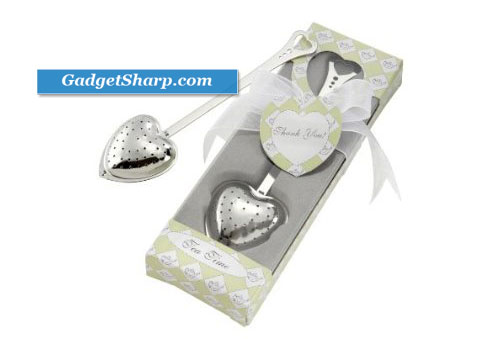 12. Decor Craft Heart Shaped Bamboo Spoon [amazon]
This beautiful bamboo crafted heart shaped spoon is branded with the words "Made with love" directly on the handle.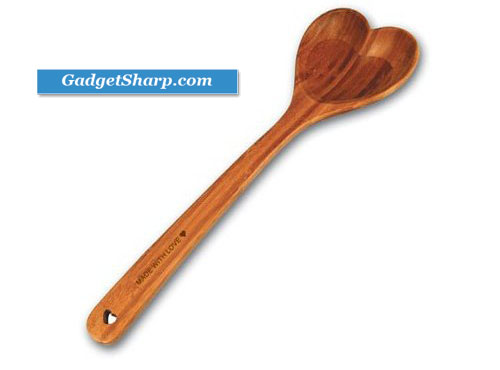 13. Norpro Pancake Pan [amazon]
* Measures 10.5 inches/26.5cm in length
* Made of nonstick and has a stay cool comfort handle
* A sweet and romantic heart embossed into your pancake
* FDA approved nonstick coating
* Hand washing recommended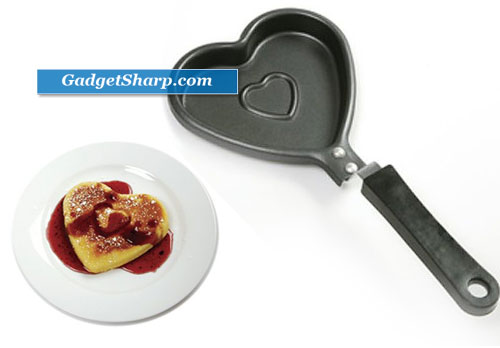 14. Heart Bouquet Candle Holders [amazon]
Heart shaped candle holders features twining silver stems that form a stylish base of botanical beauty. Metal with glass accents. Tealights not included. 10" x 5" x 15" high