Easter is a lovely time of year. It is a celebrity for spring and also a great time for kids. Painting and decorating Easter eggs, listening to stories of the Easter bunny, hunting eggs on Easter Sunday … Try to take some time to plan your Easter Decorations now, so that you will have an easy time setting up your Easter Tablescape, creating a lively Easter Egg Hunt and serving a delightful Easter Brunch. In this post, we rounded up 12 Lovely Easter Decoration and Gift Ideas and hope you can plan a wonderful Easter Celebration.
1. DII Easter Bunny Felt Bag and Kitchen Towel Gift Set [amazon]
* Set includes DII Easter Bunny Plush Felt Gift Bag with 1 each Pastel Lime, Aqua, and Pink Kitchen Towels rolled inside.
* Includes three Full-size 18x28-inch Kitchen Towels Rolled inside
* Towels are 100% Cotton. Machine washable.
* Soft Plush Bunny Gift Bag can be re-used for additional gifting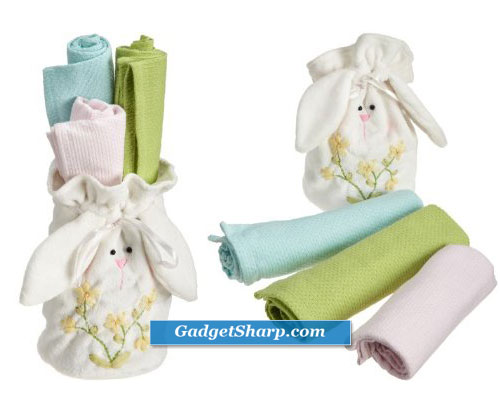 2. Chisler Bunny Bowl with Spreader [amazon]
You're only a hare's breadth away from a yummy appetizer when you serve in up in this whimsical bunny bowl. The top of the carrot is actually the handle of the hidden spreader (the blade resides hidden in the carrot). Perfect for Easter, spring, or any hoppy occasion. Not intended for use in the microwave. Hand washing recommended. 8" x 4" x 2.75".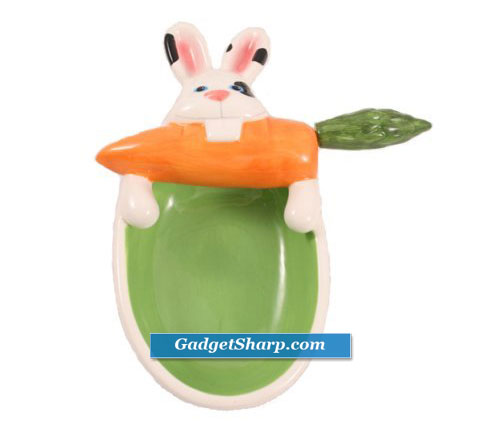 3. Speckled Easter Egg Wreath with Flowers [amazon]
Pastel colored speckled eggs and bird nest surround this decorative grape vine wreath. Accompanying the eggs is a greenery with flower. Will look great indoors and out.
4. 4-Inch Easter Egg and Easter Basket Votive Holder with Glass Votive [amazon]
Egg and Easter Basket Votive Holder from Enesco by nationally renowned artist Jim Shore. A cute Easter votive holder featuring festive-colored Easter eggs displayed in a basket. Glass votive holder included; candle not included.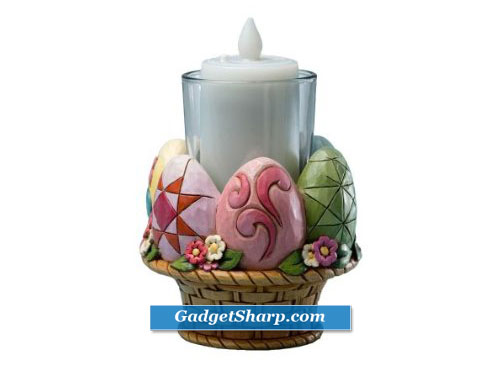 5. Grasslands Road Easter 11-1/2-Inch Bunny Egg Plate with Bunny Salt And Pepper Set [amazon]
* Gift boxed, 3 piece
* High gloss finish ceramic
* Dishwasher safe
* shakers: 1-1/2-inch by 1"
* holds 12 eggs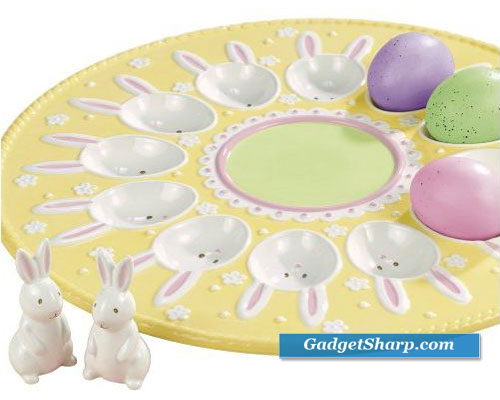 6. Easter Embroidered Table Cloth [amazon]
* Together, the classic embroidery design of yellow and green Easter eggs and the vibrant color of yellow scalloped edge create a delightful table runner with a fresh, distinctive look.
* 100% Polyester.
* Main color - Ivory.
* Machine washable. Do not bleach. Warm wash, tumble dry low.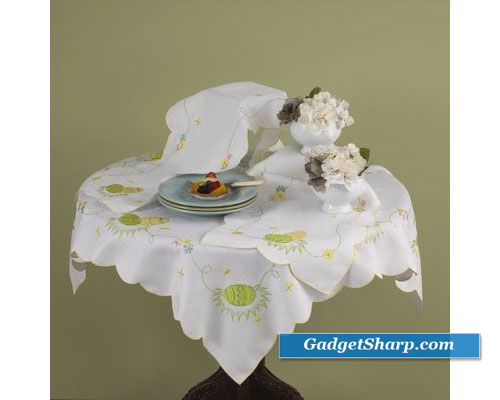 7. 15-Inch by 4-1/2-Inch Bunny Canister [amazon]
Grasslands Road Easter Greetings 15-inch by 4-1/2-inch bunny canister
* Gift boxed
* High gloss finish ceramic
* Hand wash only
* sealed lid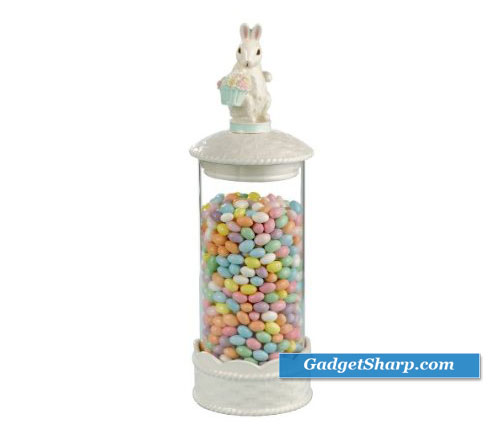 8. Royal Albert Old Country Roses Spring Bunny Teapot [amazon]
* Made of porcelain
* Classic design with a 22-carat gold border
* Corrosion-resistant for a permanent shine
* Safe to use in dishwasher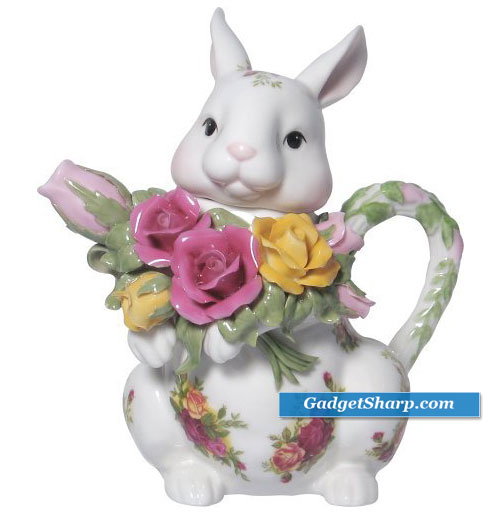 9. 9" x 6" Wood Easter Block Holiday Decoration [amazon]
* 9.38x6.25" Wood Easter Block
* Wood Construction
* Rustic Design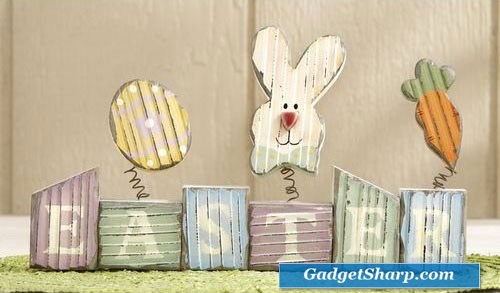 10. Pack of 4 Pastel Potted Easter Egg Tree Table Accents [amazon]
* Features pastel colored eggs with speckle details
* Ideal centerpieces for Easter
* Dimensions of each tree: 10"
* Material(s): Mixed materials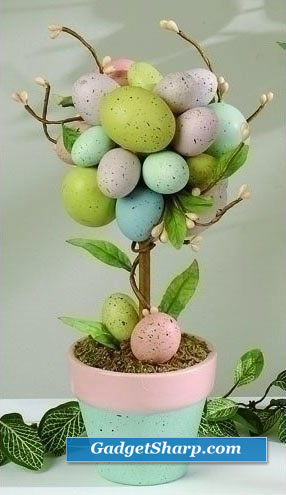 11. 12 Playfully Posed White Porcelain Easter Bunny Napkin Rings [amazon]
Set the scene for a hoppy Easter celebration with these playfully posed white bunny napkin rings
* Dimensions of each: 3.25"H x 3.25"W
* Material(s): porcelain
* Pack of 12 napkin rings - includes 3 of each style shown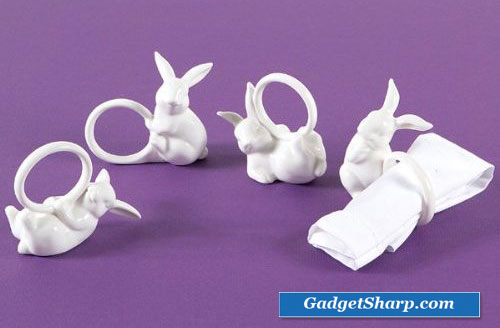 12. Somebunny Special Gift Tower [amazon]
* This absolutely ADORABLE gift tower is filled to the top with all kinds of sweets and treats for "Somebunny Special" to enjoy
* It's the perfect gift to send to friends, family or your little darling angels - even if they are miles away
* Each gift is carefully hand crafted with attention to detail, tied with a pretty bow and includes a personalized gift message