Cutters, Choppers, Slicers, Scissors, Toppers, Strippers, Stoners, Hullers, Pitters, Splitters…We have invented lost of useful and convenient kitchen utensils to simplify our life and help us easily enjoy our food. In this post, we have rounded up 14 creative cutting/slicing/splitting kitchen utensils and hope you'll find them useful.
1. Lunch Punch Sandwich Cutters [amazon]
The Lunch Punch is a food cutter specifically designed to capture the most amount of bread when it cuts the crust off your sandwich. A fun lunch with minimum waste. 4 unique animal shapes.You kids are going to love them.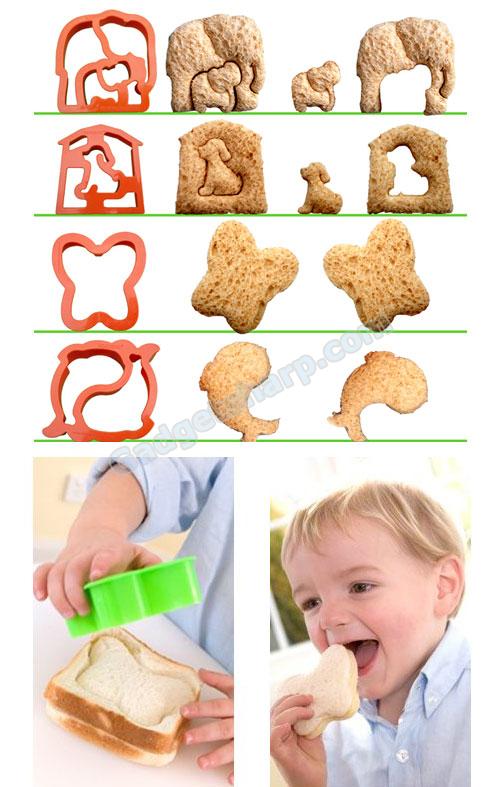 2. Silvermark Toss and Chop Salad Chopper [amazon]
Silvermark Toss and Chop is a hand held cutlery device specifically designed to chip and dice directly in a bowl. Use the Toss and Chop to prepare salads, vegtables, fruits, nuts and more. High-quality, heat-treated blades with micro-serrated edges that will never require sharpening.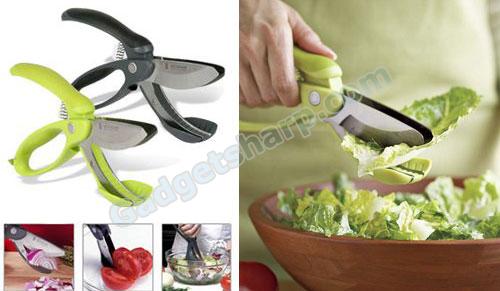 3. LamsonSharp Stainless Steel Pizza Rocker Knife [amazon]
Quickly cuts pizza in straight lines
Thick, beveled, high-carbon stainless-steel blade
Polypropylene handles
14 inches long, 3-1/4 inches deep
Dishwasher-safe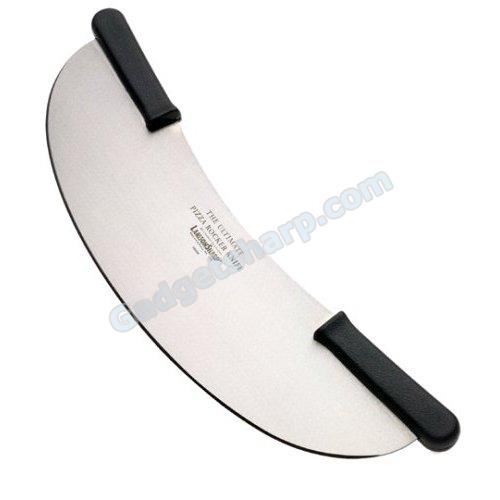 4. Pinzon Stainless-Steel Mandoline [amazon]
Pinzon?s recently redesigned stainless steel mandoline produces uniform, precise cuts of vegetable and fruit. The blades on this mandoline have recently been updated after extensive testing for superior sharpness. Constructed of attractive and durable 18/8 stainless steel, this tool offers a variety of cuts with four versatile blade attachments.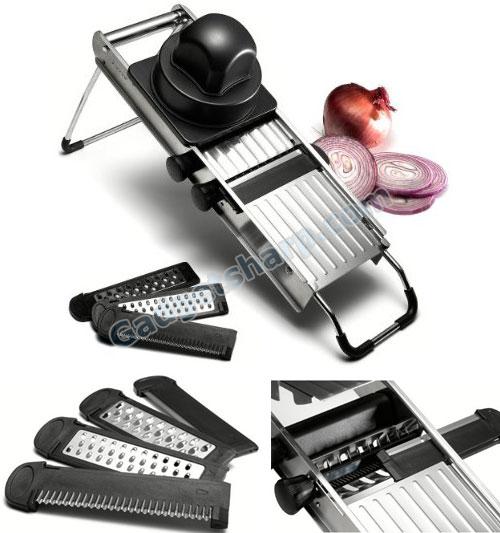 5. J.A. Henckels 2-Piece Mezzaluna Set [amazon]
Mince fresh herbs, garlic, onions and more using this set. A one-handed rocking motion is all that?s needed on your part. The classic, half-moon shape has a 5-in. blade made of high-carbon steel with a satin finish, 18/10 stainless steel handle. It comes with an 8-in. diameter wood bowl, sized to accommodate the curved blade. The mezzaluna is dishwasher-safe; hand-washing is recommended for the bowl.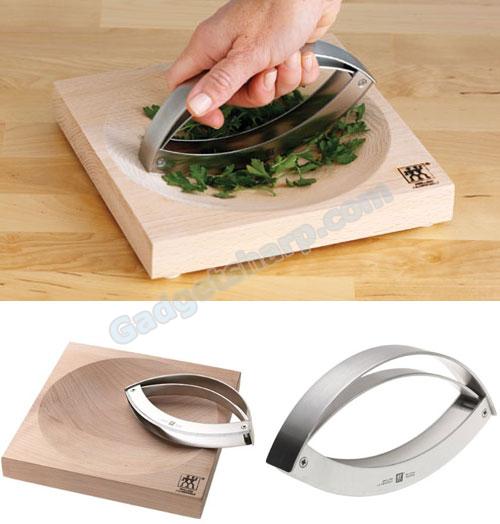 6. Progressive International Egg Slicer [amazon]
This sturdy, versatile egg slicer with stainless steel cutting wires also dices, wedges and halves strawberries, mushrooms and other soft foods. Integrated egg piercer prevents cracked shells during boiling. Simply place food on the yellow base cup, lower the first set of blades for halves or slices, then lower the second blade to cut into dices or wedges. Nonslip feet provide added stability.Product Features 5 functions slice, dice, pierce, wedge and halve Sturdy plastic construction with razor sharp stainless steel cutting wires Hinged design for leverage and smooth, consistent slicing Concave cup keep your eggs stable while slicing.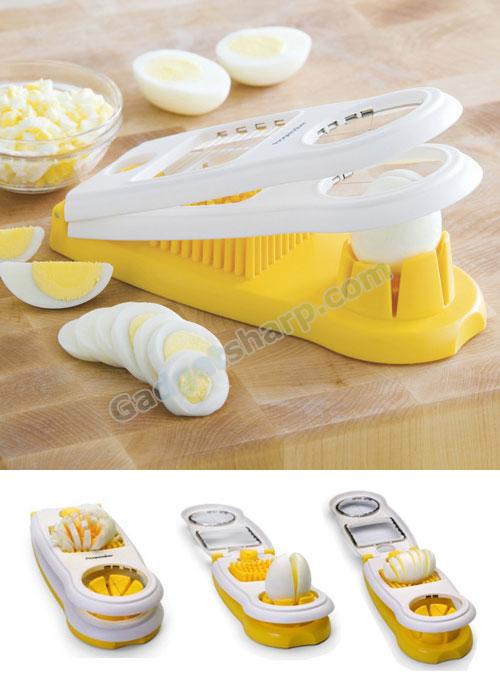 7. Progressive International Pizza Scissors [amazon]
Easily cut and serve foods with one universal tool. Long blade easily cuts through foods and is great for pizza, foccaccia bread, quiche and more. Comfortable grip handle is great for left and right handed users. Scissor blades separate for easy cleaning.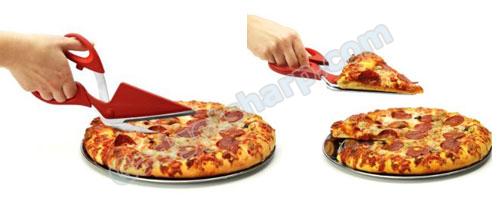 8. Vacu Vin Stainless Steel Pineapple Easy Slicer [amazon]
Peels, cores, and slices an entire pineapple in seconds. The Pineapple Easy Slicer by VacuVin will peel, core, and slice a fresh pineapple in just 30 seconds. Fresh, juicy perfect pineapple rings in less time than it takes to open a can. Made of Stainless Steel.
9. Professional Egg Topper [amazon]
The quintessential tool for a gorgeous presentation for soft-boiled eggs. Quickly and consistently, the sharp edge of this stainless steel egg topper will remove a perfect circle from the top of an egg or eggshell with an expert pull and release of its knob. Hand wash. Made in France.
For raw or soft boiled eggs, place the ?bell? on the top of the egg and pull the small black ball and release. The shell will now be cut at the top; remove the cut shell and enjoy.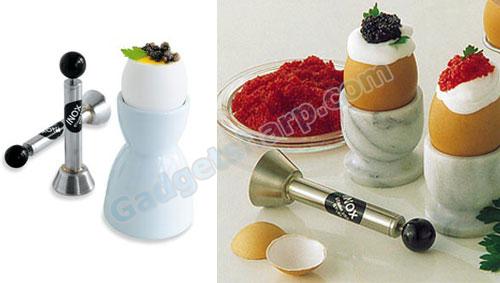 10. Mango Splitter [amazon]
Sweet, delicious mango - a pleasure to eat, a chore to prepare. This ingenious tool slices the fruit cleanly in half, separating the fibrous seed in one swift motion. The juicy flesh can then be sliced effortlessly from the skin for use in salads, snacks and more! Limited lifetime warranty.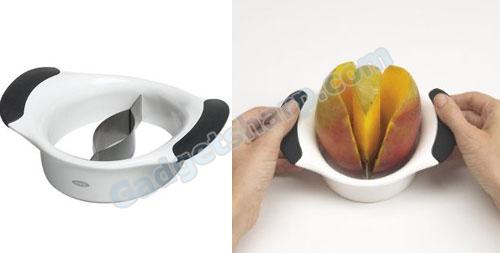 11. Chef'n StemGem Strawberry Huller [amazon]
If you are the person have to remove strawberry stems before eating them… Then this is the tool for you.
The StemGem Strawberry Huller removes strawberry stems with ease! Simply insert, twist and remove. Great for making strawberry shortcake and fruit salad. Removes the stem and leaves the strawberry intact.Features:Unique design hulls strawberries effortlesslySimple-to-use push-button mechanismStainless steel clawFun strawberry design is easy to find in the drawer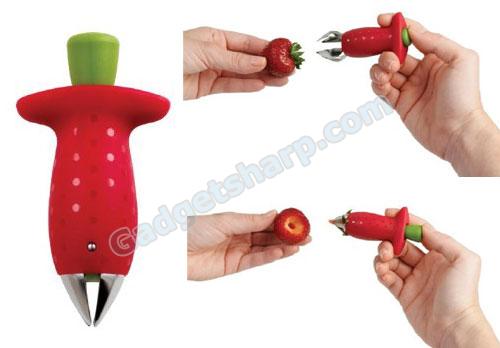 12. Amco Avocado Slicer and Pitter [amazon]
The Avocado Slicer and Pitter easily pits and slices avocados. The nylon loop end removes the pit without damaging the fruit and the wire end slices and scoops the fruit. Features a comfortable, contoured handle.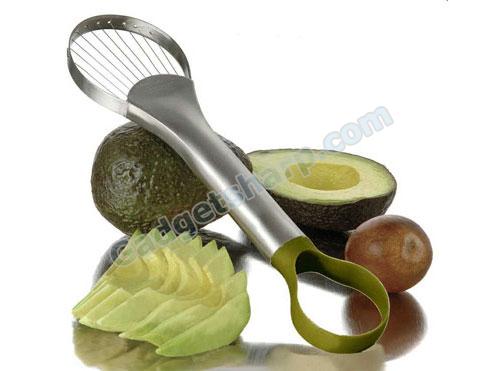 13. Leifheit Cherrymat Cherry Stoner [amazon]
This Cherry Stoner from Leifheit quickly removes the pits from cherries. Imagine processing 25 lbs of cherries per hour with little effort. Great for pastry making, desserts, or just snacking. Simply feed cherries into the mechanism and the Cherrymat will automatically spit out the pits. Features: -Extracts cherry stones quickly and easily -Processes 25 lbs. of cherries per hour -Dishwasher safer -Includes plunger or gasket -Two-year warranty -Easy to set up and disassemble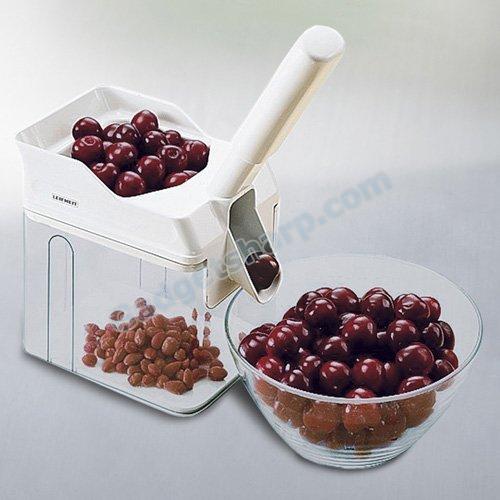 14. Oxo Good Grips Corn Stripper [amazon]
Separate corn from cob in just seconds! Simply grab an ear of corn, run this innovative tool down the side and collect the kernels in its 1/2 cup capacity container.