Are your books all tatty with dog ears? Is your drawer full of boring and easily torn bookmarks? Take a look at 14 Creative Bookmark Designs presented in this post. There are so many useful functions provided by those designs, such as bookmark with LED light or Electronic Timer, bookmark can remember your last page as well as your last line, or bookmark you can play with and help to relief pressure. We also included some beautiful and collectible bookmarks. Hope you can find something you like.
1. Dead Mark Squashed Flat Book Mark [amazon]
Poor Mark! He has met a sticky end, a squishy end to be more precise, his floppy body trapped within the pages of your book, scrabbling to get out, all the while happily keeping your place. You know, keeping the page of that point in the story where the man gets crushed by a giant encyclopedia. Forget pressed flowers and old receipts, Mark is the future and what else will he do now he's dead!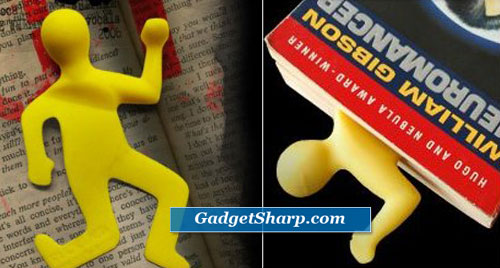 2. Fingerprint Bookmark [amazon]
Is your drawer full of useless bookmarks your mother gave you? Do you STILL lose your place when you nod off in the middle of a sentence? FingerPrint to the rescue! Just snap it right around your book and point it to the very last word you read. It stretches to fit any size book from that slender volume of Dick and Jane all the way to the unabridged version of War and Peace. Use it as handy book strap too. It's the bookmark, perfected.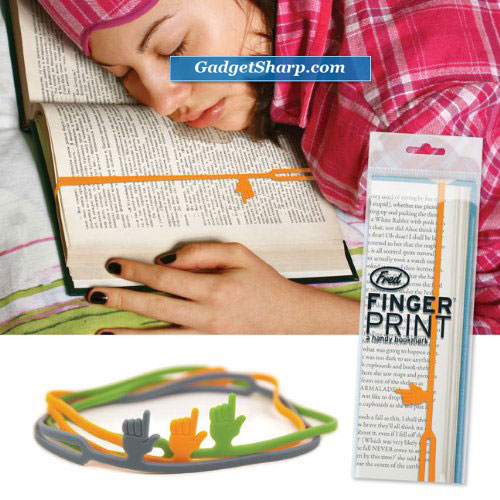 3. Bookmark Book Light [amazon]
Ultra thin clipon book light is both a sturdy bookmark and lights the page with bright LED light
Pull neck up and pivot head to use as a book light then slide back behind the clip to use as a bookmark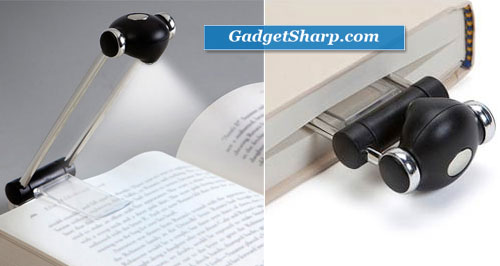 4. Emoticons i-Clips Magnetic Bookmarks [amazon]
Four fun emoticons adorn these multi-purpose i-clips laminated folding magnets. i-clips can be used as secure bookmarks, magnets, paper clips, and more. Each set of 8 i-clips is packaged in a clear plastic sleeve that measures 2-1/2'' wide x 7''high. Each clip is 3/4"" wide x 1"" high folded.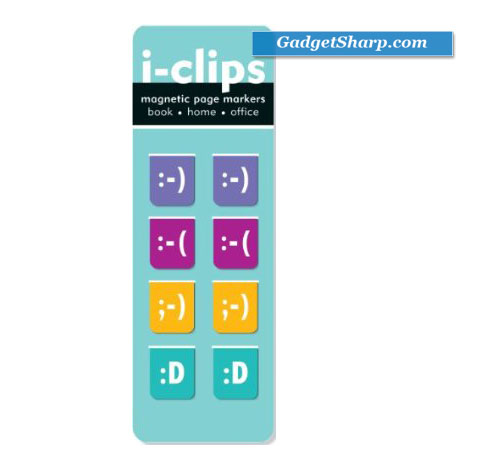 5. Mask Bunny Bookmark [amazon]
The Mask Bunny Bookmark is an incredibly cute bookmark for you to bookmark anything you need to mark. The Mask Bunny Bookmark is made with rubber so that it can hold onto pages well and won't slip out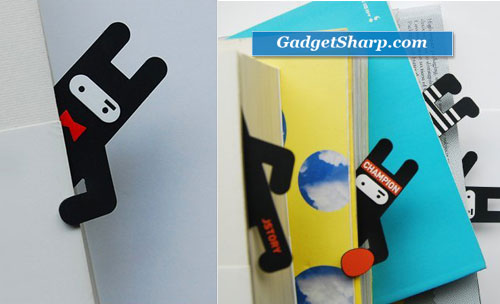 6. Bookmark Magnifier [amazon]
Flat Fresnel Magnifier will store easily between the pages of your book. Keeping your place and handy for your next reading session. —Read labels, warnings, ingredients, instructions and other fine print. —Repair jewelery, eyeglasses, electronics and/or other small items. Attractive classic magnifying glass shape and design by "Reno". With red ribbon attached to handle to extend past the pages of your book. Magnifier measures 5 inches from handle to top edge of lens. With Ribbon 7.5 inches. Lens Measures 2.5 inches diameter.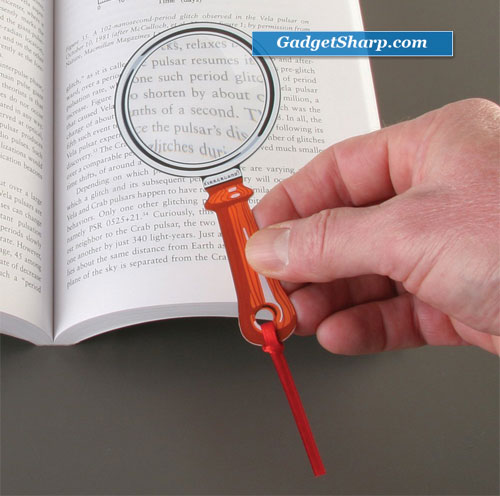 7. Thai Bookmarks [amazon]
These playful bamboo bookmarks are topped with small, colorful 1" tall dolls dressed in traditional Burmese cloth. Their hand-painted smiles will make reading that much more cheerful.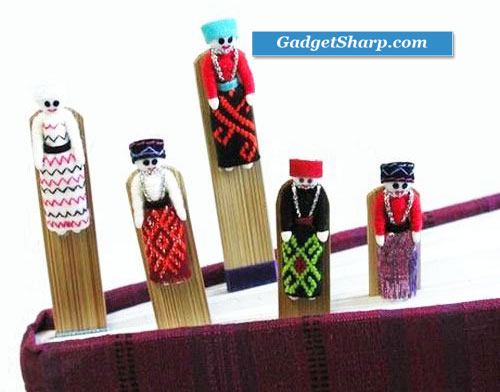 8. Turning Leaves" Bookmark with Burgundy Silk Tassel [amazon]
Each -inchTurning Leaves-inch bookmark measures 3 3/4-inch
The artistic, openwork metal design is enhanced by a rich burgundy silk tassel
Autumn-leaves gift box complete with a clear top, a dainty, burgundy organza ribbon and a "For You" tag that replicates the leaf inside
The box measures 4.5-inch by 2.5-inch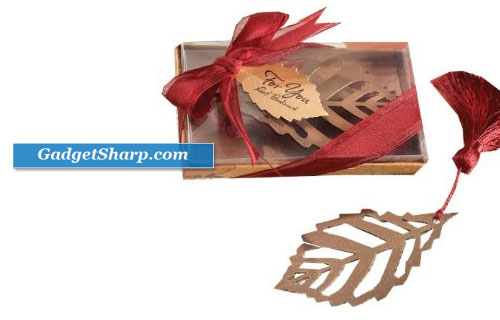 9. Purple Painted Metal Crystal Flower Bookmark [amazon]
This metal book mark features a purple enamel flower with six clear crystals in the center. The thin arm of the book mark is design to fit in the crease of any book. Detailed Product Information: Color: Purple Condition: New Dimensions: 5.5"L X 1.75"W (flower) Weight: 1.6oz/per unit Packaging: bubble bag Frame Color: Silver
10. Thumb Thing Book Page Holder and Bookmark [amazon]
Keep the pages in your book or magazine held wide open for easier reading and viewing
Great for reading with one hand, while standing, sitting or lying down
Hold pages and illustrations open for all to see during read-aloud
Thumb Thing comes in many different sizes - small, medium, large and xlarge - there is a size for everyone
Perfect for the classrom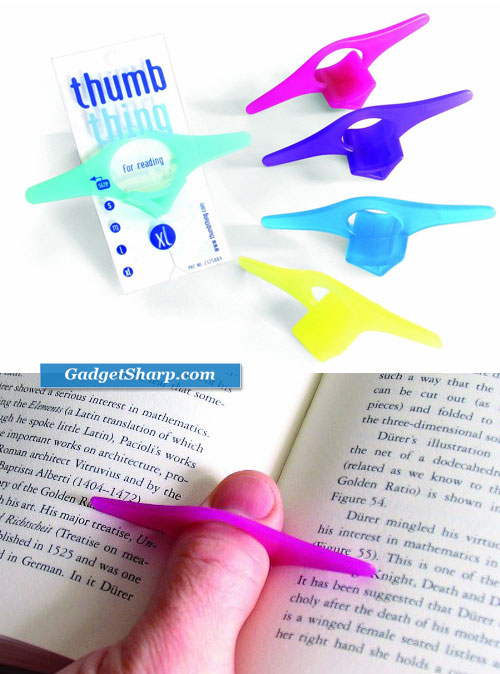 11. BookRug [amazon]
Lextra Fiber Graphics image is created with dyed nylon fibers driven into design by high voltage. World's only 'stress relieving' book marks, pleasing to the touch. . Rugged urethane core layer practically impossible to tear, washable, will last many years.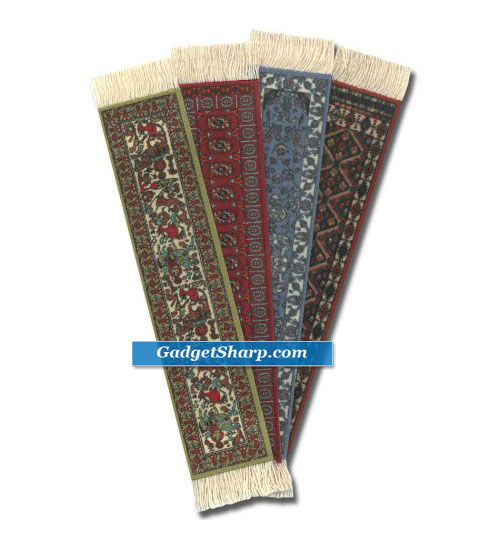 12. Bookmarker Flag Pen And Bookmark [amazon]
Flat ergonomic writing pen that fits in your book
Bookmark to keep your page
Transparent write-on self stick flags to tag pages or highlight text (100 included)
Strap to keep your book closed
Completely refillable with standard size pen and flag refills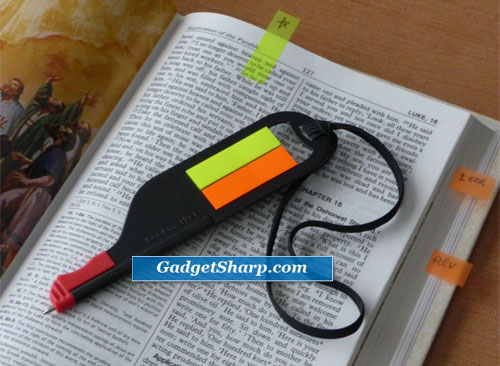 13. Zoo Page Pals - Plush Bookmark [amazon]
Zoo page pals can be use for school books or for any of your favorite reading books. It makes reading more fun if they have a friend to read to. Measures 11 inches long and made of plush materials.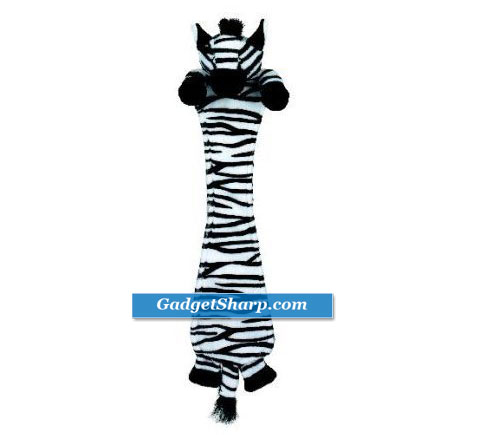 14. Mark-My-Time Digital Bookmark [amazon]
Now you can accurately track children's required reading times to help take the work out of daily reading homework. Made of durable polyethylene plastic it's available in three hot colors-Neon Blue, Neon Purple, Neon Green. With its slim form, it fits neatly between the pages of any book. At the top is a digital clock that's powered by a replaceable watch battery.