Even with all the digitization these days, most of us still have some books at home. To keep them in order, bookend is something helpful. Almost any object can be turned into a bookend. However, you can find some really cool and creative bookends, which will not only hold your books, but works as a great assert to your home decoration or provides some bonus function other than a bookend. Here are 6 ideas for cool homemade bookends to get you started.
1. Invisible Bookend [link]
Invisible Bookend is a lightweight, free-standing object suitable for desk, shelf or floor which requires no mechanical fitting. It easily holds more than a metre and a half?s length of books, of all shapes and sizes.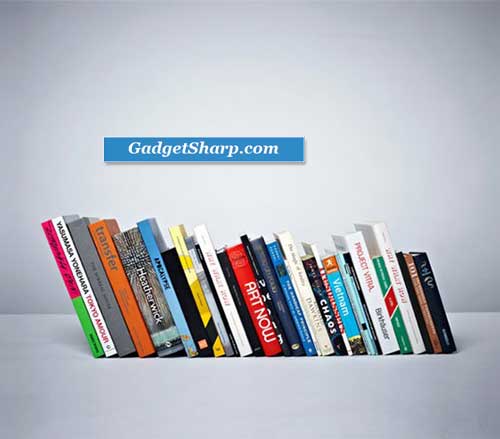 2. Canterlever Bookend Vase [link]

These are the perfect accessory to place on your bookshelf and keep your books vertical whilst adding a little floral colour to your room! Handmade from solid oak with a glass stem vase and black metal base.

Approximate dimensions: H18 x D12 x W20cm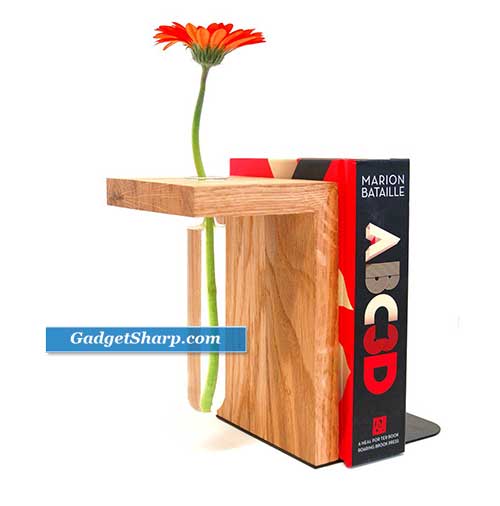 3. Folio L-Shaped Tissue Box [link]

Take a mundane tissue box and fold it half. Usually that would damage or even ruin it, but not so in this case. The Folio is a great L-shaped tissue dispenser that you will love flipping around and trying in new positions. Coming in four colors (black, brown, white, pink), this pop design tissue case can also serve as a bookend or even modern art sculpture.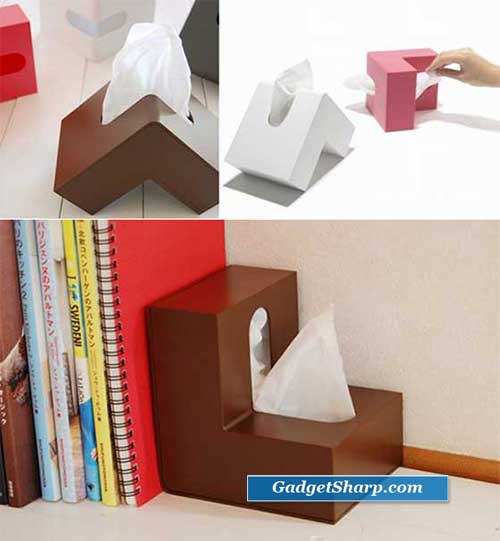 4. MR. ED book-end [link]

Mr. Ed is a light bulb held in place by two vertical, book-like shapes. At home on a bookshelf or on a bedside table, Mr. Ed has enough brute strength to act as a bookend.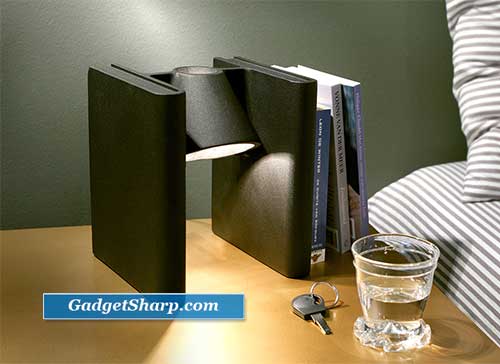 5. Letter Holder Bookend [link]

Why didn?t someone come up with this idea before? A bookend that can also act as a letter holder. Now, you have no excuse to keep your desk from getting too messy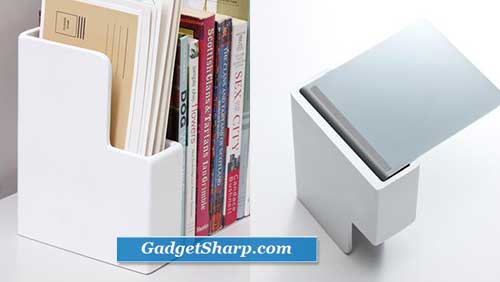 6. RECYCLED RECORD BOOKENDS [amazon]

These vintage record bookends may just be the hottest vinyl to hit the shelves since Elvis. Music-loving artist Jeff Davis makes them by hand, using two, 7" 45rpm records, bonded to a thick inner core and supported by a steel tongue that will keep your books from rocking and rolling right off the shelf. The core material, known as Trupan, is an environmentally friendly composite board made from recycled waste wood. Records used will vary; special requests are not available. Handmade in Philadelphia.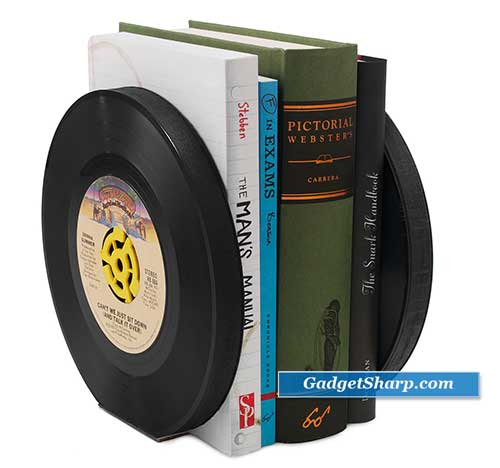 7. Oenophilia 2-Pack Scroll Bookend Wine Racks [amazon]

If you only keep a few bottles of wine; this set of two bookends is a great way to go The quality is clear in these pair of heavy wrought iron bookend wine racks Each bookend rack weighs about 4-pound and fits any d?cor Can be used individually with books or without books Each piece is 10-inch high by 10-inch wide by 5-inch in depth and holds 3 bottles