There is nothing quite like the calmness of candlelight, its soft light completes the ambiance and makes for a cosy and intimate atmosphere. Whether you are; relaxing in the bath, chilling on a Saturday evening with a nice glass of wine and some music or sitting down to enjoy a romantic dinner, the dancing flame just created perfect shadow for your moment. To enjoy these more, you need not only candles but also nice holder. Hence we rounded up 14 Beautiful Wall Tealight Holders and hope you can enjoy.
1. Butterfly Leaf wall sconce [amazon]
Leaf shape wall tealight holder with butterfly inserts and colored votive cups. This is very pretty.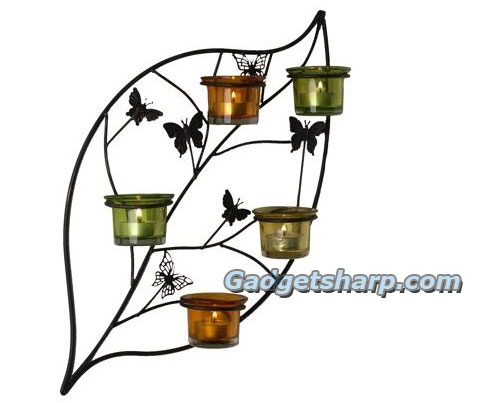 2. Wall Mount Tealight Candleholder [amazon]
Wall mount wood frame with 3 hanging metal tealight holders. Such a modern and neat design.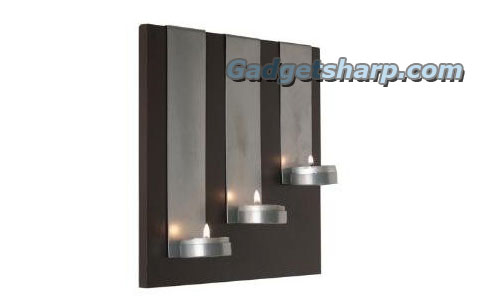 3. Luca Bella Home? Lindsey Wrought Iron Wall Sconce [amazon]
A pleasing light source for any environment. Place this inspired design element in an entry hall, above a fireplace or on a main wall. Holds 3 tealights.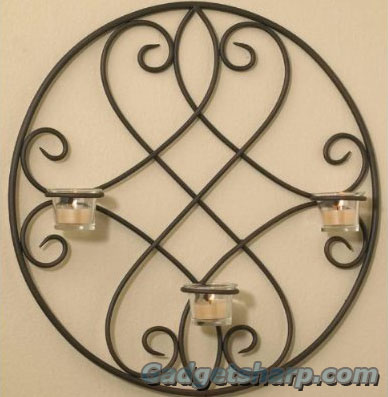 4. Set of 3 Chai Glass Tealight Holders - Wall-Mounted Design [amazon]
You will receive a total of 3 tealight holders.
Dimension: 3"W x 3"D x 3"H per each
Finish: Glass
Material: Glass
Set of 3 Chai Glass Tealight Holders - Wall-Mounted Design
This item is a set of 3 wall-mounted glass tealight holders.
Create a dramatic effect with multiple sets of these candle holders.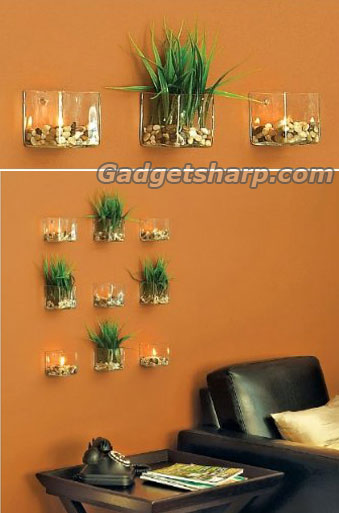 5. Curly Wall Candle Sconce [amazon]
Curly Wall Candle Sconce. Accent any wall with this beautiful curvy artwork piece. Place hanging rods in your desired location.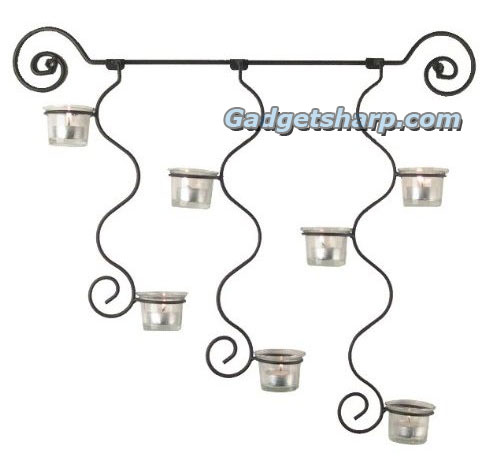 6. Wall Votive Holders Set [amazon]
Set of 3 curved sconces with red glass tealight holders
Measures: large 3.5x3.5x13.5, 2 samll 3.5x3.5x11"
candles not included
Red cups included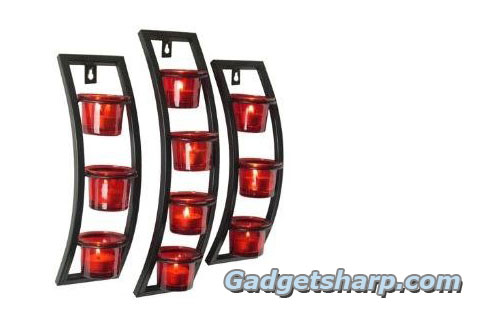 7. 30" Votive Candle Holder Designer Iron Art Wall Sconce [amazon]
The sconce is about 30" in diameter and is the shape of a large swirl. The sconce is made of high quality, durable iron in a black finish. The swirl is interspersed with glass votive holders. There are 15 clear glass candle holders. A great way to dress up any wall. Since the sconce is a metal swirl, it takes on a different look depending on the wall color! Put it against a white painted wall for a crisp, Spanish style villa look, or put it against buttery yellow walls to get a French inspired Provence look! The possibilities are only limited by your imagination! Can be easily hung on any wall by two holes that are built in to the frame on either side. The 3-dimensional effect is not captured accurately in these images, but is much more beautiful!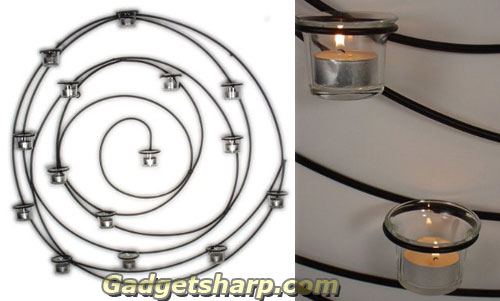 8. Curved Wall Hurricane Holder - Silver [amazon]
Contemporary curved wall hurricane holder, holds 5 tealights.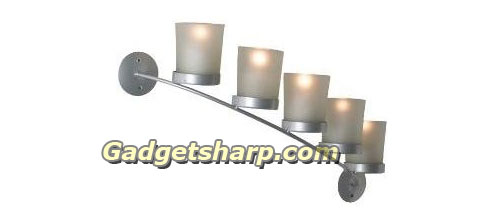 9. Five Candle Wall Adornment [amazon]
A study of sophistication and elegance, this decorative sculptural piece with a freeform vine design creates a wall of soft candlelight. The antiqued bronze color frame with embossed pattern perfectly outlines the beautiful silhouettes created as the candlelight reflects off the red "berries." Five clear glass votive holders accommodate standard votive candles, sold separately.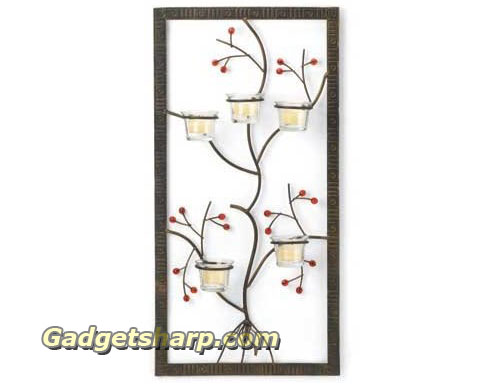 10. Hanging Sconce Duo-Gold Finish [amazon]
This gorgeous Hanging Wire Basket Wall Mount Sconce Votive Candleholder Set Of 2 has the finest details and highest quality you will find anywhere! Our team prides ourselves on finding the best prices without reducing quality, and in this Wall Decoration Collection, we have definitely done just that! The craftsmanship of this lovely Hanging Wire Basket Wall Mount Sconce Votive Candleholder Set Of 2 is truly remarkable.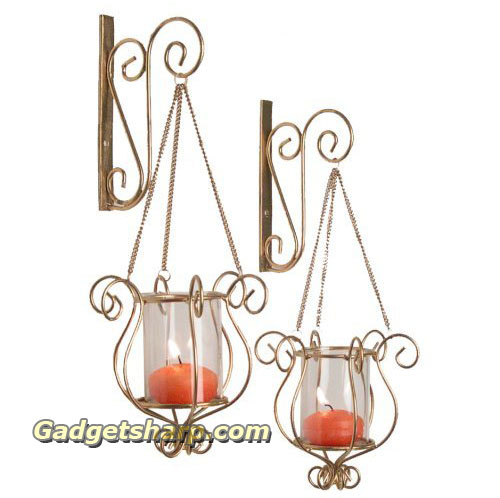 11. Grand Leaf Votive Sconce [amazon]
Set of 2 gold leaf shape sconces with glass votive cups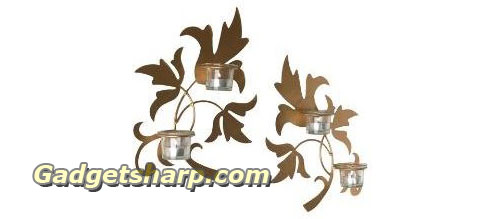 12. Shooting Star Wall Candleholder Sconce Candle Holder [amazon]
Star light, star bright; the tail of this comet gets its glamour from the glimmer of candlelight! Whimsical shooting-star metal wall sculpture holds three garnet-red candle cups; add a trio of votives to create a heartwarming halo of light. Candles not included. Iron with glass candle cups.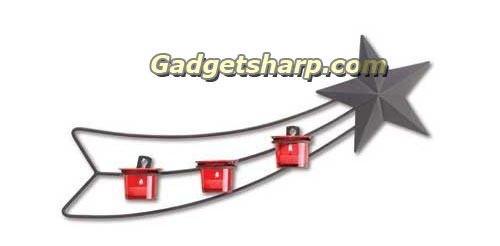 13. Elongated Wall Votive Holder Set with Frosted Cups [amazon]
Set of 2 elongated metal candle sconces with frosted tea light cups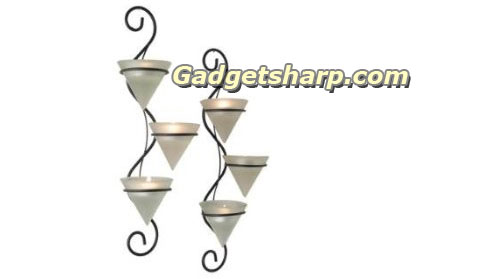 14. Gorgeous Dragonfly Candle Sconce [amazon]
Metal candle sconce in dragonfly design with four glass votive cups