When talks about tea set, the first comes into your mind might be the impression of traditional Chinese tea set with ancient style and complex pattern on it. For sure these kinds of tea sets are nice, but it more likely for some serious tea. But if you are looking for some casual tea set, then this is the post for you. In here, we included 8 Cool and Modern Tea Sets, which are especially good for one or two persons.
1. Bonn and Only Tea Set [discontinued]
Ceramic and wicker. When assembled, measures 7.25 inches in height, 6.5 inches in length, 4 inches in width. Teapot with lid measures 5 inches in height, 6.5 inches in length, 4 inches in width. Teacup measures 3 inches in diameter, 2.25 inches in height. Basket measures 3 inches in height, 2.5 inches in length, 2 inches in width. Hand wash recommended. Includes teapot with lid, tea strainer, one cup, and decorative basket.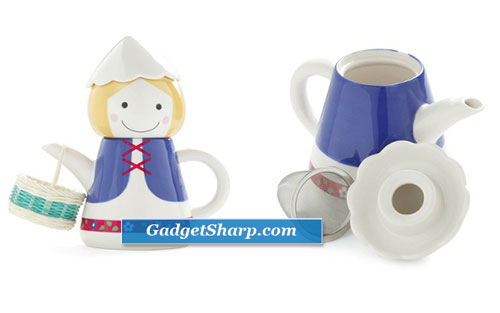 2. Skase Tea Cup Set [link]
Designer Steve Watson came up with this cool idea of placing a tea cup on a wooden pod and turning it into a mug like thing. The white glazed creamware cup and its Manchurian walnut cross base form a perfect symbiotic relationship. The cup simply cannot rest without its better half.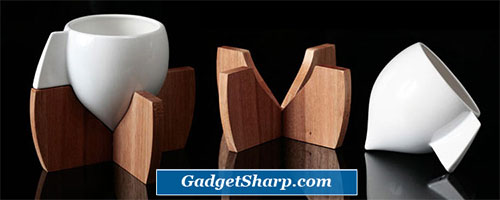 3. Miss ?toile Tea/Coffee Set [link]

A tableware set full of charm and personality, the tea/coffee set by Miss ?toile sets a dreamy and magical mood to your party.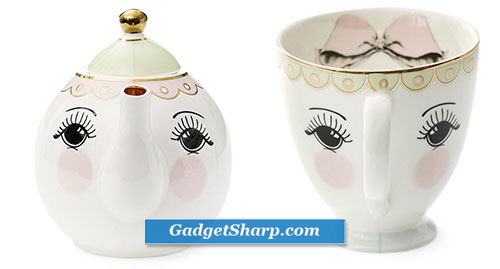 4. Lexon Kookii for 2 Natural Bamboo & White Ceramic Tea Set [amazon]

"Modern & chic sustainable bamboo and ceramic coffee/tea set by Lexon. Includes: 1 bamboo tray with removable saucers, 2 ceramic cups and 2 spoons 9.6 x 3.7 x 2.8"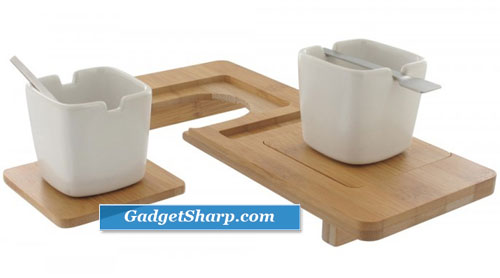 5. ROSE TEAPOT SET [discontinued]

Stacked together, the parts of Beijing designer Shen Di's porcelain set appear to bloom, forming a stylized rosebud. But pluck them from the stack, and each petal blossoms with multipurpose functionality: the bottom piece becomes a plate; the large bowl holds fresh fruit or chocolates; and the two small cups are perfect for a spot of tea. The top layer has a tea strainer, and a small scoop for measuring loose leaf tea. All of these rosy-hued pieces are paired with a small, matching teapot that's perfect for two friends to share.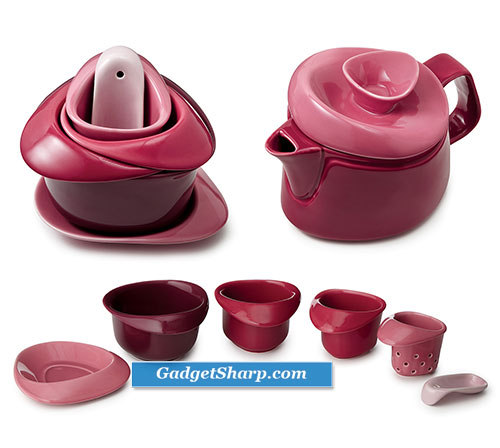 6. Kookii Tea Set [link]

A modern set, ideal for serving both coffee and tea. Made by Lexon, a manufacturer represented in the MoMA collection. Ceramic and stainless-steel are dishwasher-safe. Hand-wash bamboo.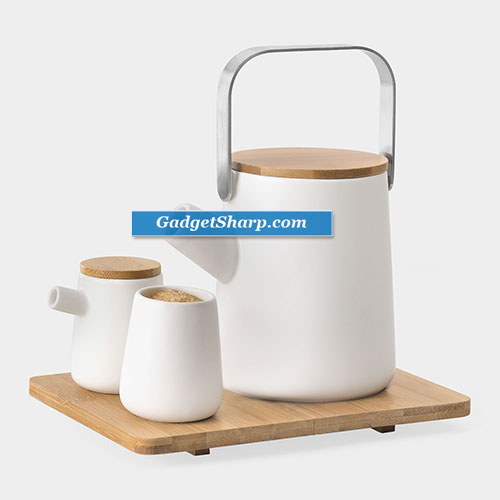 7. Chickadee Tea for One Set [amazon]

Includes teacup and teapot Refreshing modern design White ceramic Beautiful Additon to any Kitchen D?cor Bird design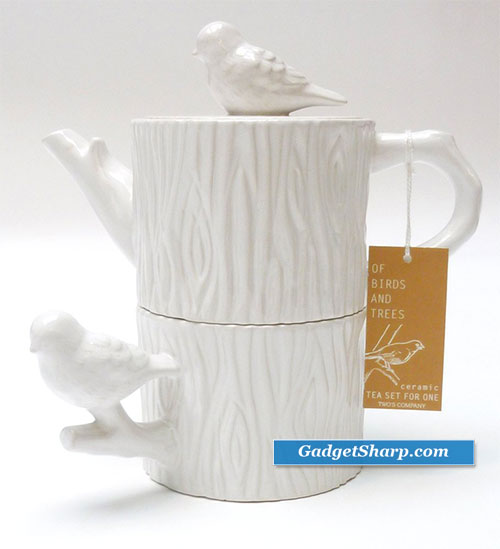 8. Flight of Fancy by Babs Ceramic Tea for One [amazon]

The 7-Inch crafted fine hand painted ceramic tea for one, one pack. It can be used as a beautiful centerpiece for home and garden. The product is designed by Babs, with a whimsical, stylish and an artist look. A functional to the casual or give you many joys on the dinning table. Hand washing recommended for earthenware and made in china.