Last week, we featured a super-sleek automated tea brewer. That is great, helping to server the perfect cup by controlling the brewing time, water temperature and the amount of tea depending on the blend used. But seriously, do you really need that high-tech stuff to make a cup of tea? At least, for myself, some sunshine, some friends and a cup of tea, can be my happy time. To have such relaxing tea time with your friends, you need at least a tea pot, several tea cup, maybe a milk jar and sugar bowl. Hence, we rounded up 12 Beautiful Tea Set Designs, hope you like them and can find your perfect tea set.
1. Contemporary Art Decor Porcelain tea set 5 pcs [amazon]
This orient inspired 5 pieces art decor porcelain tea set is very beautiful, made from Jingdezhen–the most famous porcelain making town in China. Its superior quality and elegant design making it perfect for everyday use, great for a present too.
Teapot: L6" x D5" x H8" Cups: Diameter 3" x H2"Bamboo tray is not included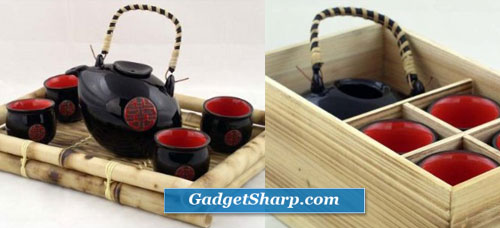 2. 10 Piece Mariner Bay Ceramic Teapot And Teacup Set With Stand Ocean Themed [amazon]
* Made of ceramic
* Includes Teapot with lid, 4 cups, four saucers and a black metal stand
* Saucers are 6" in diameter
* Teapot holds 37 oz and cups hold 8 oz
* Measures 14.5" H overall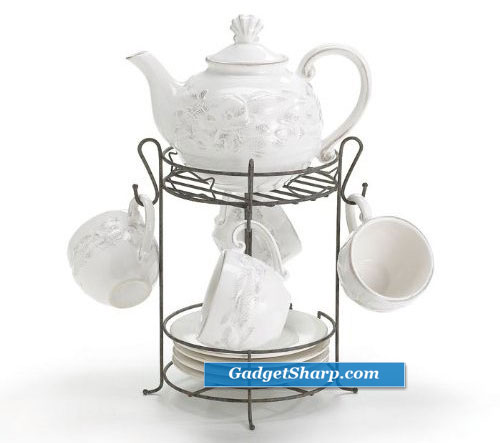 3. Japanese Cherry Blossom Tree Tea Set [amazon]
Traditionally, tea is served to enhance a good meal or conclude a festive gathering in a spirit of sharing. Offer your guests the opportunity to share in this tradition with this authentic Japanese tea set. -Tea set includes 1 teapot and 4 teacups -One-handled teapot is great for pouring and serving .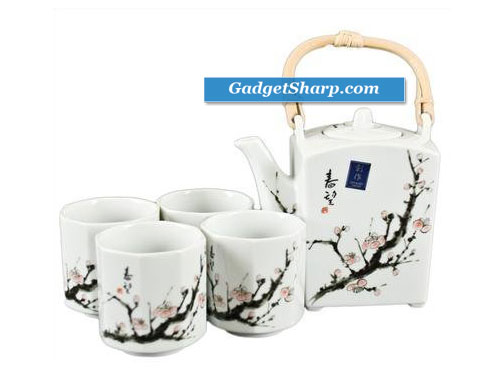 4. 5-pc glass Teapot Set with cups [amazon]
* 5-pc glass teapot with four double wall glass tea cups
* Glass infuser included.
* 27 oz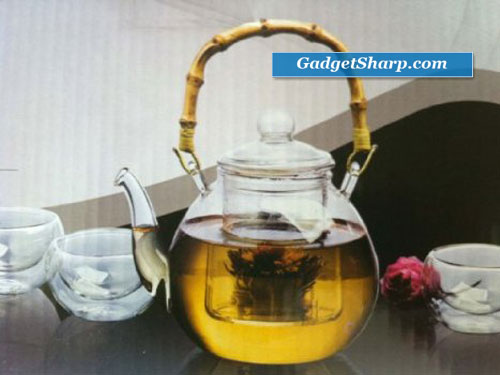 5. Hummingbird Miniature Tea Set [amazon]
A collector's delight, this tiny tea-party exactly resembles the real thing, graced with a delicate hummingbird theme and gleaming gold-tone trim. Includes 2 cups, 2 saucers, sugar, lidded creamer, lidded teapot and tray. Ceramic.
* Tray: 7 1/4 inches x 5 1/2 inches x 1/2 inches high;
* Cups (each): 2 inches x 1 1/2 inches x 1 3/4 inches high;
* Saucers (each): 2 1/8 inches diameter x 1/4 inches high;
* Creamer: 2 1/2 inches x 1 inches X 2 1/2 inches high;
* Sugar: 2 inches x 1 1/2 inches x 2 1/2 inches high;
* Teapot: 4 1/2 inches x 2 inches x 4 1/2 inches high.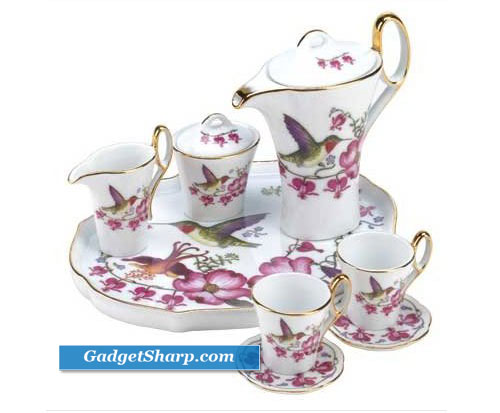 6. HuesNBrews Leaves of Grass Tea for One [amazon]
* High-fired ceramic body
* Great personal sized teapot
* Microwave/Dishwasher safe
* Other matching accessories are available.
* 15 Ounce capacity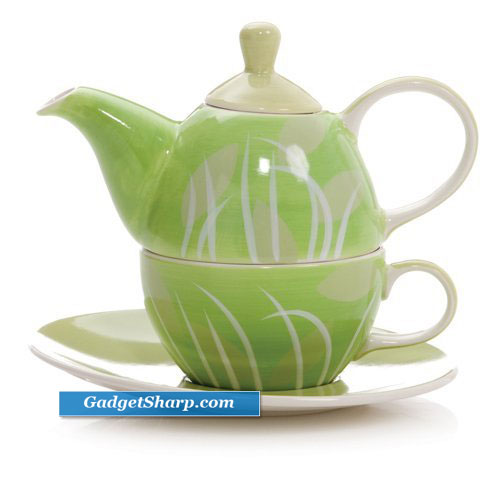 7. Japanese Tea Set Teapot Teacup Red kanji [amazon]
* Calligraphy Porcelain Tea Set
* Teapot & 4 cups
* Teapot Holds 27 Fl.oz. Teacups Holds 7 Floz
* Elegant Gift Boxed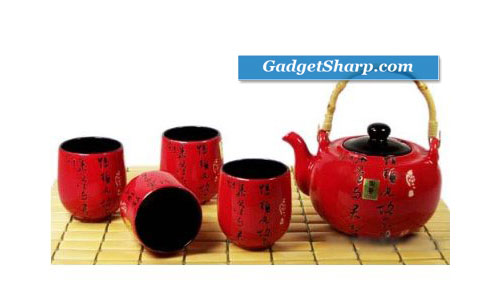 8. Numi Organic Tea, Single Origins Tea Set [amazon]
* Set of four organic single estate teas. This gift includes an assortment of delicious teas, plus a charming tea set for brewing and serving
* Wonderful Organic Gift Set
* 4 Organic Single Estate Teas & Beautiful Ceramic Tea Service
* A Delicious Introdution to the World of Loose Leaf Teas
* Ships in Certified Frustration-Free Packaging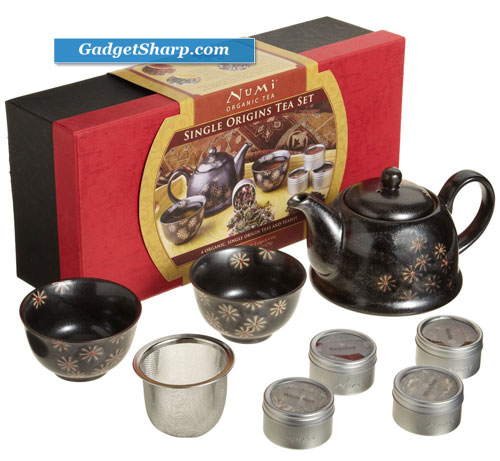 9. Red Cast Iron Tea Set- Teapot, Two Cups & Trivet [amazon]
Red Kanji Design The cast iron teapot heats evenly and retains heat very well, making it a perfect vessel for tea connoisseurs. Our teapots are finished with enamel on the inside to prevent rusting and include a removable stainless steel mesh basket infuser. This set includes cast iron teapot with strainer, 2 cups and a trivet.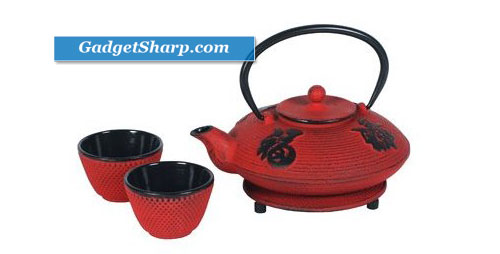 10. Bamboo Tea Set [amazon]
Designed with green bamboo, this tea set includes a lidded teapot with six matching cups, beautifully presented in a gift box. A lovely way to share tea time with close friends. A great gift for anyone, including YOU!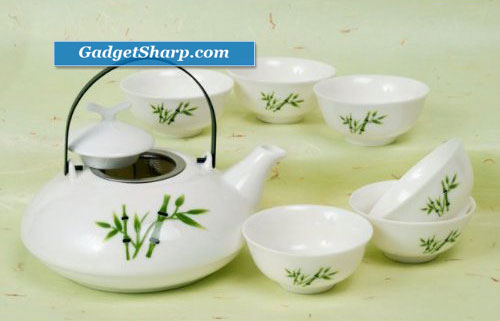 11. New Romero Britto Teapot Apple Tea for One Set Ceramic [amazon]
Brand New Romero Britto Apple Teapot. This authentic colorful teapot is everything you need for tea time. This tea for one set includes a plate, a cup, a teapot with lid. It stacks together to form a beautiful apple. You will love it! Great as a gift!
Material: dolomite (ceramic) Dimensions: 7.5" L x 5.5" H x 6" D Plate: 6" Diam x 0.75" H (approx) Sealed in original box.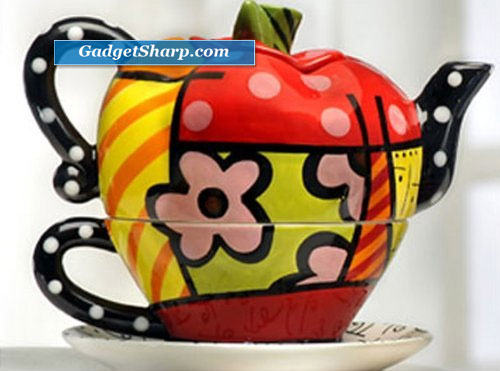 12. Blaue Blume Tea Service [link]
Handmade in England, these earthenware pieces are beautiful and extremely detailed, and you can?t help but giggle when you see the gold/red/black/silver shoes on the legs coming off of the tea cup, milk, and sugar bowl, especially when you have to grab the legs to pick them up!