The process of saturation that occurs when mixing water, tea leaves, herbs and/or fruits together in a blend is an essential part of the experiential process of making tea. To facilitate that process, tea infuser is employed. In this post, we will present you with 10 creative and unusual tea infusers design. Some of them are really smart and amusing; some of them are incredibly elegant and pretty. Try to add more flavour to your tea-time? Just check out this post.
1. Tea Infuser with Handle and Stand [link]
This Tovolo tea infuser combines exceptional durability, performance and ease of use with dramatic visual appeal. The deep durable base features an angled opening, making it easy to set the infuser back in place once it has done its job, and also provides a receptacle for drips.
Tea infuser by Tovolo in energizing red hue
Made of heat-resistant polycarbonate and 18/10 stainless steel
Large basket holds ample loose tea to brew a generous cup
Deep, angled base catches drips and provides convenient storage
Dishwasher-safe; also available in green and purple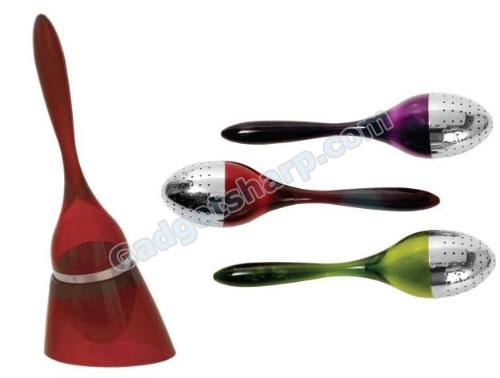 2. Blomus 6-1/4-Inch Teastick [link]
Modern tea infuser brews single cup of tea
Brushed-finish stainless-steel strainer with plastic insert
Designed by Floz Design of Germany
Dishwasher-safe; imported from Germany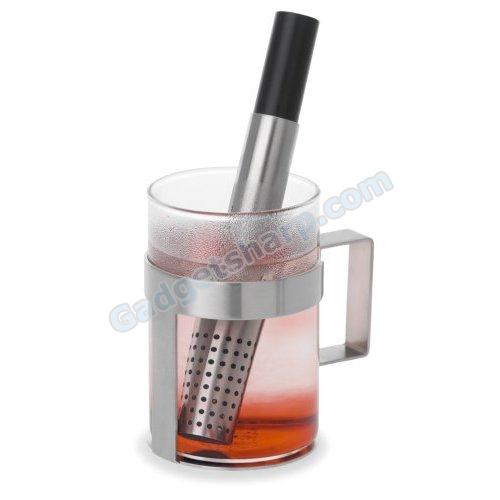 3. Sharky Tea Infuser, make a killer cuppa tea [link]
The Sharky Tea Infuser, designed in Argentina by Pablo Matteoda has a clever design that is both fun and useful. The floating tea infuser extracts tea leaves, herbs or fruit in water until completely saturated. During the waiting process, you can see the colour of your tea create a beautiful effect which reminded us of the movie scenes where the ocean turned blood red. Very amusing in deed.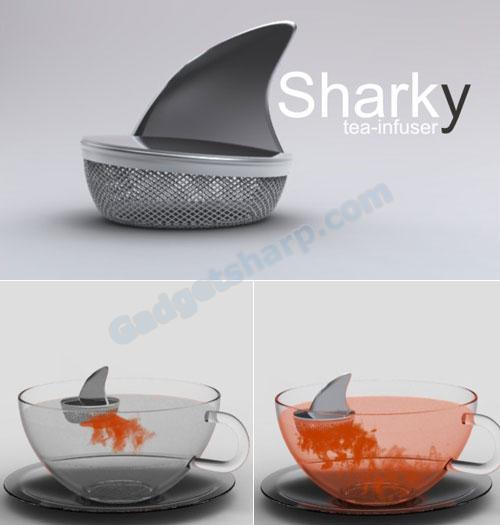 4. Trudeau Silicone Tea Infuser & Cup Lid Set [link]
Tea enthusiasts and novice drinkers alike will enjoy this cheerful infuser set. Contents: 1 Silicone tea infuser with lid.
This is a really interesting design and colorful… Fruit your tea!
Flexible String Handle on Tea Infuser, Heat Resistant 480?F-250?C
Silicone Cup Lid keeps drinks hot while brewing, and doubles as a saucer to drain and rest infuser
Dishwasher & Microwave Safe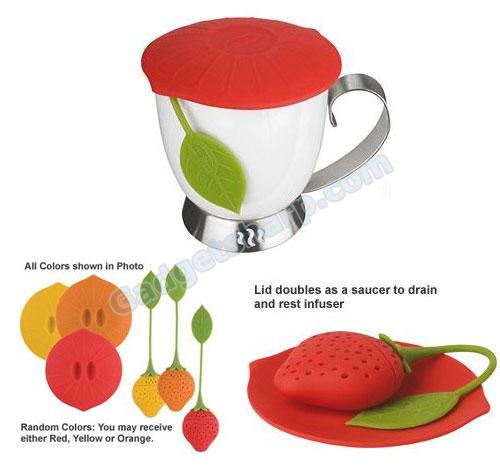 5. The T-Man Tea Strainer [link]
OK so it is not actually a gadget, and it isn?t very geeky, but the T-Man tea strainer from designer Jeewon Jung looks pretty cool.
Using one of these fun T-Man tea strainers, just pop him in a cup of boiling hot water, and watch as he stands there brewing your tea.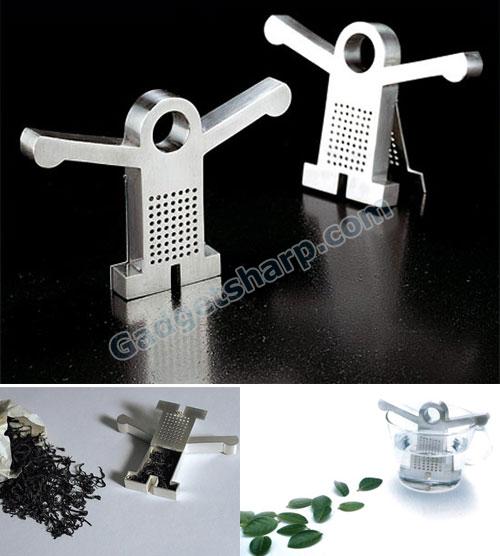 6. Audrey Tea Infuser - RE/WH [link]
Such a pretty infuser! Perfect for tea parties or other celebrations. Two-piece plastic infuser shaped like a flower. The center flower has small holes in it. Simply put loose leaf tea in the flower, set the flower in a cup, mug, or small teapot, cover with hot water and brew your tea. The green base serves as a drip catcher. Flower measures 5.25" across and 3" tall. The cone-shape will allow this item to fit in a variety of cups and teapots.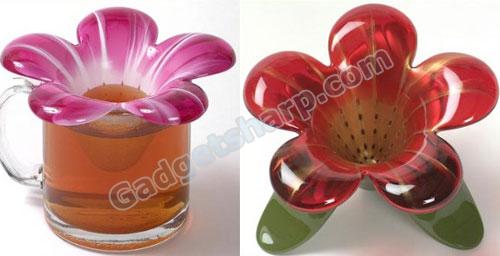 7. Cuisipro Tea Infuser [link]
This Cuisipro infuser?s innovative, interior plunger produces faster and more flavorful brews. Made of 18/10 stainless steel, the gadget screws open to accept loose tea leaves, then locks securely to prevent accidental opening in a cup or teapot. To use, hold the heat-safe, plastic bead on the end of the 7-1/2-inch stainless-steel cable and dangle the infuser into the pot. When steeping is complete, the infuser rests on a stainless-steel saucer designed to catch drips. Prepare a single cup, an entire pot, or use this versatile tea tool to infuse spices.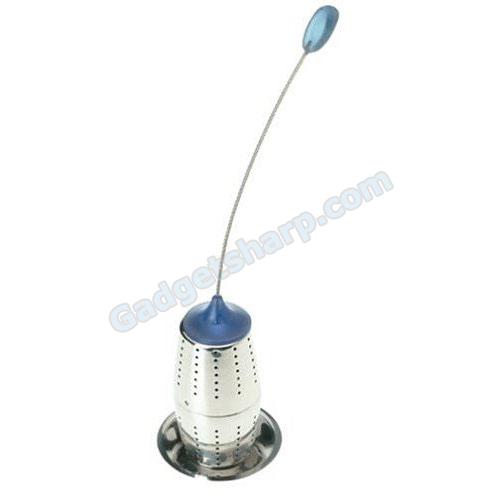 8. Balance Tea Infuser in Treefrog [link]
Fill the parchment filter with loose tea, thread the pewter staff through the filter, balance on the rim of your cup, and pour in boiling water. While the tea steeps, try not to think of any I-should-be-balancing-my-life-more metaphors. Just enjoy the moment.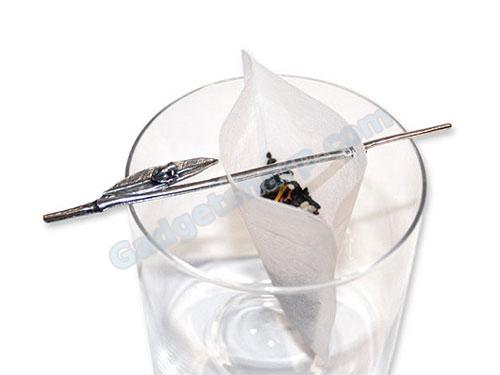 9. Tea Sub by Ototo [link]
The TeaSub submerges tea leaves to the bottom of your cup, creating the perfect infusion of your favorite brew.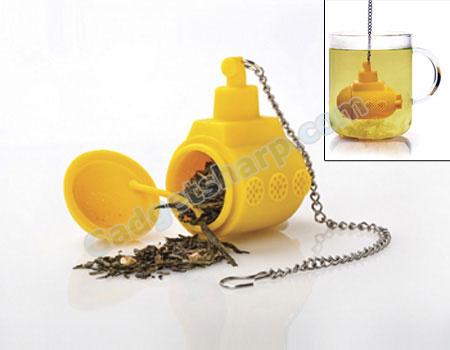 10. Tea Stick [link]
Tea aficionados prefer loose tea to bagged, but don't prefer the mess. The ingenuity of our stainless-steel Tea Stick will delight them. Scoop enough loose tea to reach the engraved fill-line, slide shut, steep. Swirl to unfurl the dried leaves – loose bits stay inside. When tea reaches the perfect shade, remove the Tea Stick and admire.