What is the latest trend in showers and shower heads? As more innovative choices become available the trend is that more and more consumers are into design and aesthetics versus functions only. Also lots of green ideas are brought forward to save water consumption. We also have some interesting and practical travel-convenient shower/showerhead designs. Just check this post, you won?t be disappointed.
1. The Viteo Garden Shower [link]
I know, for most shower…We get water from top… but this one, it is coming from bottom.
As soon as you step onto the white platform, a meter-high fountain of water arises, showering you like a gentle summer rain. Cool! I love this.The Viteo Garden Shower features load of about 15kg (33 lbs) or more activates a valve to open: Water immediately rushes into the inner channel system to spray out of 16 fine cone shaped jets - height continuously adjustable from 2 to 4 meters (6ft to 13ft). The height can be regulated by adjusting the water flow from your tap.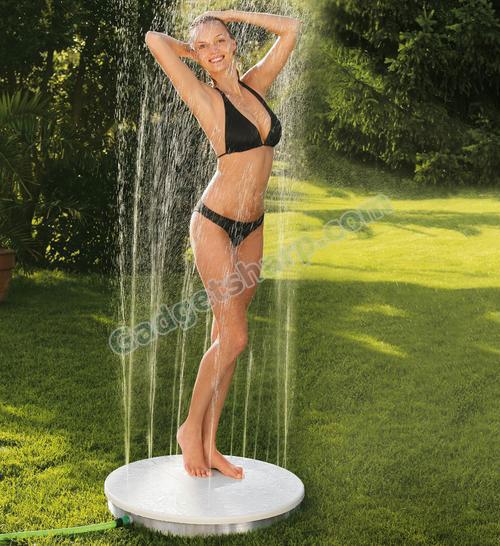 2. Shower Belt [link]
Shower Belt is designed that attached to any faucet or fountain to let you take a shower while traveling."The shower belt is a great thing to have if you're a person who find yourself being in transit a lot. The possibility to freshen up in airport restrooms or public drinking fountains leave a lot to be desired since nothing can top a full-body cleansing. The shower belt provides you with this opportunity as you will always be carrying with you a shower hose and head that fits most any faucet or fountain nozzle.
It even has little soap bottles attached on the side. What a crazy idea!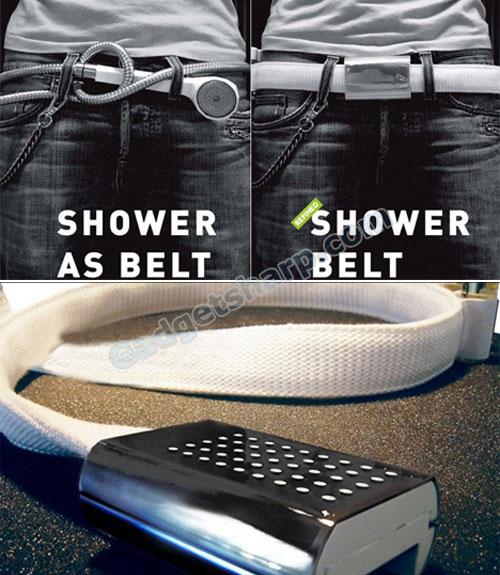 3. Pocket Shower [link]
Well the distant dream of being able to have a proper shower in the middle of nowhere is now a reality thanks to the pocket shower. This tiny gizmo unfolds to reveal a high performance waterproof reservoir that holds a mighty ten litres of water. The black fabric will (given a sunny day) warm the water up in no time. You just string it up to a tree and open up the attached shower head - hey presto, you can now luxuriate in a seven minute shower, get squeaky clean, and gloat at the wet wiped masses, and it packs up into a neat package smaller than your fist. Beat the pong with the Pocket Shower.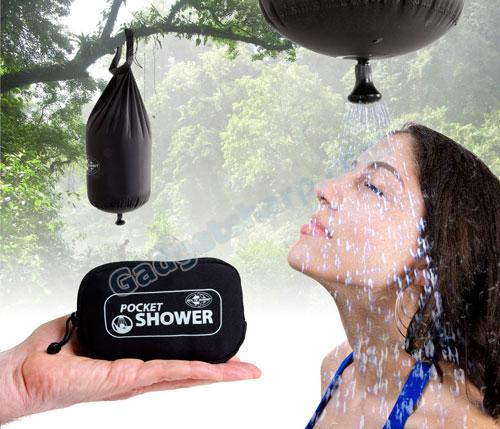 Now, we will look at some eco-friendly shower
4. Mindful Shower Head [link]
A shower head with a guilty conscience ? that is to say you?re conscience. When you use it, the segmented joints break apart acting like a timer as they slowly snap back into place. It?s a very visual way to communicate the idea of water usage and far more tactile than say a timer clock.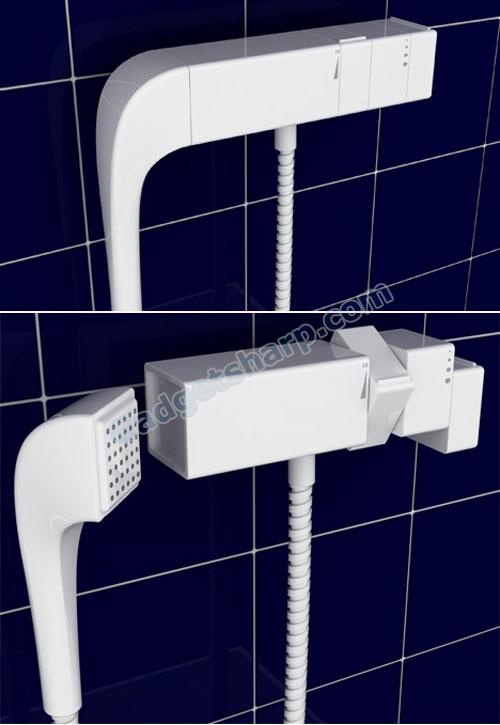 5. Eco-drop shower [link]
The "Mindful Shower Head" above try to remind you the water usage amount by a visual way, while this one just give you more directly touching feeling - makes you stand uncomfortably.
The concentric circles are pretty wonderful when not in use. However, after showering for a long time, they will rise to force you stop showering, accordingly saving water.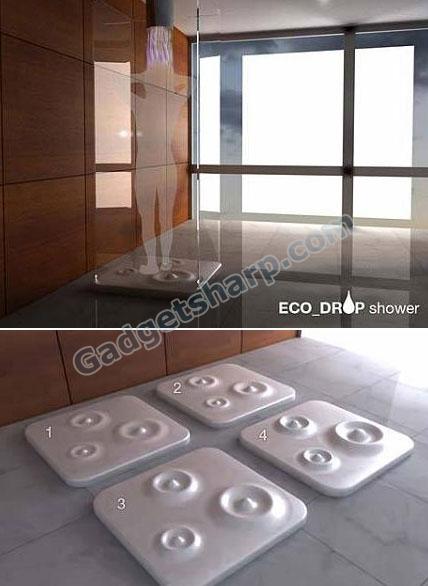 6. Shower Brake [link]
You see it, you feel it… Now for this one, you are not only seeing it descending with the amount of water you used but also feel it. Since if you want more water, you have to crank up the controller again.
The water controller sucks in a designated amount of water (when pushed up) that is ideally sufficient for a shower. As the quota depletes, the visual stats of the controller descends at a constant rate, letting you know how much water you used over number of minutes. The time of the shower is directly proportional to the amount of water used.
So basically, you use the various knobs to control the amount of water you use, at a desired pressure and temperature. The sand-clock vibe that it exudes is meant to awaken your eco-water-conservation-consciousness. In short, if you go to crank up the controller again, you should feel guilty of splurging water.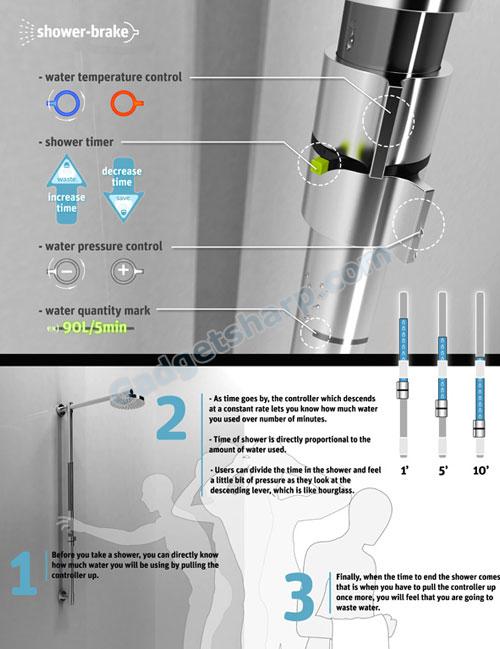 After above three water conservation driven the eco showers, we will see an extremely water consuption design.
7. $100,000 Silver TAG shower [link]
The computer control Silver TAG shower has 18 showerheads for complete nirvana. It also included a computer controlled showerheads are custom designed to quickly and accurately change the water temperature for different areas of your body. The 18 showerheads designed with six zones: overhead, shoulders, upper torso, lower torso, upper legs, and lower legs. Each zone has independent controls for temperature and pressure for the most beneficial hydrotherapy effects..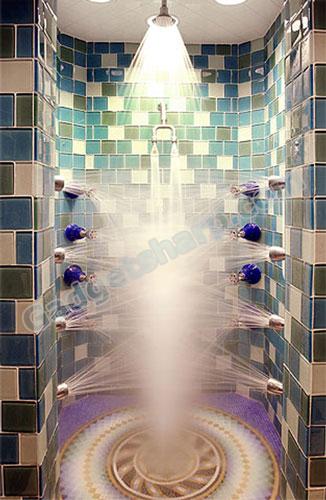 Enough those high-tech shower? Let's check some simple, stylish and cozy design. And for me, the relaxing and comfortable should be the most important feeling a shower should prvide.
8. Walk-In Shower by Cesana [link]
A Italy company Cesana created this simple and pretty Shower, designer Piet Billekens designed this Walk-In Shower. Just like an eclipse, this new product also has two circular areas which join and separate through 6mm transparent curved glass panels. The unique two glass panels design, it provided a suitably cozy and comfortable walk-in area to towel dry in. The all transparent curved glass panels and solid teak mat , they are beautiful and looks modern.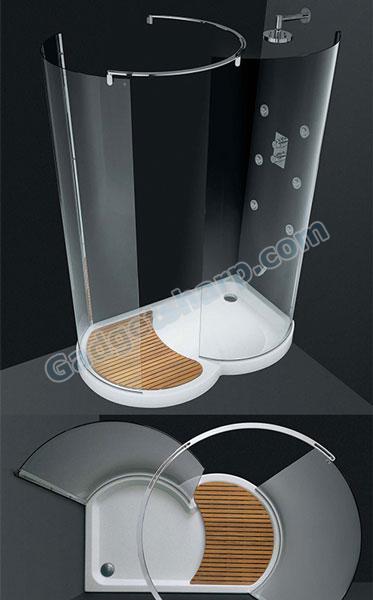 9. Artweger Twinline Tube Shower [link]
It's the all-inclusive solution for the singles bath: As a shower, when you want a shower or when it has to go fast. Or as a bathtub when you have time to relax. In addition the compact dimensions of the TWINLINE give you leeway for innumerable new possibilities of transforming your bath into your individual "free space". For relaxing, enjoying and refuelling…
The clear glass shower door offering an underwater glimpse when the bath is run.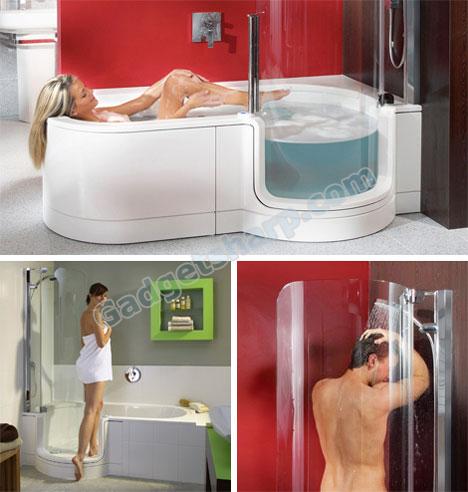 10. Waterfall Shower becomes Rain Shower in one flip! [link]
The Aquavolo is a stylish Bossini shower for those who like a little flexibility. It?s handy to have the choice between a waterfall shower and a rain shower with the flip of a lever ? especially when it looks so good! The stainless steel Aquavolo shower fixture can flip back and forth between its two functions using an innovative technique. The horizontal position of the large, flat spout will let forth a refreshing rain shower. But if you flip the spout down, the water falls as a generous waterfall.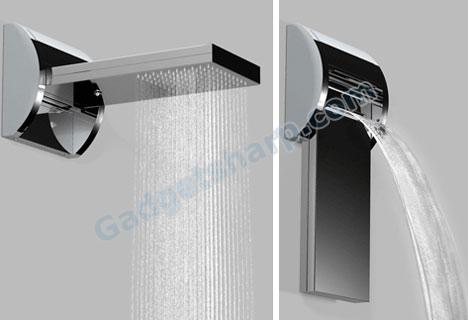 11. Lighted Shower from Cisal [link]
Imagine standing under a beam of light that highlights each shimmering droplet of water as a shower of refreshing water cascades down upon you. Sound nice? Then the illuminating showering experience of the Drops Lighted Shower from Cisal is definitely for you. For serious relaxation and total escape from the world, turn off the lights and step into another dimension of bathing pleasure. A fascinating mix of design and functionality, the cutting edge Drops shower is certainly innovative. It?s all about adding beauty and value to everyday items, making them something special and memorable.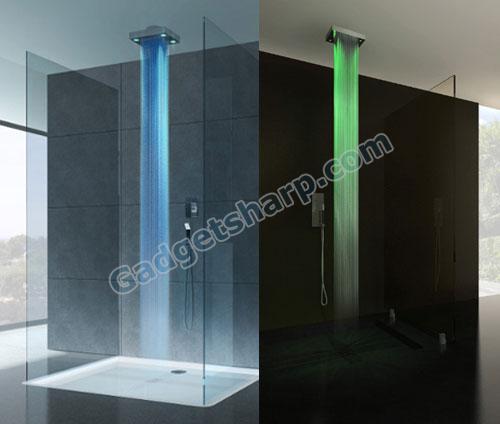 12. Sliding Shower [link]
The Slider is a completely new idea, combining a wall mounted shower system with a normal overhead shower system in one place. The adjustable shower panel doubles as an overhead shower and a body and shoulder massage.The Slider?s simplified and minimal design is pleasing to the eye and encapsulates today?s modern style.
Yes, it does look cool… But will you really willing to pack and unpack it every time when you take a shower?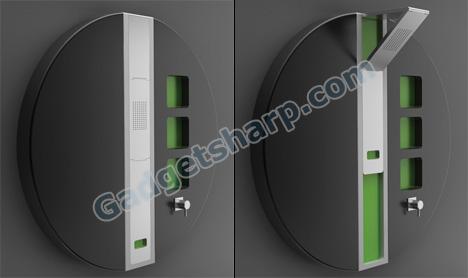 And compared with above one... the last one we will talk might not look that fancy and it is indead not high-tech. But still a simple and pratical design
13. DROP 08 [link]
Just a drop, not technical at all. Just push to change the waterflow. Back to simplicity.