Already wore your slipper/sandals and wait for the coming of Summer? In this post, we rounded up 13 Innovative and Unusual Slippers and Sandals which allow you to walk around in style…Em, maybe, if we cross out unwearable bread slipper and disgusting-looking fish slipper. Bread? Fish? yes! Keep reading, you will find out what I am talking about. lol.
1. Topless Sandals [link]
Topless sandals simulate walking barefoot while protecting your feet. Topless sandals stick to the bottom of your feet, but leave no residue on your feet when you take them off. The "stick" is guaranteed for a year, which is the typical life span of a flip flop.
Topless sandals are basically topless flip flops, but so much cooler. You'll be amazed at how many heads you turn while wearing your topless sandals. People will literally think you are barefoot and so will your feet. Go Topless!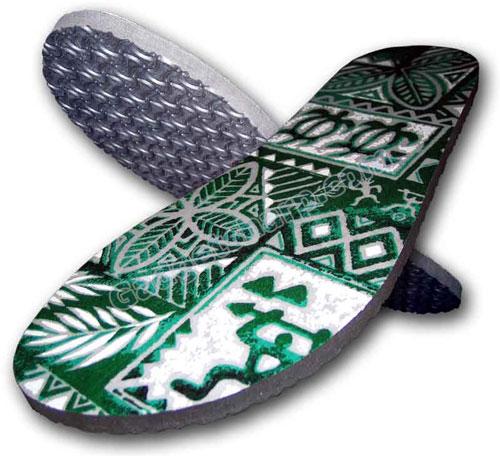 2. Bread Slipper [link]
not wearable on feet…first in fashion?for interesting lifestyle…needs no pressing…dries itself…
Every pair is unique and comes with a best suitable hand-picked cardboard box.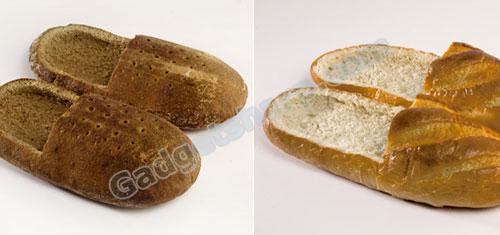 3. Lighted Slippers [link]
f you wake up often during the night to grab a snack, or go to toilet this slippers might be something very useful for you especially if you have a big home reducing the risk of tripping over objects or running into doors, furniture or anything not easily seen in the dark. They are also ideal if you drop something down.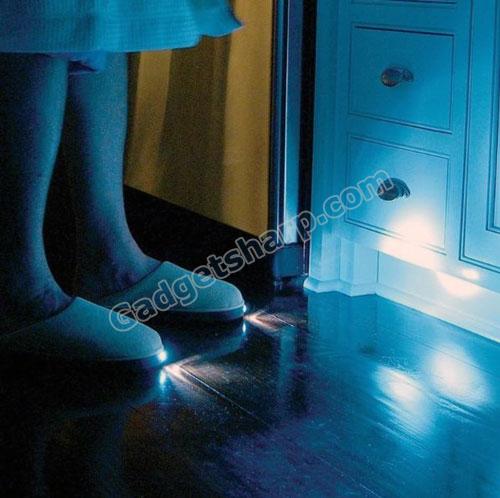 4. "CHAOS" Slipper [link]
Designed by Japanese designer, appearance as "CHAOS" is a slipper. You don't need to buy a pair, you can choose different one for your each foot. That is, the footwear is a rare World: "Sales of each leg,"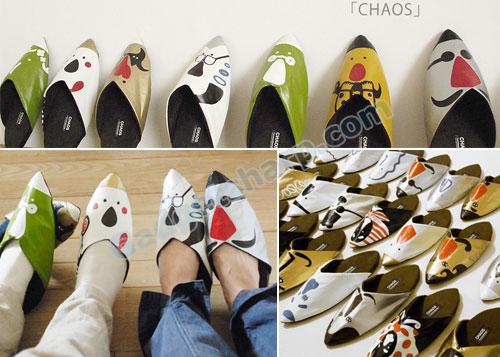 5. After bath, do a mat walk by Paolo Ulian [link]
Slippers are integrated into the mat, allowing you to walk comfortably and without slipping on dirty or wet floors. At the same time, Mat walk can be seen as a new way of wiping the bathroom floor.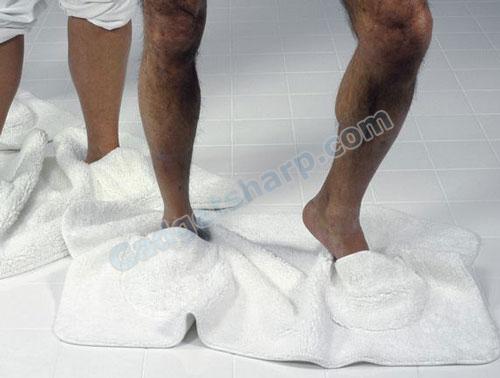 6. Grass Flip Flops [link]
Take a walk in the grass wherever you are in these creative flip flops that have real grass growing inside. (That is weird to me!!!)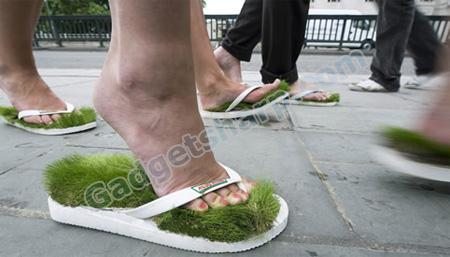 7. Eye-Catching Rug and Matching Slippers [link]
Tapistongs, is a very cool rug from Lise El Sayed. I particularly like the texture of the material and the color which make this carpet a ?must have?. Not only is it interesting and fun, but also modern and quite stylish. I can?t help wondering how would I ?treat? the slippers if I were to own one of these. Because, even though they fit great next to the rug, I know I would be very tempted to wear them all the time, which would make them tear off way faster than the carpet itself. What do you think about this crazy idea?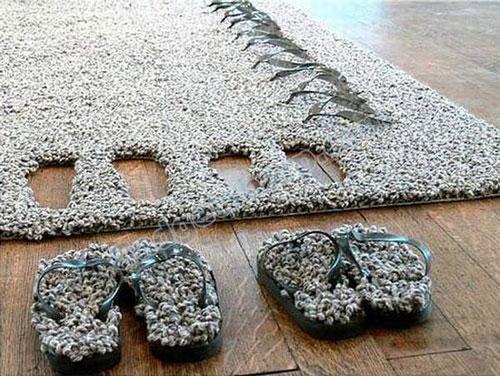 8. Wooden Slipper [link]
This one looks like a bit painful to wear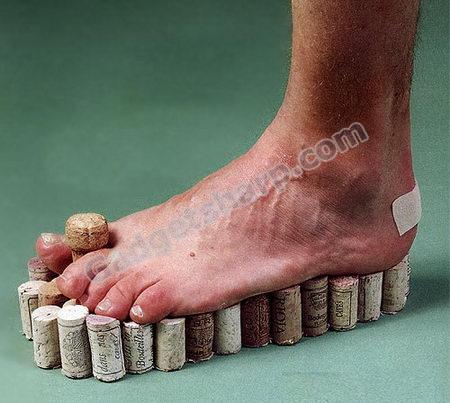 9. Vegetable Slipper [link]
Now, your foot looks healthy. lol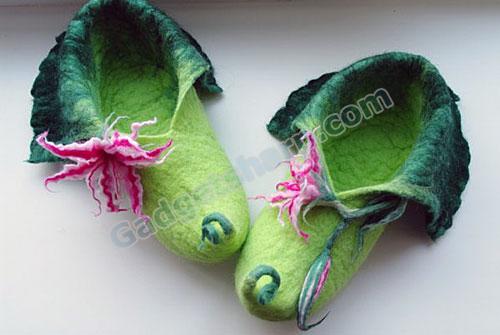 10. Metal Detecting Sandals [link]
Sure you might look a bit like a huge dork strolling down the beach in these Metal Detecting Sandals, but you'll also be having the last laugh as they detect buried metal treasures. These high-tech sandals use beat frequency oscillation technology coming from a built-in copper coil in the right sandal that is powered via a battery pack that straps to your calf. All you need to do is take a leisurely walk on the sand and if it detects any metal artifacts like coins or jewelry up to 2' below the surface, you'll be alerted with a flashing red light and gentle vibration or an audible buzz. Most likely you'll find an empty beer can or something, but you never know…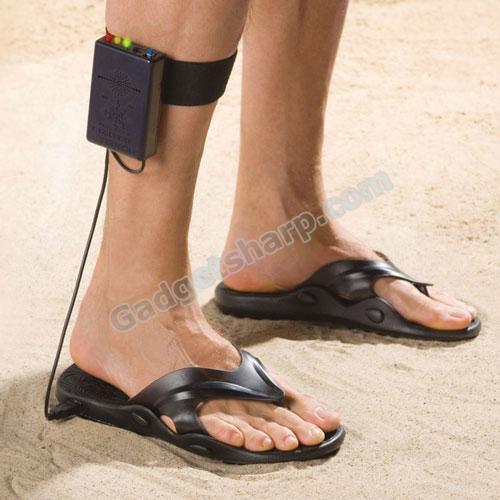 11. Fish Slippers [link]
I bet no one will wear it…These creative slippers were a part of Tolnaftate cream ad campaign.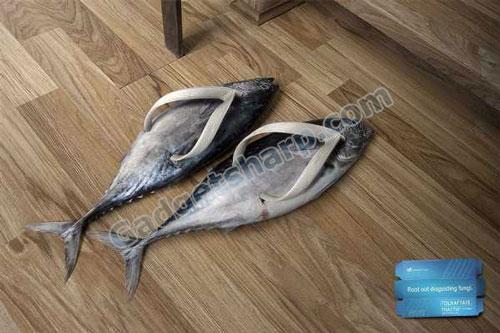 12. Sushi Slippers [link]
Sushi Slippers are handmade with the softest, plushest, fleece possible. Slippers have a 2" cushy batting with a weather resistant grippe sole. Extra comfy and warm, slippers stay on your feet! Removable sushi meat! Slippers come freshly wrapped like meat. Sushi Booties make a great gift for any one who loves sushi or Japan!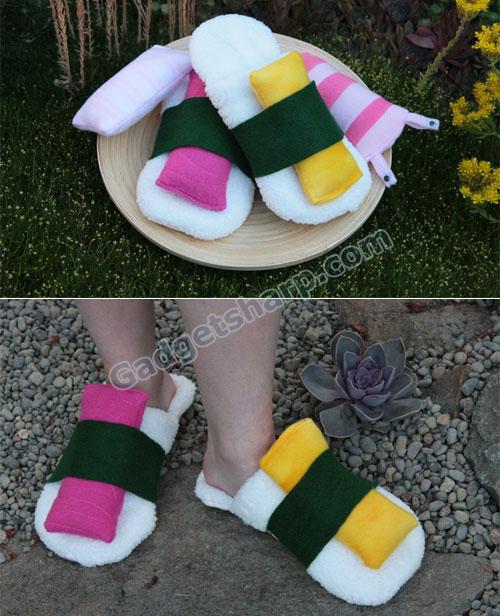 13. Double-Sides Slippers [link]
The idea is to be worn from both the top and the bottom side by a central slit cut, so called double-slides slippers. We always leave slippers unorganized, always up side down or way round. It can be an inconvenience when you wake up. Sometimes it may lead to frustrations.
Here comes the solution. By making of a thin sheet of rubber with a cut in the middle, Double-Sides Slippers are designed to enable the user to wear the slippers from both directions, which the design concept is inspired from the traditional Chinese Yin and Yang philosophy. It is in harmonious form, color design, soft and flexible material provides comfort.