Nowadays, USB hubs come in all shapes and sizes with some cool looking and unusual designs. It includes all kind of stuff from Transformer like character to eating stuff as potatoes and burgers. In the post, we are presenting you with 13 creative and modern looking USB hub designs? hope you like them.
1. Super Kid USB 4-Port Hub [link]
Super Kid USB 4-Port Hub allows users to connect USB devices via his hands and feet!! All 4 USB ports are flexible so that it is very convenient for use. Get one and let it work for you on your desk!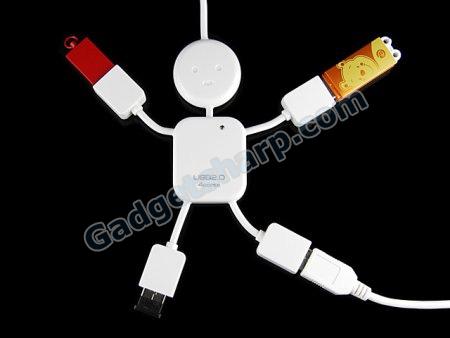 2. USB octopus hub [link]
*  Very Cute Design. White Color. (Black and Purple Also Available)
* Total of 5 wires. 1 Input, 4 Outputs. Connects up to 4 USB.
* USB 2.0 for faster transfer speeds
* Compatability with Windows 7, XP and Mac
* True Plug & Play. No Software Required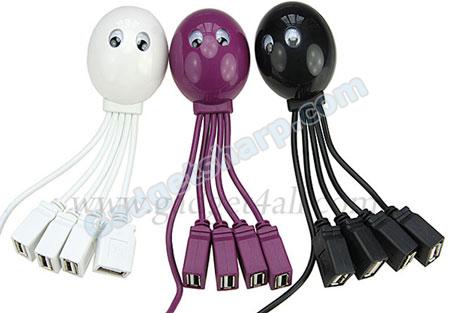 3. Cassette Tape USB Hub [link]
Now you can power up all your USB devices with a blast from the past. There may no longer be tape hanging randomly from telegraph poles around the country anymore, but the icon can live on on your desktop.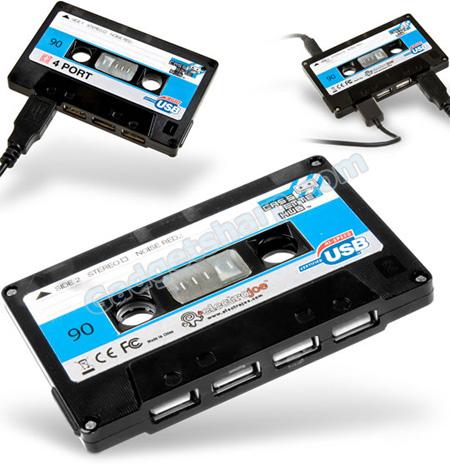 4. Transformer Laptop USB Hub [link]
The new Transformers movie isn?t even out yet and already I?m getting sick of the tie-ins. HOWEVER, this one is pretty freakin? cool. It transforms from robot into a little tiny laptop computer that sits on top of a working 4 port USB hub.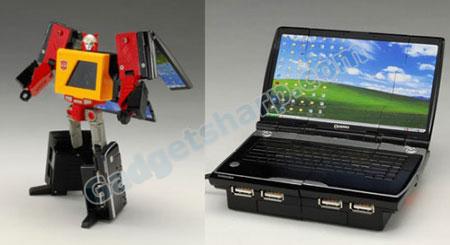 5. Spectrus USB hub [link]
It is known that a glass prism refracts a narrow shaft of light into a spectrum. Spectrus USB hub is shaped like a prism and splendidly makes it sevel ports instead of just one.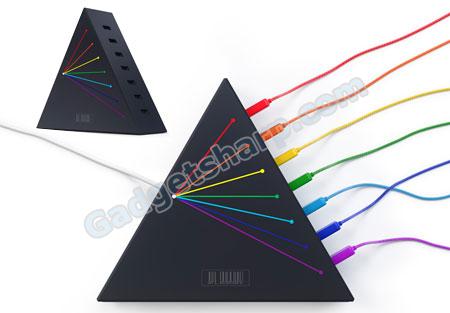 6. Asterisco Usb Hub [link]
The Asterisco Usb Hub by Mexico designer Joel Escalona, you maybe already saw his another cool design the Bomb shape USB. His designs alway catch our eyes. The Asterisco Usb Hub is a five star sharp usb hub and which has one input and four output USB ports in this five star USB hub. It is very cool and pretty, I like this design.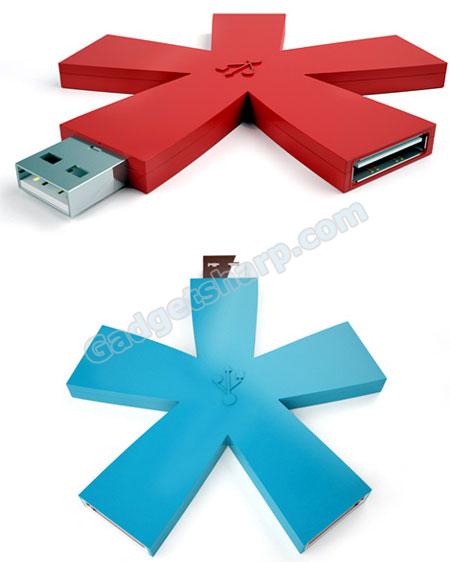 7. USB Tulip Hub [link]
Turn your desk into a blooming garden with this pretty tulip USB hub! Four USB high-speed ports are included, with one colorful red flower for each. Compatible with most USB plugs, for both Mac and Windows systems.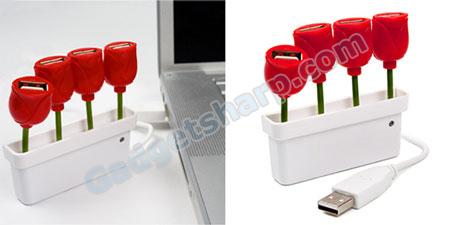 8. USB Hub with Card Reader [link]
Besides providing you the extra USB ports for you to shove in your gadgets, this USB Hub comes with MicroSD / M2 card reader also. It is fully compliant with USB2.0 and backwards compatible with USB 1.1. Maximum transferring speed will be 480 Mbps. It has bright and colorful design and the joints are rotary and can be formed different shapes.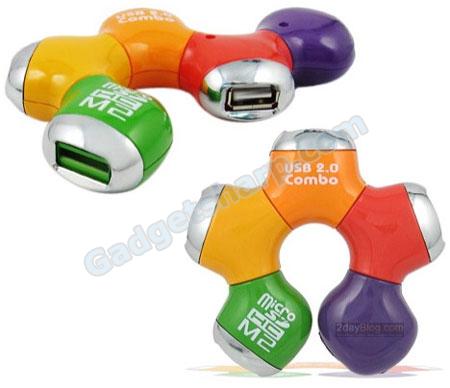 9. All Spark USB Cube [link]
If you loved the (most recent) Transformers Movie, now?s your chance to show it. Buy a huge cube designed to look like the artifact from the movie. It?s got four USB slots and when you plug in a device, the cube will say some Transformers-related line like ?We must protect the All Spark!? or ?Bah weep granah weep ninnibon!? ? well, maybe not that one, though it would be awesome.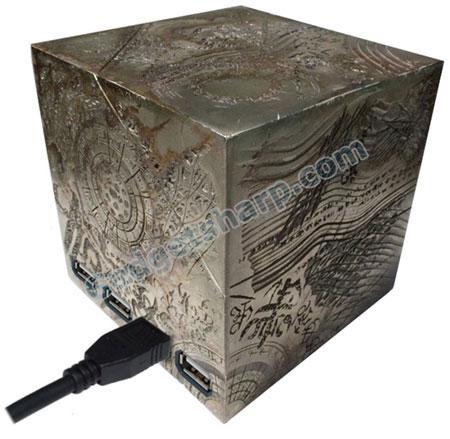 10. Food USB from SolidAlliance [link]
Yummy! SolidAlliance has released EbiFry (fried shrimp), Kani No Hasami Age (crab), Hamburg and Purin (caramel blank) 1GB USB drives and a Rice-Tomato USB HUB. Really feel eating them, yes they are 100% handmade.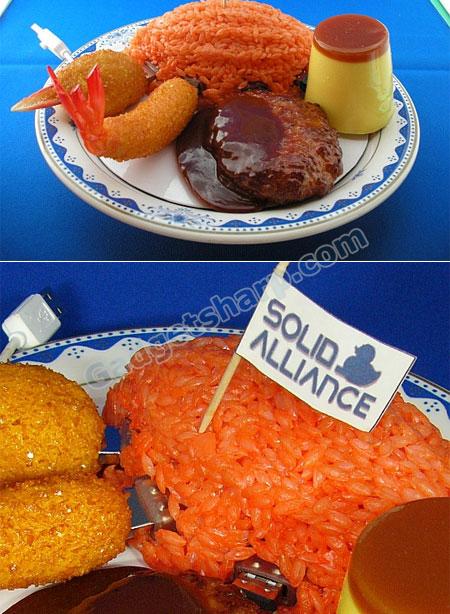 11. Flexy rainbow USB hub [link]
The Flexible Chromatic USB Hub will delight you with bright hues and a flexible design. You can fold and stretch it to your heart?s content, all while you do your USB thing.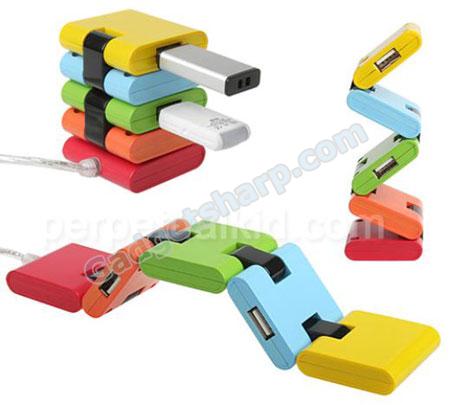 12. Potato USB Hub [link]
USB Potato 4-Port Hub allows you to connect 4 different USB devices. It's another little fancy stuff on your desk.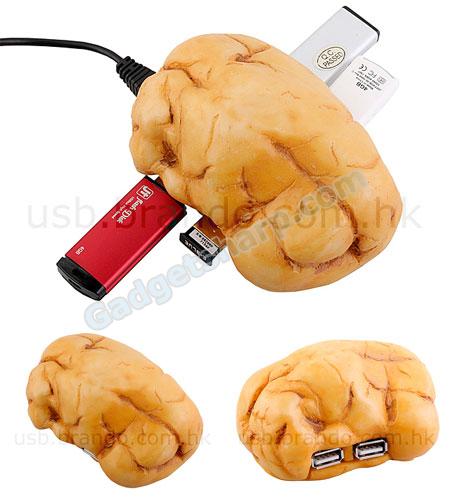 13. Strawberry Christmas cake USB hub [link]
It's a four-port USB hub in the shape of a heavily frosted mini Christmas cake (4.7" x 4.7" x 5.1") decorated with - and this is adorable - removable 1GB USB strawberries. How cute is that? If it didn't carry a price that would cause even Santa to do a double-take, I wouldn't mind seeing one in my stocking.