Enhance your evening or party with a stylish and functional ice bucket. Ice never looked so good in those ice buckets as well as it stays icy much longer. There are so many options, stainless steel, glass, silicone and plastic. They might have different color, style and shape, but they server the same function to keep your drink chilly and make your guests or you enjoy the drink more. It really doesn't matter if you have more than one. And different designs can be used to compliment different barware or table settings.
1. Namb? Tilt Ice Bucket with Tongs [amazon]
Set the stage for elegant entertaining with our full-lead crystal Tilt ice Bucket w/ Tongs. The clever angle defies the imagination and encourages a spontaneous mood. This is the newest addition to the very popular Tilt crystal line.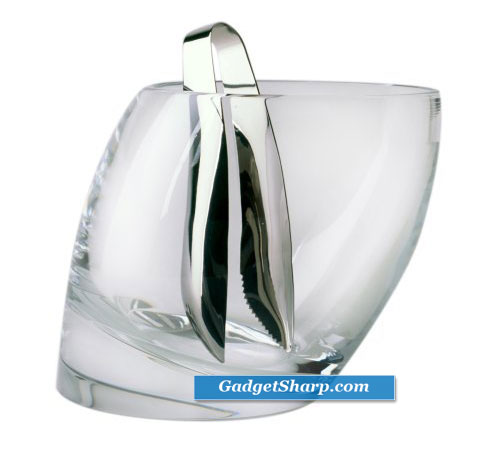 2. Oggi Faux Leather and Stainless Steel Ice Bucket with Ice Scoop [amazon]
* Ice bucket and scoop set by Oggi
* Faux leather and stainless steel finish
* Great for holidays, parties and home bars
* 102-Ounce capacity
* Bucket measures 8 by 8 by 8-1/2-inch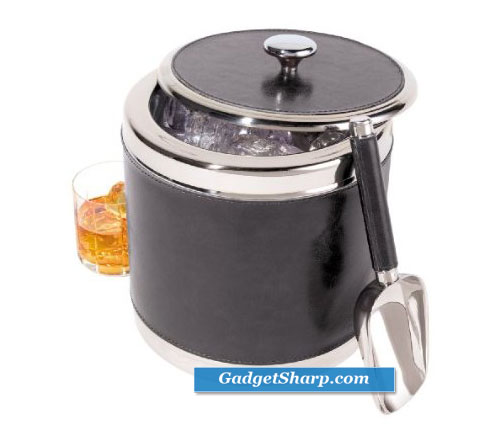 3. Bodum Cool Double Wall Glass Thermal Ice Bucket [amazon]
The COOL is made from double wall borosilicate glass and is topped off with a silicone lid that comes with an integrated stainless steel tongs. The wavy silicone mat at the bottom of the bucket provides dual protection: the ice cubes don?t damage the glass when they are dropped into the bucket, and they sit on top of the mat and not in the water left behind from melted ice. You can remove the ice mat and use the COOL ice bucket for hot liquids too. The thermal properties of the COOL will not only help cool things stay cool longer, it will keep hot liquids warmer, longer. Use the COOL thermal bucket for soups, cheese dips, or other hot liquids. Both the double wall glass and the silicone material of the lid and mat give the COOL outstanding insulating qualities.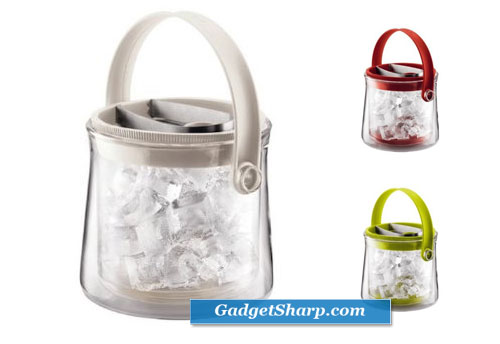 4. Waiter's Tools Ice Bucket with Tongs [amazon]
The Waiter's Tools Collection is very special shape. Its pattern is blond, bright, beautiful and suitable for entertaining and everyday use. It is easily and elegantly taken care of by the Nuance products.
Features: * Ice bucket with tongs. * Complements the Waiter's Tools collection. * Perfect for home or restaurant use, high design and function. * Elegant and practical in design and use. Specifications: * Material: Stainless Steel. * Dishwasher safe.
5. Luigi Bormioli Michelangelo Masterpiece Ice Bucket with Handles [amazon]
* Luigi Bormioli Michelangelo Masterpiece Ice Bucket with Handles
* Practical yet elegant
* Designed In Italy
* Lead Free
* Safe in the dishwasher for easy cleanup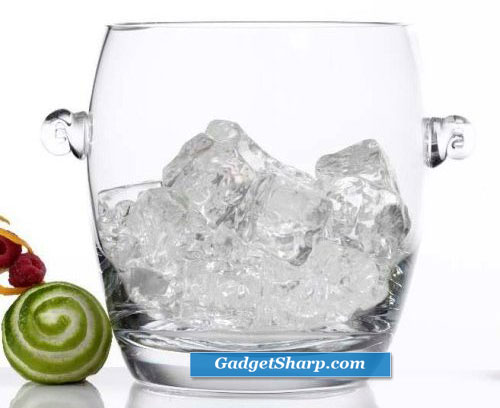 6. OXO Good Grips Plastic Ice Bucket with Ice Tongs [amazon]
* 4-quart ice bucket has double wall construction for insulation
* Internal moat keeps melted ice away from cubes
* Ice Bucket has soft grip for easy lifting and carrying.
* Ice tongs have sharp teeth to make grabbing ice easy
* Ice tongs have soft grips and locking switch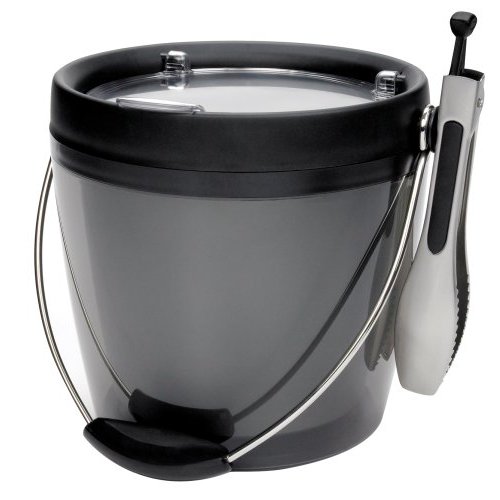 7. Mr. Ice Bucket 529-1 Black Tri Metal Ice Bucket, 3-Quart [amazon]
3-quart insulated, American made ice bucket is more that just a great ice bucket. It is also perferct for cooling wine, champagne or soda, serving chips, candy or pretzels. Great as a fashion coordinated centerpiece with plants or flowers.
8. Fusionbrands Ice Orb Silicone Vertical Ice Cube Tray [amazon]
* Make ice and chill, serve, and store foods all with one super efficient tool
* Makes 21 cubes of ice on its vertical wall and will store up to 51 cubes
* The inside is airtight and odor free; doubles as a wine bucket or serving vessel; use as a cooler to keep cold foods fresh while serving
* Great for ice cream or dips; lid can be placed under the orb to catch condensation
* Easy to clean, the orb is top-rack dishwasher safe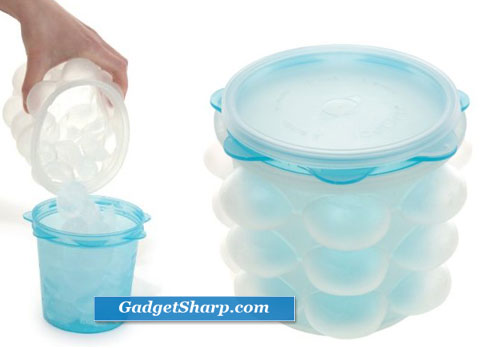 9. Nambe Cradle Ice Bucket with Tongs [amazon]
ike a grateful hand curving around a drink, our Cradle Ice Bucket features polished metal alloy that smoothly and delicately encircles a base of glowing acacia wood. Wrapped in its shiny metal armor, this piece stands at attention, ready for the next guess who likes his scotch on the rocks. A curved lip slopes down to reveal sparkling, crystalline cubes, and our debonair pair of signature ice tongs finishes the look.
* Cradle Ice Bucket with Tongs
* Crafted from signature Nambe Alloy and Acacia-wood
* Designed by Steve Cozzolino
* Hand wash with soap and water
* Food safe, meets all FDA guidelines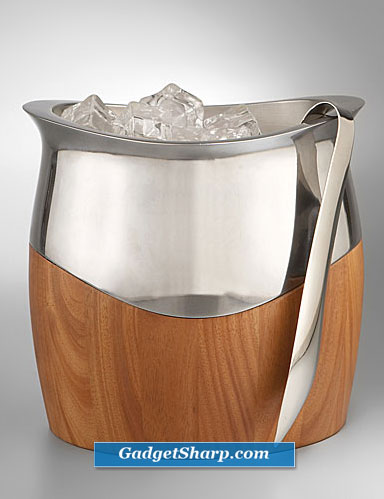 10. Godinger Dublin Ice Bucket [amazon]
* Crystal ice bucket
* Crystal
* Dublin
* Used to hold ice for drinks, and also as a cooler for wine; Clean with soap and water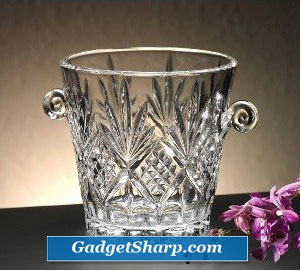 11. Artland Simplicity Ice Bucket [amazon]
* Hand blown
* Clear Glass
* 8" height
* Dishwasher safe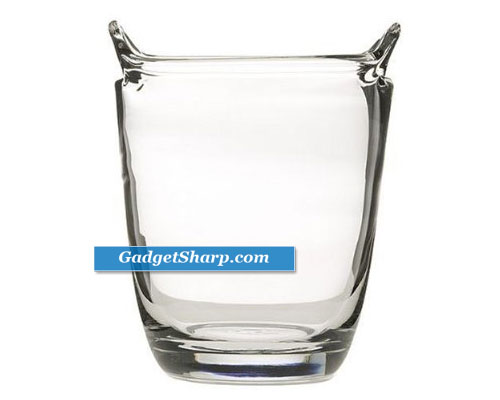 12. Eva Solo Ice Cube Cooler [amazon]
Fill the top freezing tray with water and place it in your freezer. When frozen, twist the tray and place the ice cubes into the double walled bowl. Tongs are included and fit nicely on top of the tray when covered. Designed by Eva Solo, Denmark.
* 3"H x 7"W
* Stainless Steel Tong & Silicone Lid