Humidifiers are commonly used in homes to relieve the physical discomforts of dry nose, throat, lips, and skin. Generally, there are three types of humidifier: vaporizer(Warm Mist Humidifier), Impeller Humidifier (Cool Mist Humidifier) and Ultrasonic Humidifier. They have different functions and suits for different situations. In this post, we will present you with 12 Cute and Useful Humidifiers, they might not really high-tech appliances but definitely in cute shapes. Take one with you! Stay healthy and be more productive at home, in your dorm room, or at work.
1. Stitch USB Desktop humidifier [link]
Searching for the coolest USB powered desktop humidifier? What about Stitch, made to be powered by a either a desktop or laptop via USB, or you typical 100v socket. Little Stitch has a size of 184 x 130 x 165mm.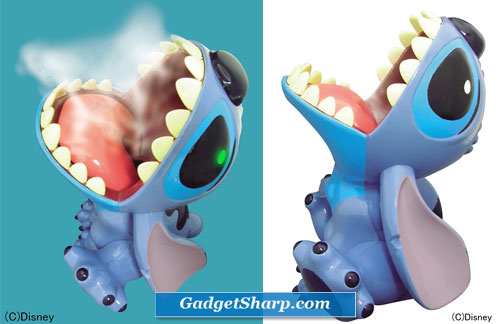 2. SPT Polar Bear Ultrasonic Humidifier [amazon]
* Cool mist (ultrasonic technology)
* High humidity output
* Adjustable mist intensity
* 2-liters tank capacity
* Designed for rooms up to 450 sq. ft.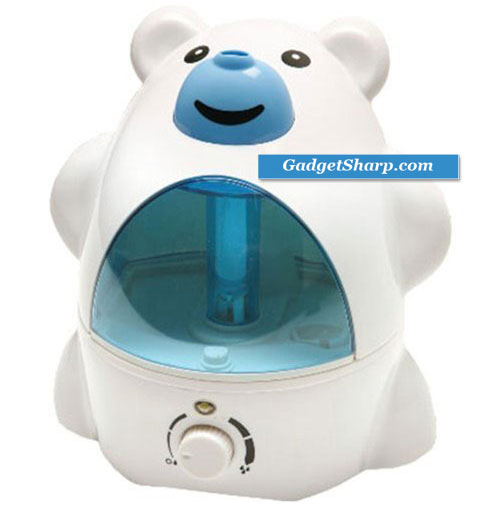 3. Crane Adorable 1 Gallon Cool Mist Humidifier [amazon]
* Provides relief for cough, cold and flu symptoms
* Supports easier breathing and congestion relief from allergy and asthmatic type symptoms
* Provides moisture for dry coughs, sinus irritation, dry skin
* Whisper-quiet ultrasonic operation
* Moisture output up to 2.1 gal. per day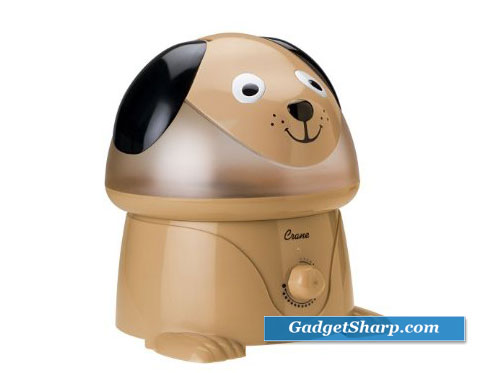 4. Germ Guardian H4600 120 Hour Ultrasonic Digital Humidifier [amazon]
The germ guardian 120-hour ultrasonic digital humidifier (h-4600) uses silver clean technology to prevent the growth of mold and bacteria in the water tank. by humidifying clean water, you provide a healthier breathing environment by not spreading germs and bacteria into the air. the ultrasonic humidifier has the option for warm or cold mist. the unit has a 120 hour run time on its maximum setting and has over a 2.4 gallon tank capacity with a low water indicator light that turns on when it is time to refill the tank. and since the humidifier is ultrasonic it's virtually silent when it runs, making it ideal to have on while you sleep. there are no added costs with the unit since there are no evaporating pads, filters or wicks to clean or replace. the high output nozzle broadens mist in two directions throughout the room and the soft blue night light is controlled with an on/off switch.
5. Crane Five Stage Air Purifier [amazon]
* Allergen Removal
* Germicidal Protection
* Whisper Quite Feature
* Only 1 replaceable filter required
* Child friendly Design with automatic shut off feature when tilted over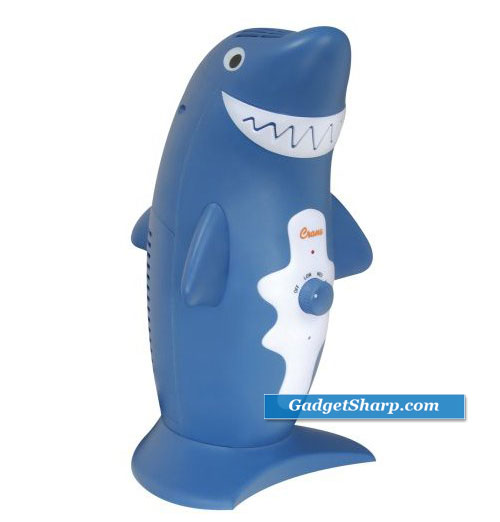 6. Drop Shape Cool Mist Humidifier [amazon]
* Provides Relief from Cough, Cold and Flu Symptoms
* Relieves Congestion from Allergy and Asthmatic Type Symptoms
* min. 10 hours running time
* Provides Moisture for Dry Cough, Sinus Irritation, Dry Skin
* Approximately 1 gallon tank with 2.3 gallon output per day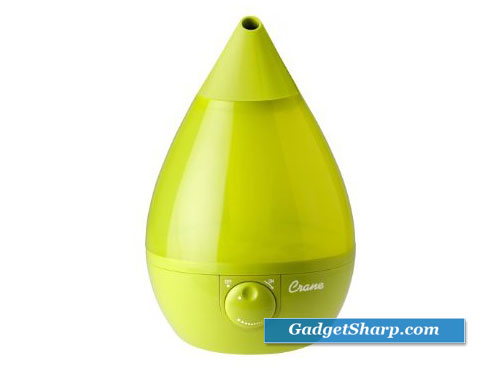 7. Travel Ultrasonic Humidifier [amazon]
The Air-O-Swiss Travel Ultrasonic Cool Mist Humidifier 7146 is a high quality travel-size ultrasonic humidifier which is compact enough to take and use anywhere. The efficient ultrasonic technology uses high-frequency vibrations to generate a micro-fine cool mist, which is blown into the room where it evaporates into the air. Just add your own half-liter water bottle, and plug the unit in anywhere in North America or Europe using the included transcontinental travel AC adapter and exchangeable plugs.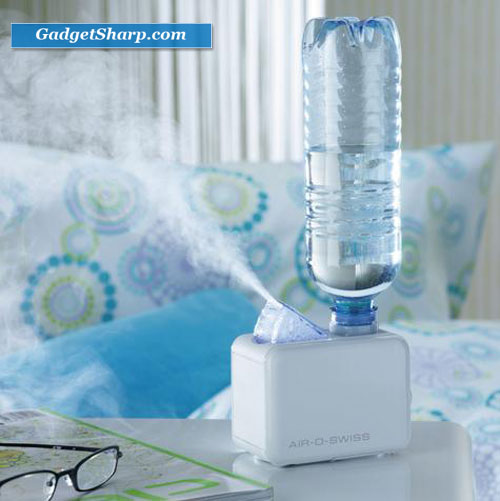 8. Thomas the Train Cool Mist Humidifier [amazon]
* Supports congestion relief from allergy and asthmatic type symptoms
* Provides relief for cough, cold and flu symptoms
* Mist output can be easily regulated
* Recommended non-medicated alternative for children with colds and coughs
* Whisper-quiet cool-mist operation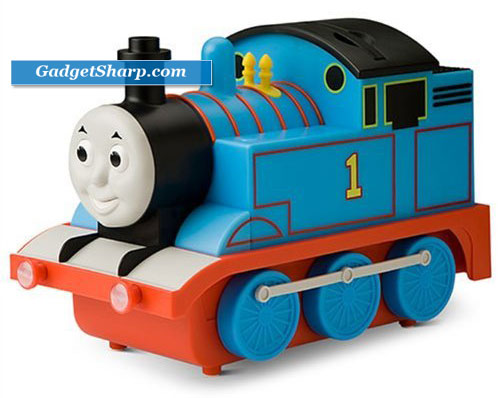 9. Ramen Noodle Cup USB Humidifier [amazon]
The fun USB humidifier is shaped as a cup ramen noodle. The cup measures about 13.6 x 9.0 x 9.5cm, weights about 230g. The internal capacity has about 75ml, which can support 4 hours of use time. And the USB humidifier named Cup Shitsuki comes with an inside ultraviolet germicidal light that can kill various germs before the water turns into mist. Besides, the mist turned through ultra sonic sound technology prevents your hands from being boiled.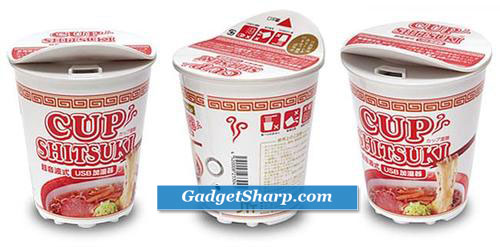 10. Ultrasonic Penguin-Shaped Humidifier [amazon]
* Adorable penguin-shaped humidifier with ultrasonic (no heat) humidity
* Designed for rooms up to 450 square feet; adjustable mist intensity
* 1-gallon tank capacity; humidity output of up to 7-1/2 liters per day
* Silent operation; no-slip feet; auto shut-off protection; ETL approved
* Measures 10 by 11 by 10-1/4 inches; 1-year limited warranty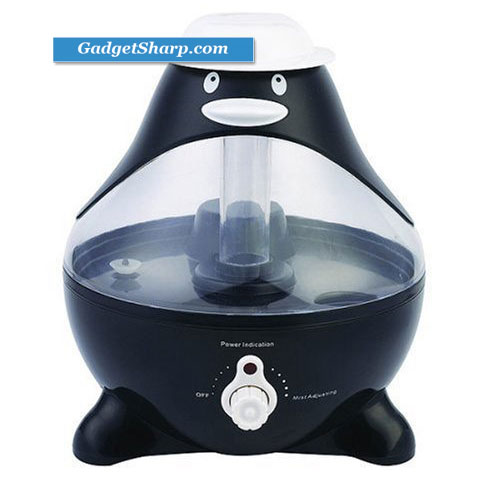 11. Humio Humidifier & Night Lamp [amazon]
The Humio Humidifier & Night Lamp uses cool, soothing mist to humidify any room, creating a more comfortable environment. Featuring a sleek, modern design, it fits in anywhere. Using less electricity than a light bulb, this humidifier has a built in soft, LED powered night light which alternates between red, blue and green. The light flashes red when the tank is empty. The screw off removable neck makes filling, cleaning and carrying easy. Choose a high or low setting. Includes a cleaning brush that fits snuggly in the base. Covers over 100 square feet and lasts up to 10 hours. Holds 2 liters.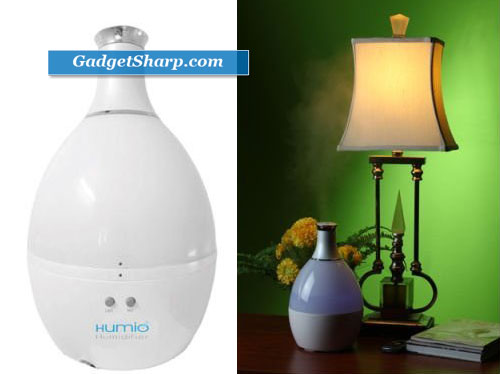 12. USB Cup Style Anion Humidifier [amazon]
It is not a cup of Coffee, but a mini coffee cup mist air humidifier that's powered by USB. The unique and adorable coffee cup design blends into your office environment perfectly. Super quiet operation gives you refreshing relief from year-round dryness. It is personal air purifier in dry air room, for who always face to the computer all day. Each cup of humidifier lasted up to 8 hours. Portable and lightweight for frequent travelers accommodate in hotel room.