How many creative solutions for calendar design are out there? If you take a look around you?ll find out that most calendars are designed in a ?standard? linear fashion. Well, it doesn?t have to be like this. In fact, there are a number of creative approaches one can consider when designing calendars. This post showcases creative examples of calendar design. We have tried to include creative, visually appealing and interesting design solutions. Hopefully, everybody will find something interesting and unusual for herself or himself.
1. Say goodbye to yesterday - Shredder calendar [link]
The Chrono-Shredder is a wall calendar designed by Susanna Hertrich that shreds the days as they pass. It takes a full 24-hours to shred a date, but only 10 minutes to run a dead hooker through a wood-chipper.
The Chrono-Shredder is a device that reminds us of the preciousness of our lifetime. It represents the passing of time by shredding the days of the year - printed on a paper roll - at a slow constant rate. To shred one day takes 24 hours. There is no "off"-button. As the seconds pass by, the tattered remains of the past pile up under the device…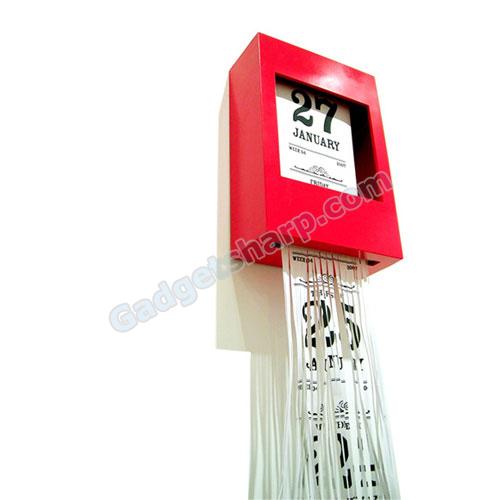 2. "Dorogaya" Magnetic Calendar [link]
Easily customized magnetic calendar with, even, 32nd day of month just in case. Month?s names abbreviated to 3 letters. Chips can be placed one over another. Special appeal of this calendar is special chips, like ?Deadline?, ?Arrival?, ?Departure?, five ?Drink Day? and one ?Don?t Drink Day?.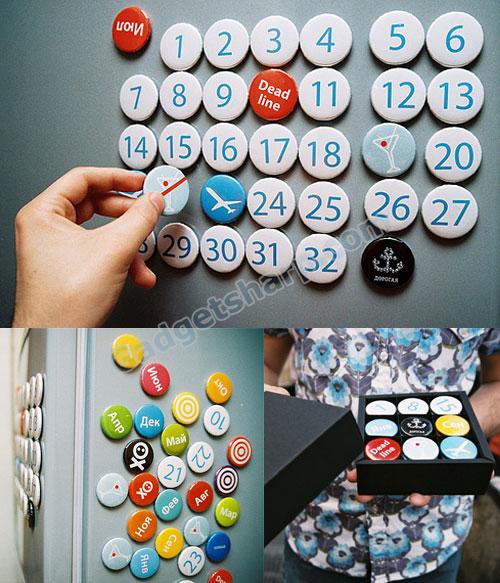 3. Imbroglio desk Calendar [link]
Freestanding version of the famous perpetual calendar designed by one of the great French industrial designers Jean Pierre Vitrac. Panel made from powder-coated steel with screen-printed graphic and plastic, magnetic cursor. The plastic cursor frames and defines the numbers 1 - 31 giving a calendar function. The word Imbroglio means hidden or muddled in France, where the design originates.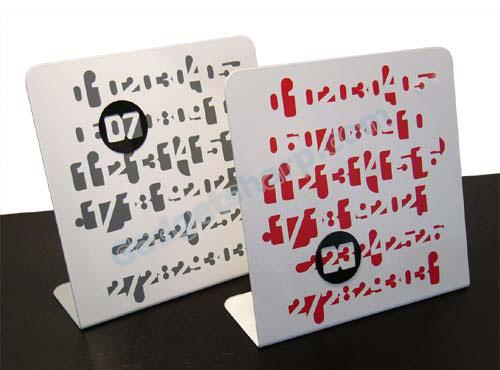 4. Nava International Wall Calendar [link]
Nava Design International 2010 Calendar. Giving day and month information in five different languages and counting the year's weeks of production, this two month calendar shows you two months at a time. Tear January off and March appears from below it, leaving February next to March. Highly visible from anywhere in the room, the International wall calendar's great graphics and minimal color scheme help to create a modern office design. Think office gifts for the holidays, Fitz and Su stock a lot of these.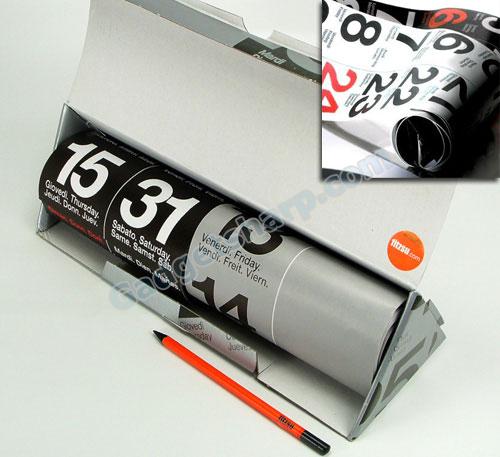 5. Camera Lens Calendar [link]
This desktop calendar just looks like a camera lens. The calendar is sculpted from a single block of aluminum and the focus, shutter speed and aperture rings are used to display the year, month and date.te. Dates run till 2038 and priced at $2000. (!! How can that be a price for calendar!)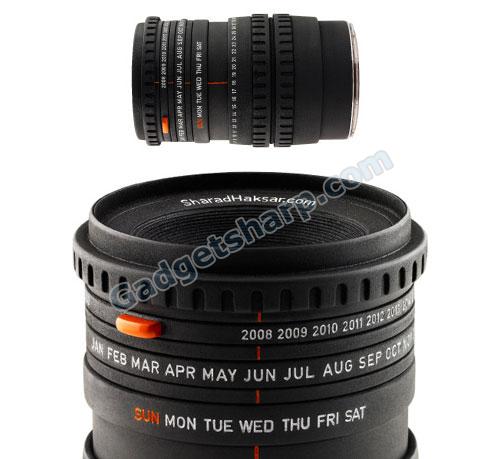 6. Matches Calendar [link]
Same idea like Shredder calendar. This one made of matches. Designed by Yurko Gutsulyak, each page is a month and it looks like a comb made of matches that correspond to the days. The matches are real and the construction of the calendar is absolutely safe.
Kind of a reminder that time goes really fast? Just like enlightening the match.
7. timor perpetual calendar [link]
Inspired by the childhood memory of train signage, the timor is an interactive flip calendar that will instantly give your desk a retromodern face-lift. pvc signs of lithographed sans serif font (in english) on an abs plastic base.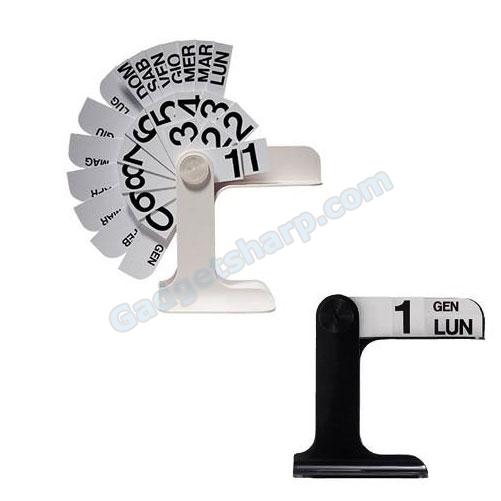 8. Modern Art Perpetual Calendar [link]
Finally, a calendar as original as every new day, as fresh as every sunrise and as poignant as every sunset. Designed by Gideon Dagan for the New York Museum of Modern Art in 1998, this boldly conceived calendar is designed to be used year after year. Simply move the two magnetic balls to mark the date and month. Made for the Museum using injection-molded plastic and magnets, it can be wall-mounted or used on a desktop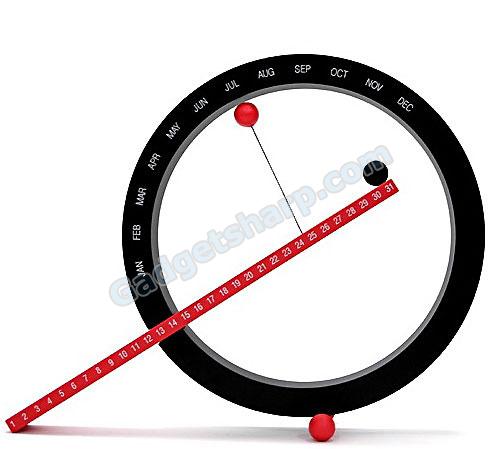 9. Post-it notes look-alike [link]
This is a calendar from paper company Fedrigoni that involves a stack of colored papers with each color denoting an individual month, and each month having dates [numbers] that can be made to pop out and stand.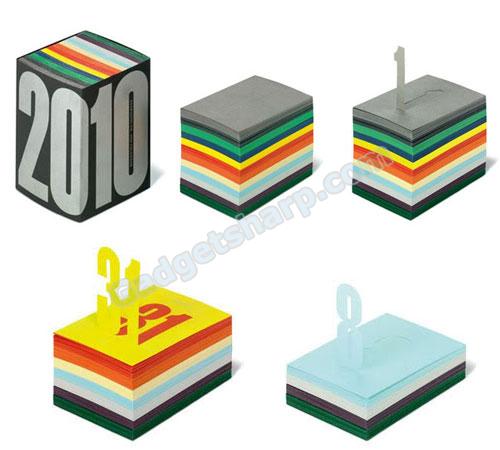 10. Seeing Eye Calendar [link]
Numbered Type's Seeing Eye Calendar by Stefanie Brechbuehler is an optometric calendar that allows you to test your vision while keeping time. Stand twenty feet away from the calendar and cover one eye at a time to get an idea of your vision.
This is a terrible idea for me, since one of my most scaring things is to check my eyesight.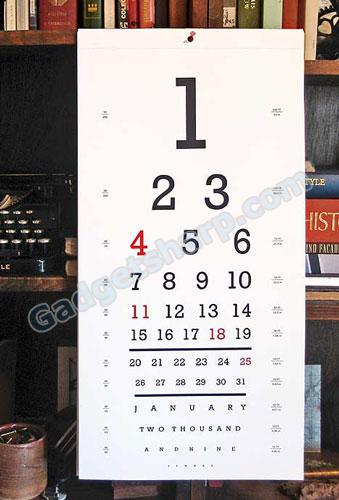 11. STEP PERPETUAL CALENDAR [link]
Simple graphic design takes up little space on your desk with this creation while delivering a large impact. Eternally correct, the perpetual calendar lets you set the month according to day and date. The modern step outline adds visual interest to the repeating motif of the calendar layout. Perfect for offices and other work areas where space and style are in high demand.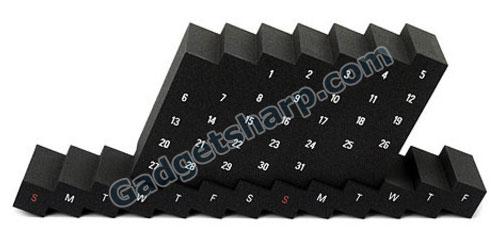 12. Dupont ? Corian Calendar [link]
Corian 40 years/40 designers was created to recognize the input designers have made and continue to make to Corian. DuPont asked 40 international designers to create a genuinely functional object ? a table or desktop accessory ? that reflects the ingenuity of the designers as well as the design possibilities of Corian.