Enliven your environment with the lush and natural beauty of fresh plants. Set them on plant stands and your greenery becomes an integral part of your home or office decor. Today, we make some effort to create this list of 12 Beautiful Plant Stands and we hope you will find it helpful to complete your decorating ideas. Elevate your plants to a new height to beautify your rooms with a natural atmosphere.
1. Panacea Products 3-Tiered Folding Scroll and Ivy Plant Stand [amazon]
The Panacea Products 3-tiered folding scroll and ivy plant stand is designed with brushed-bronze leaves
Made of steel
This stand has a powder-coated finish
The three leveled set-up further enhances the versatility of this unique piece
Three moving 8-inch-diameter potting areas allow for different positioning of the plants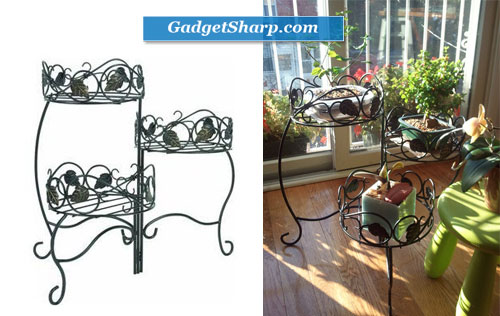 2. Three tier metal plant stand [amazon]
Unique 3 tier metal plant stand will bring Mexico straight to your house. Dimensions: 25x24 Ref:UMA-13392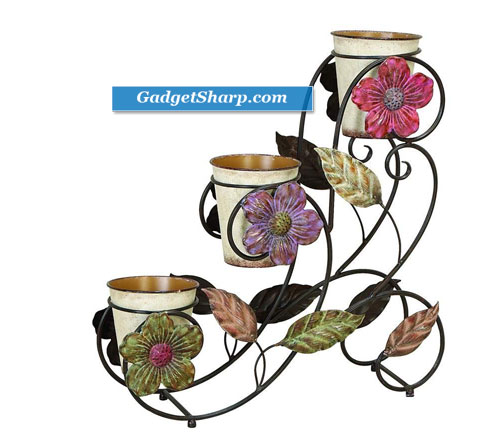 3. Achla Designs Cascading Plant Stand [amazon]
The cascading plant stand is a great way to show off your small pots. with four rings placed at varying heights of 6-Inch , 10-Inch , 14-Inch , and 18-Inch . pair with the scalloped rim tray.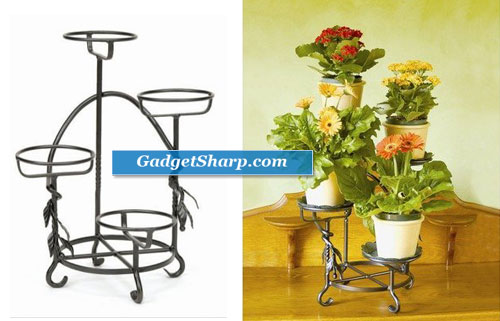 4. 4D Concepts Slate - top Square Plant Stands [amazon]
3 - Pc. Slate - top Square Plant Stands bring a distinguished decorative accent to your home! A stylish stage to present houseplants and colorful floral arrangements! Simple-yet-sophisticated with a look that mingles with a wide array of tastes. 3 different Stands with gorgeous slate tops sitting atop sturdy metal frames with black finish. Comes ready to assemble. Measurements: Large: 10 13/16 w. x 10 13/16 d. x 27 1/2" h.; Medium: 8 7/8 w. x 8 7/8 d. x 23 1/4" h.; Small: 6 7/8 w. x 6 7/8 d. x 19 1/2" h.;
5. Cherry Finish Wood Square Style Plant Stand with Marble Table Top [amazon]
New Square Plant End Table Marble+Cherry Wood Dimension: 12" x 12" x 27 3/4"H Home Decor - Pedestal Tables and Plant Stands Brand new in the original box. Assembly required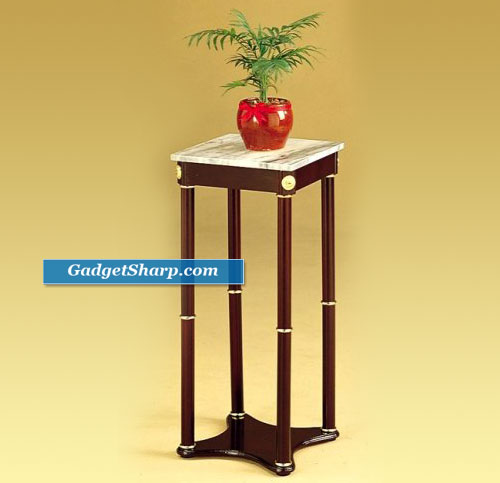 6. 3 Arms Hanging Basket Metal Patio Plant Stand [amazon]
Freestanding plant stand goes wherever you want to enjoy a bit of natural greenery. Its triple play of different level hooks are also great for holding wind chimes and birdfeeders. Iron. Assembly required. 21"L x 18 1/4"W x 58 1/2"H…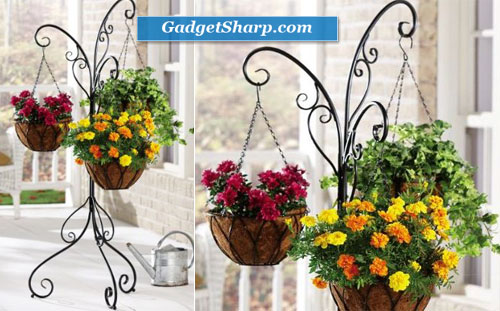 7. Country Apple Plant Stand [amazon]
Showcase the fruits of your labors, or just the products of that green thumb you worked so hard to cultivate with this handsome country apple plant stand. It will hold three of your best potted plants, vases of flowers, or collections of figurines. Mix and match your favorite flowers with a treasured piece of sculpture. The simple but elegant design works in any room. If you like the look, check out our matching country apple wall shelf. Wrought iron. 19 ? x 15 ? x 19 ? inches.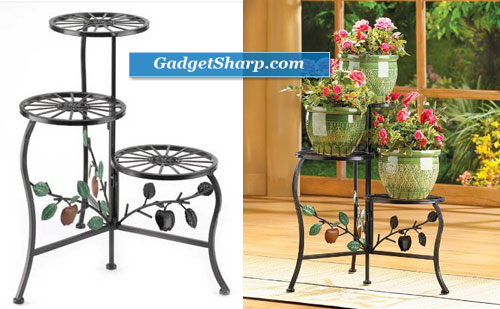 8. 3-Tier Plant Stand with Slate Top [amazon]
3 -Tier plant stands
Natural slate top
Powder coated steel frame
Metal is treated for outdoor use
Comes fully assembled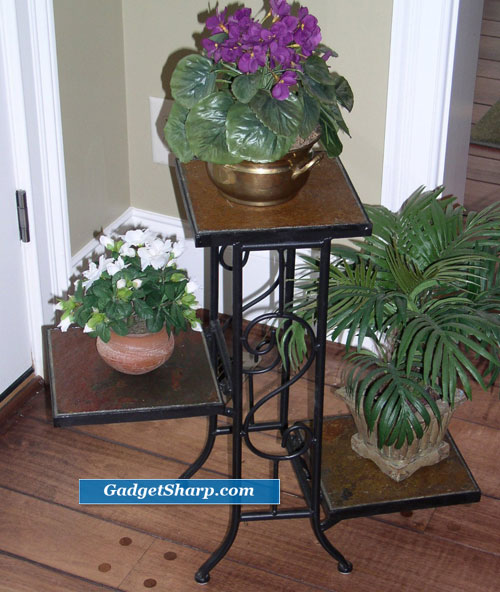 9. Round Plant stand in Dark Cappuccino finish [amazon]
Dark espresso Finish
2 Shelves Looks nice on covered patio or porch
Top Shelve Has Inset which is 8" wide.
29" Tall and 12" Wide
Also can be used as a side table or entry table for keys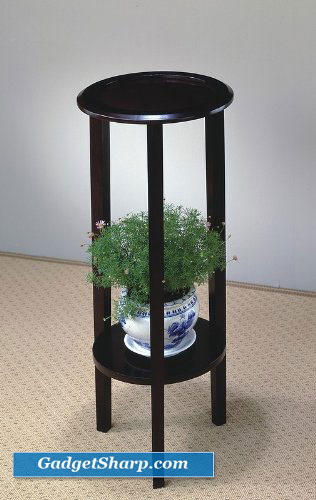 10. Three-Tier Embellished Steel Corner Plant Stand [amazon]
Three-Tier Embellished Steel Corner Plant Stand. Our exclusive Three-Tier Embellished Steel Straight Plant Stand gives you lots of space to display your plants beautifully, indoors or out. Durable steel with a green powder-coat finish will look great year after year. Easy assembly. Image shown with optional Galvanized Zinc Liner Trays. Straight Zinc Liner Trays are also available. Three-tier plant stand Embellished steel Green powder-coat finish Optional liner trays Indoor/outdoor Sizes Liner Trays 8"W Straight Stand 40" x 24" x 23-1/4"H Corner Stand 24" x 24" x 23-1/4"H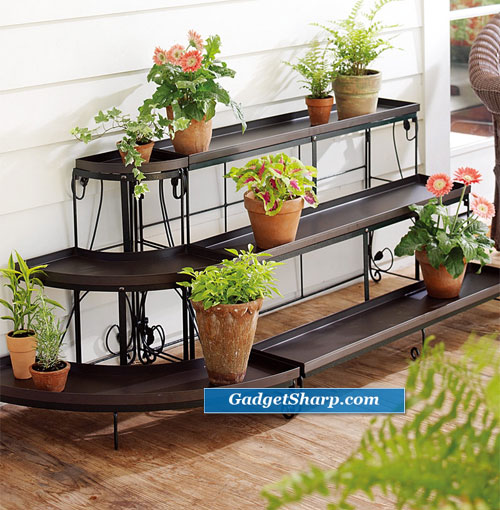 11. Ivy-Design Staircase Plant Stand [amazon]
Airy strands of ivy grace this stiarcase style plant stand. Six shelves place plants at graduating heights, creating a dramatic display of greenery! Metal. Assembly required. 22 1/4" x 22 1/2" x 38 1/2" high.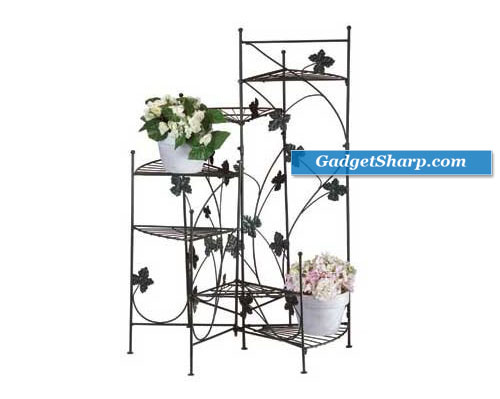 12. Carved Plant Stand Pedestal with Marble Top [amazon]
This carved, marble-topped pedestal stands 3 feet high with an 11.75 x 11.75 inch base. Comes with beautiful pink marble inlay top and ornately carved flower design.