We love flowers and we like to use them to decorate our home. But sometimes, we just have that limited space and even can't find a room for a vase without adding cluster. If that is the case, then this is the post for you, where we rounded up 7 Modern and Beautiful Flower Vases can be hang in your place - on the wall or aside the window. Check it out! They will for sure be a sparkling addition to a home d?cor.
1. Wall Mount Triple Glass Cylinder Vase on Rustic Metal Holder [amazon]
Three removable recycled glass tubes hanging from a stylized wall metal holder will create a bright focal point on your indoor or outdoor wall decor. Hold some buds or a small bouquet of natural or silk flowers.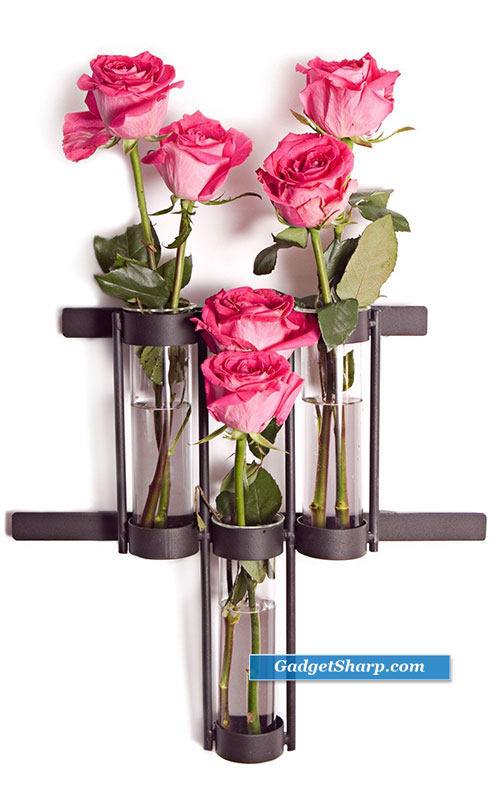 2. Hudson 4 Hanging Egg Vase [amazon]
Super cute single stem hanging vase; does not come with the hanging apparatus but is easily strung with whatever material suits your d?cor. Try it with fishing line, ribbon, or twine;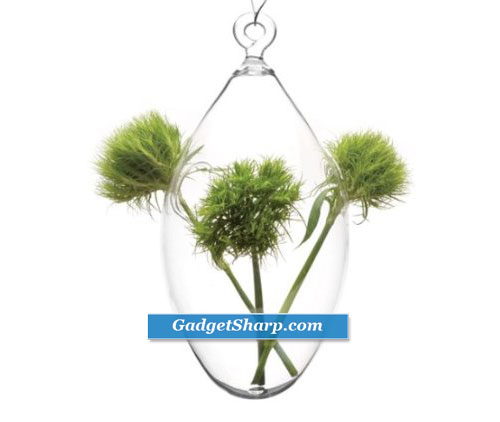 3. Glass Hanging Flower Wall Vases [amazon]
The small decorative hanging colored glass vases are perfect to decorate the patio, add some fresh flowers to them to top off the festive summer nights, use as garden vases. The unique design also makes an attractive window ornament. Place on a sunny windowsill or hang as wall vase.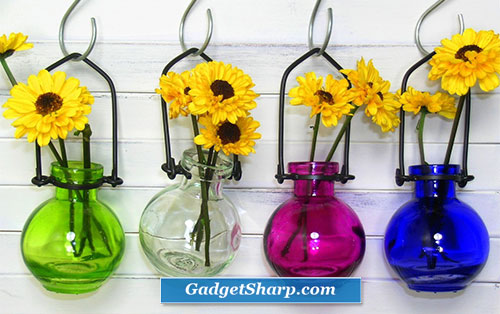 4. Hanging Basket & Glass Vase [amazon]
Hanging metal basket with glass drop vase. 40% Recycled Glass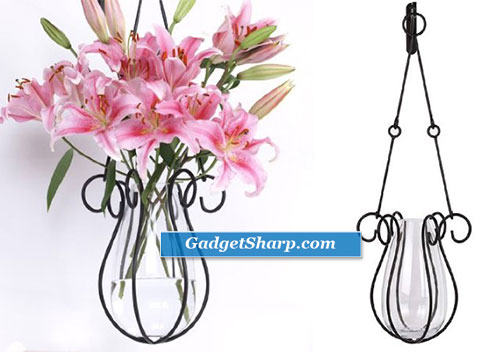 5. Tabletop Hanging Vase [amazon]
Artistic swirls of matte-black metal support a cone-shaped hanging vase of gleaming glass. Fill with flowers, potpourri or even a votive candle to create a fabulous focal piece! Metal with glass vase. Stand: 5 1/4 inches diameter x 14 3/4 inches high. Vase: 3 1/4 inches diameter x 7 3/4 inches high.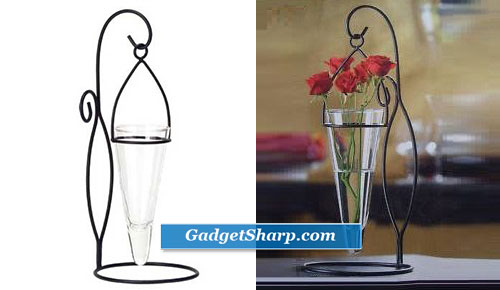 6. Metal Hanging Pendant Floral Flower Vase [amazon]
Black metal scrollwork wall bracket along with glass vase
Pendant vase that is free swinging
Unique and eye-catching decoration for an entryway
Brings a touch of classic renaissance feel into any decor
Wonderful gift for any get-together or occasion

7. 3 Glass Tube Floral, Plant Rooter or Spice Wall Vases [amazon]
Use the elegant glass tube vase wall decor for flowers, bamboo or plant stems, rooting or cuttings, storing spices or scented oils.
Recycled Eco-Friendly Glass
3 8in. Tube Vases
Black Wall Hanger Included
Gift Box Included
15.5in. High 15.75in. Wide Vase Capacity 2.7oz.