For some of us, nothing is better to have a nice coffee every morning. There are lots of coffee maker in the market, while we will look for something more cool/functional/green coffee maker in this post. From solar power to pac-man shaped, from voice recognizing to Alien looking, 10 creative and modern coffee maker designs are waiting for your exploration. Enjoy and personally, I think, it will also be a nice idea to have one of them as a sweet christmas gift.
1. Coffee + Tea Maker: Choose your beverage! [link]
Now tea lovers need not envy bean and vice versa for Fukasawa designs designer has come up with stylishly compact beverage brewer. The Coffee + Tea Maker brewing up to six cups of tea/coffee according to your choice, this smart kitchen electrical ideal for corners and small apartment spaces for its compact design. Stylishly cool, this coffee com tea maker filters the beverage of your choice before brewing with a double activated charcoal filter. One hour automatic off function eliminates the need of boiling the leftovers into sludge. Nice design and smart functionality makes the coffee cum tea maker the ideal pick.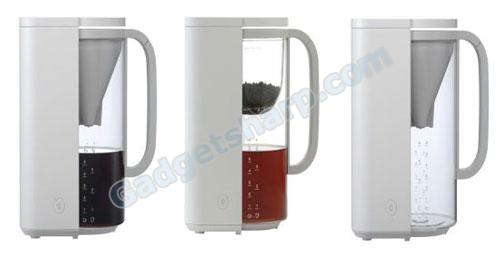 2. Dolce Gusto single serve coffee maker [link]
The latest and alien looking Dolce Gusto single serve coffee maker makes interesting choice for your kitchen decor, and according to Dolce Gusto French site, this futuristic machine makes excellent Lungo, Aroma, Cappuccino, Chococino and Latte Macchiato Ice as well as 3 types of espresso. It is equipped with 15 bar pressure pump to extract the best flavors, and features patented automatic pressure adjuster based upon the drink of your choice. The futuristic look of Dolce Gusto is further enhanced by blue LED back light. And it goes to hibernate saving energy after being idle for 20 minutes. The new coffee maker is available in white or charcoal gray for ? 150, and in metal grey or metal red for ? 180.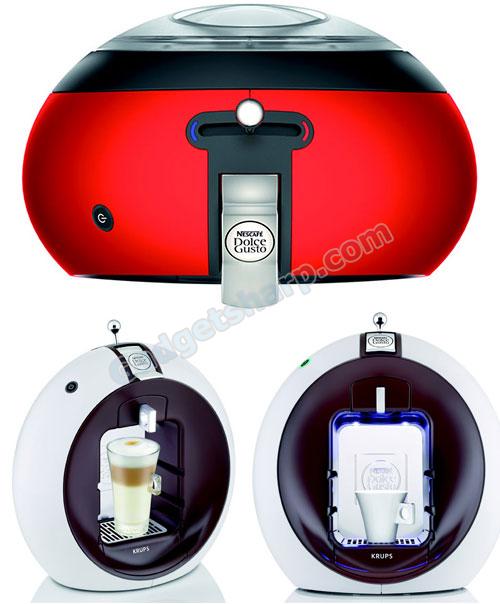 3. Interactive Speak n? Brew coffee maker [link]
Claiming to be the world?s first voice recognizing coffee maker, Speak n? Brew from Primula just asks you to give it a command and you get the hot cuppa coffee without much hassle in those lazy early hours. Set the clock and program the brew time by just commanding, rest is its job. Not only this, the Speak n? Brew even talks back letting you know when the coffee?s ready. Oh so cool, this coffee maker has once again made me fall in love with beans.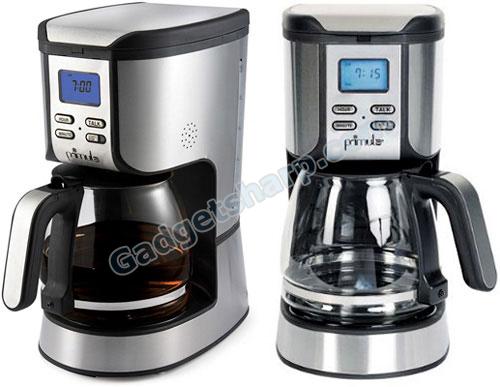 4. Styishly sleek coffee maker for bean lovers [link]
The ?Caffe Inn? designed by Frenchman Charles Teyssier is a sleek coffee machine designed specifically for the bean lovers. Making the coffee brewing a unique, the chic coffee maker is endowed with two activation buttons and a capsule drawer/. Also, there is a water indicator on the left that provides you the info about the water level in the coffee machine.
It does, however, remind me of Iron Man, and that's enough.
5. Go green with Presso Espresso manual coffee-maker [link]
The Presso Espresso is a non-electric manual coffee maker for eco-conscious coffee lovers. Consuming energy just to boil a cup of water, this eco-chic coffee maker is green otherwise too as it is made from recyclable polished aluminum.
This manual espresso maker is quite easy to operate. Just fill the steel filter with your favorite coffee and place it into Presso chrome holder then pour boiling water into the heat proof cylinder at the top. Now lift the lever arms, place your coffee cup into position and steadily lower the arms, trapping air and forcing the water through the coffee at high pressure. The result is excellent quality coffee in less than a minute.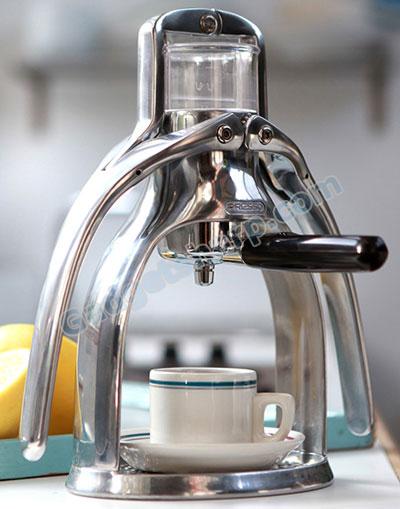 6. Solar coffee maker [link]
What if your coffee machine had a globe solar panel on the top collecting solar energy to replace electricity with natural power? Focusing on the sustainability for the eco-chic solar coffee maker by Gun ho Lee is one ideally modish pick for all you trendy goodies. What encouraged the designer to come up with this sustainably green home appliance was a documentary film about how carbon generated by us harmfully affects our ecosystem. Besides being eco-friendly, the other remarkable traits of this coffee maker are the LCD display, pod filter, hot plate beneath and not to forget, its eco-chic modish design.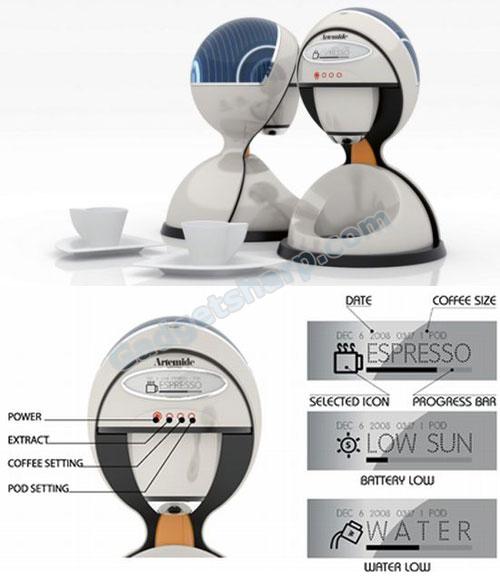 7. Blue Label - Snail in your kitchen! [link]
Dubbed Blue Label-Snail, this smart coffee maker sits haughtily in your kitchen. Equipped with 19 bar pressure pump, opening/close button, start stop button, the Nespresso capsule is a user-friendly coffee maker that will make you a proud owner, flip-flop lacquer coating and striking blue-violet color adding to its virtuoso. The snail in your kitchen is sure to give tea addicts another reason to envy all you bean lovers out there!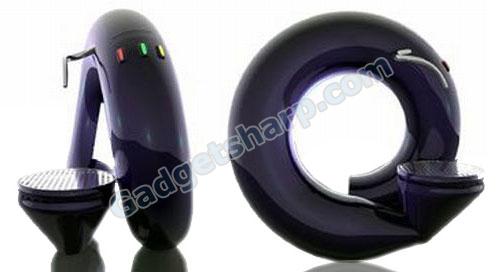 8. Mypressi Twist: World's first portable espresso maker [link]
The mypressi, is claimed as ?the world?s first truly portable espresso machine?. The mypressi TWIST?s unique pneumatic engine that works with CO2 cartridge offering a 9-bar pressure across the entire shot. Each cartridge lasts for about 8 shots of espresso. It is meaning that you only need hot water and coffee to get a fresh espresso.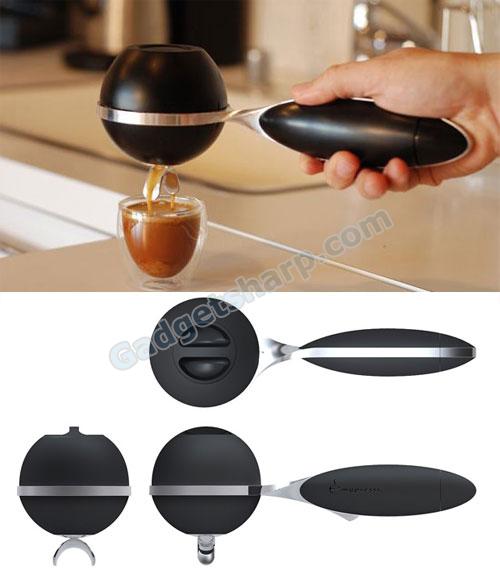 9. Coffee maker to suit user preference [link]
The ?Coofe? is a radical coffee maker that responds to personal preference of the user. The digital coffee maker is chiefly finished with two parts, a coffee & tea making system and cooking stove, which can be merged or detached to suit the taste of the users.
Apart from controlling the taste of the brewages digitally, the Coofe also comes in a organic shape and colors resembling nature. Supporting wireless downloads from the Internet for data sharing with other units, the Coofe also presents a touch-screen interface with multi-lingual support to be used in different parts of the world. Moreover, it is compact enabling you to carry it with you for outdoor parties.
10. Sleek design offers better coffee [link]
Created by Czech designer Martin Necas, Presovar represents the next generation of designer coffee makers which not only perform to the tee but also add a hint to glamor to the kitchen space. The graphic design features an irregular silhouette that instantly lends it an identity as a work of art.
A lid at the top of the coffee maker flips open to reveal a small chamber that can be used to store and warm cups while another chamber offers room for storing coffee beans that are instantly ground to offer you the best and most luxuriant-tasting coffee.Another built-in chamber can be conveniently pulled out to store milk and water in the coffee maker while directed jets minimize spilling of the prepared coffee while it?s being poured into the cups.