Since the advent of the modern espresso machine in Italy at the beginning of the 20th century, the evolution of its product design has been a part of consumer decision-making. On the one hand you have to innovate and appeal to the eye, and on the other hand it has to be pragmatic and intuitive to use as is the original design of an espresso machine. In this post, we rounded up 6 cool and unusual espresso machine. Hope it will be useful to you caffeine addict who want to have a cup of espresso anywhere and anytime.
1. Handpresso Outdoor Espresso Set [amazon]
The Outdoor set consist of everything you need to take espresso with you where ever you want to go. To make a creme filled espresso just pump up the Handpresso Wild espresso maker to 16 bar of pressure, add hot water from the included thermo flask and insert and espresso pod. Then push the brew button and the air pressure will force the hot water through the espresso pod directly into your cup. water and E.S.E. (Easy Serve Espresso) pods. An adjustable strap helps keep your espresso experience as mobile and convenient as possible.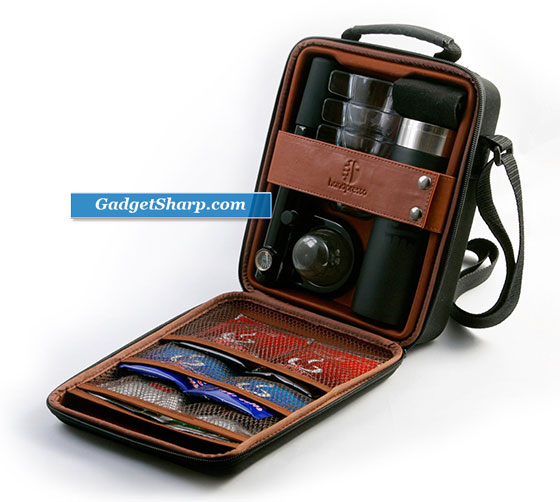 2. Piamo Microwave Espresso Maker [link]

Piamo is the easiest way to make a cup of espresso within 30 seconds in your microwave! The cup is made up of four parts: the espresso cup, a water compartment, a filter and filter cover. All you have to do is fill the water, fill in coffee ground or use a E.S.E coffee pod, and place the cup in the microwave for 30 secs! You can see how it works in this video: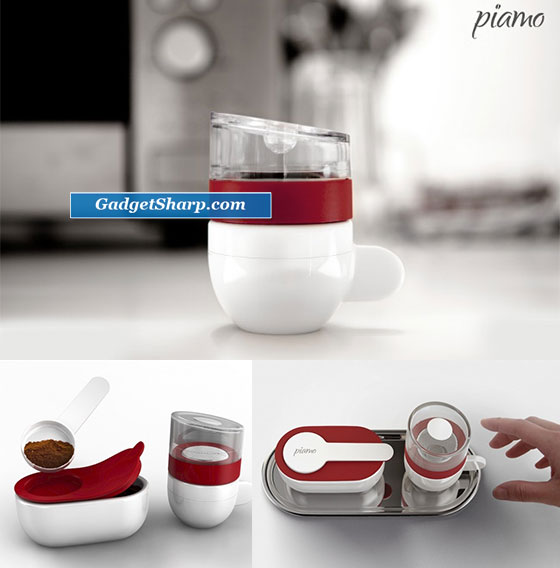 3. mypressi TWIST Handheld Espresso Maker [amazon]

Delicious espresso delivered effortlessly in single or double shots from this stylish award-winning handheld espresso maker Perfect for the home or office, the great outdoors, or anytime you are among family and friends High temperature and pressure stability ensures a perfect extraction; The dynamic pressure engine ensures a soft pre-infusion, ensuring the ultimate in smooth-tasting coffee Converts from ESE Pods to fresh ground coffee in just seconds; Easy for beginners while allowing espresso enthusiasts to get the most from their beans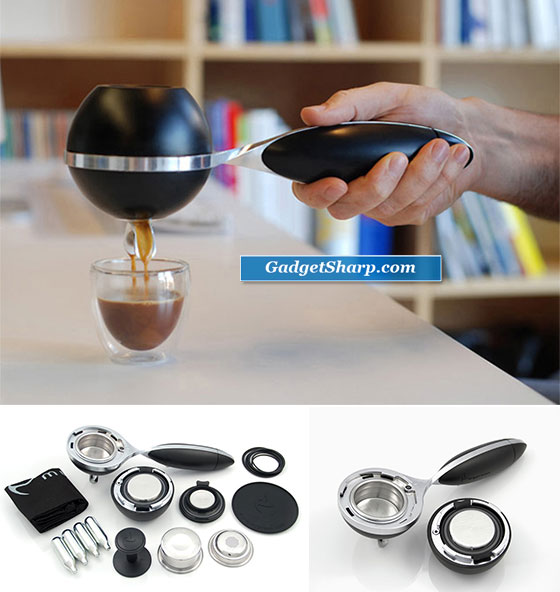 4. Presso: The Hand Powered Espresso Maker [link]

This is the hand-powered espresso maker that produces rich Italian coffee drinks without electricity. Simply pour hot water into the top of the unit; pushing down both levers drives a piston downward, creating up to 10 bar of pressure to extract rich, complex espresso topped with crema. The portafilter holds one or two shots of ground coffee and its removable dual spout pours two drinks at once. The included hand-powered frother produces foamy milk for cappuccinos or latt?s and the coffee scoop also acts as a tamper for ensuring coffee is firmly packed and evenly distributed inside the portafilter. The espresso maker is made from durable cast aluminum with a hard plastic water reservoir. 14" H x 18" W x 5" D.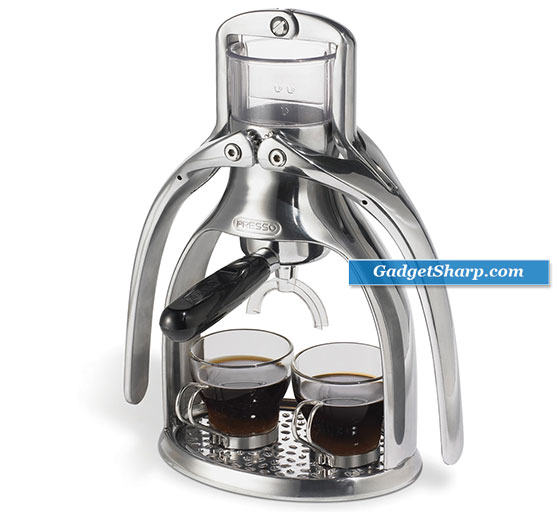 5. Moka Express [amazon]

Based on the principle of preparing coffee with steam pressurized water, the Moka Express produces a strong espresso brew. To use, fill the base with water, insert funnel, and fill with finely ground coffee. Close the coffee maker tightly by screwing on upper chamber and place on stove top at low heat until water reaches a boil. After brewing, remove immediately from heat and serve directly from coffee pot. Makes up to six cups of espresso.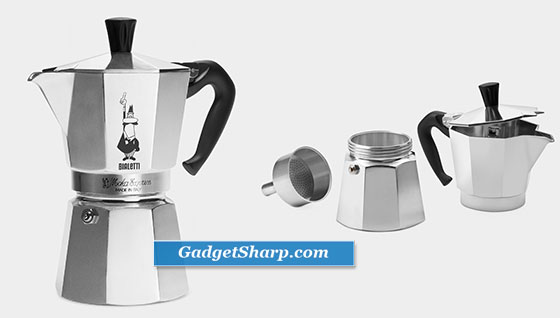 6. One Shot Espresso Gun [amazon]

Just like loading your double-barrel gun and taking a shot at the monster down the alley! I get the same kinda vibe with the il Tiro ? One Shot of Espresso; a gun shaped dispenser that delivers the perfect shot of cuppa delight. The video explains the workings and if you ask me, it will definitely be a conversation starter with your local barista