Today, we will continue our topic on unusual modern table design. Different from yesterday?s high-tech and fashionable table design, tables present in this post are either multifunctional like Min Hoo Park's Integrated Table or extremely foldable such as Origami Side Table. Funny looking, interesting function and easily assembling/foldable table design, all in this post.
1. Cohda's clamp-on table legs [link]
This is not a talbe. I put it in this post becaue it's really amazing. These table legs are capable of transforming any flat surface into a usable table.
2. Min Hoo Park's Integrated Table [link]
London-based designer Min Hoo Park has been showing his Integrated Table concept at the fairs for a few months now, but to truly grasp its awesomeness, you need to see the thing in action.
Here, Min walks us through the various flips, plug-ins, and modulations that make this such a seductive piece of furniture/art: the dishes, cup, vase and candelabra plug neatly into dedicated sockets, and the tray and tabletop remove for greater flexibility. Wait for the end, when he unveils its tall, elegant cousin with integrated champagne bucket and tapas table.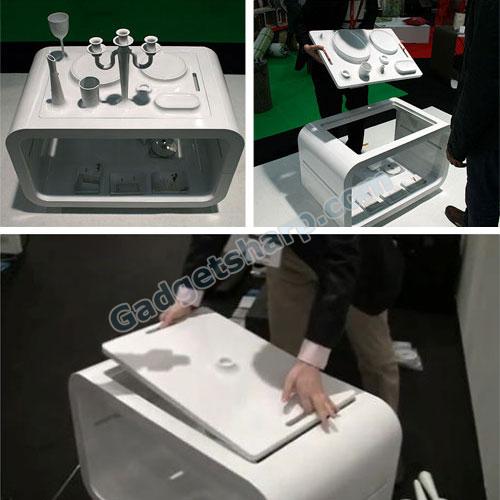 3. FLOTspotting : Umbrella Table by Caspar Schmitz [link]
Caspar Schmitz in collaboration with Ralph Ludwig created this highly functional table inspired by the umbrella. This unique table mixes form with function and makes one hell of an impressive garden table. The table is folded up like an umbrella in the beginning and for use, must be opened out like a flower.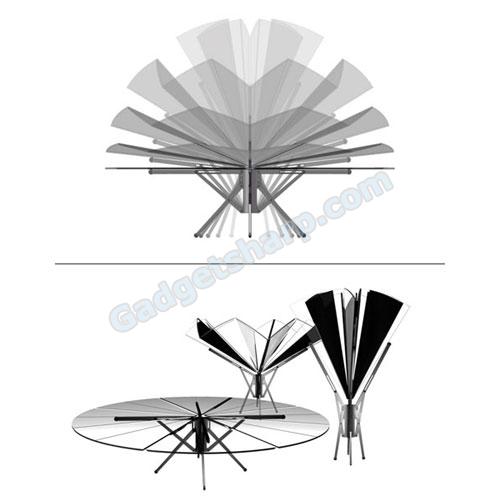 4. Origami Side Table, zero tools & hardware required [link]
Philadelphia designers Jaime Salm and Young Jin Chung have developed the Origami Side Table.
Composed of two laser-cut and slotted sheets of steel, Origami ships flat and requires no tools or hardware to assemble. One sheet is the negative of the other, eliminating waste during production and giving the table its dynamic form. Once bent, the tables folds lock the parts into place. The tables petal-like surfaces are sturdy and spacious making it a practical and sculptural side table, night stand or plant stand.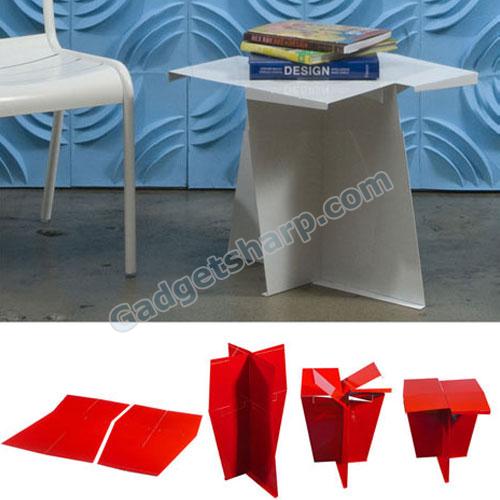 5. Clever rolling table-chair combo design [link]
When the chairs are slid underneath the table with the front legs placed on the crossbar, they lock into position and handily provide wheels for the table. Space-saving and functional, this seems like it'd be a good fit for a space-tight room.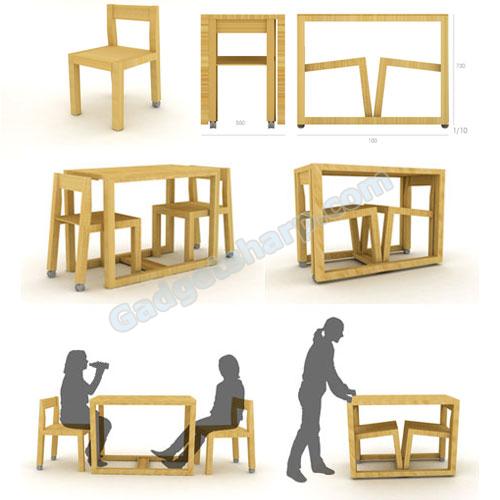 6. Safe Bedside Table [link]
You can use your bedside table as a weapon. The Safe Bedside Table by James McAdam. "The 'Safe Bedside Table' has a removable leg that acts as a club and a top that doubles as a shield for self-defence. This is for people who are willing to take on an intruder, providing an extra sense of security whilst in bed. "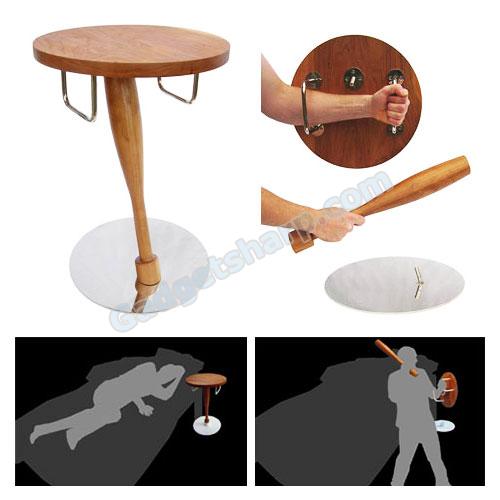 7. The Little Star Table [link]
Here?s introducing one of the most contemporary Industrial Designers from the UK: Ben Huggins. His Little Star table project is a simple mathematical endeavor. Craft a line here, stack an angle there and you?ve constructed a very chic table! Three tables can be cut from one 1200mm x 2400mm sheet of 15mm ply by CNC router and Ben?s been hand-crafting them all. No screws or ?xings, it comes in this neat pizza-style box.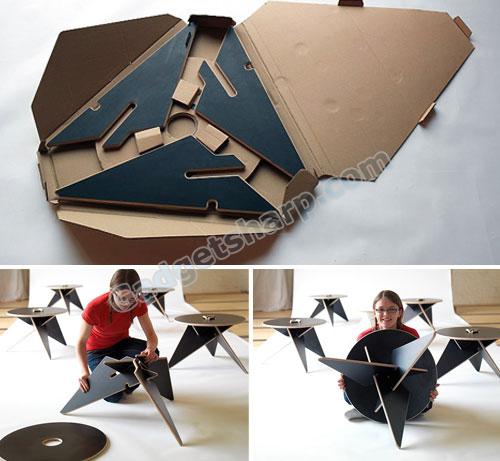 8. Ellipse Table [link]
The elliptical kitchen table expands up to 3.7m long dining size. The insertable leaves are the off-cuts generated from cutting the ellipse. Additional leaves can be added depending on the size of table needed and are left in a pile in the corner of the room when not in use.
By using the waste material created while cutting the elliptical table top, the shape is literally turned inside out and order turns to chaos. Etymologically ?Ellipsis? means to ?leave out? or ?fall short?.